Recipes
Pumpkin Butter {recipe}
Pumpkin lovers will enjoy this simple low fat pumpkin butter recipe, it's like pumpkin pie in a jar.  A seasonal treat with breads, waffles, ice cream or yogurt.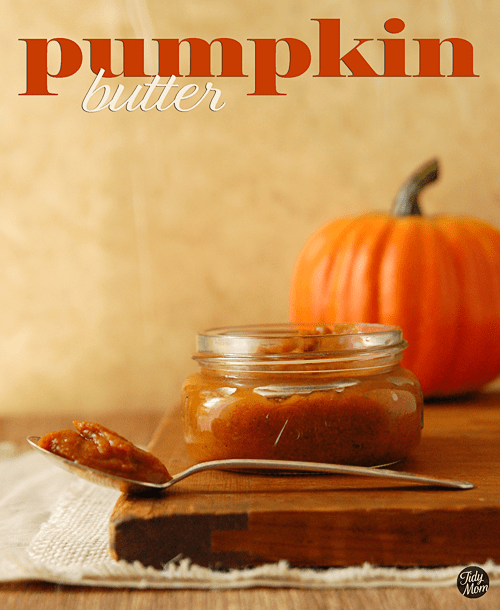 This time of year makes me giddy!  I think pumpkin is one of my most favorite foods/flavors.  Maybe because it can be used in so many dishes, from pies, to lattes, to bread and pancakes to soup and cream sauce.
One fall, about 6 years ago, I was given a jar of the most delicious homemade pumpkin butter.  It was like pumpkin pie in a jar!  Oh was this stuff wonderful!  I ate the entire jar spread on top of graham crackers over the course of 2 days!  and I didn't share!
Every fall I think about making my own pumpkin butter, but just never took the time.  Imagine my surprise when I found out how ridiculously easy it is to make! Especially if you use canned pumpkin. If you've never had pumpkin (or apple) butter before, it's a sweet thick spread that is lavishly spiced and perfect to use you like you would a jam, on top of toast, ice cream, or my favorite….mixed with yogurt and granola.
What's great about pumpkin butter, is you can play with the recipe to suit your taste.  If you want it sweeter, add more sugar, if you want to taste more or less of a certain spice, adjust accordingly.  If you want to go all out, you could even make your own pumpkin puree.  Pumpkin butter should be kept in an air tight container in the refrigerator, and should keep for for two to three weeks and can be frozen for up to a year before use, but trust me, it wont be around that long.  The USDA recommends AGAINST canning pumpkin butter.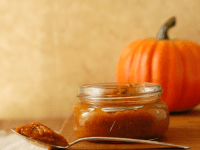 Summary: A lightly sweetened spiced pumpkin spread.
Ingredients
1 (29 ounce) can pumpkin puree (about 3.5 cups)
1 cup apple juice
2 teaspoons ground ginger
1/2 teaspoon allspice
1 pinch ground cloves
1 cup brown sugar, packed
1 tablespoon ground cinnamon
1/2 teaspoon ground nutmeg
1 tablespoon whiskey (optional)
juice of 1/2 a lemon
Instructions
Combine all ingredient, except for lemon juice, in a large saucepan.
Bring mixture to a boil.
Reduce heat to low and simmer for 30 mins, stirring occasionally.
Remove from heat, stir in lemon juice and let cool.
Pour into airtight jar(s) and store in refrigerator for up to for two to three weeks and can be frozen for up to a year before use.
Notes
*USDA recommends AGAINST canning pumpkin butter.
http://tidymom.net/2011/pumpkin-butter/
Copyright© 2009-2013 TidyMom.Net
"Like this recipe? Add it to your personal recipe box to make later or add the ingredients to your online shopping list to make it this week. Just click the Save Recipe button to get started."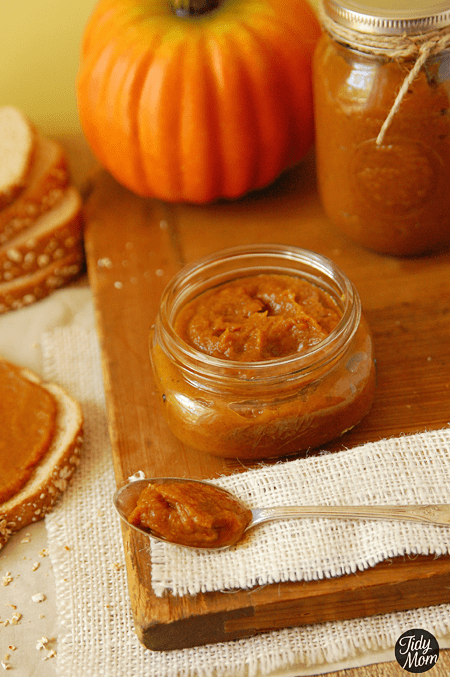 Do you enjoy pumpkin butter?  If so, what's your favorite way to eat it?

You May Also Like...