Recipes
Upside-Down Apple Pecan Pie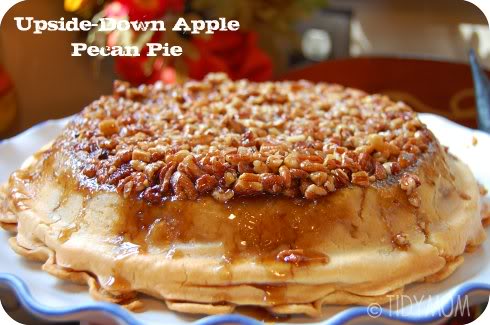 YUM!!
This is one of my favorite ways to make apple pie!!
I found this recipe in a little Pillsbury "pie" cookbook years ago, it's listed on their site as a "Bake Off" WINNER in 1951!
It's a self-glazing apple pie that tastes as wonderful as it looks!!!
And it's easy too!
Grab your apron!
We're going to make an apple pie that's sure to knock their socks off!
Upside-Down Apple Pecan Pie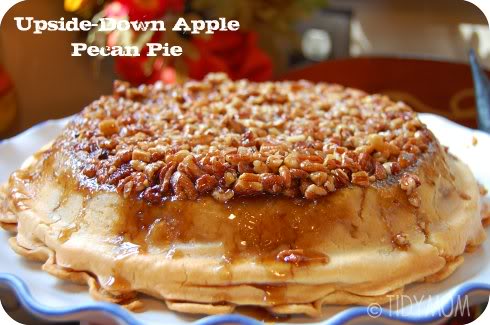 Ingredients
1 cup chopped pecans
1/2 cup firmly packed brown sugar
1/3 cup melted margarine or butter
1 box of Pillsbury All Ready Pie Crust
1 tsp flour
6 cups (6 medium) sliced & peeled apples
1/4 cup sugar
2 Tbsp flour
1/2 tsp cinnamon
1/8 tsp nutmeg
Instructions
Heat oven to 375°F
In 9" pie plate, combine pecans, brown sugar and margarine; spread evenly over bottom of pan.
Prepare pie crust according to package direction for two-crust pie (flouring each side of crust). Place bottom crust over pecan mixture in pan.
Press crust down around sides of pan
In large bowl, combine apples, sugar, flour, cinnamon and nutmeg. mix lightly.
Spoon into pie crust-lined plate.
Top with second pie crust, and flute.
Cut slits in several places.
Place pie plate on cookie sheet and bake at 376° for 40-50 minutes or until crust is golden brown.
Place serving plate over pie (after cooling for 5 mins)
Invert pie, Carefully remove pan. Some nuts may remain in pan, replace on pie with a knife
Cool at least 1 hour before serving.
http://tidymom.net/2009/upside-down-apple-pecan-pie/
Copyright© 2009-2013 TidyMom.Net
Here's one more look at how yummy it looks!!


You May Also Like...