Cheese stuffed Chicken & Spinach Pizza Bread
Cheese stuffed Chicken & Spinach Pizza Bread: Bread dough sprinkled with seasoned chicken, fresh spinach, sun-dried tomatoes and stuffed with Mozzarella and provolone cheese.  Served warm dipped in Alfredo sauce.
Today I'm excited to be celebrating one of my blogging friends who is expecting, her much anticipated, first baby – Amber from Bluebonnets and Brownies.
Amber and James are expecting their baby boy in October — a baby they have oh so desperately wanted after struggling with infertility.  I am beyond excited for her and want to wish her the very best in her journey thru parenthood…….Your lives will never be the same again, you will wonder how you ever breathed with out this little one in your arms!
Being scattered across the country can't stop a group of blogging friends from throwing Amber and James an amazing virtual baby shower!  I brought the pizza to the party!  Pizza Bread to be exact.
I've said it before and I'll say it again, my family loves pizza!  and nothing beats a good homemade pizza, whether it's grilled pizza, Mexican black bean pizza, BBQ Chicken Pizza Soup, Pizza Pancakes, homemade pizza rolls !  I like to mix it up and I've had this recipe for Pizza Bread printed and stashed for a long time.  Since we love chicken and spinach on our pizza I thought I'd give Erika's recipe a little twist of our own.
How to Make Cheese Stuffed Chicken & Spinach Pizza Bread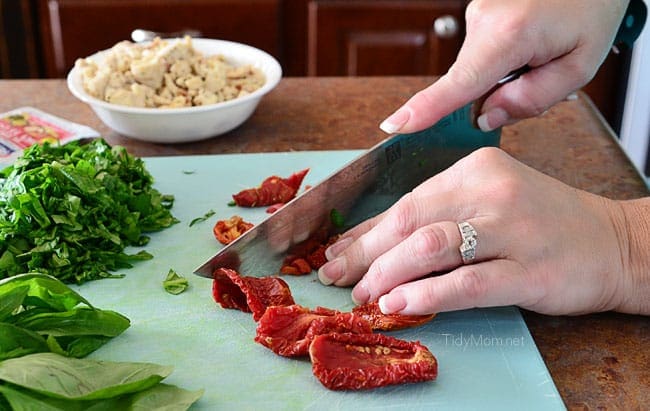 The recipe might look long, but it's really rather easy. and the great thing about Pizza Bread is, you can make it with your own favorite toppings!  The possibilities are virtually endless! We used chicken and spinach because that's what we love.  You could use any variety of veggies: olives, broccoli, artichokes, red and green peppers, etc.  For the cheese, you can't go wrong with mozzarella but we are also big fans of provolone, but you could absolutely add any variety of Italian cheeses or even a little cheddar.  We choose chicken for our meat, but pepperoni, ham, bacon, sausage, salami, prosciutto would all be just as amazing!
For dipping, you can go with the traditional marinara, but garlic Alfredo makes a great companion to the chicken and spinach.
RELATED:  Homemade Artisan Bread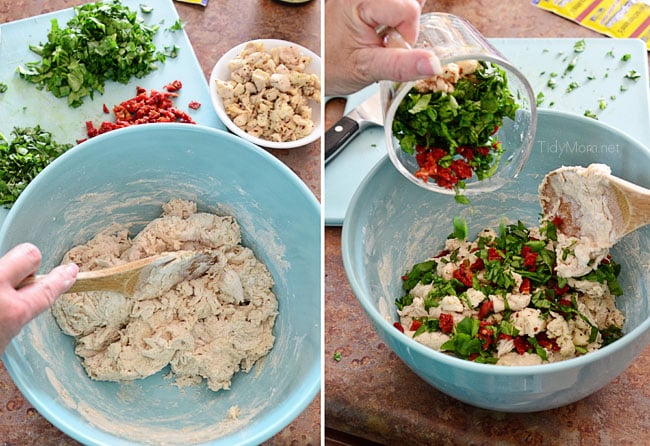 So have fun with it!!  Make it your own.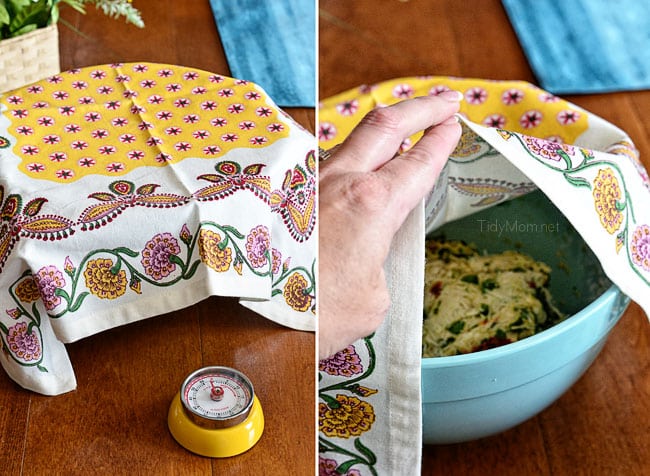 Let it sit for an hour on the counter to rise……….then another hour in the fridge.
 Roll it out and top it with cheese…… lots of cheese, the more the better!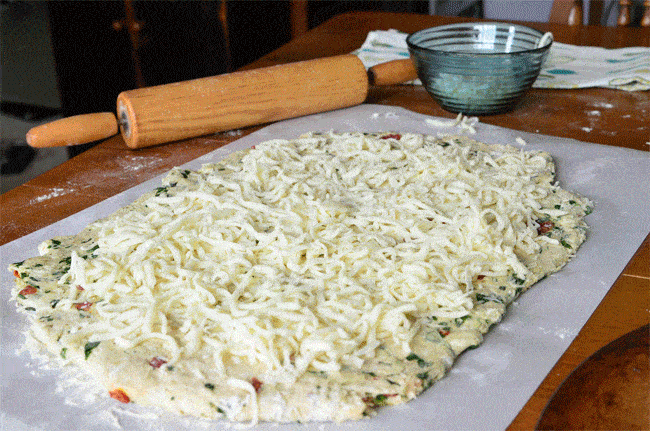 Fold it up to seal in the cheese.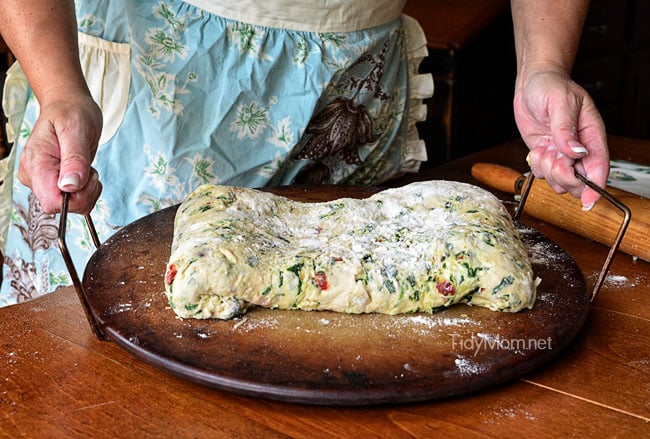 Nothing beats a baking stone for bread or pizza.  You can use a pan if you don't have a stone, but if you don't have a stone, I beg of you to get one!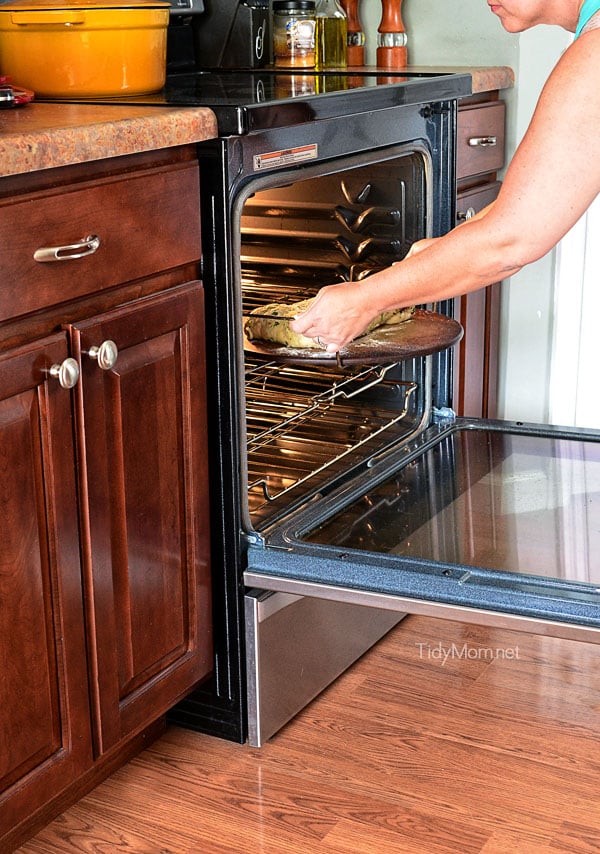 Slip it in the oven for just a half hour.  Check it after about 15 minutes, if it's getting pretty brown, you can place a piece of foil loosely on top to keep it from getting too brown.  And when there's just 3 minutes left, brush a little melted butter over it! mmmmm, can you smell it?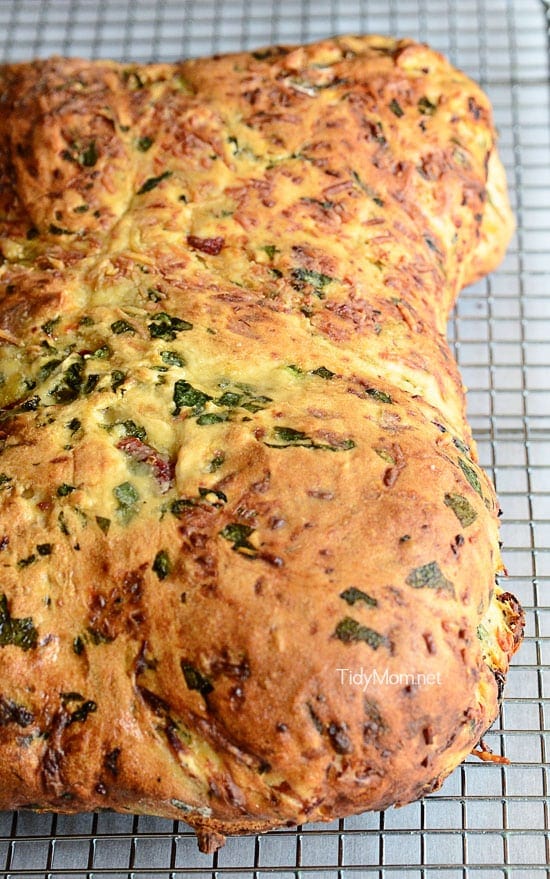 Let it cool on a rack for a few minutes before slicing.
Pizza Bread Full Recipe
Cheese stuffed Chicken & Spinach Pizza Bread
Ingredients:
2 teaspoons yeast
1 1/2 cups warm water
3 1/3 cups all-purpose flour
2 teaspoons kosher salt
1 tablespoons sugar
1 tablespoon canola or olive oil
1 large boneless chicken breast
1/2 teaspoon garlic salt
1/2 teaspoon oregano
1/4 teaspoon red pepper
1 cup spinach, chopped
2 tablespoons finely chopped fresh basil
1/4 cup chopped soft sun-dried tomatoes
1/2 cup parmesan
2 cups mozzarella & provolone, shredded
1 tablespoon butter, melted
1 jar Alfredo sauce for dipping
Directions:
Using a sharp knife, chop chicken into small pieces. Season with garlic salt, oregano, and red pepper.
In a 10-inch skillet, heat oil over medium-high heat. Sauté chicken, until no longer pink, 5-6 minutes. Keep a close eye on these and stir them occasionally using a wooden spatula to prevent burning. Set finished pieces aside on a plate.
In a large bowl, sprinkle yeast over warm water in a bowl. Let it sit for 3 minutes until foamy, then add in flour, salt, and sugar. Using a wooden spoon, mix just until it comes together. Add in chicken, spinach, basil, tomatoes, and parmesan and combine well. If the dough is too tacky, dust with a little extra flour. Cover with a towel and let rise for about 1 hour on counter, then another hour in the refrigerator.
Remove dough from refrigerator. Flour parchment lined counter or table and roll dough out into 11×17" rectangle. Sprinkle cheese over top. Fold all four sides in towards the center, sealing sides so cheese is not exposed. Let rest while you preheat oven to 450 degrees.
Place loaf on a pizza stone or lined baking sheet, and bake for 25 to 30* minutes (*loosely cover with foil after 15 minutes if bread is getting dark), until golden brown. 3 minutes before removing from oven, lightly brush the top with melted butter and let it finish baking. Let rest on a wire rack to cool slightly before slicing.
Serve with warm Alfredo sauce for dipping.
To pack for lunch, wrap slices in foil and lightly toast in oven before putting it in a lunchbox. Include a small container of alfredo sauce for dipping.
Making this recipe? Share it with us on Instagram using the hashtag #TidyMom so we can see what you're creating in the kitchen!
Want more great recipes like this? Follow my TidyMom Easy Recipes Pinterest Board
Serve warm with Alfredo sauce.
What are your favorite pizza toppings?
Like this Pizza Bread Recipe? Pin It!