Red Velvet Pancakes
I'm Lovin' It {linky party}
Are you a hopeless romantic who loves flowers and candy on Valentines Day, or do you look for a way to escape the mushy love stuff?  Either way, I think you'll agree adding a little extra love to pancakes never hurt anyone…..and Heart Shaped Red Velvet Pancakes  will add little extra touch of love to start your, or your loved one's day off right.
I originally shared this Red Velvet Pancake recipe over at Recipe Girl a few years ago, and thought I'd share them here today along with my Valentines Day Pinterest Board!
I have to be honest here, these are more like eating dessert than breakfast if you top them with the cream cheese topping, but hey, it's Valentines Day right?  I declare it "sweets all day long" day!  But if you prefer, the red velvet flavor is just as delicious with a pat of butter and maple syrup drizzled over them.
Like this Red Velvet Pancakes Recipe? Pin It!
The delicious, fluffy, red velvet cake aroma filled the entire kitchen, from the moment they hit the skillet!  And yes….. they taste exactly like red velvet cake, especially when the creamy frosting melted into the warm pancakes!
My family loves anything red velvet, and I can't help but give my family what they want! HA!  uh, and any excuse to have 'cake' for breakfast!  Maybe you'd like to do the same for your family?  find the recipe below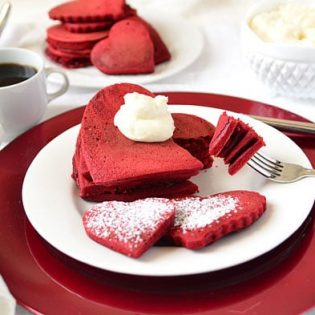 Red Velvet Pancakes
Ingredients:
1½ cups flour 2 tablespoons cocoa powder 2 tablespoons sugar 1/3 cup powdered sugar 1½ teaspoons baking powder ½ teaspoons baking soda 1 teaspoon ground cinnamon 1 teaspoon salt 1½ cup buttermilk (or make your own buttermilk ) 2 eggs, large 1 teaspoons vanilla extract 1 tablespoon red food coloring ½ stick butter, melted 2 tablespoons white vinegar
Directions:
Pre-heat skillet or griddle over medium heat or 320°
Mix all of the dry ingredients together in a large bowl. Whisk thoroughly to combine until all lumps are gone.
In a separate bowl, thoroughly mix the buttermilk, eggs, vanilla, vinegar, and food coloring. Make a well in the center of the dry ingredients and add the buttermilk mixture. Stir until mostly combined. Add in the melted butter and fold gently to mix.
Pour batter in 1/4 cup measurements onto skillet and let cook until bubbles form on top, about 2-3 minutes. Flip and cook for 1 minute more.
Serve with sweet cream cheese topping
if you wish to make heart pancakes, use a heart shaped pancake mold or metal cookie cutter. Be sure to grease inside of mold and fill 1/2 way with pancake batter. Remove mold when ready to flip.
Making this recipe? Share it with us on Instagram using the hashtag #TidyMom so we can see what you're creating in the kitchen!
Want more great recipes like this? Follow my TidyMom Easy Recipes Pinterest Board
For an easy morning:  Mix dry ingredients and  make topping the night before.  Cover and place pancake mix on counter, and topping in refrigerator.  Next morning, remove topping so it can become room temperature, and just add wet ingredients to pancake mix, cook and serve.
Thank you for sharing so many wonderful projects, recipes and crafts again last week ! You can link up thru Sunday evening or come back next week and link up for another
I'm Lovin' It
, who knows maybe next week I will be featuring you!
Let's get this party started!!  It's time to link up all your great ideas to "I'm Lovin' It Party"  (remember, each week I will share some of my favorites who link up!)

I'm Lovin'……. Red  Velvet Pancakes
Now it's your turn!
Let us know what you're lovin' this week!
What is I'm Lovin' It? get all the info here *All photos submitted to the I'm Lovin It linky party, grant the rights to display their photo on this website and other sites I write for.  Proper credit will always be given.  TidyMom is not responsible for stolen images or the mis-use by others who have found your image through TidyMom.net.