Pecan Pumpkin Pie French Toast Roll Ups
Pecan Pumpkin Pie French Toast Roll Ups are a sweet and spicy pumpkin french toast made with Hawaiian bread. Rolled up with pumpkin pie filling and pecan cream cheese makes the perfect fall breakfast or dessert. 

Just as we got a taste of cool fall temps, and I got into the fall baking mood and stocked up the pantry with cans of pumpkin and pumpkin pie mix………our temps turned back to summer like.  But that didn't stop me!  Maybe it was the shopping I did and Hobby Lobby the other day…..I went in for one of those faux pumpkins (so excited to share what I did with it-coming soon!) and I came out with a cart full of Christmas!   I couldn't believe all the holiday merchandise out in the stores already, and of course, I couldn't pass up some fun new stuff for our family room bookcases!
But first things first…..fall and pumpkin season!!  If you are in need of a pumpkin fix in your life, make these Pecan Pumpkin Pie French Toast Roll Ups.  You won't be sorry, I promise.  You can serve them for breakfast, or a dessert.
I'm going to show you how easy they are to make! (full printable recipe at the end of the post)  
LET'S MAKE PECAN PUMPKIN PIE FRENCH TOAST ROLL UPS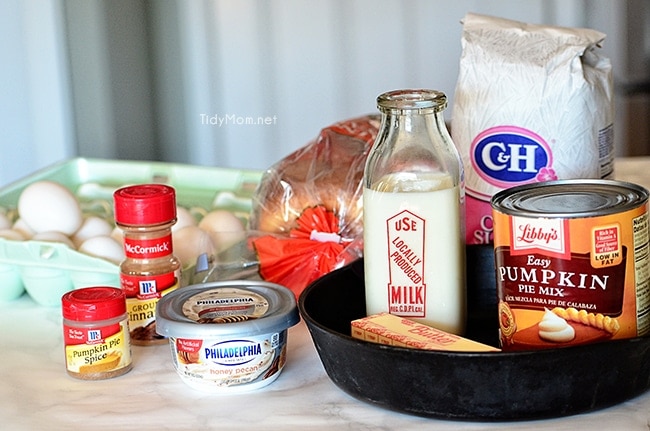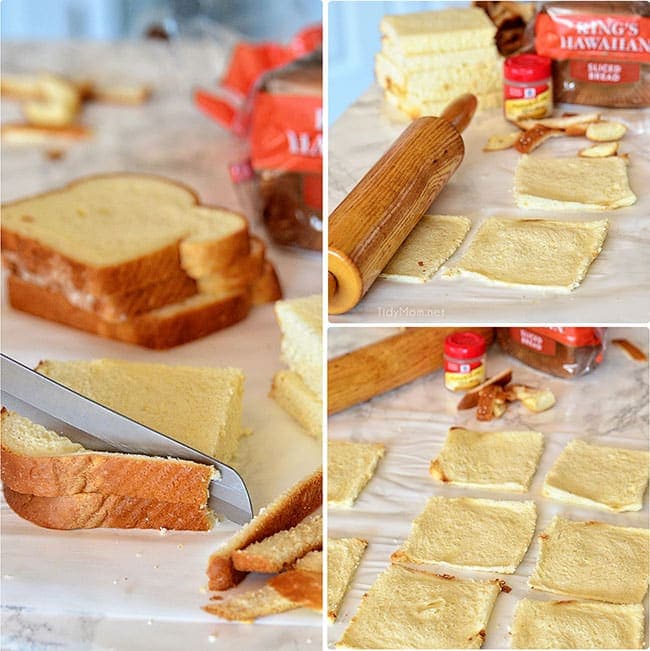 Just take your bread (for this recipe I used King's Hawaiian Bread) and cut the crust off.  Then use a rolling pin to flatten each piece of bread out.  TIP:  If you don't have a rolling pin, use a jar or glass.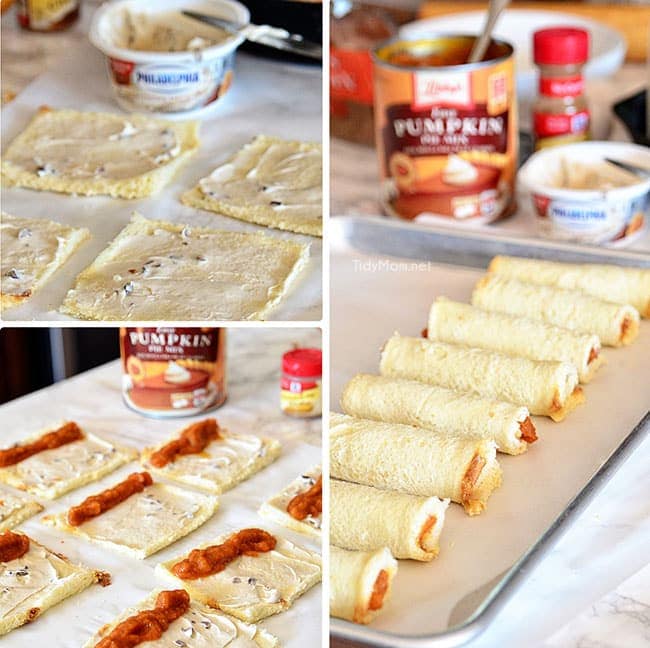 Next spread a thin layer of Philadelphia Honey Pecan Cream Cheese Spread on each piece of bread and then towards one end of the bread, spoon a small line of pumpkin pie filling (not solid pumpkin) or you could use pumpkin butter.  Starting at the end with the pumpkin, roll the bread tightly and set aside until the butter is hot and the egg mixture is ready.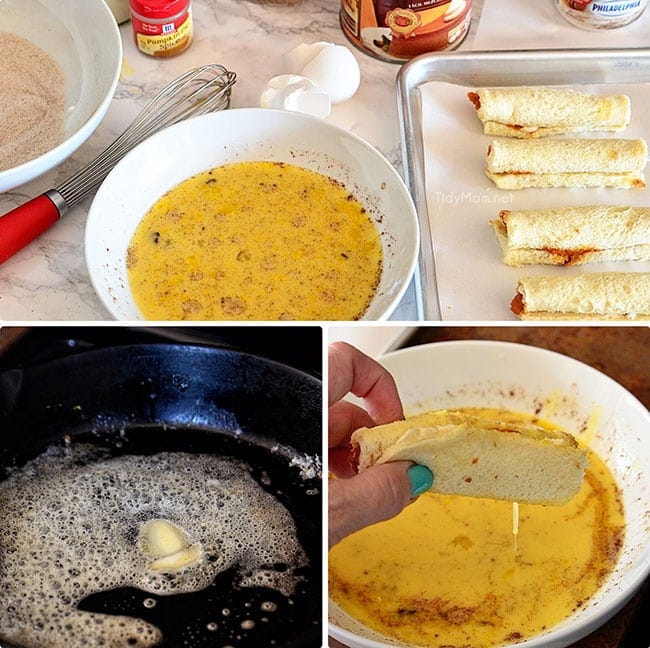 In a shallow bowl, mix sugar with cinnamon and set aside.  Using another shallow bowl, beat a few eggs with milk and pumpkin pie spice.
Now, you might want to set up an assembly line near your stove.
Heat a little butter in a skillet and dunk the rolls, just like you would french toast.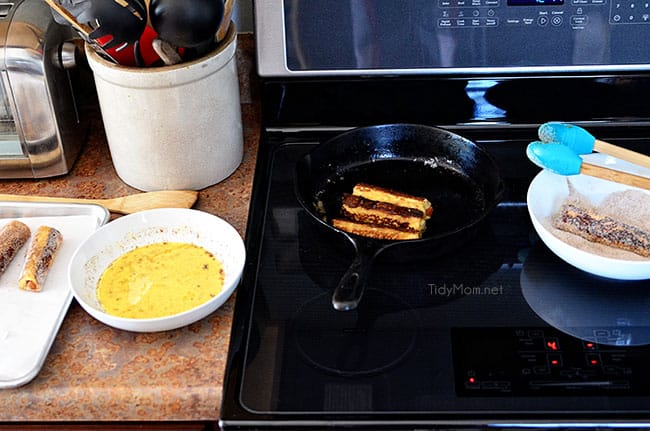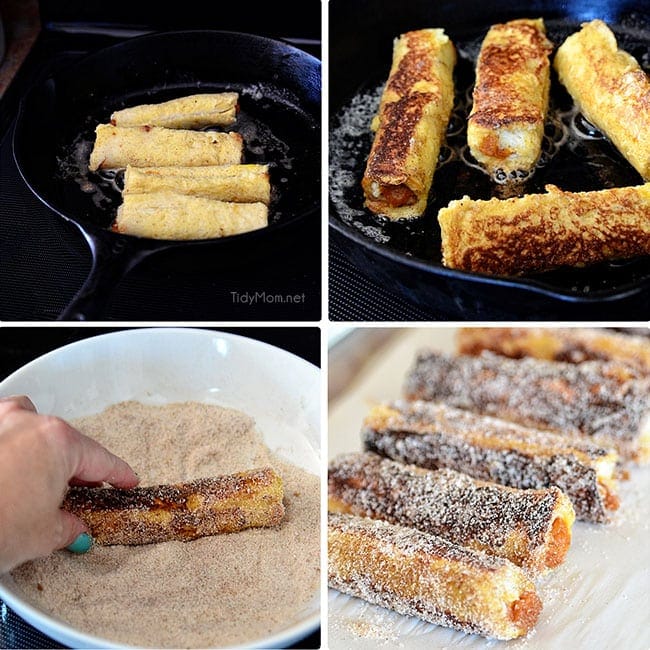 Brown the roll-ups in the skillet, rolling/turning occasionally to brown all sides.  When they are golden brown, remove them from the skillet and roll in the cinnamon and sugar.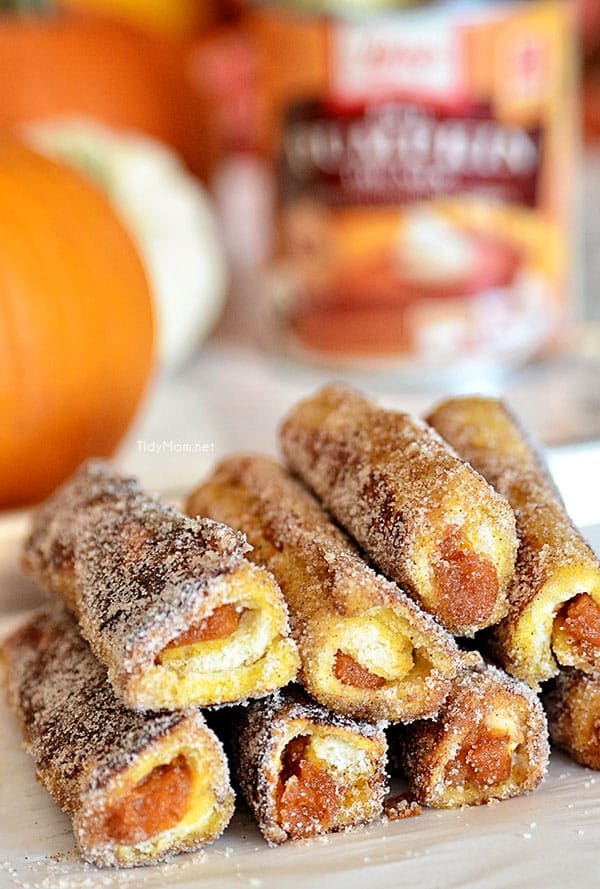 Serve and enjoy warm.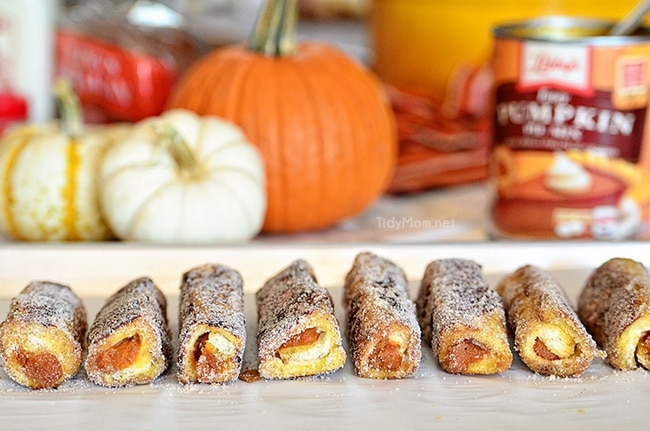 Pecan Pumpkin Pie French Toast Roll Ups are best eaten right away, but I did place a few I had left over for Allison in a sealed container in the refrigerator and they were delicious cold as well.  I'm not sure they would reheat very well, but if you wanted to try it, I would probably put them in a hot oven until they are warm.
Another option, would be to flatten your bread, add you filling (the possibilities are endless), roll then place on a pan and put in the freezer until they start to freeze, then place them in a bag in the freezer until ready to use.  Simply thaw then, dip in egg mixture, cook and coat.  That will save you a little time, but honestly, making the rolls wasn't all that time consuming.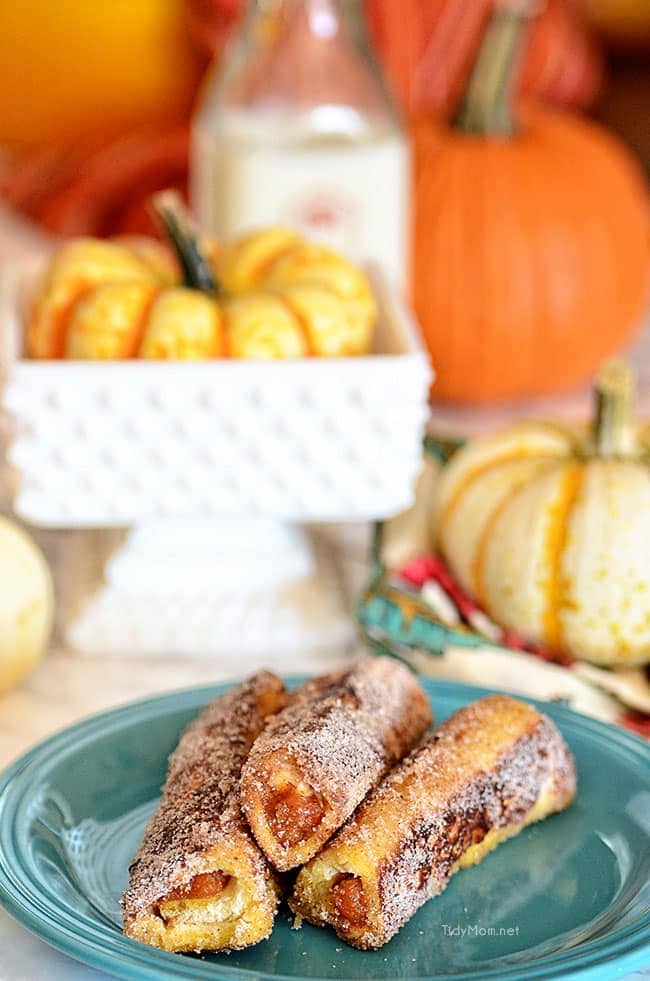 Pecan Pumpkin Pie French Toast Roll Ups
Ingredients:
8 slices Kings Hawaiian Bread (or you could use plain white bread)
Philadelphia Honey Pecan Cream Cheese Spread
1/2 cup pumpkin pie filling (NOT pumpkin puree) or Pumpkin Butter
2 eggs
3-4 Tablespoons milk
1 teaspoon vanilla
1/2 teaspoon pumpkin pie spice
1/2 cup sugar
1 Tablespoon cinnamon
2 Tablespoons of butter for frying
Directions:
Cut the crust from each slice of bread and flatten with a rolling pin.
Spread a thin layer honey pecan cream cheese on each slice of bread.
Spread about 1 tablespoon pumpkin pie filling (or pumpkin butter) at one end of the bread, about 1-inch wide across the width of the bread
Starting at the end with the pumpkin, roll the bread up tightly and repeat with the remaining pieces of bread. Set aside.
In a shallow bowl whisk the eggs, milk, vanilla and pumpkin pie spice until well combined.
In a separate shallow bowl mix the sugar with the cinnamon.
Melt 1 tablespoon of butter in a skillet over medium heat.
Dip each bread roll in the egg mixture coating well and then place them in the pan seam side down. Cook in batches until golden brown, Let the roll-ups cook on one side then turn as needed until all sides are cooked. Add butter to the pan for each batch.
Remove rolls from the skillet and immediately roll in cinnamon-sugar.
Serve warm and enjoy!
Making this recipe? Share it with us on Instagram using the hashtag #TidyMom so we can see what you're creating in the kitchen!
Want more great recipes like this? Follow my TidyMom Easy Recipes Pinterest Board
More Pumpkin Recipes you might enjoy:
Homemade Pumpkin Butter Recipe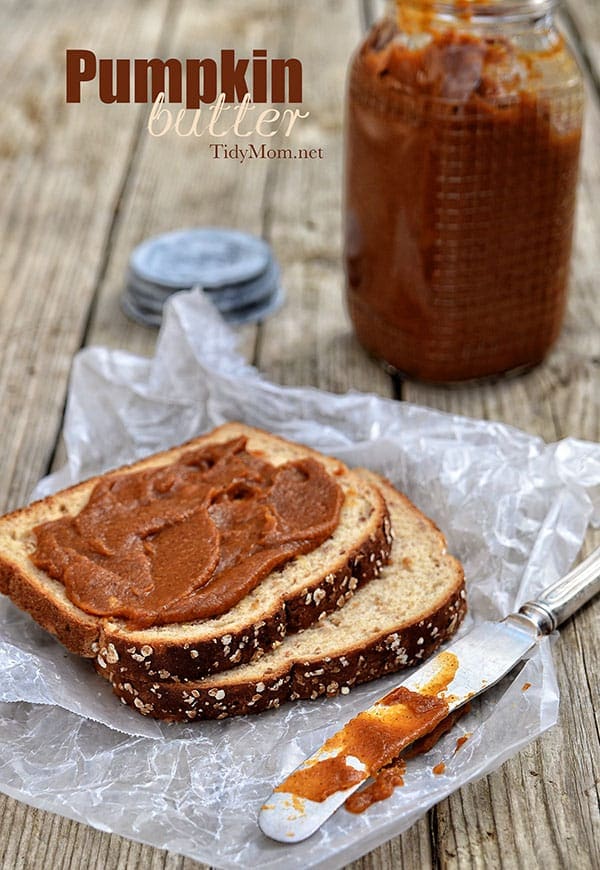 Apple Butter Pumpkin Pie Recipe
Pumpkin Cheesecake Skillet Blondie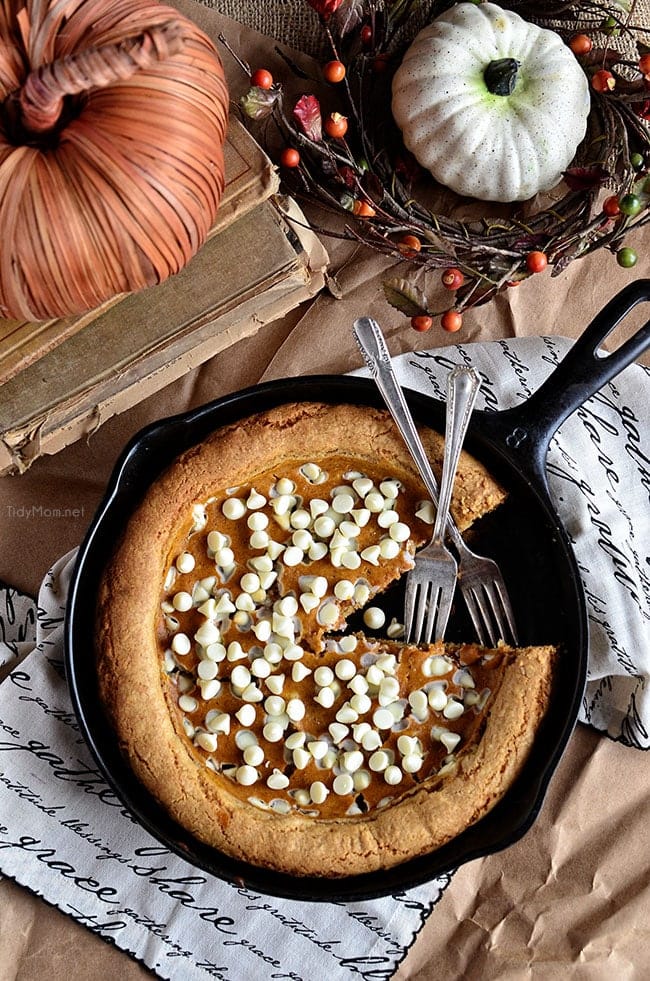 Crunchy Coated Pumpkin French Toast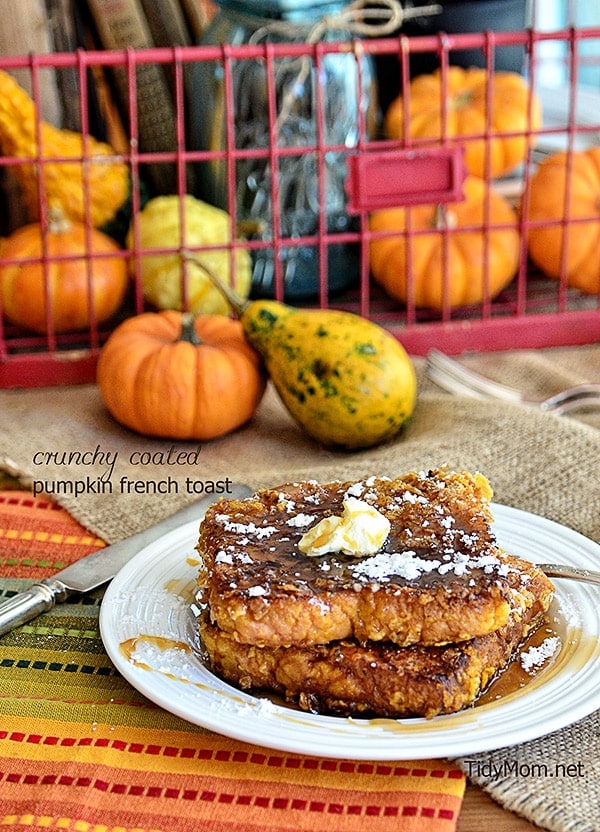 Pumpkin Pie Milkshake with Pie Crust Straws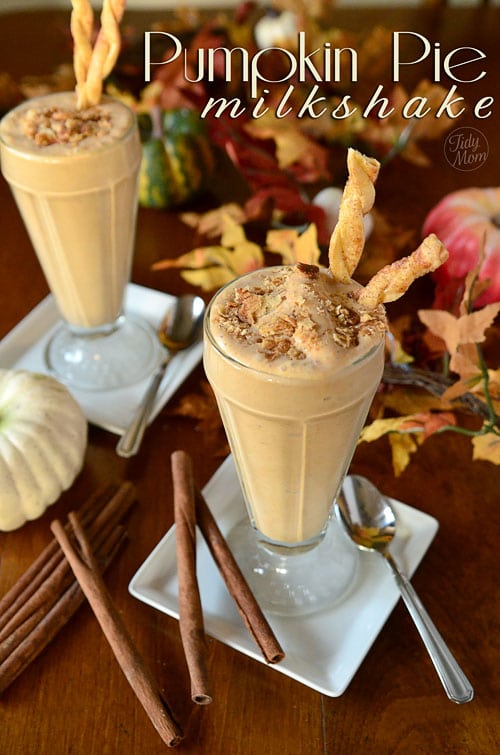 Craving more? Sign up for the TidyMom newsletter to stay on top of what's new right to your inbox! And stay in touch on Facebook, Twitter, Google+ and Pinterest for all of the latest updates