Easy Gingerbread Snack Cake
Warm spices, deeply layered flavors, and smooth rich molasses make up this moist GINGERBREAD CAKE. There isn't a gingerbread lover out there who won't love this easy snack cake!
If your family is a huge fan of all things gingerbread, check out our recipes for Gingerbread French Toast Bake, Gingerbread Pumpkin Bars, and Gingerbread Cupcakes With Brown Sugar Frosting.
Be sure to sign up for my email… to get new recipes and ideas in your inbox!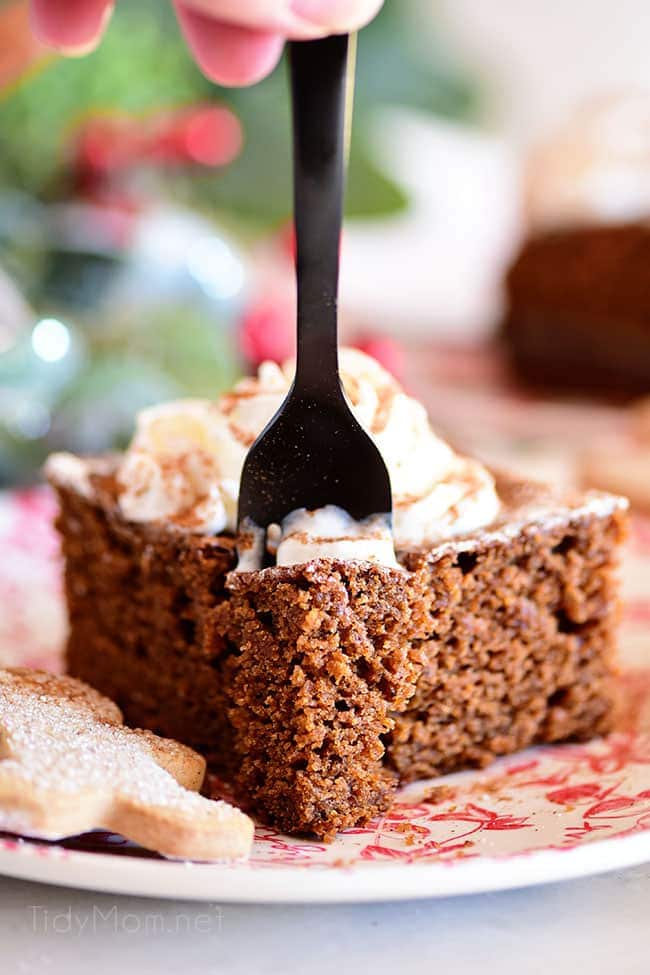 Just like pumpkin spiced everything goes hand in hand with the Fall, it's all things gingerbread with the year-end holidays!
Gingerbread can mean many things to different people such as cookies, bars, snaps, or an actual gingerbread loaf, just to name a few. There's no doubt this spiced gingerbread cake recipe is something you'll want to add to your holiday menu.
No matter what category of gingerbread baked goods you enjoy, they are always flavored with ginger, and various combinations of cinnamon, nutmeg, and cloves. Definitely, a comforting and classic combination that goes back centuries; no wonder spiced ginger cake is the epitome of traditional holiday celebrations.
Why You'll Love This Gingerbread Cake
It's moist, tender, spicy, and sweet!
The batter is quick and prepared by hand mixing with only 10 minutes of prep time.
No fancy icing is needed, perfectly topped with a pantry staple, powdered sugar, and/or cinnamon whipped cream.
This gingerbread cake recipe is easily doubled for larger occasions.
Gingerbread snack cake can be served any time of day, from breakfast to the dessert table.
What Is a Snack Cake
A snack cake, or snacking cake is basically a one-layer cake, usually made in an 8 or 9-inch square or round cake pan. Perfect to serve any time of day or day of the year.
Snack cakes are simple to make, as they call for only one pan, a handful of ingredients, don't require pulling out the stand mixer, and are often not even frosted. The ideal recipe for the novice baker or children.
While frosting can elevate a simple snacking cake—like cream cheese frosting does for my homemade carrot cake, no cake travels as well as a snack cake with a dusting of powdered sugar. An unfrosted slice, usually square-shaped with a cup of coffee or glass of milk can transform even the dreariest of days into something special.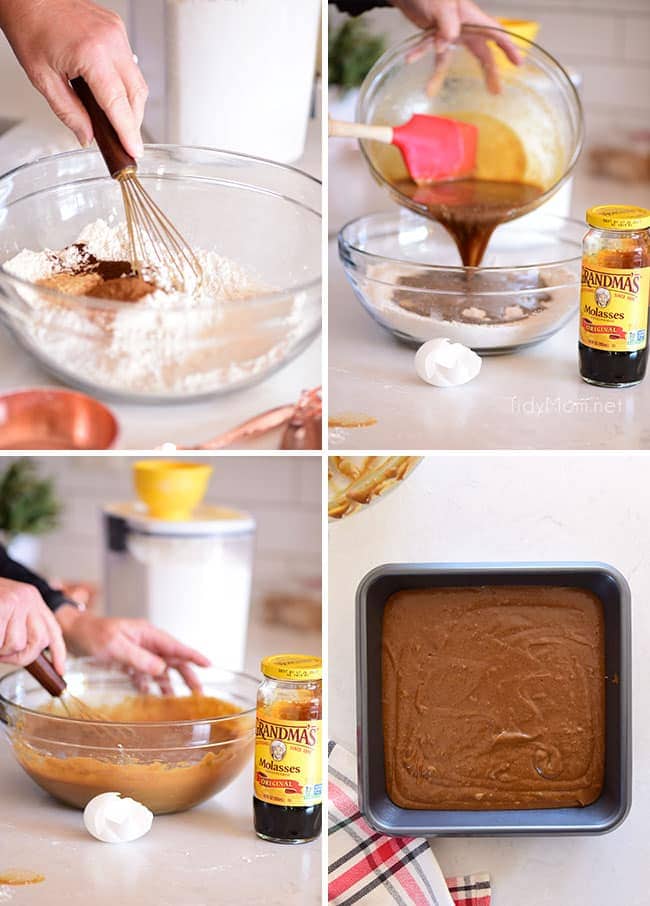 This post may contain affiliate links. Please read my disclosure policy here.
Grab These Ingredients To Make This Gingerbread Cake Recipe
(full printable recipe at the end of this post)
All-Purpose Flour, Salt, and Egg – The basics for almost all cake recipes. Be sure to measure your flour correctly. Spoon the flour into a dry measuring cup to measure it correctly. Don't use the measuring cup to scoop the flour, you'll use more flour than you should.
Spices and Flavoring –  Ground ginger, the keystone to this delicious spiced molasses cake, is a fragrant floral, sweet, and slightly peppery spice that marries well with the other warming spices: cinnamon and cloves, as well as vanilla extract.
Baking Soda – This is your leavening agent, it's what allows your cake to rise and become light and fluffy. To test if your baking soda is fresh, place a few tablespoons of vinegar in a small dish and stir in about a teaspoon of baking soda. The mixture should immediately begin to fizz if the baking soda is still active; if there's little to no reaction, it's time to replace it.
Unsalted Butter – Using unsalted butter allows you to control the exact amount of salt in your recipe. Also, be sure to use real butter, not margarine.
Light Brown Sugar – Brown sugar adds another layer of that caramelly molasses flavor, but also provides most of the sweetness for gingerbread.
Unsulphured Molasses – Unsulphured molasses is the sweetest molasses. It is the type commonly used in gingerbread.  Molasses contributes a broad and complex range of flavors and adds moisture to classic gingerbread cake recipes. I use Grandma's unsulphured molasses (found in the baking aisle).  Molasses made from ripe sugar cane is called unsulphured molasses and it has no additives.
Milk – I use vitamin D whole milk for this recipe.
Powdered Sugar – A decorative and flavor-enhancing touch to dust on top of the gingerbread.
You'll also need an 8×8-inch metal cake pan.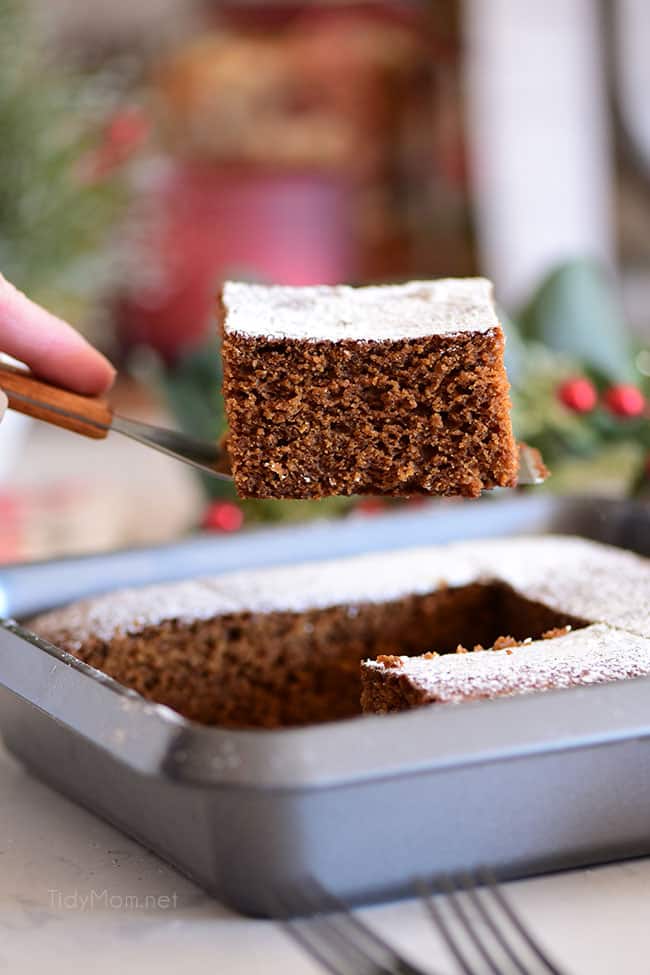 How to Make Gingerbread Cake
Hand mixing this batter is quick and simple.
ONE: Preheat your oven to 350° F and grease an 8×8 cake pan.
TWO: Whisk the dry ingredients (listed in the recipe below) in a large bowl and set aside.
THREE: Heat the milk and stir in butter. Add the brown sugar, molasses, and vanilla stirring until combined, then stir in the egg.
FOUR: Add the wet ingredients to the dry ingredients and mix.
FIVE: Pour the batter into your prepared pan and bake. Cool on a wire rack, dust gingerbread cake with powdered sugar, and serve with whipped cream.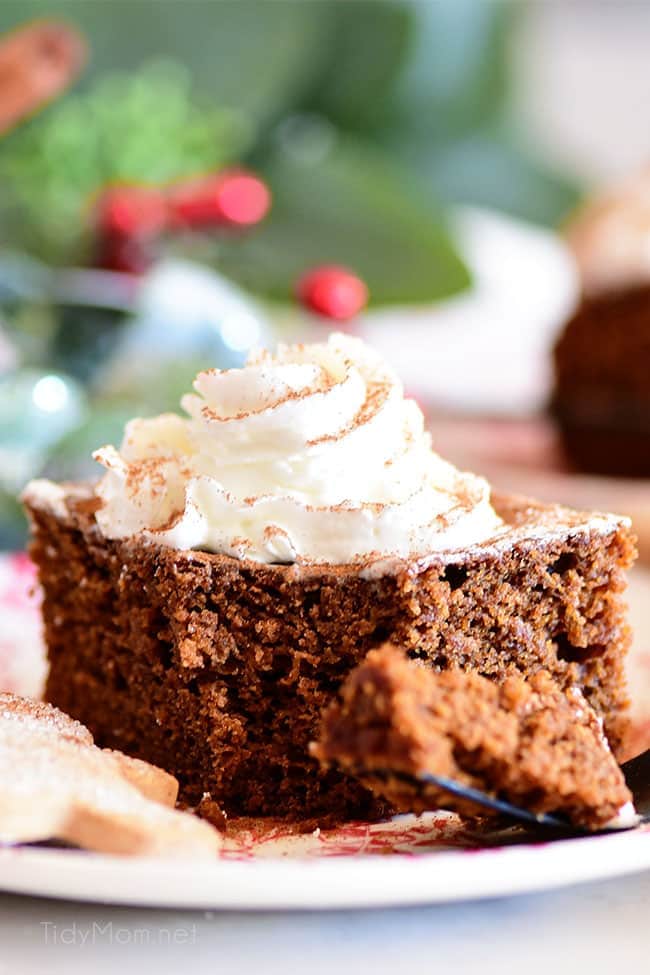 Storing Spiced Ginger Cake 
Gingerbread cake can last up to a week refrigerated, and up to 8 months frozen. Both options need to be well-wrapped and sealed to avoid moisture loss.
For best results, refrigerate gingerbread cake well wrapped after the first day, only warming the portions you plan to serve from then on.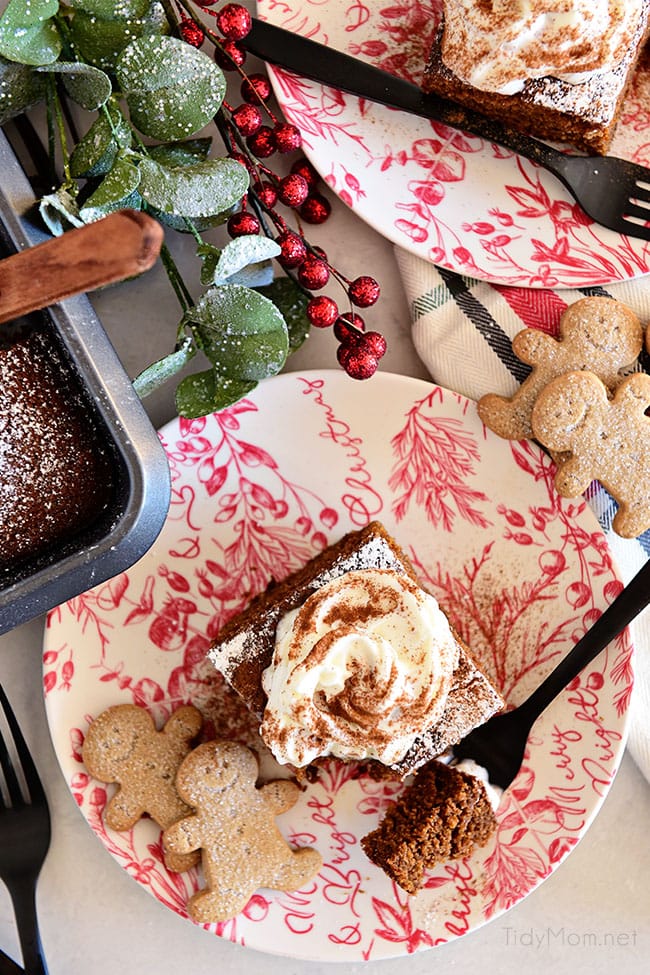 Tips For The Best Gingerbread Cake 
As with any recipe, start by reading the full recipe before you start.
Be sure to warm the milk (per recipe directions) this dilutes the molasses making it easier to blend into the batter.
Make sure you use real butter and not margarine.
Check your baking soda to see if it's fresh. Generally, it should be replaced every 3-6 months.
Avoid a molasses mess and waste by applying cooking spray to a measuring cup first, then measure out your molasses. Viola! No mess!
Substituting blackstrap molasses in a gingerbread cake is a no-go. This extra dark molasses is salty and bitter, which dramatically changes the taste of a spiced ginger cake. Stick with light baking (unsulphered) molasses.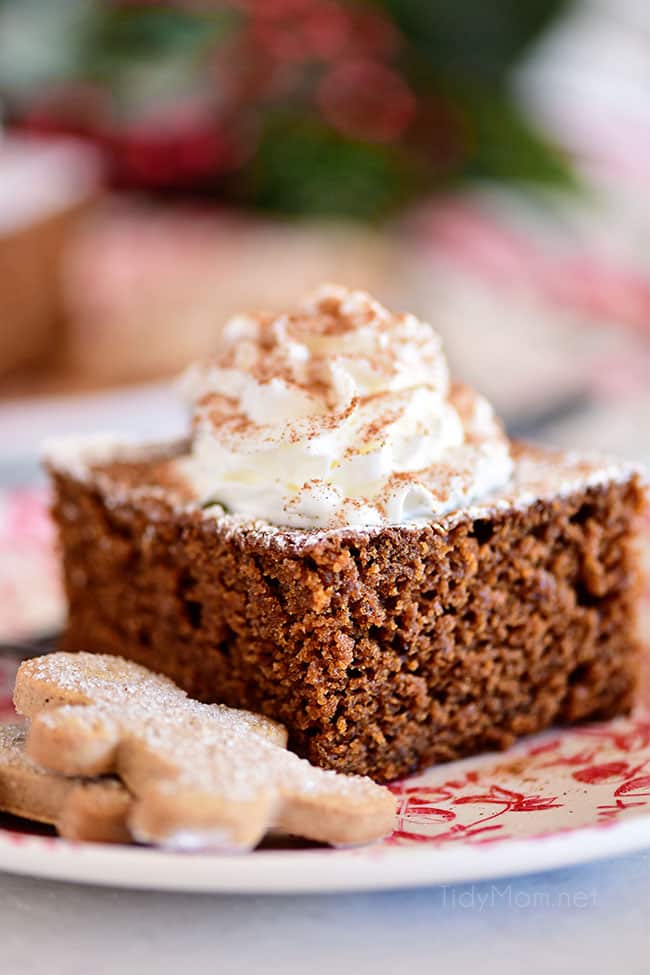 Gingerbread Cake FAQs
While this gingerbread cake recipe is super easy, I've answered a few common questions you might have.
Why is my gingerbread cake dry?
The most common reason for dry gingerbread is using too much flour, which is often the result of measuring the flour incorrectly. Be sure to use the spoon and level method that I described above in the ingredients list.
Why did my gingerbread cake sink?
There are many reasons cake can sink.  The most common are: incorrect oven temperature – check your oven temperature occasionally using a heat-proof oven thermometer (you'd be surprised at how often even a new oven is off). Adjust your oven temperature accordingly. For example, if the thermometer reads 375° F when you set the oven to 350°F, then it's heating up 25° hot – so you need to set your oven to 325° to bake a recipe at 350°.
Underbaking can cause a cake to fall. Use a toothpick to test for doneness.  It should come out clean.
Opening the oven door too early, and incorrectly measuring ingredients can also cause your cake to sink. Be sure to measure all ingredients carefully.
Can I use fresh ginger if I'm out of dried ginger?
No, please don't! While you can typically use ground ginger in place of fresh ginger in most recipes, it rarely works the other way around, especially in cakes!
Fresh ginger has a strong, astringent flavor and contains essential oils that give it its bite, so it usually does not substitute well for milder ginger powder in dessert recipes.
How long does molasses keep?
According to this article about molasses, there is not a great need to worry about preserving molasses; even unsulphured molasses lasts for several years in the pantry.
How do I know if my molasses is still good?
Any off-odors, discolored patches, or crystallization means it's no longer good and should be discarded.
Like This Gingerbread Cake Recipe? Pin It!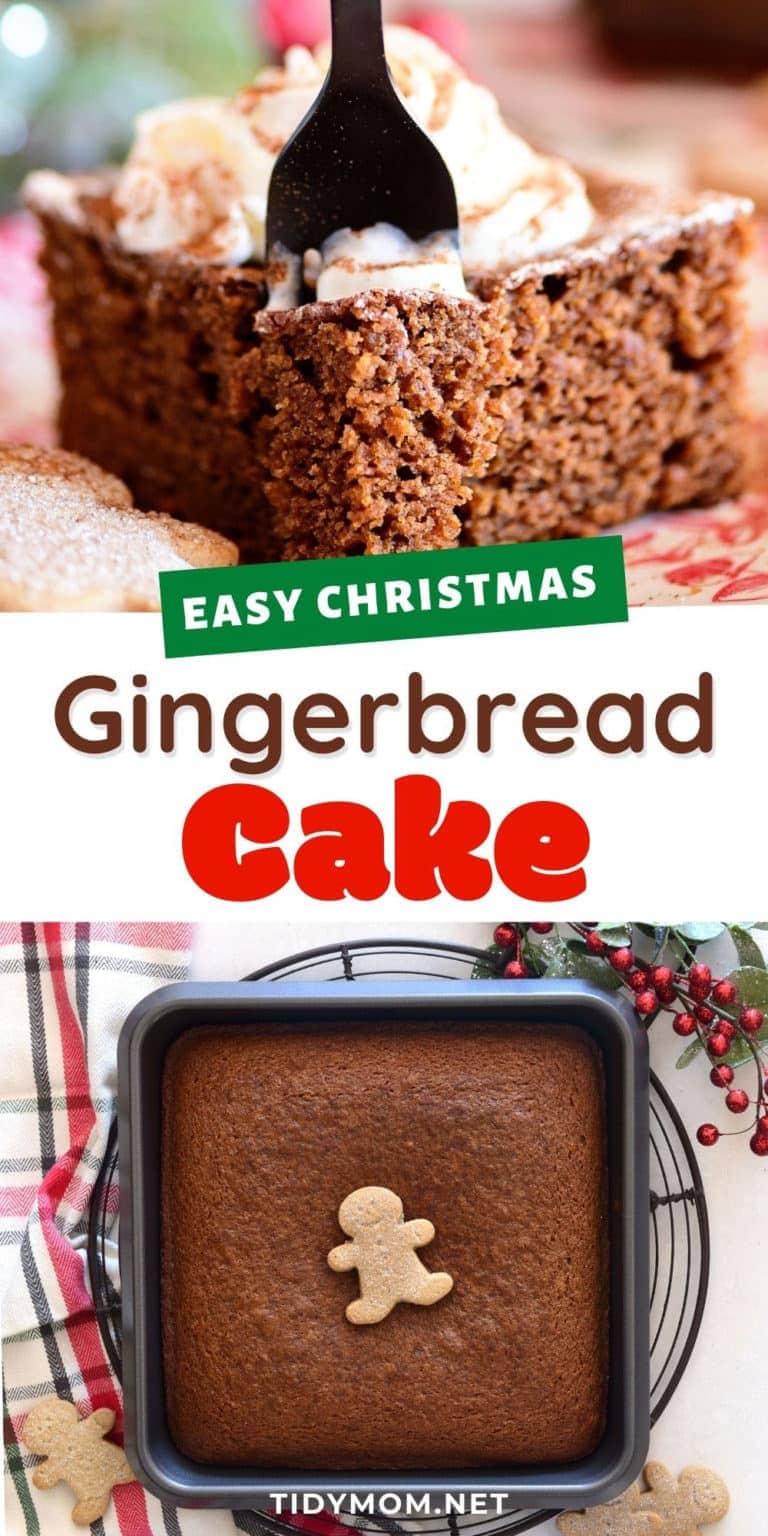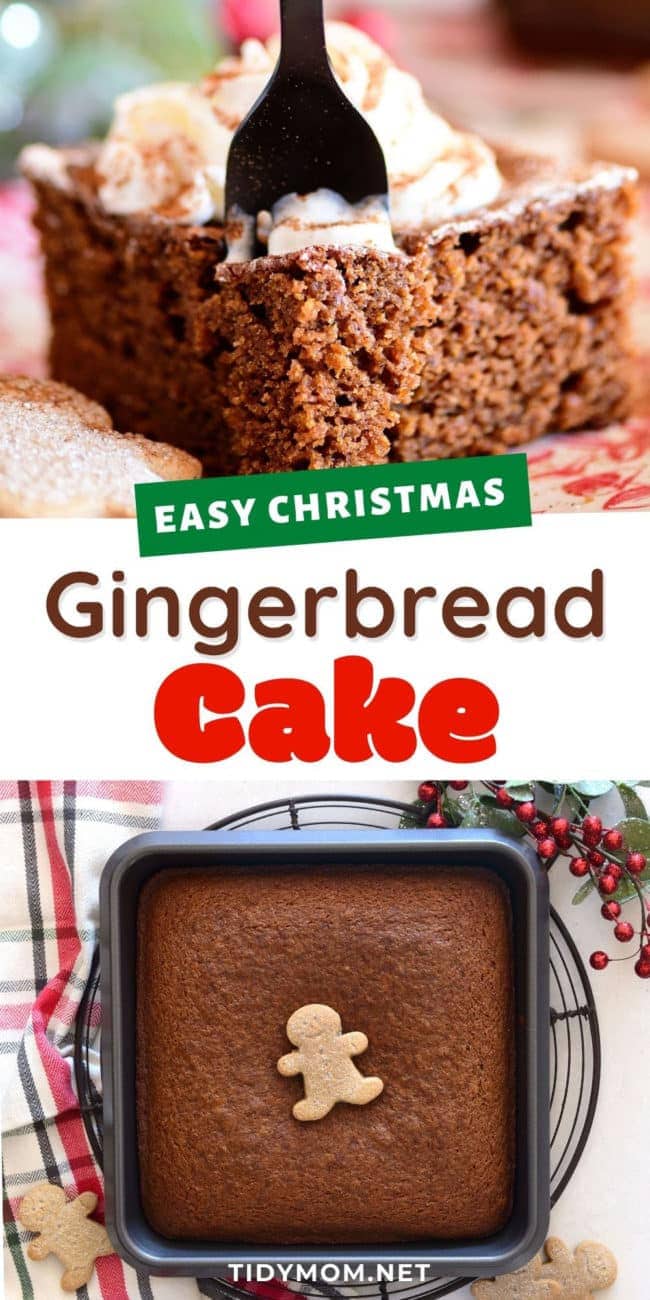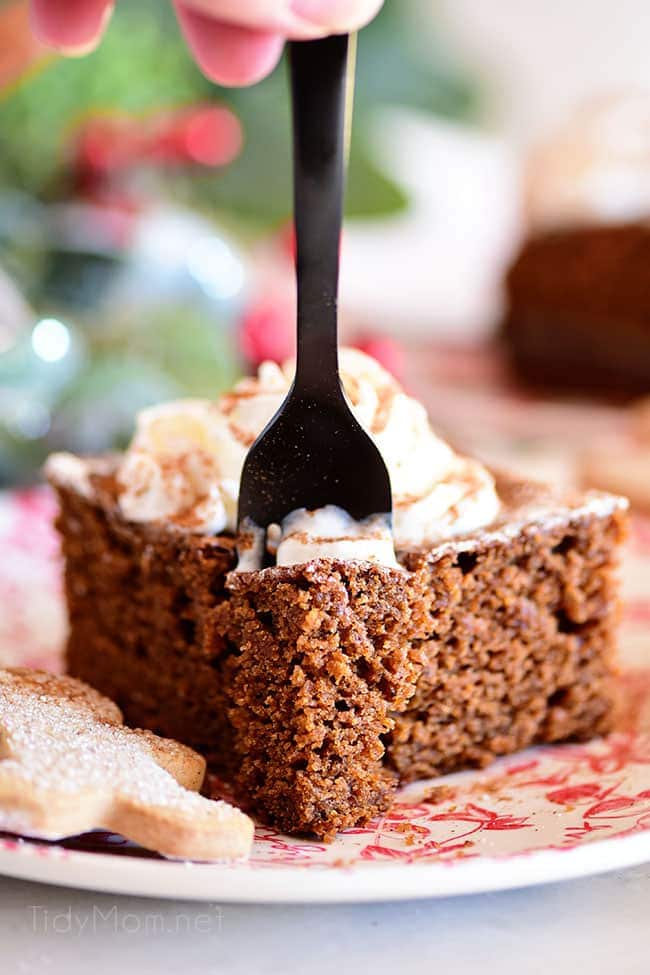 Gingerbread Cake
Yield: 9 servings
Prep Time: 10 minutes
Cook Time: 30 minutes
Total Time: 40 minutes
Warm spices, deeply layered flavors, and smooth rich molasses make up this moist GINGERBREAD CAKE. There isn't a gingerbread lover out there who won't love this easy snack cake!
Ingredients
2 cups all-purpose flour
1 tablespoon ground ginger
2 teaspoons ground cinnamon
½ teaspoons ground cloves
¼ teaspoon salt
1 teaspoon baking soda
¾ cup milk
¾ cup (1½ sticks) butter, unsalted
¾ cup packed light brown sugar
½ cup unsulphured molasses (I use Grandma's unsulphured)
1-2 teaspoons vanilla extract
1 egg, room temperature and beaten
powdered sugar (garnish)
whipped cream (optional for serving)
Instructions
Preheat oven to 350° F. Grease an 8-inch square metal cake pan.
In a large bowl, whisk together the flour, spices, baking soda, and salt; set aside.
Heat the milk in a microwave save bowl in the microwave on high for 90 seconds.
Whisk the softened butter into the hot milk until melted. Then add the brown sugar, molasses and vanilla and mix until combined. Stir in the egg.
Add the wet ingredients to the dry ingredients and mix until completely combined - careful not to over mix)
Pour the batter into the prepared pan and place it in the center of the oven. Bake for 30-35 minutes, or until a toothpick inserted in the middle comes out clean. Cool on a wire rack before serving.
Dust cooled cake with powdered sugar and serve with whipped cream.
Notes
if you don't want to use cloves, replace with 1/2 tsp of nutmeg and 1/2 tsp of allspice
If you would like to make this in a 9x13 pan, just double the recipe. Baking time should be about the same, 30 minutes, but could need a few minutes longer. Start checking with a toothpick at 30 minutes.
Recommended Products
As an Amazon Associate and member of other affiliate programs, I earn from qualifying purchases.
Nutrition Information:
Yield: 9
Serving Size: 1
Amount Per Serving:
Calories: 289
Total Fat: 1g
Saturated Fat: 1g
Trans Fat: 0g
Unsaturated Fat: 1g
Cholesterol: 23mg
Sodium: 229mg
Carbohydrates: 65g
Fiber: 1g
Sugar: 43g
Protein: 4g
Nutrition information is estimated based on the ingredients and cooking instructions as described in each recipe and is intended to be used for informational purposes only. Please note that nutrition details may vary based on methods of preparation, origin, and freshness of ingredients used.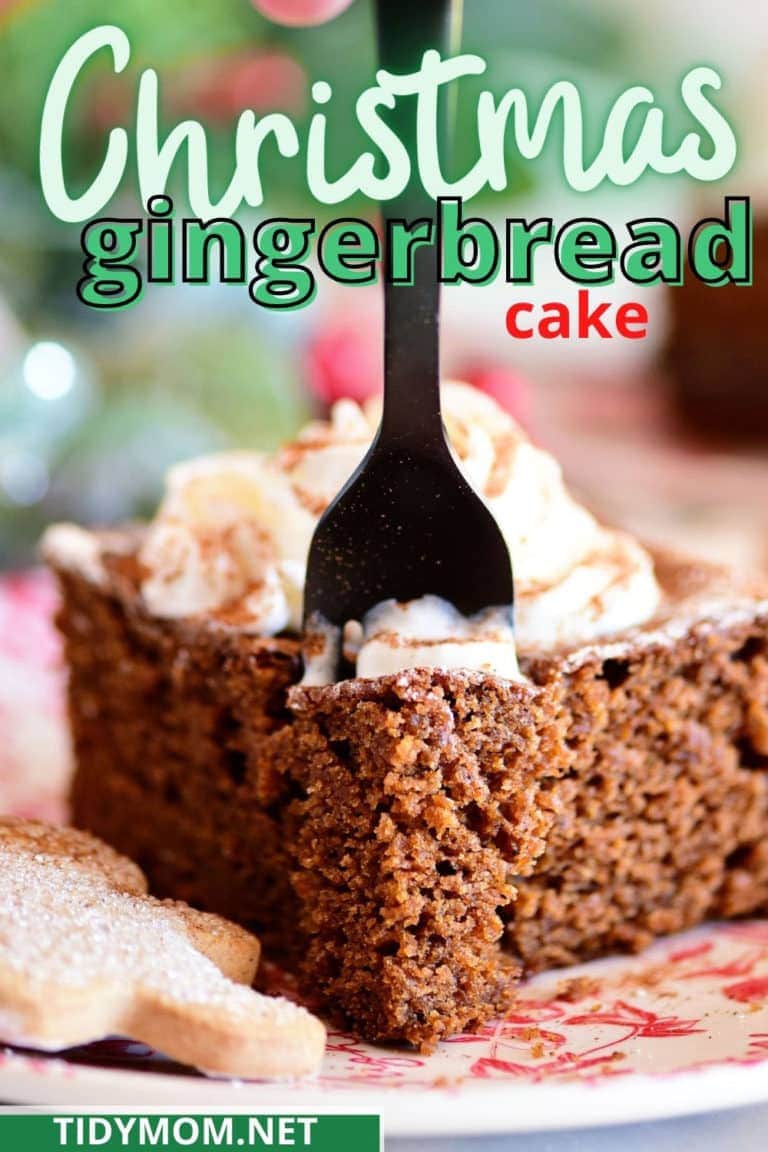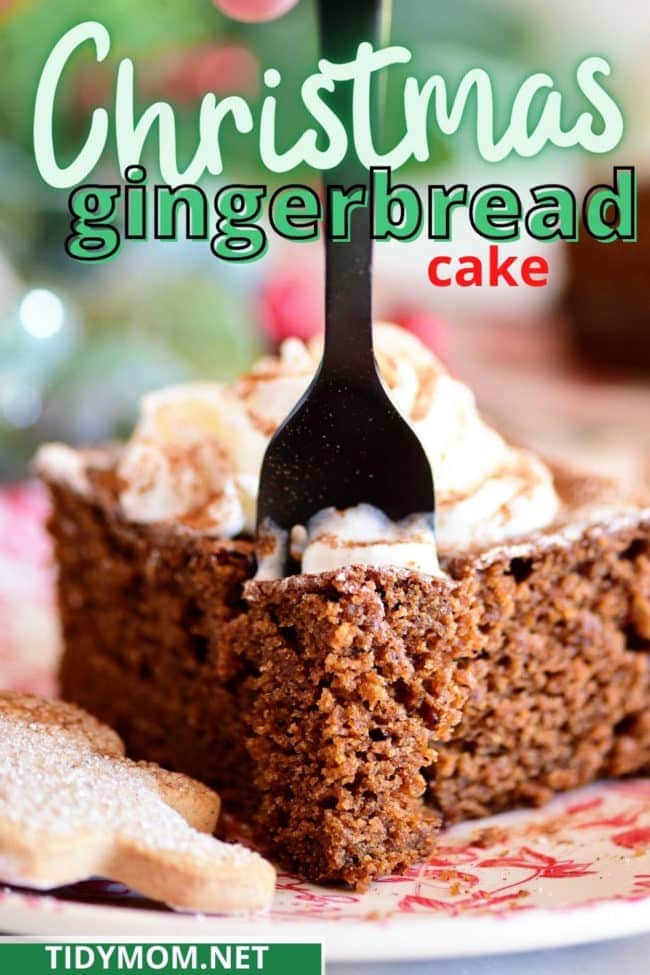 Tidymom is a participant in the amazon services llc associates program, an affiliate advertising program designed to provide a means for sites to earn advertising fees by advertising and linking to Amazon.com.
Please respect my work, recipes and photographs. If you do use a recipe in your own writing, please give proper credit and link back to the original post.