Caramel Apple Gingerbread Cake
One of the disadvantages of going some where for Thanksgiving dinner, means there are no leftovers in the house.  Namely…..NO LEFT OVER DESSERTS in the house.
Now, while that SHOULD be a good thing, my sweet tooth was calling over the weekend and I wanted a yummy simple dessert.  I quickly remembered the pie filling and recipes Lucky Leaf had sent me to try, and at the top of our list was Caramel Apple Gingerbread Cake.
You may remember some of the other fantastic desserts I've made with Lucky Leaf Pie filling, like Angel Food Delight and Sweetheart Cherry Cake .  Their premium pie filling is my very favorite and I love how they "think outside the pie" with many of their recipes!
This recipe is the epitome of fall and the holidays.  Every flavor in them reminds me of the season: the spices, the gingerbread, the apples, the caramel. Each element comes through in the finished cake!  Be sure to garnish the top of each serving with a big dollop of whipped cream and sprinkle with a little nutmeg.
You'll impress your guests with this cake and they'll have no idea how easy it was.
Caramel Apple Gingerbread Cake
Ingredients
1 package (14.5-ounce) gingerbread mix
1 can (21 oz.) LUCKY LEAF APPLE PIE FILLING
1/4 cup caramel-flavored ice cream topping
Whipped Cream
Instructions
Heat oven to 350°F. Lightly grease a 9x9x2-inch baking pan and set aside.
In a large mixing bowl prepare gingerbread mix according to package directions (mine just needed an egg and some water). Fold the apple pie filling into the batter.
Spread batter into prepared pan. Bake for 30 to 35 minutes or until a toothpick inserted near the center comes out clean.
Let cool about 30 minutes. Serve cake with caramel, whipped cream and sprinkle with nutmeg.
https://tidymom.net/caramel-apple-gingerbread-cake/
Copyright© 2009-2013 TidyMom.Net
NEW FEATURE: Save recipes to your personal recipe box with the

Once you have your favorite recipes in your Recipe Box create a Meal Plan with them and the ingredients will automatically be added to a Grocery List!
****IF YOU HAVE an ISSUE with the fact that I used a packaged caked mix, canned pie filling and cool whip…….please read my friend Kristan's post about priorities.
Check out LuckyLeaf.com for more great recipes!
I'm linking up with these parties.......please visit them!
Don't miss my weekly holiday interviews with some of my favorite bloggers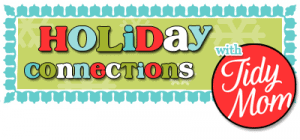 Thank you to Lucky Leaf for sending me  products for this recipe.  I was in no other way compensated to publish this post. These are my real opinions.