Caramelized Banana French Toast
Decadent french toast with home made caramel sauce and bananas, an easy to make gourmet breakfast you can make at home.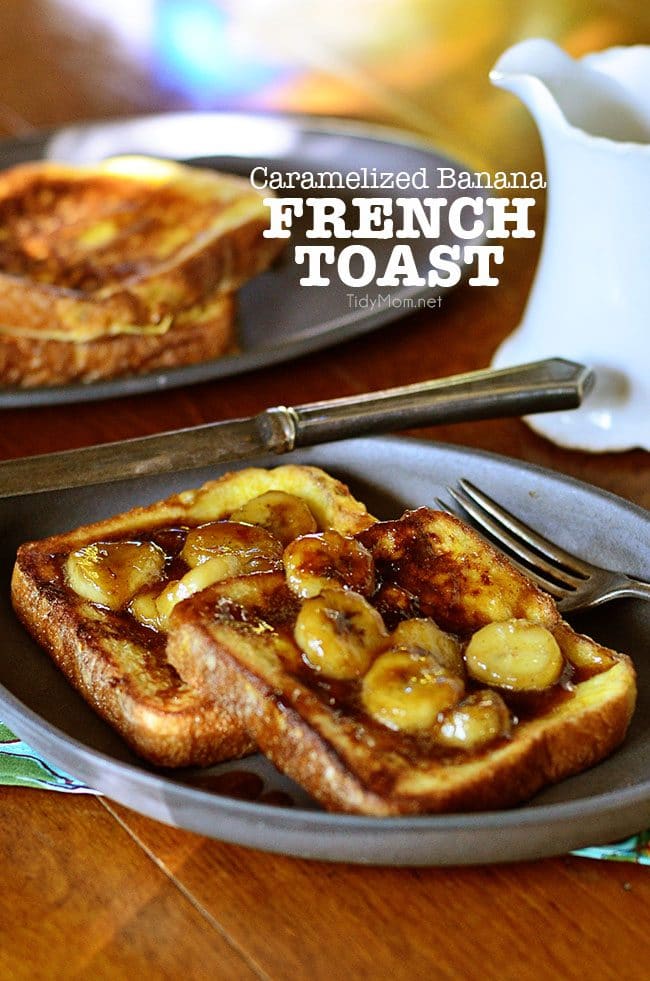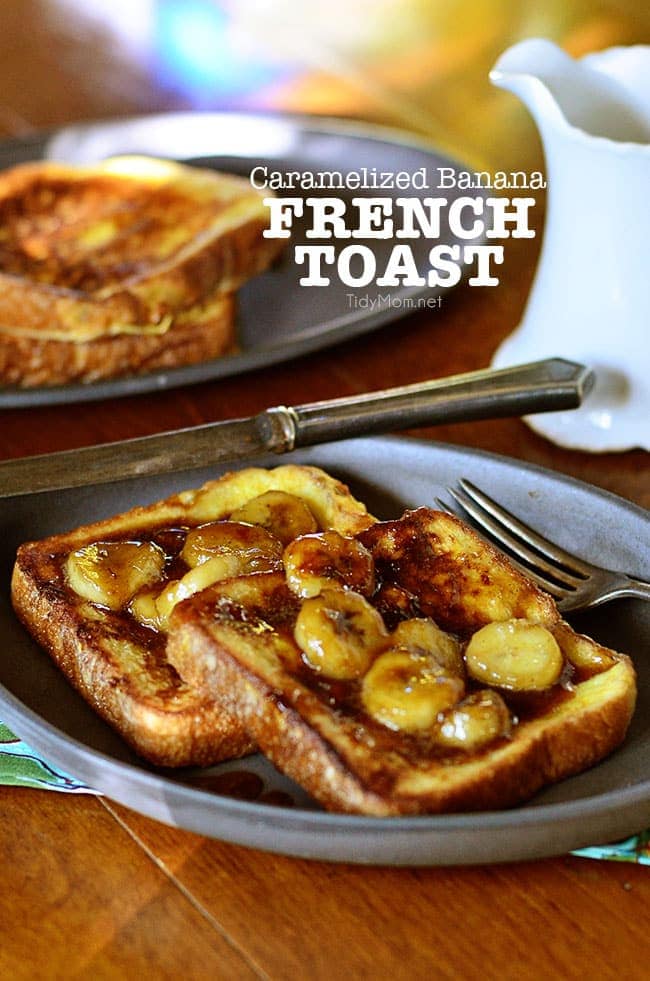 I have an epic french toast for you today!
A few weeks ago, Allison and I enjoyed a late breakfast at The Original Pancake House, if you are ever near one, I HIGHLY recommend stopping in!  Just note, they are closed on Mondays.  We are right by one every month on a Monday when we take Cullen to the groomer, so last month I switched our grooming day to Tuesday, just so we could have breakfast at the Pancake House.
Oddly enough, neither of us had pancakes that day.  I had the most incredible Peaches and Cream Waffles made with fresh, locally grown peaches. To. Die. For.   Allison had a heavenly french toast sprinkled with bananas and topped with a creamy  caramel syrup.  She talked about that french toast for weeks!
so much so, that we finally decided we needed to re-create something similar at home.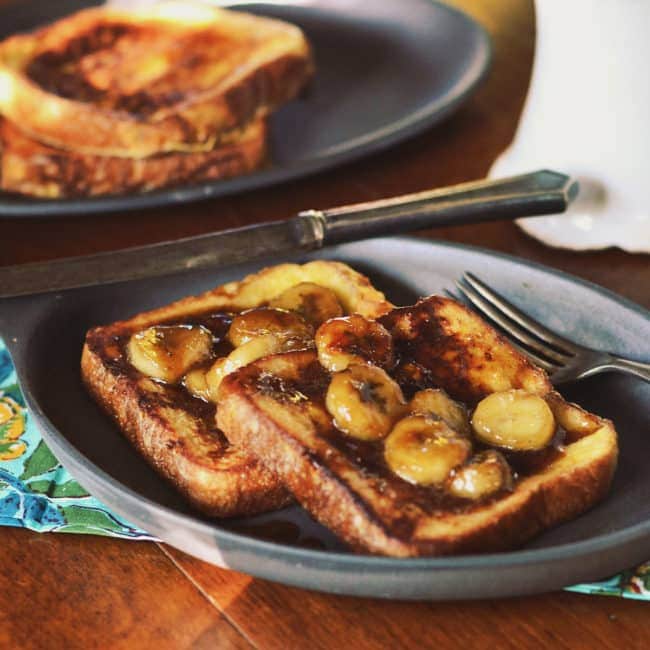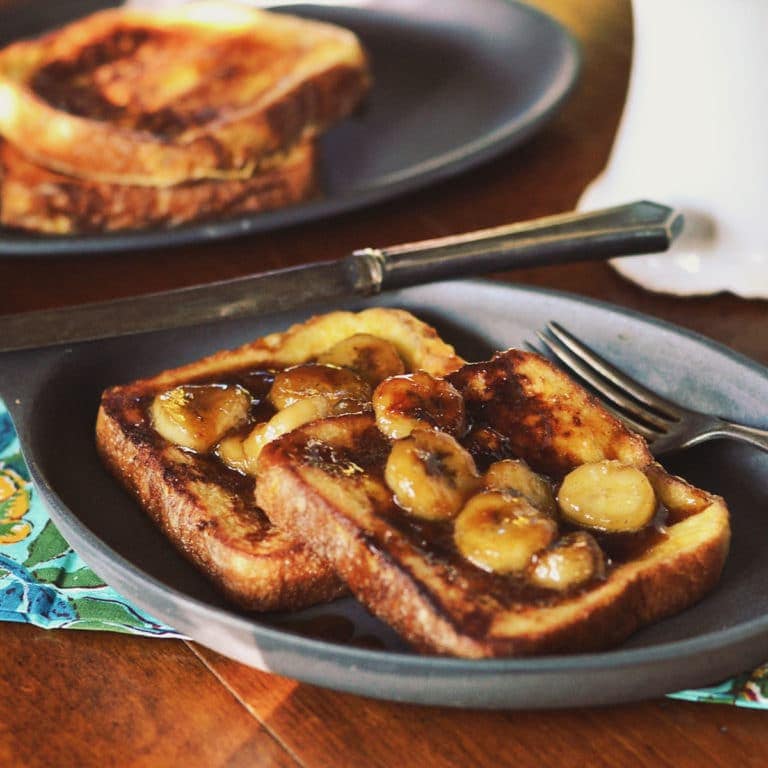 and here's where I'm going to let you in on a little secret of mine ………. BACON GREASE!
That is my secret to mind blowing french toast.  When I was little, my grandma and my mom always kept a jar of bacon grease in the refrigerator.  They used it to fry everything.  The true meaning to , everything is better with a little bacon!  Now that I no longer fry much, I rarely use it, but I still keep a small jar in the fridge for french toast………and the occasional fried potatoes that I rarely let my husband indulge in any more.  Promise me, you'll try it, at least once.
How do you like to eat french toast?  My dad always ate his with out syrup, he would just sprinkle a slices with a little powdered sugar and fold it in half and eat it with his hands, like a sandwich.
What you'll need for Caramel Banana French Toast :

Caramel Banana French Toast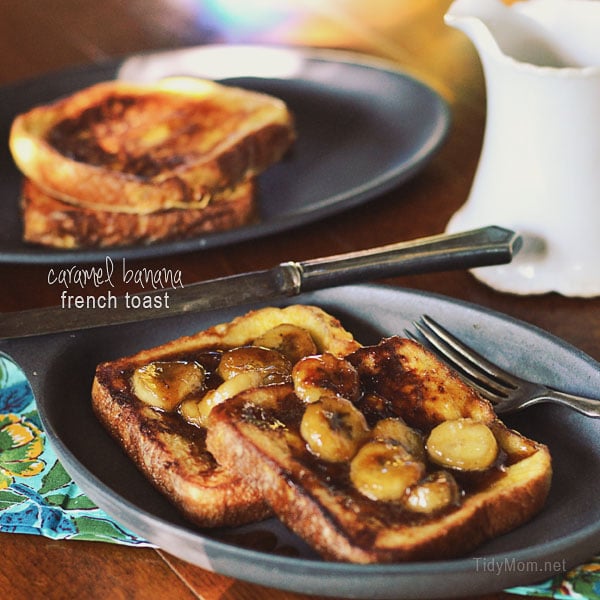 Decadent french toast with home made caramel sauce and bananas, an easy to make gourmet breakfast you can make at home.
Ingredients
4 thick slices of bread (i used Texas toast)
4 eggs
3-4 Tablespoons milk or cream
1-2 Tablespoons Orange Juice
1 tsp sugar
1/2 teaspoon Vanilla
pinch salt

For Frying:

2 tbsp bacon grease (or butter)

For Banana Caramel Sauce

2 ripe but firm bananas, sliced thick
2 Tablespoons butter
4 Tablespoons brown sugar, packed
sprinkle of cinnamon
Instructions
To make the French toast, preheat an oven to 350°F.
In a large, shallow bowl, whisk together the eggs, milk, orange juice,sugar, vanilla, and salt. Add bread to the egg mixture and turn gently to coat evenly. Let stand until the bread has soaked up some of the egg mixture, about 1 minute.
Place [http://bit.ly/1KbAQZT] on medium-high heat until hot. add bacon grease to melt. Remove the bread from the egg mixture, letting the excess liquid drip back into the bowl, and place on the hot skillet. Cook until the bottoms are golden brown, about 2 minutes. Flip and cook the other sides until golden brown, about 2 minutes more. Place the bread on a baking sheet, transfer to the oven and bake until the center of the bread is heated through but still moist, about 10 minutes.
While french toast is in the oven, peel and slice bananas. Wipe out skillet with a paper towel and add the butter and brown sugar on medium high, use a wooden spoon to combine and let melt then add bananas in a thin layer. Allow to bubble a bit then flip the banana slices over one at a time. Cook until bananas are lightly brown (2-3 minuets)
Serve the French Toast piping hot, topped with spoonfuls of the caramelized bananas.
Garnish with whipped cream, optional, but highly recommended!
Notes
you can use butter in place of bacon grease for frying the french toast, but I recommend the bacon grease.
I didn't photograph with the whipped cream, because it melts really fast, but was a delicious addition that I suggest serving with this french toast.
https://tidymom.net/2012/caramel-banana-french-toast/
Copyright© 2009-2013 TidyMom.Net
More French Toast Recipes you may enjoy:
Eggnog French Toast at Dine and Dish
Upside Down Caramelized Banana Bread Skillet Cake at How Sweet
Nutella Filled "Frenched" Tortillas at Bake at 350
Creme Brulee French Toast at Recipe Girl
Stuffed French Toast with Gingerbread Praline Sauce at Food For My Family
Peaches and Cream Stuffed French Toast at Two Peas and Their Pod
Bananas Foster at The Pioneer Woman
Apple Bourbon French Toast at She Wears Many Hats
Strawberry Banana French Toast Casserole at Jeanette's Healthy Living
Banana Stuffed French Toast at Panini Happy
Banana Caramel Sea Salt Milkshake at Heather Christo Cooks
Want more great recipes like this? Follow my TidyMom Easy Recipes Pinterest Board
Follow Cheryl Sousan | Tidymom.net's board TidyMom.net easy recipes on Pinterest.
LIKE THIS FRENCH TOAST RECIPE? PIN IT!