Bacon Fried Cereal Coated Pumpkin French Toast
Add a little flavor and crunch to your french toast, by dredging the bread in crushed cereal and cooking it in bacon grease for one delicious plate of Bacon Fried Cereal Coated Pumpkin French Toast!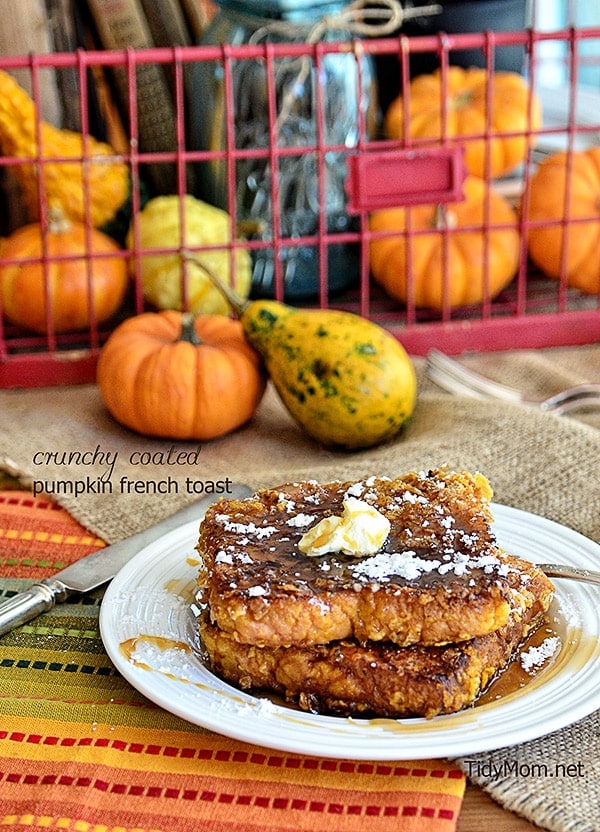 I know, I know I'm sure you are being bombarded with pumpkin recipes all over the place.  It's just a fact of life when that magical season appears, so do all the pumpkin recipes.
I don't know about you, but Fall never seems to last long enough for me.  One of two things usually happens, in the Midwest anyway……crisp fall temperatures arrive and last all of two weeks and then BAM it's winter.  Or we have an Indian summer that hangs on forever and there's almost no fall at all.  Either way, I can't seem to get enough of Fall, and eating pumpkin anything just makes it feel like it lasts longer!
Last weekend I had an early flight home from Minneapolis.  I was home by 10:30 am, had not had breakfast so I thought I'd surprise my family by waking them up to the sweet aroma of a little bit of pumpkin heaven for breakfast.  Brew a pot of coffee and grab a plate….you are going to want to make this Bacon Fried Crunchy Coated Pumpkin French Toast soon!! 
Let's Make Cereal Coated Pumpkin French Toast
This post may contain affiliate links. Please read my disclosure policy here.
Gather up your usual french toast ingredients, eggs, milk, bread and for this recipe you will also need some pumpkin puree, brown sugar, pumpkin pie spice, vanilla extract, Frosted Flakes cereal and bacon grease (I keep my bacon grease in a jar in the refrigerator, it's fantastic for things like hash browns, eggs, and french toast!- but if you don't have any, then you will want to fry a few pieces of bacon and leave the grease in the skillet)
I like to cook my french toast in my cast iron skillet, but an electric skillet or griddle will work just as well.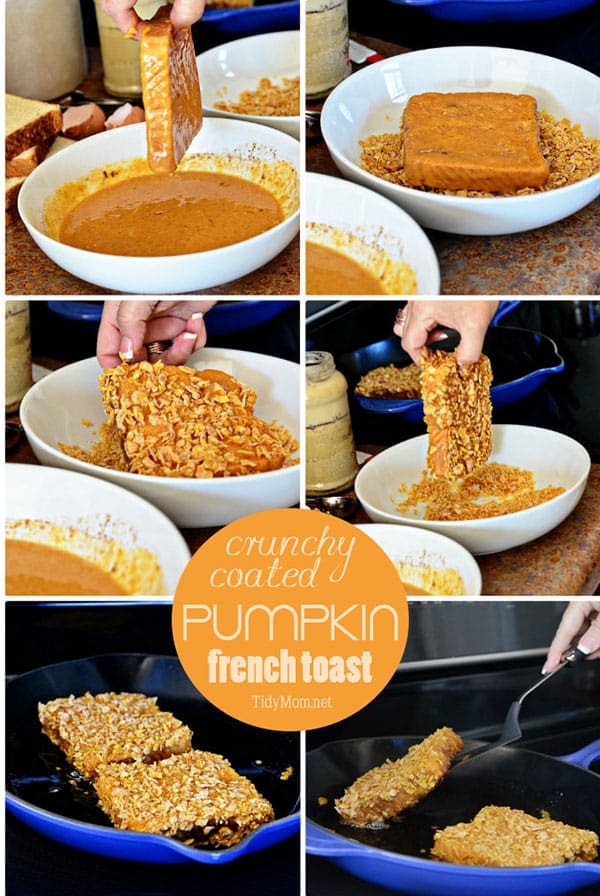 Start by putting 4 cups of frosted flakes into a large plastic baggie.  Zip it closed and crush it up, using a glass or rolling pin.  Then pour cereal in a shallow bowl.
In another shallow bowl, whisk eggs, milk, pumpkin, sugar, vanilla and pumpkin pie spice and place both bowls alongside each other near your skillet.
Drop a few tablespoons of bacon grease in your skillet and heat the pan over medium heat.  Once the pan is hot and grease has melted, dunk your bread in the pumpkin-egg mixture, making sure to coat both sides.
Then immediately press the bread into the cereal crumbs, again coating both sides.
Place the cereal coated french toast into a hot greased skillet and cook on medium for about 3-4 minutes per side or until golden brown. You might need to add more bacon grease in between each batch.  Serve warm and enjoy!
Next time I make this french toast, I'm going to make some cinnamon honey butter to serve with it!!  I didn't think of that until we were ready to eat this time!
RELATED: Pecan Pumpkin Pie French Toast Roll Ups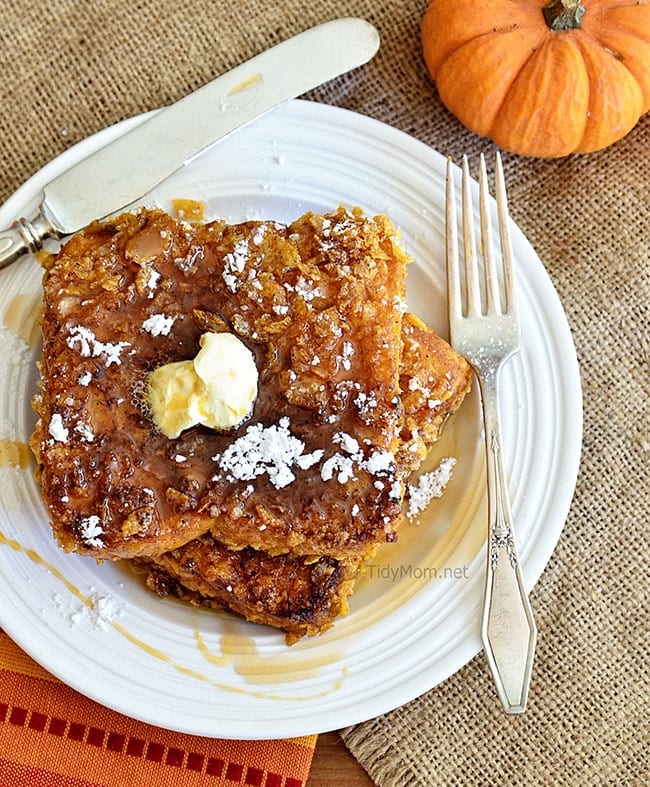 Now grab your fork and dig in!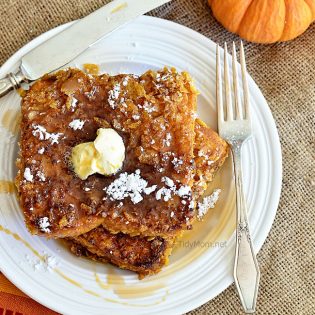 Bacon Fried Cereal Coated Pumpkin French Toast
Ingredients:
6 slices of thick bread
4 cups Frosted Flakes
3 large eggs
1/2 cup milk
1/2 cup pumpkin puree
1 tablespoon brown sugar, packed
1 teaspoon pumpkin pie spice
1 teaspoon vanilla extract
4 tablespoons bacon grease
Directions:
Place Frosted Flakes in a plastic zip bag and crush with rolling pin or glass. Pour crumbs into a shallow bowl and set aside.
Using another shallow bowl; whisk together eggs, milk, pumpkin, sugar, pie spice and vanilla.
Preheat a large skillet or griddle on medium heat with 1-2 tablespoons of bacon grease.
Dip both sides of bread into pumpkin egg mixture, let excess batter drip off, then place in the dish with crushed Frosted Flakes. Gently press the bread into the crushed cereal, if needed.
Place the cereal crusted french toast into the preheated pan and cook for about 3-4 minutes per side, until the frosted flakes are golden brown and the batter cooked. Repeat with the remaining bread. Additional 1-2 tablespoons of bacon grease may be needed.
Serve warm with butter and syrup!
Making this recipe? Share it with us on Instagram using the hashtag #TidyMom so we can see what you're creating in the kitchen!
Want more great recipes like this? Follow my TidyMom Easy Recipes Pinterest Board
Like this Cereal Coated Pumpkin French Toast Recipe? Pin it!