Red Velvet Gooey Butter Cookies
A Red Velvet twist on the St. Louis Gooey Butter Cake made into a soft delicious cookie, with white chocolate chips —  perfect for Christmas, Valentines Day or any day!
click to see more of my recipe videos
You know a cookie is good, when they disappear fast!
I actually made these Red Velvet Gooey Butter Cookies during the holidays, took pictures and totally forgot to post about them until I saw them on my camera the other day, looking all "Christmasy".  Knowing how fast they were devoured the first time, I thought I'd make another batch, since Red Velvet would make the perfect Valentine cookie.
Way back in December, Allison and I had a Red Velvet crinkle cookie at Panera and she said we should try to make some at home.  I thought about the chocolate crinkle cookies I had made in the past, and Red Velvet should have cream cheese, so I thought……..why not Red Velvet Gooey Butter Cookies?! You know how much I LOVE all things gooey butter cake.
Well, grab your baking sheets, because these are not only EASY but good golly they were a hit!  Allison and her friends devoured the entire batch in record time!
So lets get mixing………so you can start eating!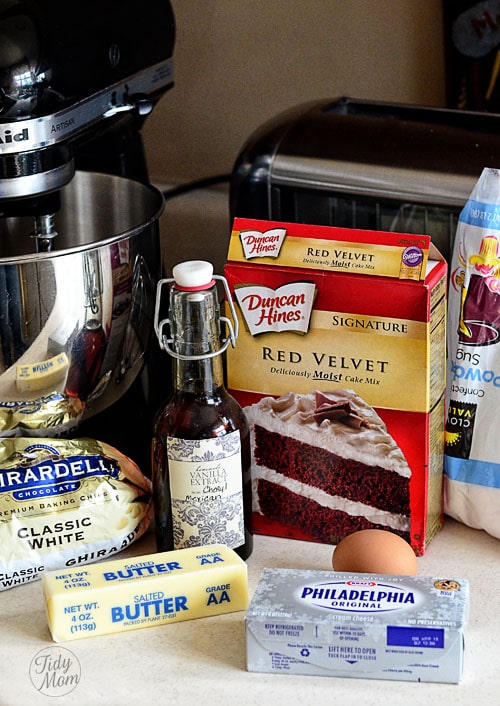 The ingredients are simple.  I used a Duncan Hines Red Velvet Cake Mix, butter, an egg, cream cheese, homemade vanilla, white chocolate chips and powdered sugar.  Mix it all together (full recipe below)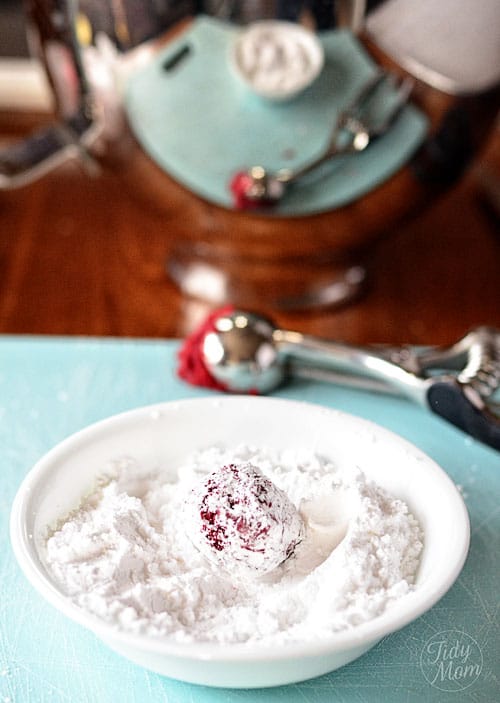 (post contains affiliate links)
Roll dough into one inch balls, I like to scoop out the dough with a cookie scoop then roll into a ball with my hands.  Using a small bowl full of powdered sugar, roll each Red Velvet Cookie to completely cover in sugar.
Place them on a parchment lined baking sheet, a few inches apart.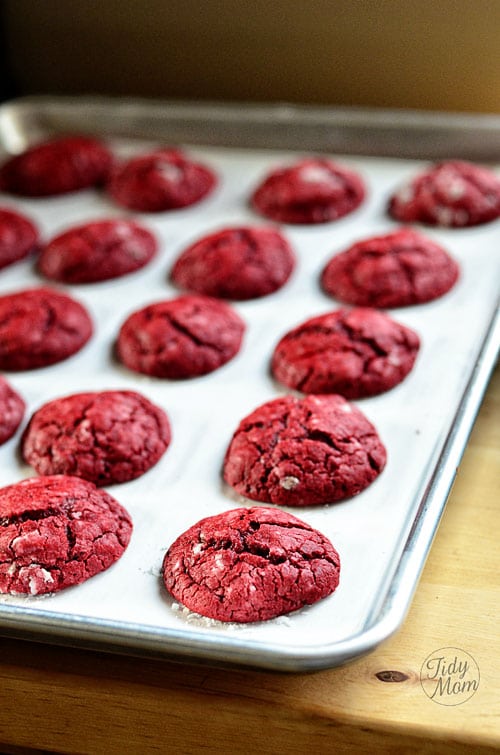 Bake until set.  These are soft cookies, almost cake like.  After they cool completely, dust with more powdered sugar if you'd like.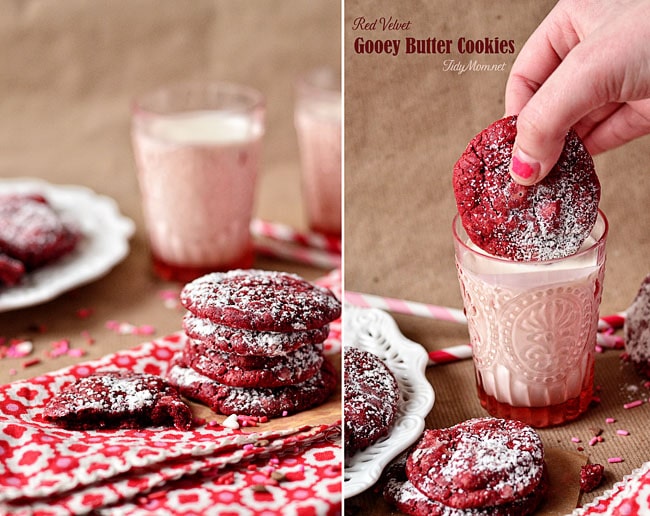 Enjoy!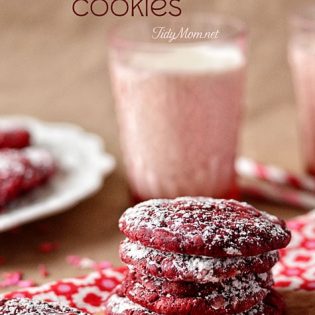 Red Velvet Gooey Butter Cookies
A Red Velvet twist on the gooey butter cake made into a soft delicious cookie.
Ingredients:
1 package Red Velvet Cake Mix
8 ounce cream cheese, softened
1/2 cup butter, softened
1 large egg
1 teaspoon vanilla extract
1/2 cup white chocolate chips
1/2 cup powdered sugar
Directions:
Heat oven to 350° F.
In a large bowl, using an electric mixer, combine butter and cream cheese until fluffy.
Add egg and vanilla, mix until completely incorporated, then add cake mix and continue mixing until a dough forms (will be thick). Fold in chocolate chips.
Place powdered sugar in a small bowl.
Using a cookie scoop, form one inch dough balls and roll into powdered sugar to coat.
Place cookies 2 inches apart onto a parchment lined cookie sheet and bake for 10-12 minutes, until centers are set.
Cool on wire rack.
When completely cooled, dust with powdered sugar.
Making this recipe? Share it with us on Instagram using the hashtag #TidyMom so we can see what you're creating in the kitchen!
Want more great recipes like this? Follow my TidyMom Easy Recipes Pinterest Board
More Red Velvet Recipes you may enjoy:
Moore Gooey Butter Recipes you may enjoy:
Are you a fan of Red Velvet?