Garlic Cheese Bread : I'm Lovin' It:
I love bread.
There, I said it.
We serve bread most every night at dinner.
When we were young and first married, it would often be just a slice of white bread with tub butter smeared from edge to edge.  As we "grew up" a little, we moved on to canned rolls or frozen loaves of garlic bread.
Now a days, you are more likely to find a loaf of homemade artisan bread that I made, with dipping oil,  or I will pick up a loaf of fresh rustic bread and make our own garlic bread, or better yet, homemade cheese garlic bread!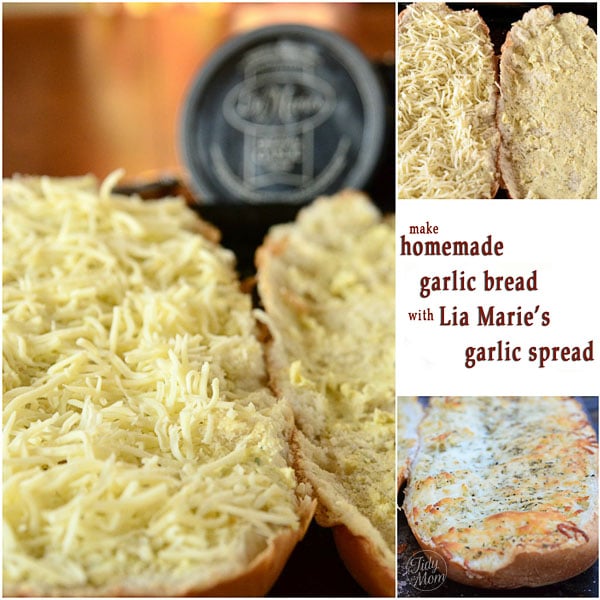 Lia Marie's garlic spread makes it super easy! This spread has everything I need for a delicious flavorful bread, with just the right amount of roasted garlic, creamy butter, fresh herbs and natural cheeses.
It's SO simple and delicious, I never pick up the frozen stuff any more.  I either use Lia Marie's garlic spread and add my own cheese, or Lia Marie's Five Cheese Garlic Spread.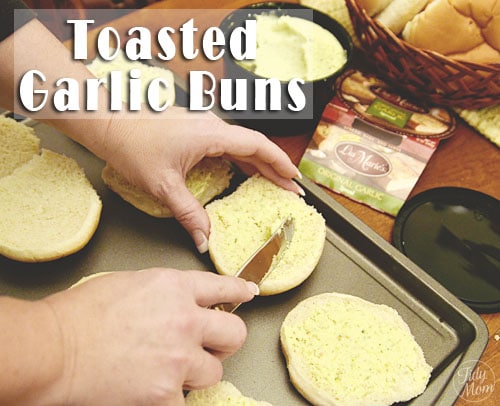 Have you ever buttered and toasted your hamburger buns? We've been using Lia Marie's garlic spread and Oh MY heck you will never eat a burger with a plain bun again!  Spread a little on your buns and toss them on the grill ( or skillet) until toasted.
Please note that right now Lia Marie's is only available in St. Louis, San Antonio, Austin, Green Bay and Milwaukee, but they are working hard to get into new territories! So let your grocer know you'd LOVE to see Lia Marie's in your store! Where to find Lia Marie's, the garlic spread that's sweeping the nation.  Sold in the dairy/butter section.

I'm Lovin'…….Garlic Cheese Bread

Now it's your turn! Please remember to link back to http://TidyMom.net
Let us know what you're lovin' this week!
Share your recipes, crafts, diy's, photography, printables, products..anything you are loving!
If you have something to share with us on your blog, add your link below.
*Don't forget to come back over the weekend for the I'm Lovin' It Wrap Up post……where I feature a few of the great links!!
What is I'm Lovin' It Fridays? get all the info, how to's trouble shoot and button here

Disclaimer:  TidyMom is working in partnership with Lia Marie's to spread the word about this garlic spread that's sweeping the nation.  All options and love for Lia Marie's are all my own.