Vanilla Pumpkin Cupcakes with Cinnamon Buttercream
The perfect cupcakes for the season, a moist Vanilla Pumpkin cake topped with Cinnamon Buttercream frosting.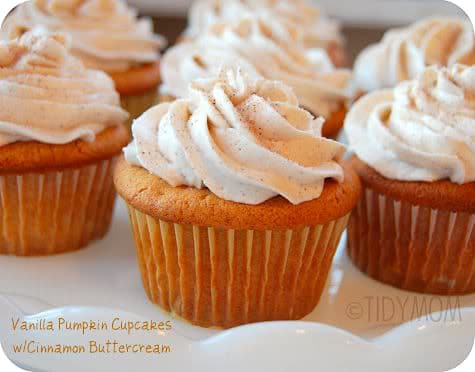 If you've been reading my blog for any time, you know my love affair with anything pumpkin. So when I spied  JELL-O Instant Pumpkin Spice Pudding Mix I just KNEW I had to make something with it!! – not a pie, although they do have a yummy Triple Layer Pumpkin Spice Pie recipe on the Kraft website
I had visions of cupcakes! A soft moist vanilla cupcake with just a hint of pumpkin! And why not top it off with Cinnamon Buttercream Frosting!……and hey, sprinkle a little cinnamon and sugar on top!!
Oh YUM!!! these cupcakes turned out even better than I had dreamed!?
I'm making another batch for thanksgiving!! What a great treat for the young, and not so young!
Grab up a few boxes of the JELL-O Pumpkin Spice Instant Pudding mix if you see it at your local grocer, it's only available for a limited time!
Want more great recipes like this? Follow my TidyMom Easy Recipes Pinterest Board
ENJOY!