Recipes
Apple Butter Pumpkin Pie with Streusel Topping
In our family I'm known for my "special pumpkin pie".  A recipe handed down to me from my grandfather.  As glorious as that pie is though…… we sometimes crave just a "regular" pumpkin pie.
So of course I couldn't "just make a pumpkin pie" I had to find one that was "kicked up a notch" and I think I did it!!  Lucky Leaf is a favorite pie filling of mine and it didn't take me long to find the recipe I wanted to try on their site.
This  delicious combination of flavors and texture just screams "fall" with apple and pumpkin, in a heavenly spiced custard pie.  The slightly crisp pecan  streusel topping gives a surprising crunch in every bite.
Apple Butter Pumpkin Pie with Streusel Topping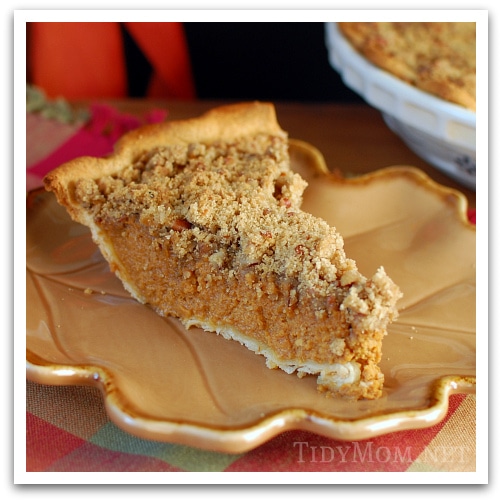 Ingredients
1 Pillsbury refrigerated Pie Crust
1 cup solid pack pumpkin
1 cup LUCKY LEAF ® APPLE BUTTER
1/4 cup packed dark brown sugar
1/2 teaspoon ground cinnamon
1/4 teaspoon ground ginger
1/4 teaspoon ground nutmeg
1/4 teaspoon salt
3 eggs, lightly beaten
1 cup undiluted evaporated milk
3 tablespoons butter
1/2 cup flour
1/2 cup dark brown sugar
1/2 cup chopped pecans
Instructions
Preheat oven to 375.
Place pie crust in 9-inch glass pie pan as directed on box for One-Crust Filled Pie.
In large bowl combine filling ingredients in order given
Streusel topping: Combine brown sugar and flour; cut in the butter until crumbly. Stir in chopped pecans. Set aside.
Pour filling into into crust lined pie pan. Bake 50 to 60 minutes or until knife inserted two inches from center comes out clean.
Remove pie from oven and sprinkle Streusel over pie filling .
Return pie to the oven, cover crust with foil, and bake for an additional 15 minutes.
Cool completely, about 1 hour.
Notes
http://tidymom.net/2010/apple-butter-pumpkin-pie-with-streusel-topping/
Copyright© 2009-2013 TidyMom.Net
"Like this recipe? Add it to your personal recipe box to make later or add the ingredients to your online shopping list to make it this week. Just click the Save Recipe button to get started."
When we finished eating this pie, Allison asked………you ARE making this again for Thanksgiving aren't you?!  I think we COULD have nothing but PIE for Thanksgiving!
I'm linking up with these parties.......please visit them!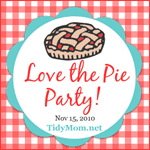 ***Don't forget……..Love the Pie 2010 is tomorrow (I will open up the link party around 10pm CST tonight)! Get you're pie posts ready there will be lots of prizes but you can only win if you have a pie to share!! Want to know more about Love the Pie? Click here for all the details!
Love pie? Here are more pies of mine you may like:

You May Also Like...