Apple 'N Peanut Butter Bread Pudding
School is out, or almost out for most of us and with summer time here, if your house is anything like mine……you often here the words…. "I'm boooooored" !
Using the the less stressful time of summer is a great time to let your kids get involved in the daily meal preparation. It can quickly become an opportunity for family fun.  Kids can learn more about food, cooking, and nutrition.  When they get the chance to help out in the kitchen they are more likely to eat something they have helped  prepare
Sometimes it may be as simple as just help getting dinner on the table!
Kid Friendly Dinner Prepping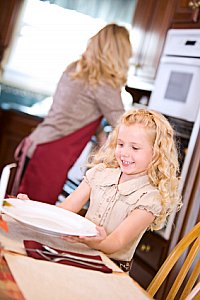 Make dinner prep easier by teaching your child how to set the table.  5 years old is a great age to start teaching them this basic chore.
Tell them how important their "job" is
Set all of the supplies out on the counter for them (save sharp knives for the adults to put out)
print out table setting place mats to use as a guide
Enlist their help in clean up AFTER dinner as well.
Little ones can:
unload the dishwasher
dry non breakables
clear off the table
wipe off table
Older children can:
rinse and load dishwasher
put leftovers away
clear off the table
wipe off table
take out garbage
Discover the value of including your children in your kitchen time!……and all the FREE help you can get! lol
Reward their efforts with a scrumptious dessert!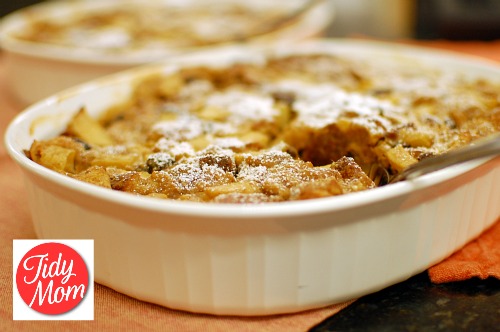 Traditional bread pudding gets a new twist by adding apples and peanut butter for a delicious surprise.
Apple 'N Peanut Butter Bread Pudding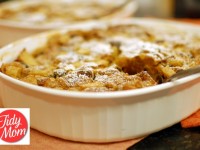 Ingredients
1 tsp PLUS 1 Tbsp. margarine
2 Granny Smith apples, peeled, cored and finely chopped
1/2 cup Creamy Peanut Butter
1/2 cup raisins
5 cups cubed whole grain bread (about 5 thick slices)
1 cup fat free cholesterol free egg substitute
1 cup 1% milk
1/2 tsp ground cinnamon
2 Tbsp firmly packed brown sugar
Instructions
Preheat over to 350°
Grease 2-quart covered casserole with 1 tsp margarine; set aside.
Melt remaining 1 Tbsp margarine in 12 inch nonstick skillet over medium-high heat and cook apples, stirring occasionally, 10 minutes or until golden. Stir in Skippy® Peanut Butter and raisins until Peanut Butter is melted. Remove from heat, then stir in bread; set aside.
Whisk egg substitute, milk, cinnamon and brown sugar in large bowl; set aside.
Toss bread mixture with egg mixture. Turn into prepared casserole. Bake covered 35 minutes. Remove cover and bake an additional 5 minutes or until golden. Sprinkle, if desired, with powdered sugar.
Notes
Try drizzling with melted preserves, chocolate and/or pure maple syrup.
Recipe source Skippy Recipes.
https://tidymom.net/bread-pudding-recipe/
Copyright© 2009-2013 TidyMom.Net
Do your kids help with meal prep or clean up? Mine have from a young age, they set the table every night and help clear the table and do the dishes.   I like the dishes done as soon as dinner is over, I don't like them to sit for later.
I'm sharing this post at Tasty Tuesday