Banana Pudding Poke Cake
with recipe video
All the flavors you love in banana pudding come together in this Banana Pudding Poke Cake. Trust me on this, this banana poke cake tastes every bit as good as it looks — it's hard to go wrong with a nilla wafer banana pudding cake!
Be sure to sign up for my email… to get new recipes and ideas in your inbox!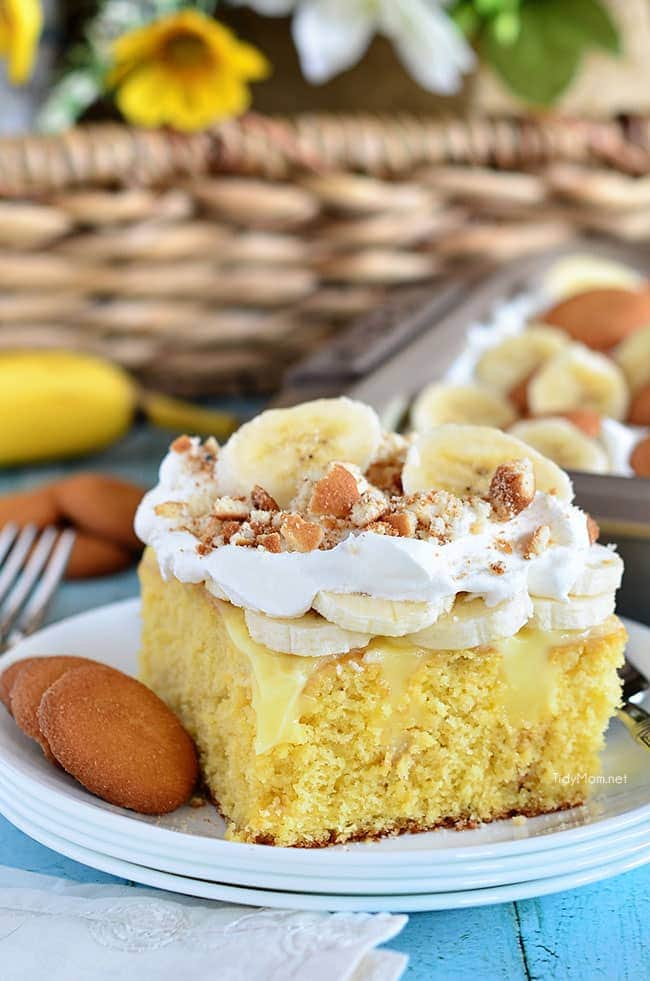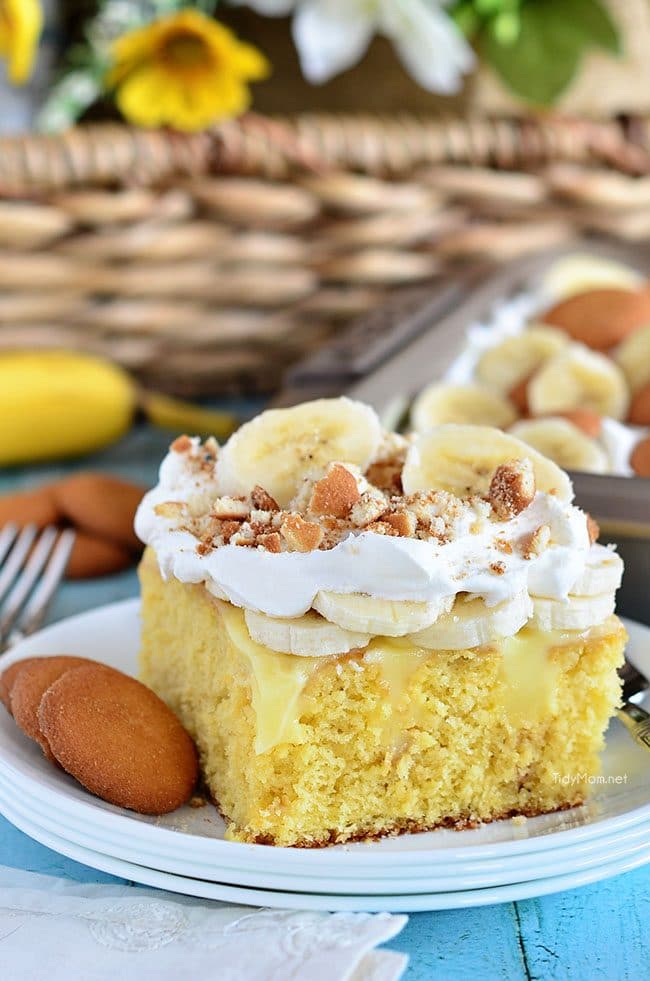 I have a confession to make, I love anything with bananas in it! Banana pudding is no exception, and let me tell you, Banana Pudding Poke Cake…….WOW!
This is a convenience kind of dessert (aren't most poke cakes?). Jazz up a box cake mix with some bananas, instant pudding and frozen whipped topping (COOL-Whip) and BAM! Awesome cake!
But if you are against semi-homemade desserts, you could certainly use your favorite yellow cake recipe, banana pudding recipe and make homemade whipped cream. I can only imagine how incredible THAT Banana Pudding Poke Cake would be!!
What Is a Poke Cake
If you've never heard of a poke cake, you don't know what you are missing! They have been around since the 1970's thanks to the clever idea of Jell-O brand for an easy hip colorful dessert using a cake mix, Jell-O and Cool Whip.
A poke cake is simply a freshly baked cake (from scratch or a box mix) poked full of holes (hence the name) with something sweet, creamy, or syrupy is poured over the cake to fill up the holes and infuse flavor and color to the cake.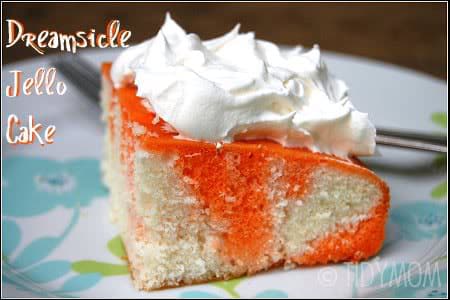 Orange Dreamsicle Jello Cake was my go-to dessert when we were first married. 😉
Traditionally, poke cakes are topped with whipped topping instead of cake frosting, so they're usually refrigerated until serving. Making them the perfect warm weather dessert.
Perfect for the busy housewife, poke cakes became a potluck and pool party staple.
This no-fuss kind of dessert is baked, prepared, and served directly from a 9×13 pan!
Today's poke cakes have moved beyond the simple white and Jell-O gelatin. Red velvet, chocolate, banana, and lemon cakes are being poked and filled with everything from sweetened condensed milk, pudding or mousse to pastry cream, pureed fruit, and other delectable toppings. The flavor possibilities are endless.
Literally, the easiest way to take an ordinary cake to a whole other level.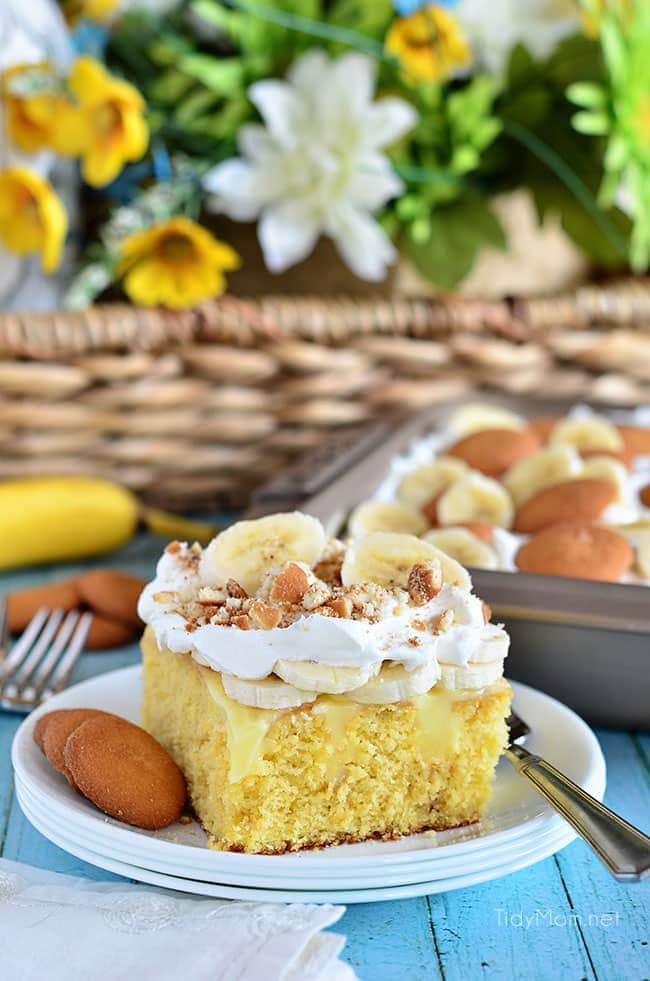 How to make Banana Pudding Poke Cake
Banana Pudding Poke cake is best made ahead of time, but leave the toppings until you're ready to serve, so the bananas look nice and the vanilla wafers are crunchy.
I bake the cake, then let it cool for about 5 minutes, while I mix up the instant pudding; poke the cake, spread the pudding over the top, cover and refrigerate at least an hour (but a few hours or overnight is fine and even better).
When I'm ready to serve, I top each piece with banana slices, whipped topping, and 1-2 crushed vanilla wafers – grab a fork and dig in!
If you're serving a crowd and anticipate most or all of the cake will be eaten, go ahead and top the whole cake – but just know, if you have leftovers, the bananas will get brown and the cookies will get soggy.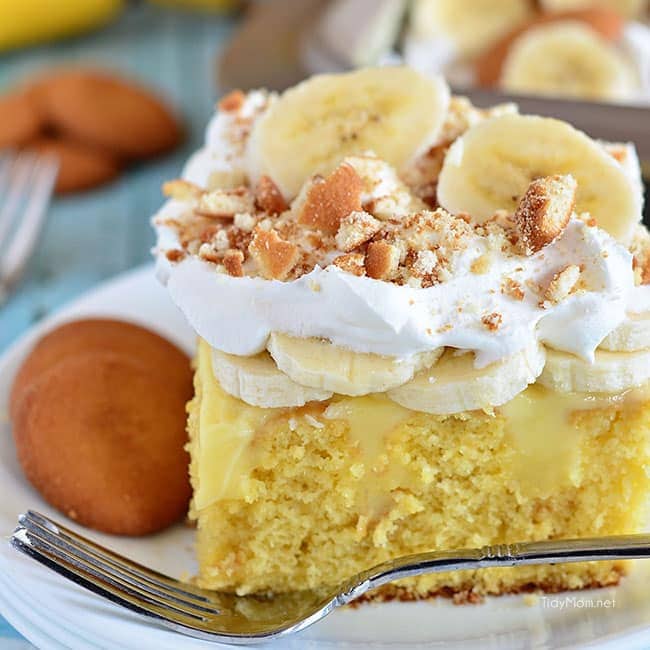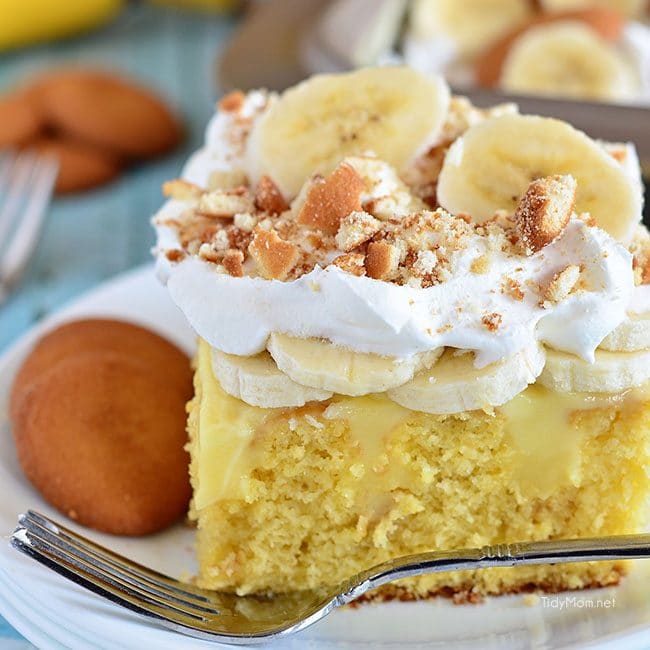 We love poke cake. It really is an easy and delicious dessert that can be as extravagant or simple as you want. Either way, they are a perfect dessert to bring to a party!
They can be made a day in advance and can serve a crowd—– if you're willing to share 😉 I'm always expected to bring desserts to any party I attend. Poke cakes go a long way with my family and friends.
This post may contain affiliate links. Please read my disclosure policy here.
CHECK OUT HOW EASY THIS BANANA PUDDING POKE CAKE RECIPE IS TO MAKE! WATCH THE VIDEO!
click to see more of my recipe videos
(full printable recipe at the end of this post)
FOR THIS RECIPE, I RECOMMEND

Want more great recipes like this? Follow my TidyMom Easy Recipes Pinterest Board
Follow Cheryl Sousan | Tidymom.net's board TidyMom.net easy recipes on Pinterest.
LIKE THIS BANANA PUDDING POKE CAKE RECIPE? PIN IT!


MORE POKE CAKE RECIPES YOU MIGHT ENJOY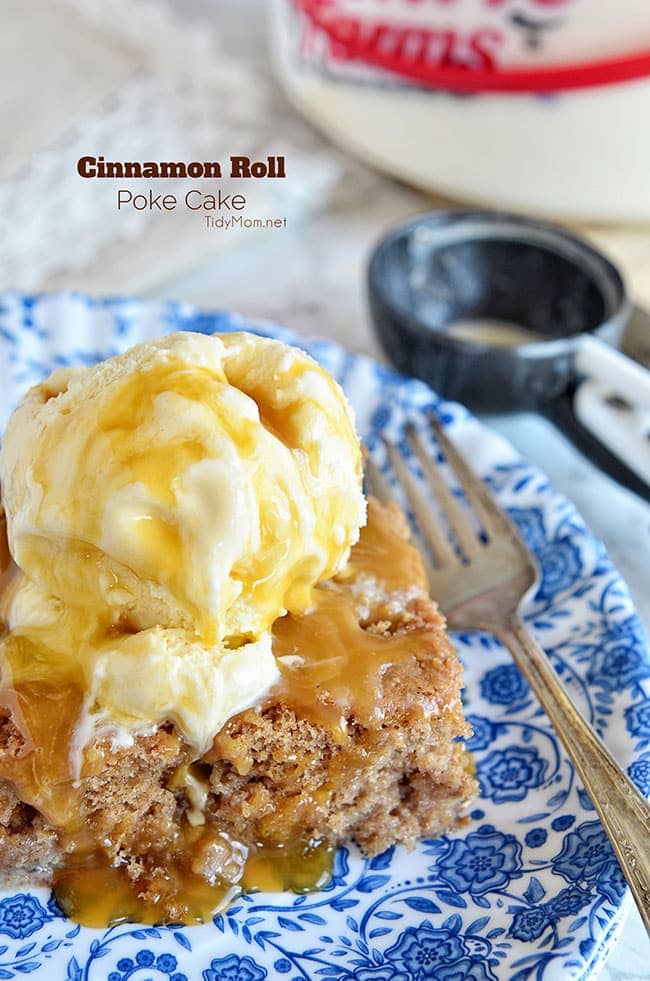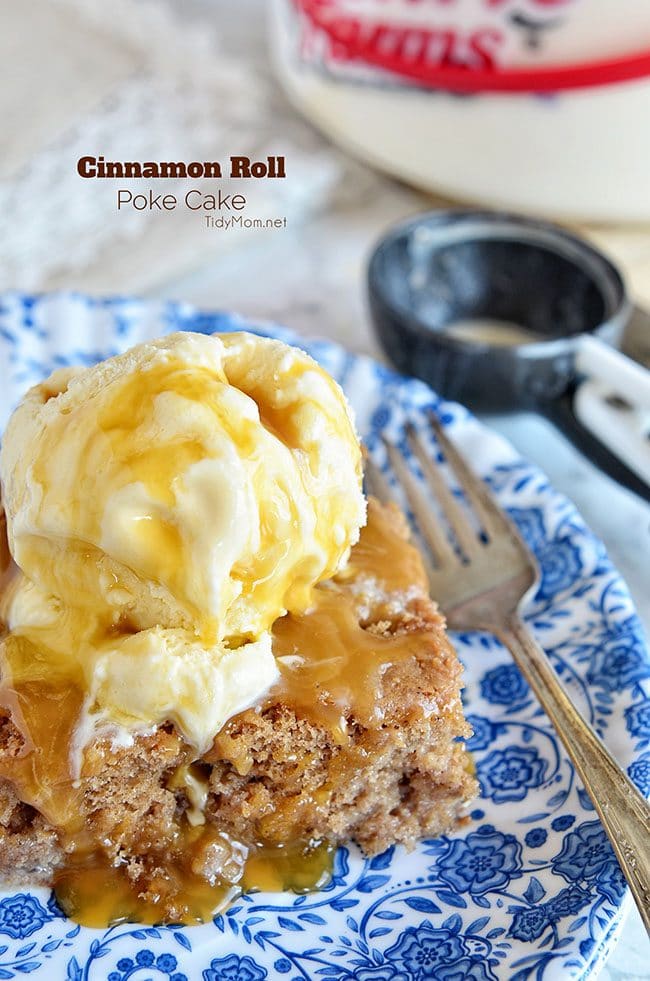 Cherry Vanilla Coca Cola Poke Cake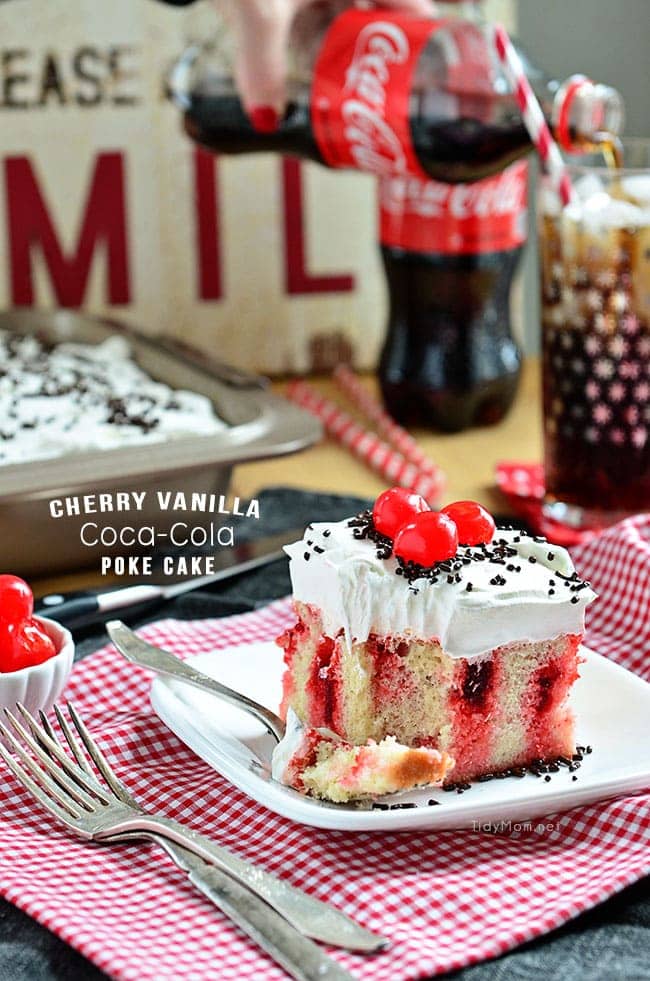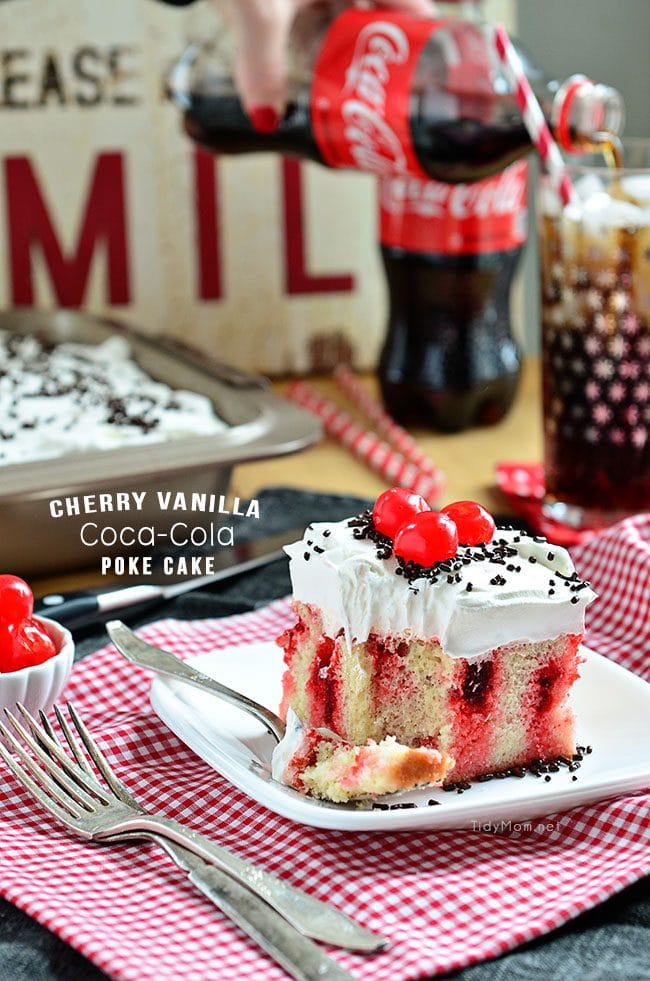 Leave a comment below telling me about your favorite poke cake!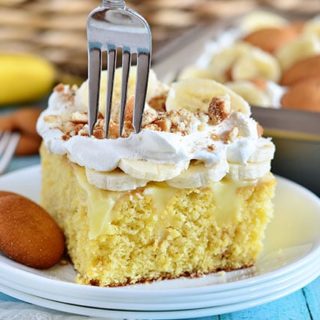 Banana Pudding Poke Cake
Yield: 12 servings

Prep Time: 15 minutes

Cook Time: 38 minutes

Total Time: 53 minutes

Everything to love about banana pudding comes together in this easy, crowd-pleasing Banana Pudding Poke Cake r
Ingredients
1 box yellow cake mix
Water, vegetable oil and whole eggs called for on cake mix box
1 cup mashed bananas (2 medium)
2 (4-serving size) boxes banana instant pudding and pie filling mix
3 cups cold milk
1 (8 oz) container Cool-Whip whipped topping (or homemade whip cream), thawed
2 bananas, sliced
1 cup vanilla wafers, crushed
Instructions
Heat oven to 350°F. Grease and flour 13x9-inch pan.
In large bowl, beat cake mix, water, oil, whole eggs and mashed bananas with electric mixer on low speed for 1 minute, then on medium speed 1 minute, scraping bowl as needed.
Bake 38 to 42 minutes or until toothpick inserted in center comes out clean. Cool in pan on rack 5 minutes.
While cake is cooling, whisk cold milk and pudding mix together in a medium bowl until pudding is soft and thickened, about 2 minutes.
Using the handle of a clean wooden spoon, poke holes in cake, almost to bottom of pan, about every 1/2 inch.
Pour pudding over cake immediately; spread evenly, working back and forth to fill holes. (Some filling will remain on top of cake.) Refrigerate at least 1 hour.
Keep cold until serving. Then, top with sliced bananas, whipped topping and crushed vanilla wafers.
Notes
It's best to place toppings on pieces being served, not the whole cake (unless you're serving the whole cake).
Recommended Products
As an Amazon Associate and member of other affiliate programs, I earn from qualifying purchases.