Pineapple Mango Salsa
A tropical fruit salsa with a kick of jalapeno that will knock your socks off! This Pineapple Mango Salsa recipe is the perfect addition to chicken, pork, fish, tacos or tortilla chips.
Be sure to sign up for my email… to get new recipes and ideas in your inbox!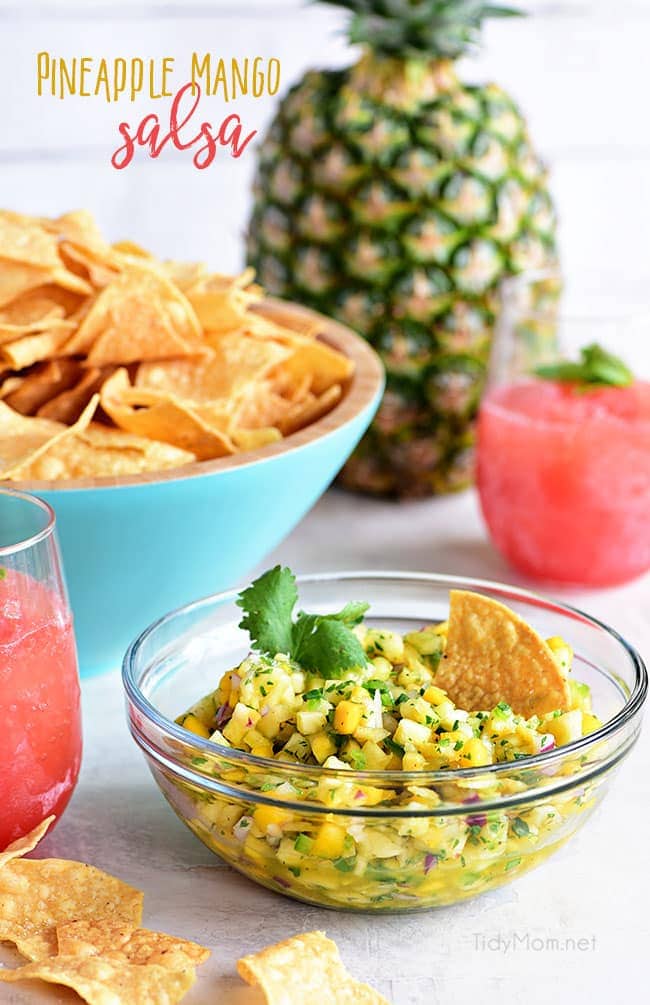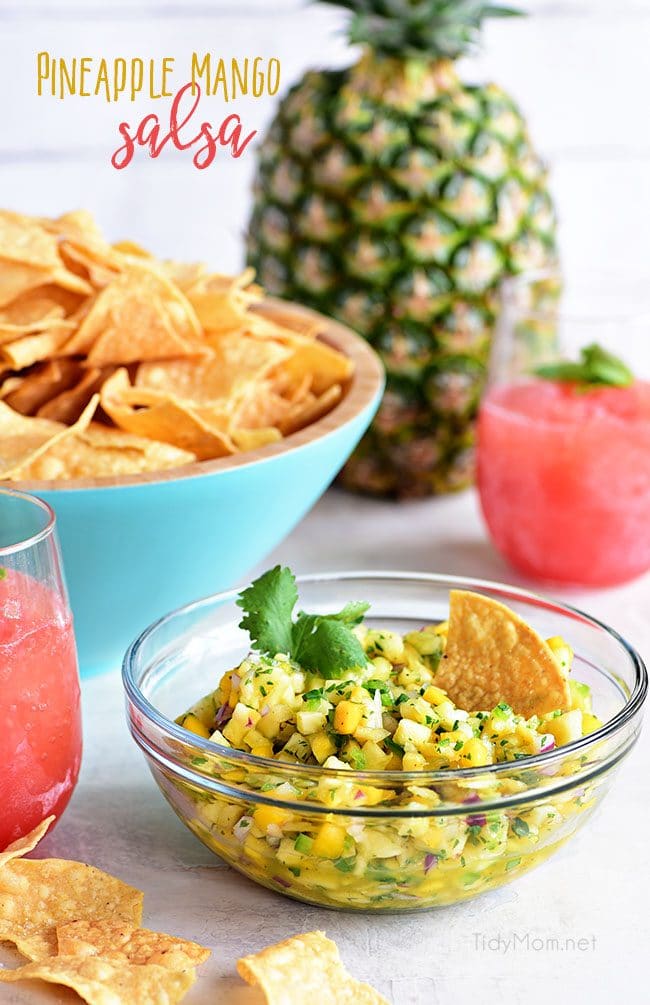 Pineapple Mango Salsa
Pineapples and Mangos and Jalapenos… Oh my!
There's honestly no other way to describe how I feel about everything in this salsa recipe. Nothing quite beats the taste of fresh, in-season fruit, which is what makes this dish so amazing.
The fruity flavors are matched perfectly with a slight kick from the jalapenos. It adds just the right amount of flavor without making you sweat from all the heat! Sweet and spicy are truly living in perfect harmony within this pineapple mango salsa.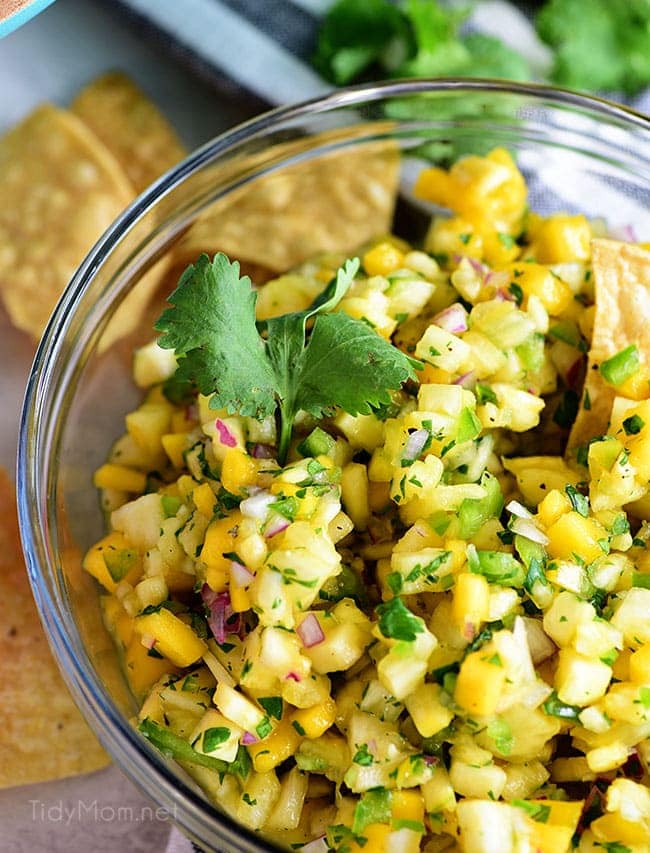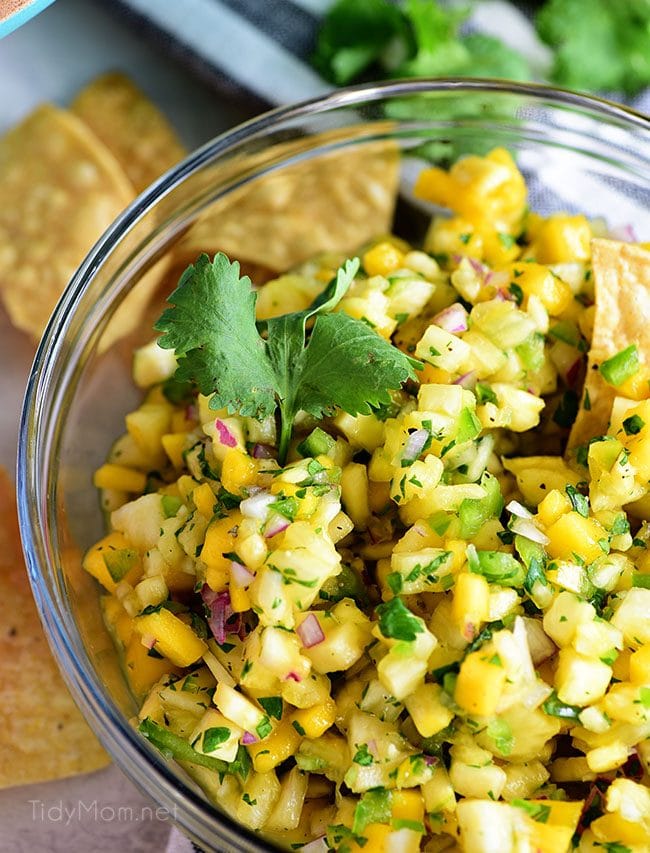 I love the fruit at whole foods, but unfortunately, my wallet doesn't. I try to refrain from going too often, but when I decided to make a fresh fruit salsa, I knew what had to be done.
Well, I seemed to have made one large mistake before going into the holy land… I skipped lunch and was EXTREMELY hungry. Rookie mistake, I know.
I'm pretty sure I left the store with every fruit combo they sell, and a lot of other stuff I'm not going to tell my husband about. Even though my hunger left me out of control, I don't regret it, because the fruit I used for this pineapple mango salsa is some of the best I've ever tasted.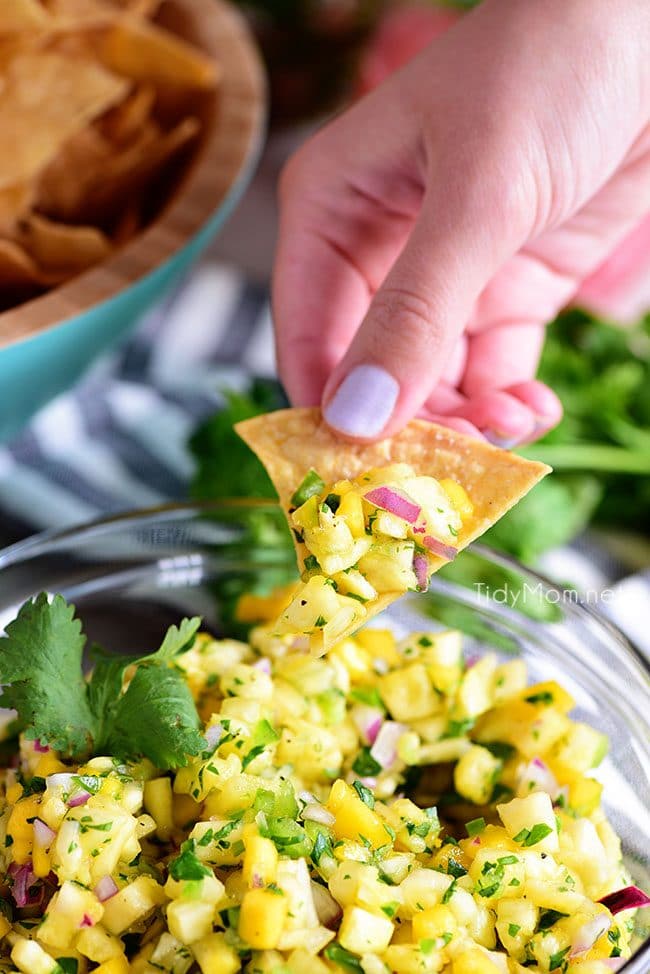 Dicing Fruit for Beginners
Dicing your own fruit can be so time-consuming and messy, and is why most of the time I go straight for the "shortcuts" sections of the grocery store. It wasn't until I found a couple great ways to slice fruit that I realized I should've been doing it myself this whole time.
Now, instead of confusing you with trying to explain the techniques through text, here are my favorite go-to tutorial videos! This how to slice a pineapple video is seriously a life saver, and so is this how to dice a mango video.
One thing to keep in mind though is that for both of these fruits, I diced a lot smaller than the video shows, in order to get a good size for the salsa. So, you do not have to follow the cut size shown in the video.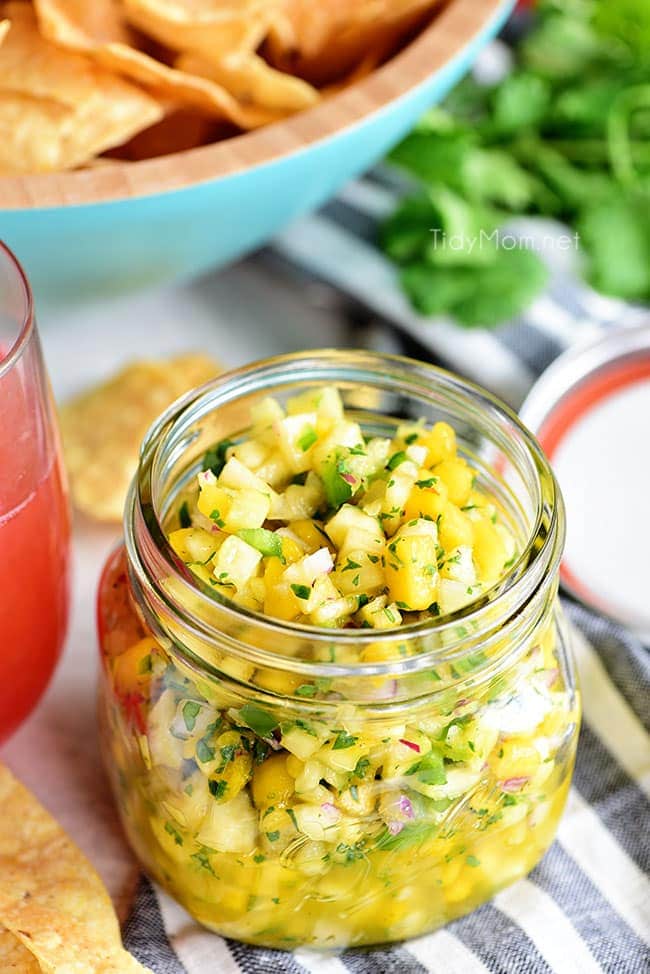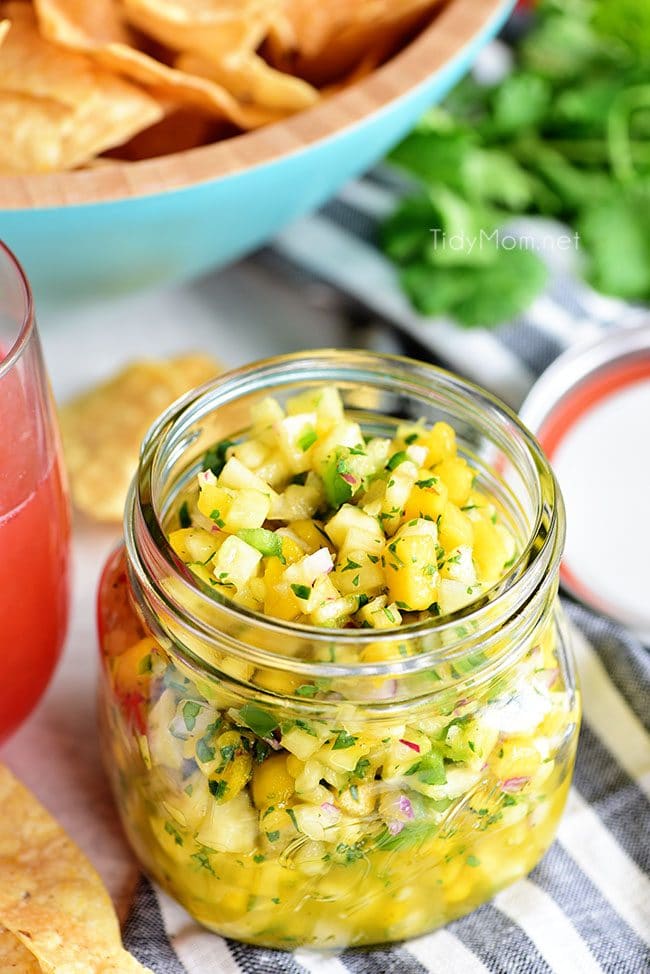 Fruit Salsa Perfect for Summer Parties
There's something about this time of year that makes me always want to entertain. Luckily for me, I had the perfect opportunity to cook for a group when my daughter asked if we could host the weekly bachelorette girls night.
She always comes home from the normal host spot raving about how good the food spread was. I had big shoes to fill, but I came prepared.
I covered the table with snacks and drinks galore starting with my Frozen Raspberry Margaritas, followed by the Peach Mango Salsa, Guacamole, an Epic Charcuterie Board, and fished off with a No-Bake Double Berry Cheesecake Lush Dessert. I bet you're wishing you were there now, right?
I think it's safe to say I killed the hostess with the mostess game because the girls loved everything. The definite fan favorite of the night was the pineapple mango salsa!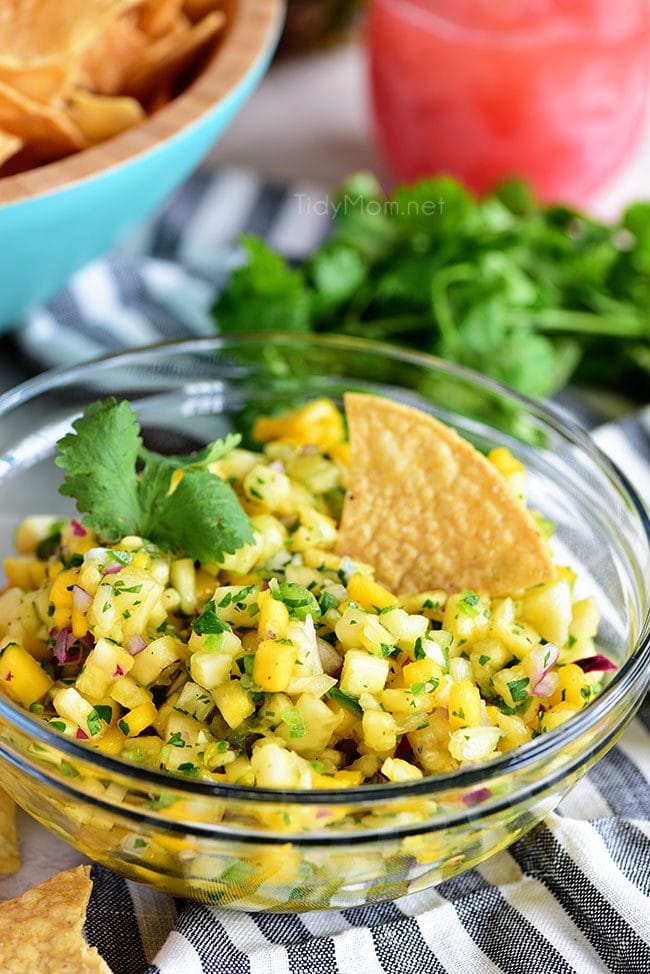 How to Serve Pineapple Mango Salsa
My favorite part of this fruit salsa is the versatility of the dish. I personally love it served with chips and dip, but the other possibilities are endless. Serve it on top of your favorite chicken, pork, or fish recipe to give the dish a whole new fruity summer kick!
I also highly recommend topping your shrimp tacos with this as well! Your taste buds won't know what hit them!
Like This Pineapple Mango Salsa Recipe? Pin It!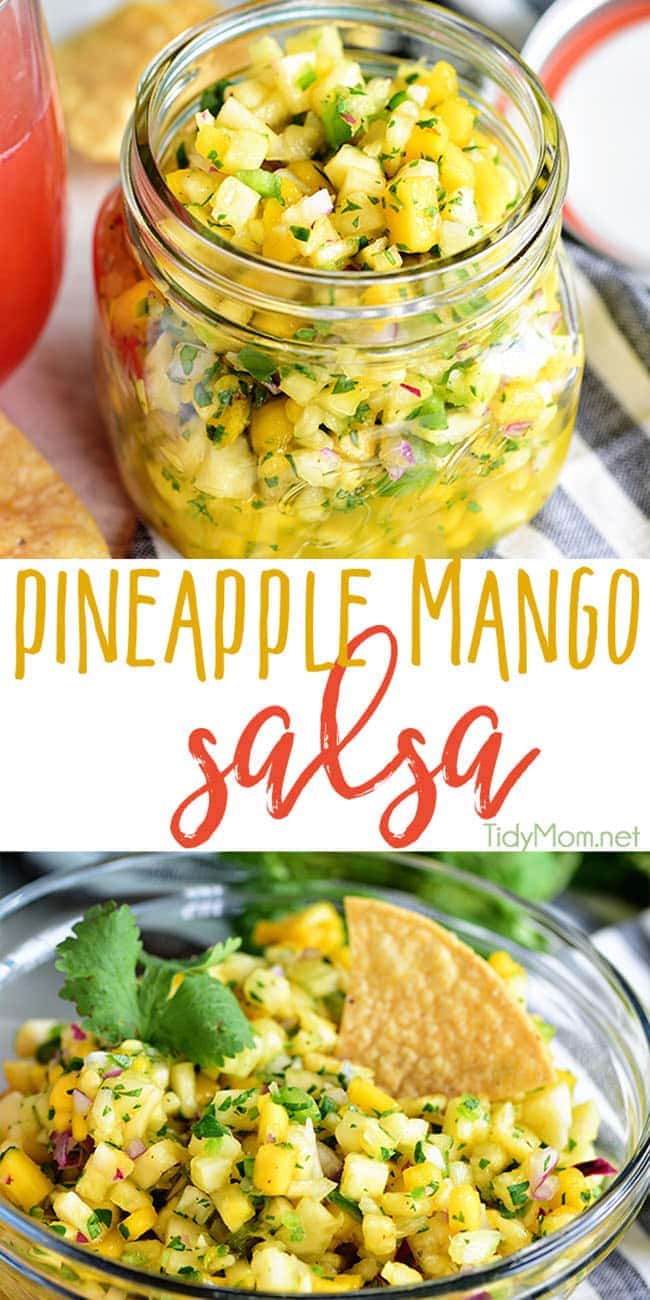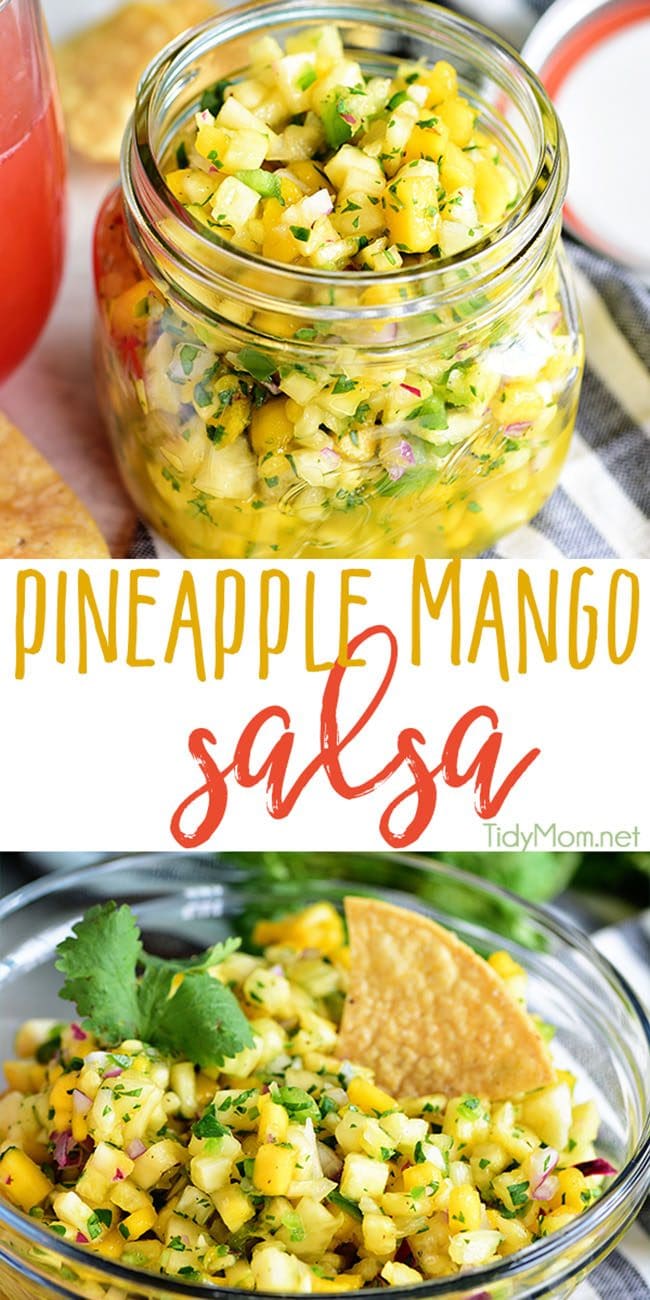 Now that I've left you with all you need to know about my new summer addiction, go out and whip up some pineapple mango for yourself! If you need me I'll be secretly throwing together more, so I can hide it to keep all to myself.
I created a fun little group on facebook and I'd love for you to join in! It's a place where you can share YOUR favorite recipes, home tips, creative ideas and ask questions and see what's new with TidyMom! If you'd like to check it out, you can request to join HERE. Be sure to follow me on Instagram and tag #tidymom so I can see all the wonderful TidyMom recipes YOU make and tips YOU use!
Connect with TidyMom! Facebook|Twitter|Pinterest|Instagram
Sign up to receive an email in your inbox for each new recipe: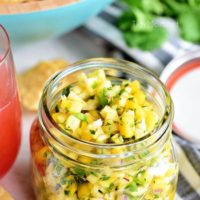 Pineapple Mango Salsa
Additional Time:
15 minutes
A tropical fruit salsa with a kick of jalapeno that will knock your socks off! This Pineapple Mango Salsa recipe is the perfect addition to chicken, pork, fish, tacos or tortilla chips.
Ingredients
2 cups diced fresh pineapple ( about 1/2 a pineapple)
1 mango, peeled and diced
1 large jalapeño, stemmed, seeded and finely minced
1/4 cup minced red onion
juice of 1 large lime juice (or 2-3 tablespoons if using bottled lime juice)
2 tablespoons chopped cilantro
1/4 teaspoon kosher salt (or to taste)
black pepper to taste
Instructions
In a medium bowl combine pineapple, mango, jalapeño, red onion, lime juice, cilantro. Stir to combine, and salt and pepper to taste.
Serve at room temperature or chilled. Will keep about a week covered in the refrigerator.