Double Berry Cheesecake Lush Dessert
This Cheesecake Lush Dessert is a spin-off of a fabulous no-bake dessert that's been rotating through kitchens for decades. Made with fresh berries, golden cookie crust, and cheesecake filling. It's pure bliss, I tell you!!
Be sure to sign up for my email… to get new recipes and ideas in your inbox!
SAVE this recipe to Pinterest!
Have you ever waited for something for a REALLY long time………and it ended up being even better than you imagined it would be? That's what happened to me late last week.
One late night last November, my daughters came home from seeing Justin Timberlake in concert here in St. Louis. They couldn't stop talking about how good he was, how incredible it was to see the stage literally move over their heads so he could perform to the back of the stadium as well as the front. Their eyes lit up as they both talked at the same time, excited to show me the videos they took of the extravagant and electrifying performance ……. and secretly my heart sank.
I bought their tickets months before, as a birthday gift for Heather. I didn't think I needed to go………I'm in my late 40's…….I go to bed at 9pm…….what business did I have going to a concert.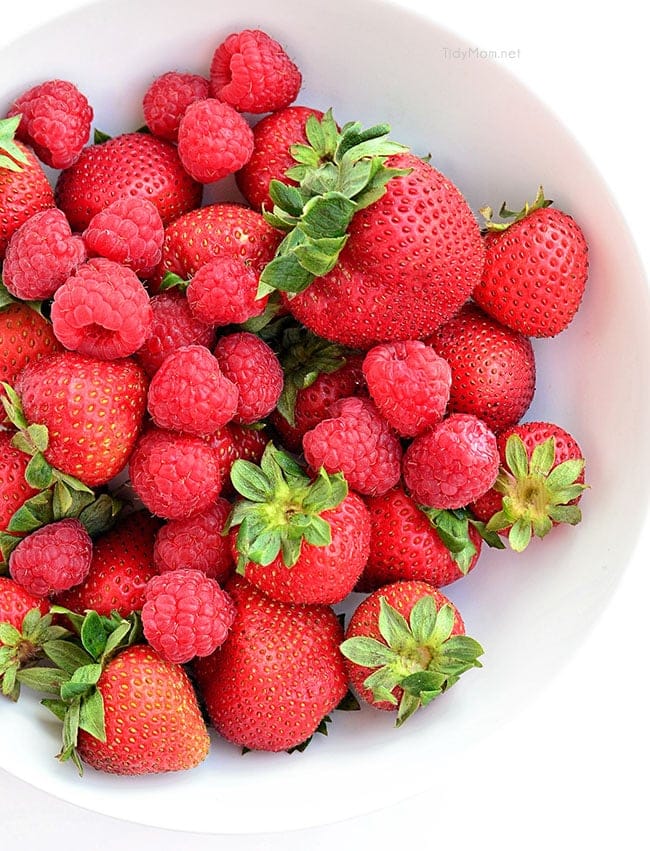 But this was Justin Timberlake! One of my all-time favorite people! I mean this 33-year-old who's stardom goes back two decades, can sing, dance, entertain, act and OMG can he make you laugh!
So when I found out he would be just four hours away in Kansas City in July 2014……a call was made to Kristen asking if she wanted to go………..we agreed VIP tickets were in order, Heather decided she wanted to go again …….tickets were bought and we waited and waited and waited. EIGHT MONTHS we waited.
me,Kristen and Heather
Last week, July 31 finally arrived! We drove to KC and stayed with Kristen and her family on Wednesday then Thursday night we joined the crowd of 15,000 at the Sprint Center from our 11th-row center floor seats as we watched the silhouette on an enormous mosaic tile screen as JT emerged on stage from the shadows! We were on our feet from that moment until the finale 2.5 hours later!
The entire time Justin Timberlake was both humble and in awe and so much fun. He even got the entire arena to sing Happy Birthday to the lady sitting 2 rows in front of us! Can you imagine? Yes, JT brought sexy back with a stellar performance and I'm so glad we went! our seats were so close to the stage it often felt that he was looking/singing right to us!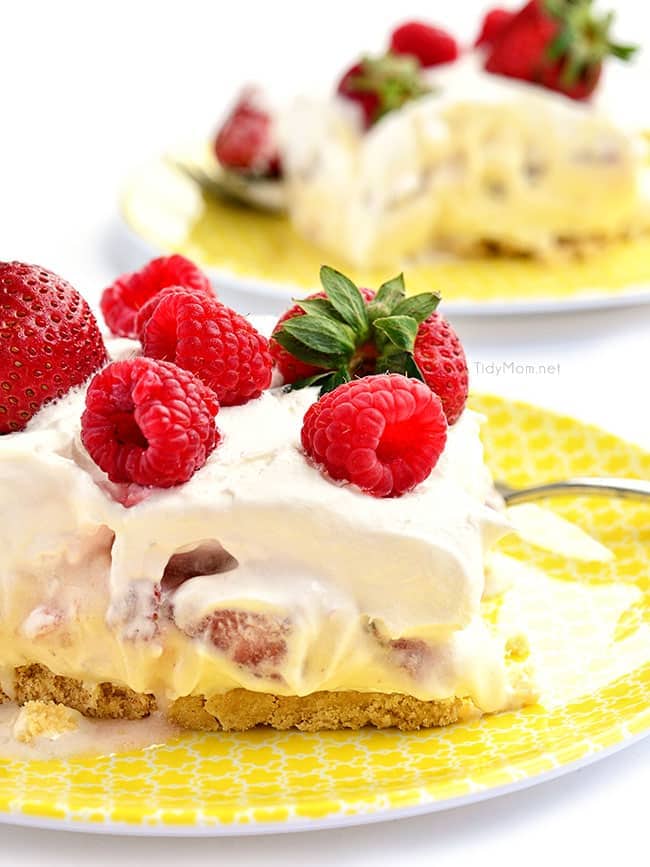 Easy Double Berry Cheesecake Lush Dessert
If I could have taken a dessert to Justin…….it would have been this no-bake Double Berry Cheesecake Lush Dessert I made recently.
If you haven't noticed, we have been on a bit of a strawberry and cheesecake pudding kick here. This no-bake dessert has about as many flavor variations as it does names. But whether you call it Lush, 4 Layer Dessert or Delight……I'm sure it will bring sexy back and you will call it easy and delicious! A perfect dessert for parties, potlucks, and other gatherings.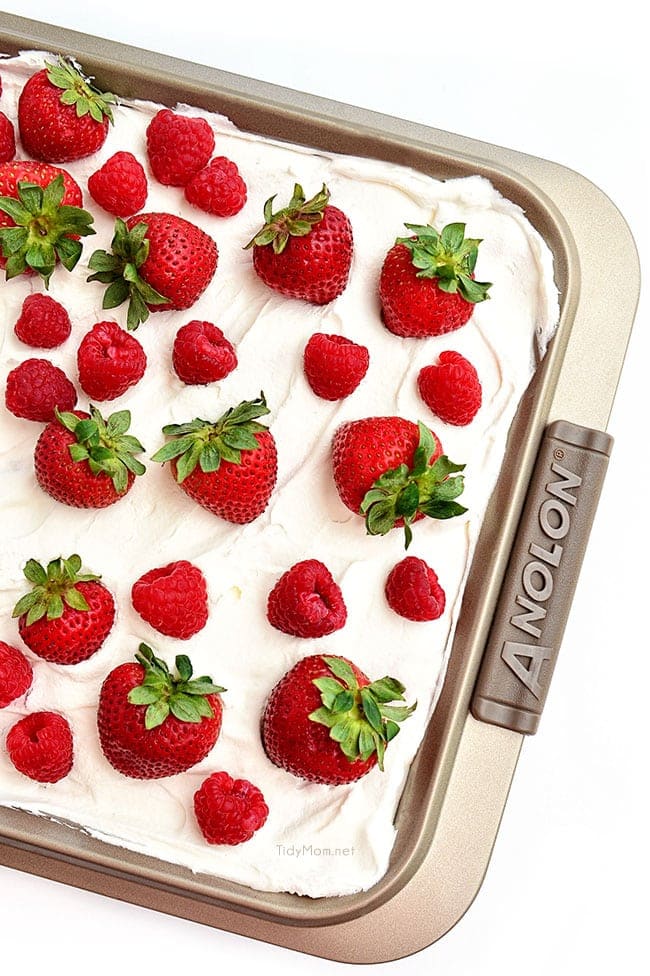 You could easily change up flavors or make half the dessert, by using an 8 or 9-inch pan or make a lighter version by using fat-free cream cheese, light cool whip and sugar-free pudding.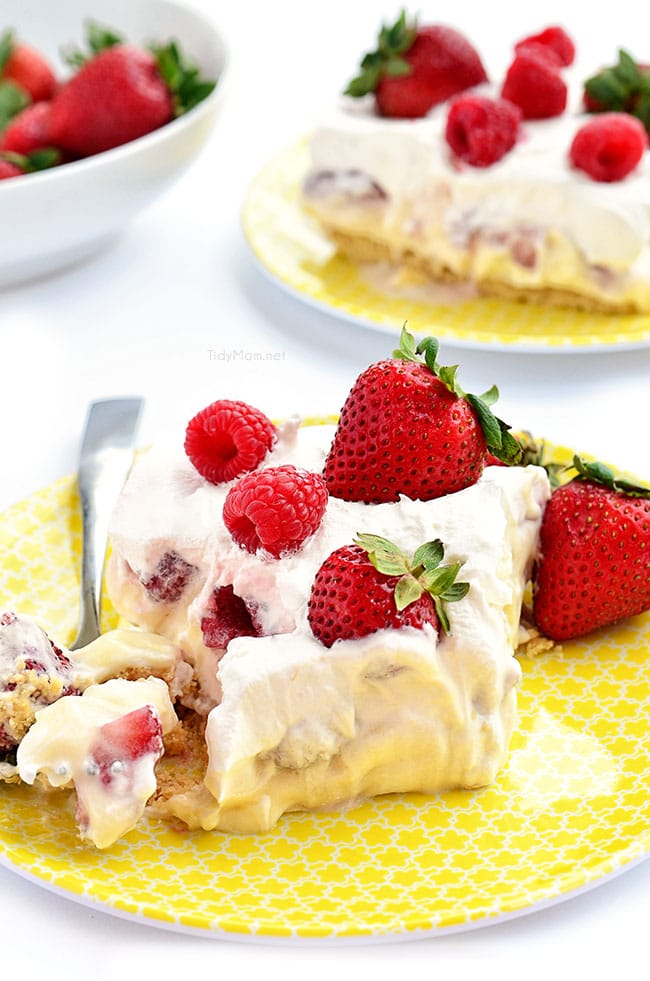 What was the last concert you went to?
Like this Double Berry Cheesecake Lush Dessert? Pin It!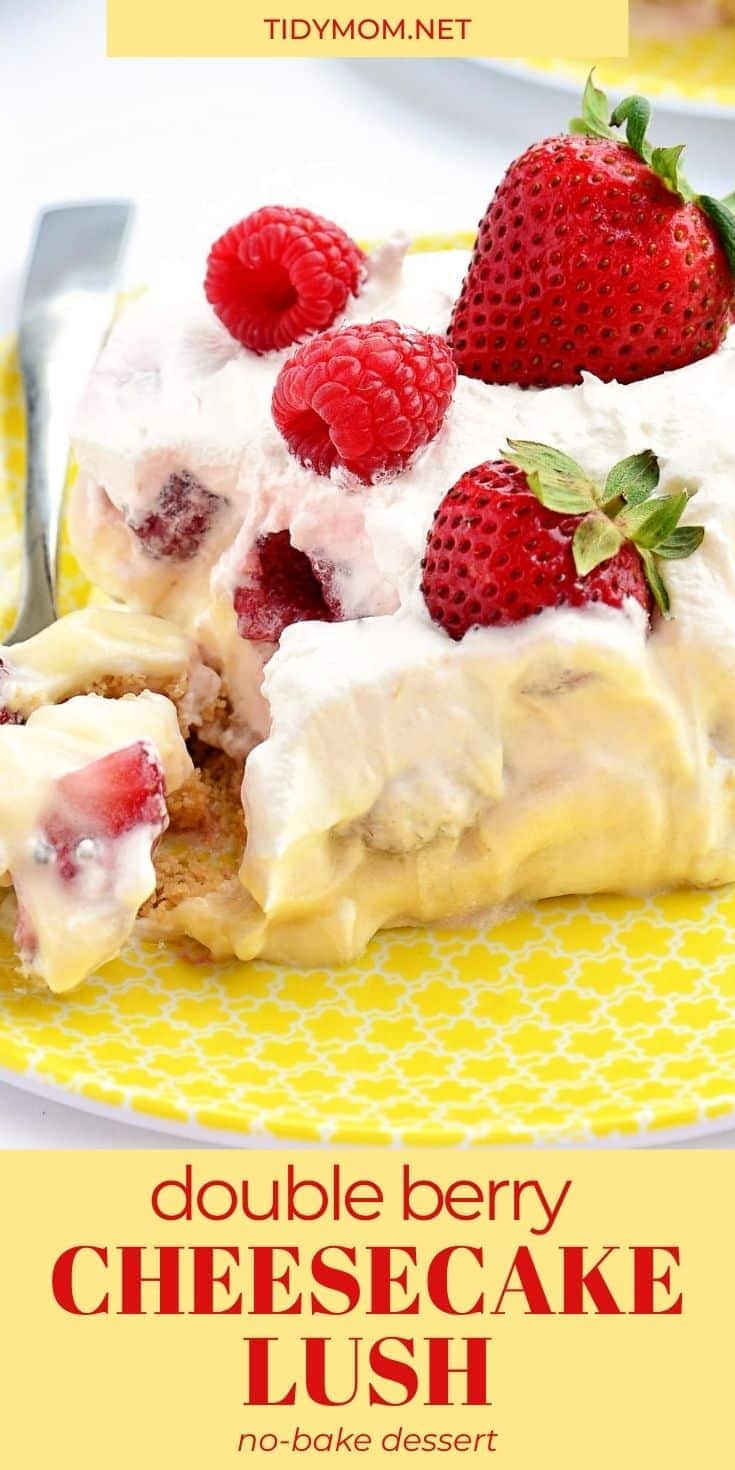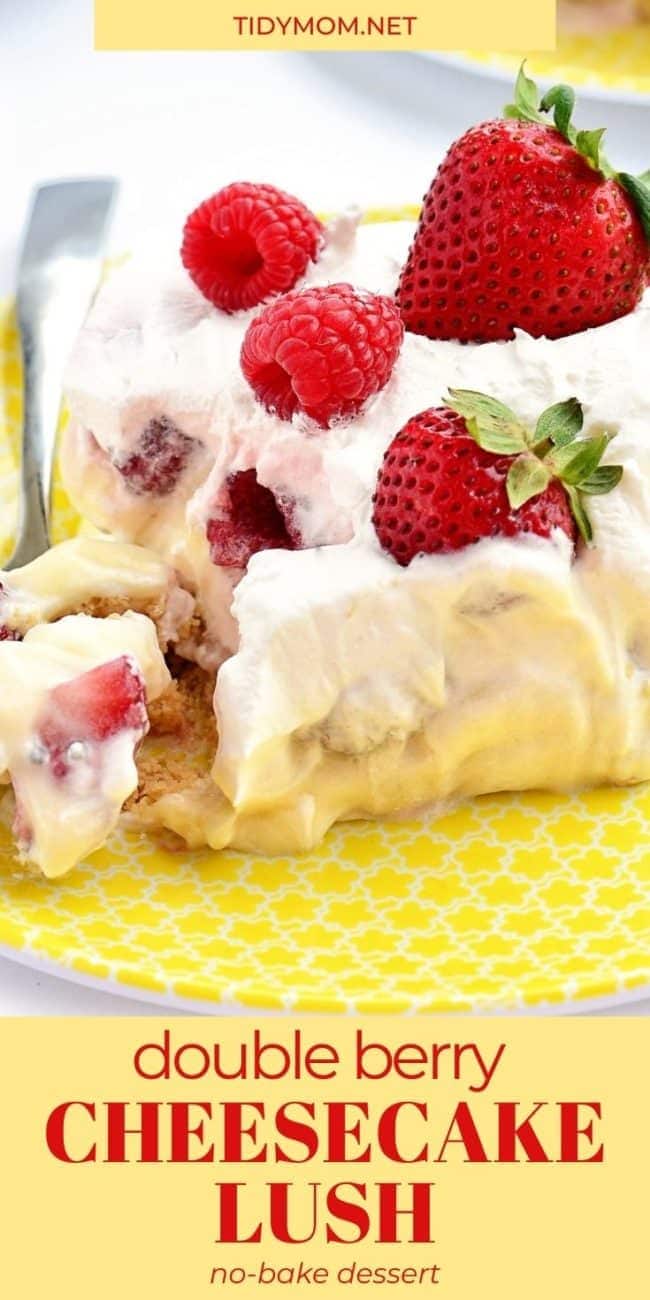 I created a fun little group on facebook and I'd love for you to join in! It's a place where you can share YOUR favorite recipes, home tips, creative ideas and ask questions and see what's new with TidyMom! If you'd like to check it out, you can request to join HERE. Be sure to follow me on Instagram and tag #tidymom so I can see all the wonderful TidyMom recipes YOU make and tips YOU use!
Connect with TidyMom! Facebook|Twitter|Pinterest|Instagram
Sign up to receive an email in your inbox for each new recipe: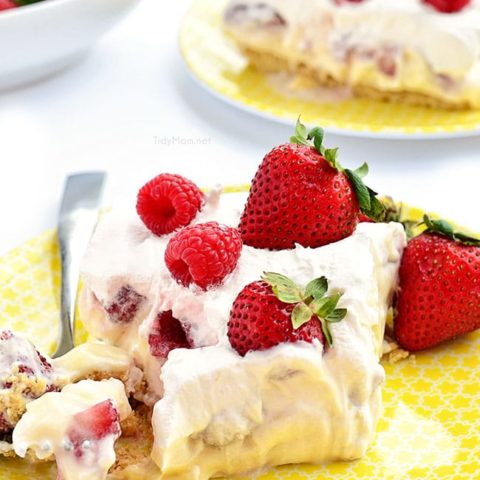 Double Berry Cheesecake Lush Dessert
Total Time:
3 hours
20 minutes
This Cheesecake Lush Dessert is a spin-off of a fabulous no-bake dessert that's been rotating through kitchens for decades. Made with fresh berries, golden cookie crust, and cheesecake filling.
Ingredients
1 package (14.3 oz) Golden Oreos
4 tablespoons butter, melted
8 ounces cream cheese, softened
1 cup powdered sugar
2 (8 ounce) containers Cool Whip, divided (or equivalent homemade whipped cream)
2 (3.4 ounce 4-1/2 cup serving) packages of Jello Cheesecake instant pudding and pie filling (use vanilla if you can't find cheesecake)
3 cups milk
1 teaspoon vanilla
4 cups sliced strawberries and raspberries
Instructions
Crush Oreos to fine crumbs using a food processor, or place cookies in resealable plastic bag and crush using a rolling pin, glass or mallet.
Place cookie crumbs and melted butter in large bowl to combine. Press the mixture into bottom of a 9x13 baking dish and set aside.
In a separate bowl, mix the cheesecake pudding and milk together and whisk for 3 to 5 minutes. Place the mixture in the refrigerator to set up slightly.
In a medium bowl, beat the cream cheese, powdered sugar, and vanilla together until smooth. Spread evenly over the cookie crust.
Remove pudding from refrigerator and fold in one of the 8-ounce containers of Cool Whip, and spread over cream cheese layer.
Layer most of the berries over pudding (leaving some to garnish with), spread remaining 8-ounce container of Cool Whip over berries.
Cover and place in refrigerator at least 2-4 hours to chill before serving. Just before serving, top with fresh berries. To serve, cut into squares. Store in refrigerator.
Nutrition Information:
Yield:

20
Serving Size:

1
Amount Per Serving:
Calories:

155
Total Fat:

9g
Saturated Fat:

5g
Trans Fat:

0g
Unsaturated Fat:

3g
Cholesterol:

23mg
Sodium:

132mg
Carbohydrates:

17g
Fiber:

1g
Sugar:

9g
Protein:

3g
Nutrition information is estimated based on the ingredients and cooking instructions as described in each recipe and is intended to be used for informational purposes only. Please note that nutrition details may vary based on methods of preparation, origin, and freshness of ingredients used.