Pistachio Cookies with Dark Chocolate and Sea Salt
Pistachio Cookies are sure to become a favorite! The subtle green color makes them perfect for St. Patricks Day, Easter, Christmas or any day. These deliciously soft pudding cookies are buttery and salty with dark chocolate chips that pair perfectly with pistachios. I bet you can't eat just one!
Have you ever added pudding mix to your cookies? If you haven't, you don't know what you are missing.  If you like soft cookies and pistachios, you're going to love these pistachio cookies!  The pudding not only makes the cookies super moist and have such a great flavor, but it keeps them soft until the last cookie is gone!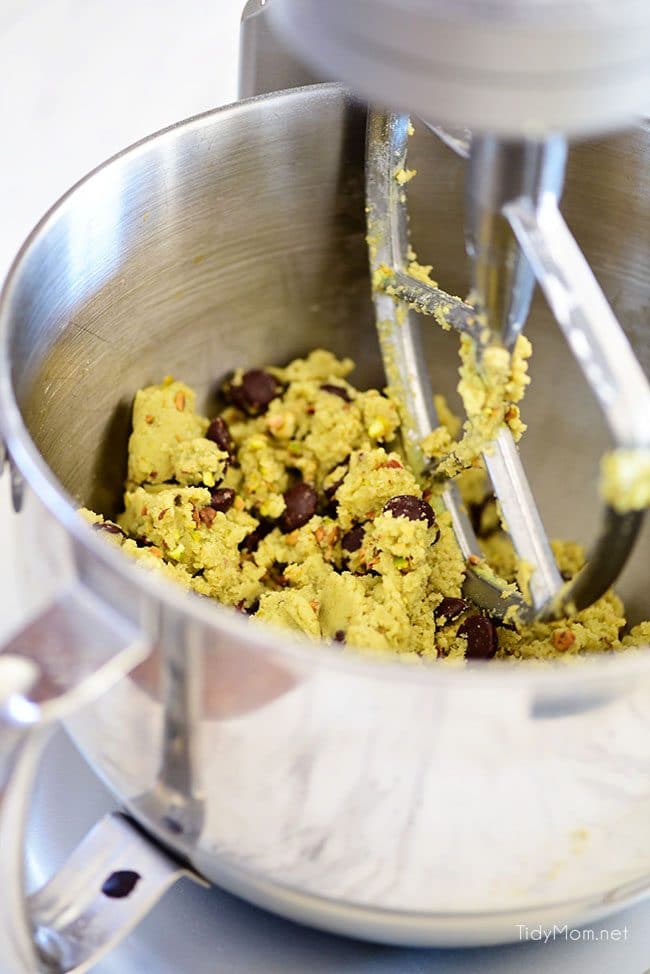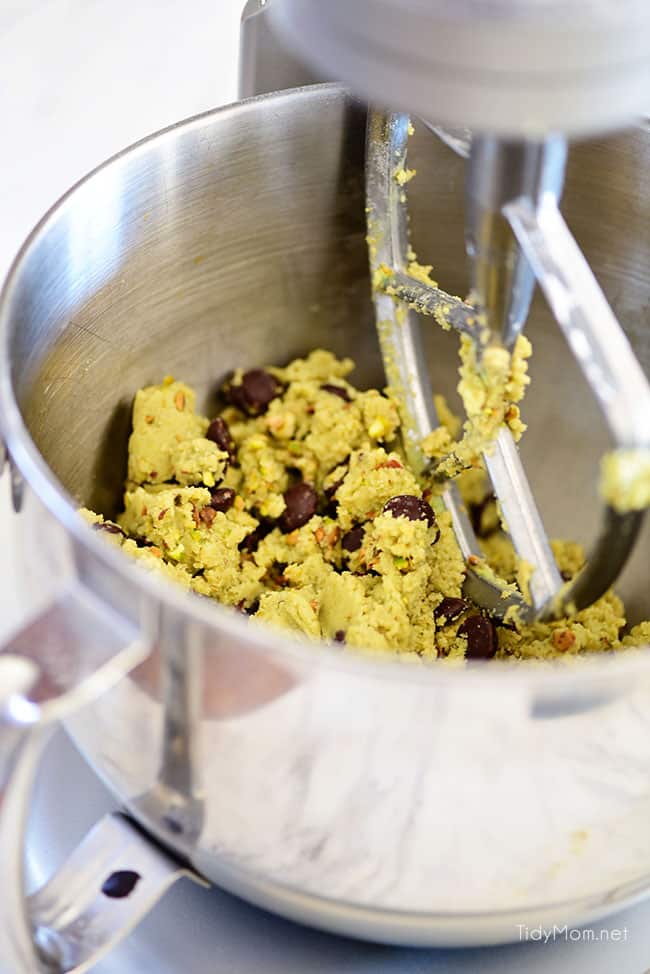 This post may contain affiliate links. Please read my disclosure policy here.
We always have a bag of pistachios in the snack cabinet and spumoni ice cream has always been a favorite – I've been known to go out for Italian for dinner just so I can have spumoni ice cream for dessert 😉 I'm not sure why I've never used pistachios in a recipe like;  Pistachio Smoothie, Creamy Cranberry Pistachio Fudge or No Bake Pistachio Ice Box Cake.
Being big fans of pistachios, I knew we'd like pistachio cookies.
The addition of dark chocolate chips and a sprinkled of sea salt….makes them hard to resist.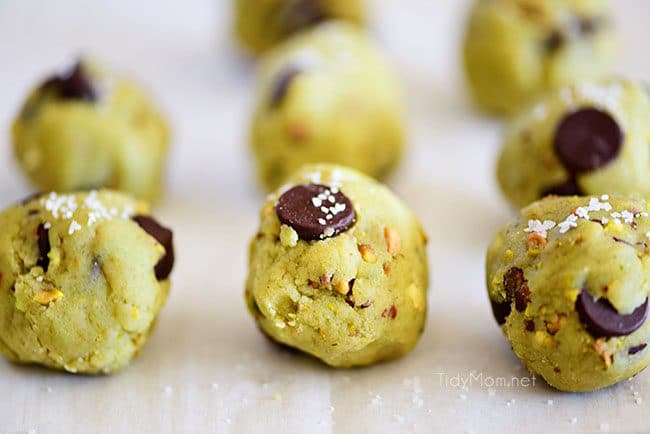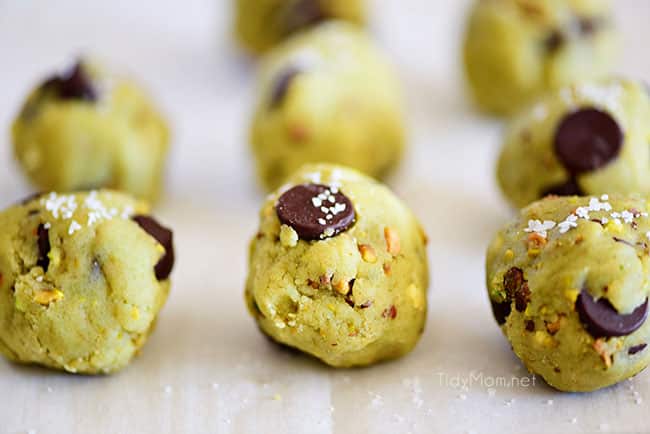 Let me share a little tip about the pistachios.  You can, of course buy them in the shell and shell them yourself, but that's going to take a while.  Do yourself a favor and splurge on the no shell pistachios (I found a small 6 ounce bag at the grocery store for about $6).  Then use a nut chopper to chop them in no time.  If you don't have a nut chopper, you'll need a good sharp knife to chop them.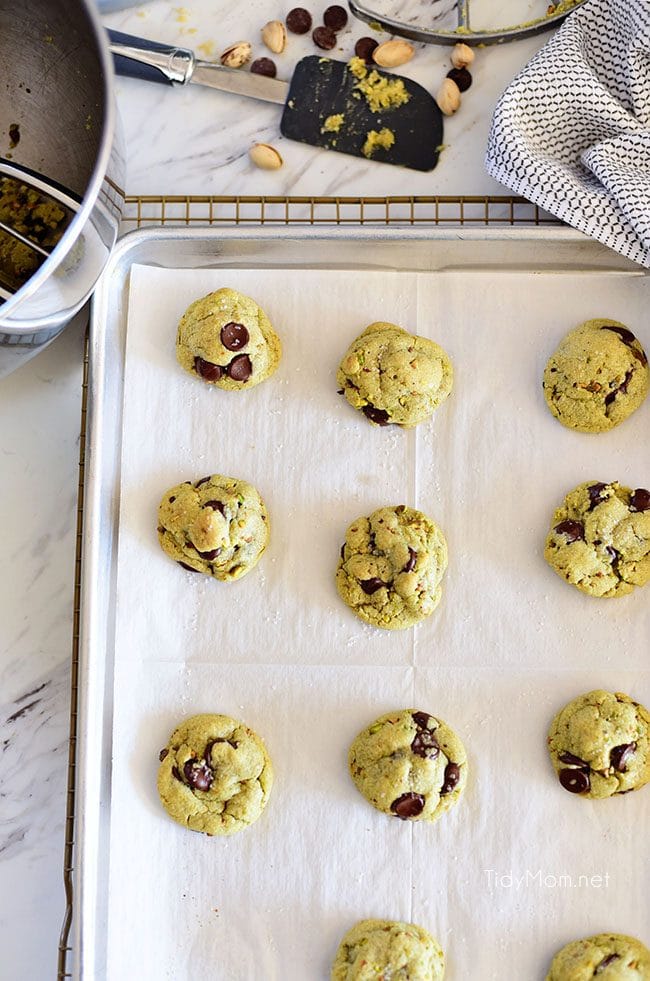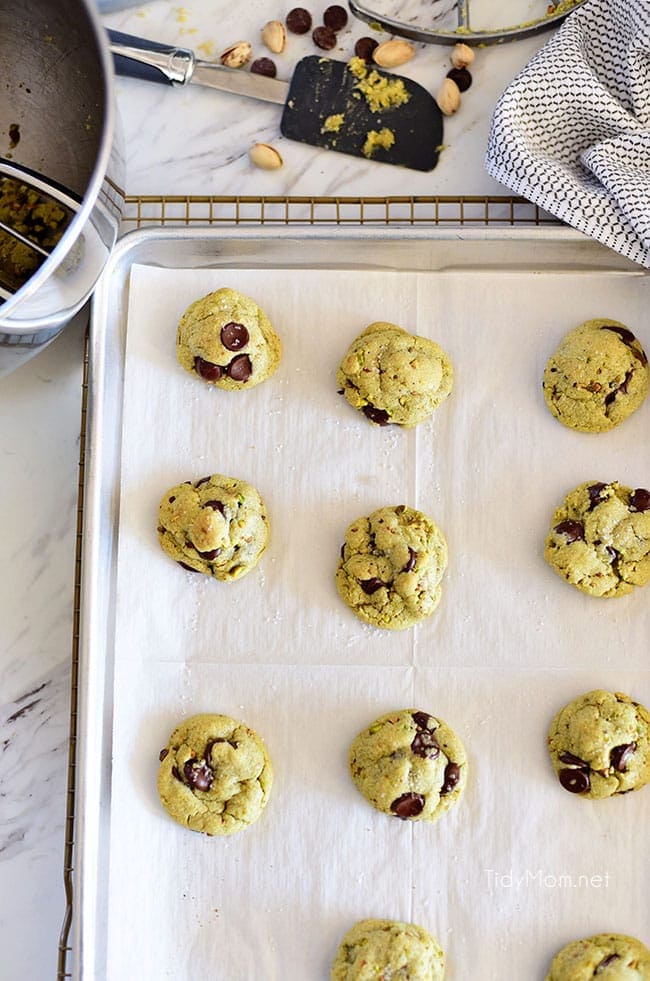 Pistachio Cookies
You can certainly opt to leave the pistachios out of the cookies, as the pistachio pudding will give them flavor, but the added crunch and flavor of the nuts is worth it!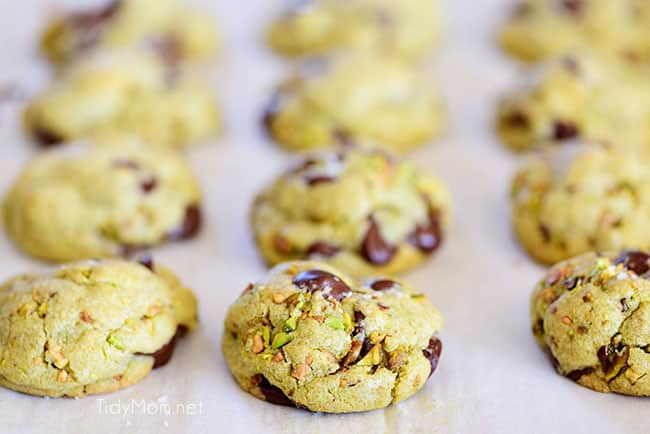 The soft pistachio pudding cookie with dark chocolate chips sprinkled with sea salt  is the perfect combination. These would be so fun to give out on St. Patricks Day, on an Easter dessert table or even just as a treat after school.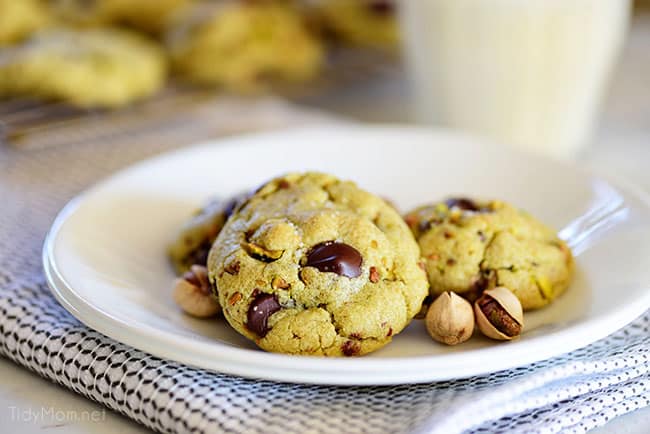 This recipe makes about 30 cookies.  Be warned though, you may want to make a double batch, because they'll disappear quickly.
Want more great recipes like this? Follow my TidyMom Easy Recipes Pinterest Board
Like these pistachio cookies?  Pin It!
More Pistachio Recipes You May Want to Try