Pumpkin Fluff Icebox Cake
You're gonna love this Pumpkin Fluff Icebox Cake! It's is a delicious no-bake dessert that comes together in no time. Making it the perfect make-ahead dessert for Thanksgiving dinner.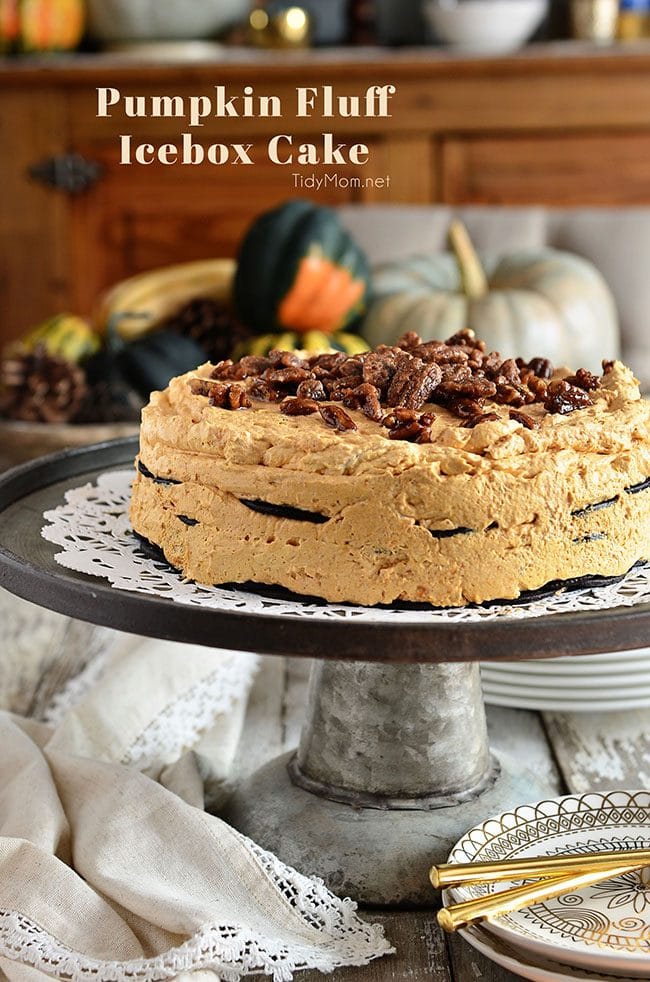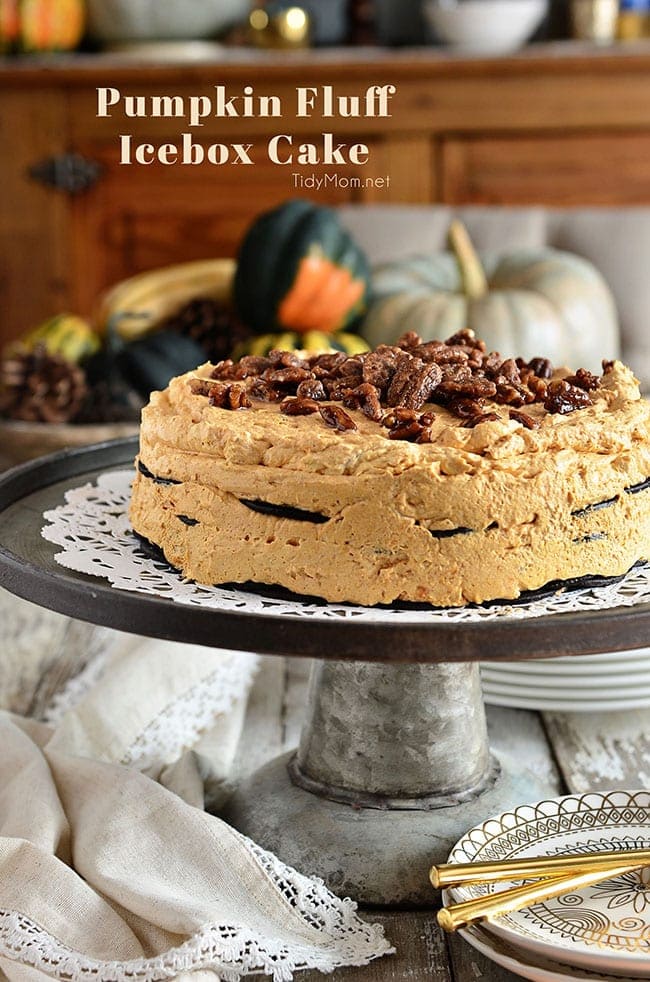 So, pumpkin spice season is in full swing. Pumpkin recipes are blowing up pinterest this time of year, but I hope you have room for one more pumpkin recipe!!  It's incredibly easy to make (hello…it's no bake!).  It's made with pure pumpkin and  pumpkin pie spice.  Pumpkin Fluff Icebox Cake is the perfect dessert to serve company or at Thanksgiving, yet simple enough you don't need a special occasion to make it.  And it is absolutely delightful.  🙂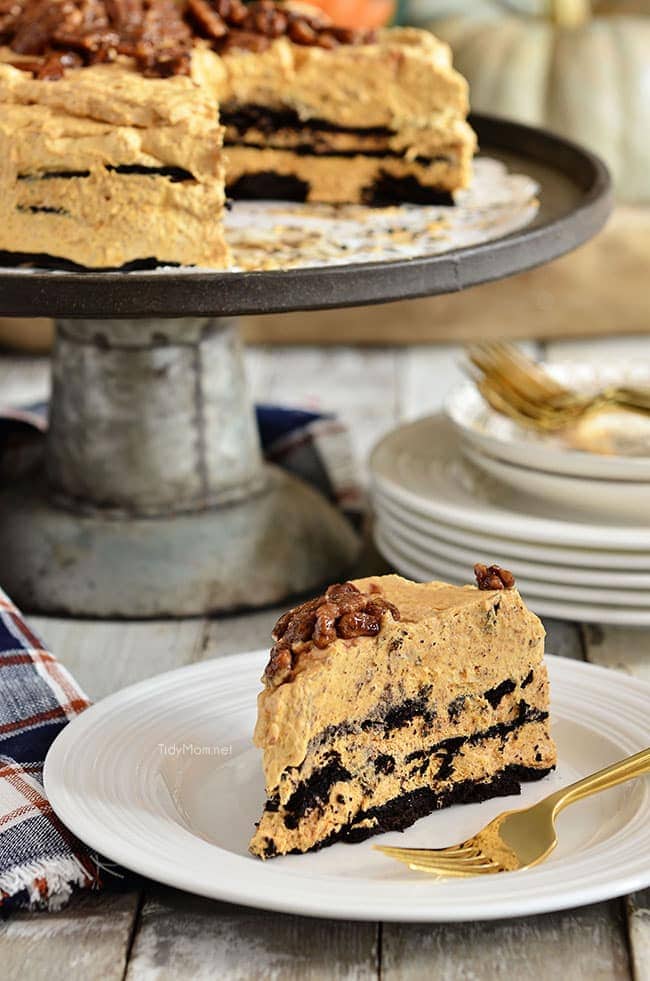 We have not made many pumpkin recipes in our house yet this year, so the other night I planned on making Pumpkin Fluff, one of our favorites that we've been making for years.  As I grabbed the can of pumpkin from the pantry I spotted a few boxes of chocolate wafer cookies when it occurred to me……why not make the pumpkin fluff into an icebox cake?!
It's just as delectable as it sounds. When pumpkin spice mousse is sandwiched between chocolate wafer cookies and allowed to set overnight until the cookies become as soft as cake, well that, my friends, is pure heaven.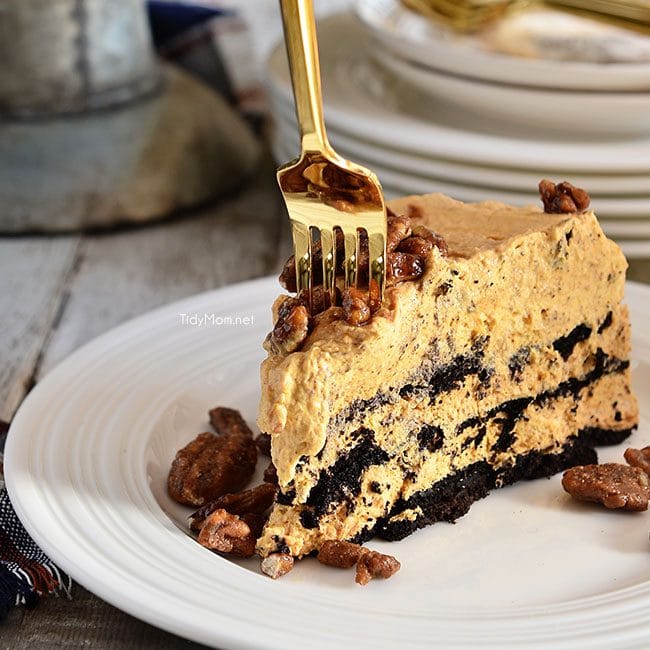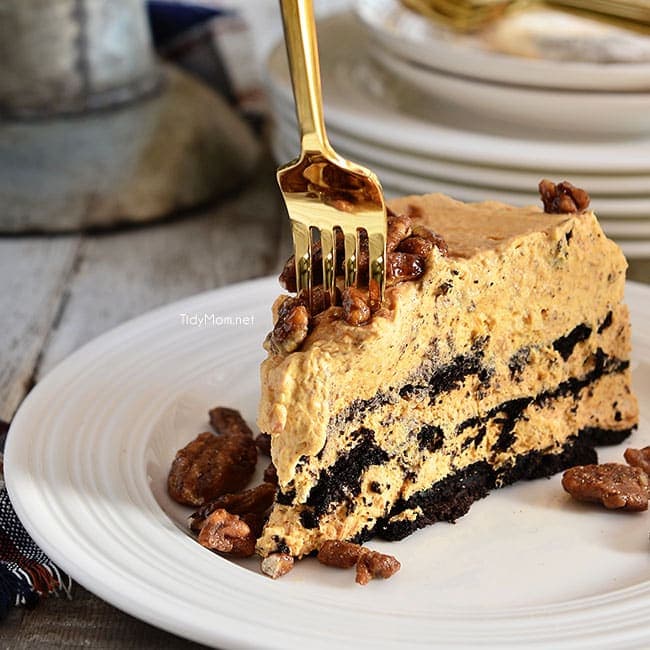 Pumpkin fluff is a recipe I found years ago on a weight watchers message board.  We've always made it with sugar free instant pudding mix, 1% low-fat milk and Cool-Whip Lite to make a tasty dip that was easy on the hips.  This Pumpkin Fluff Icebox cake can be made either way – use all lite or full fat version of the ingredients.
This icebox cake starts with our favorite fall treat pumpkin fluff, which can be eaten with just a spoon, or as a dip with your favorite cookie.  Check out how easy it is to whip up.
click to see more of my recipe videos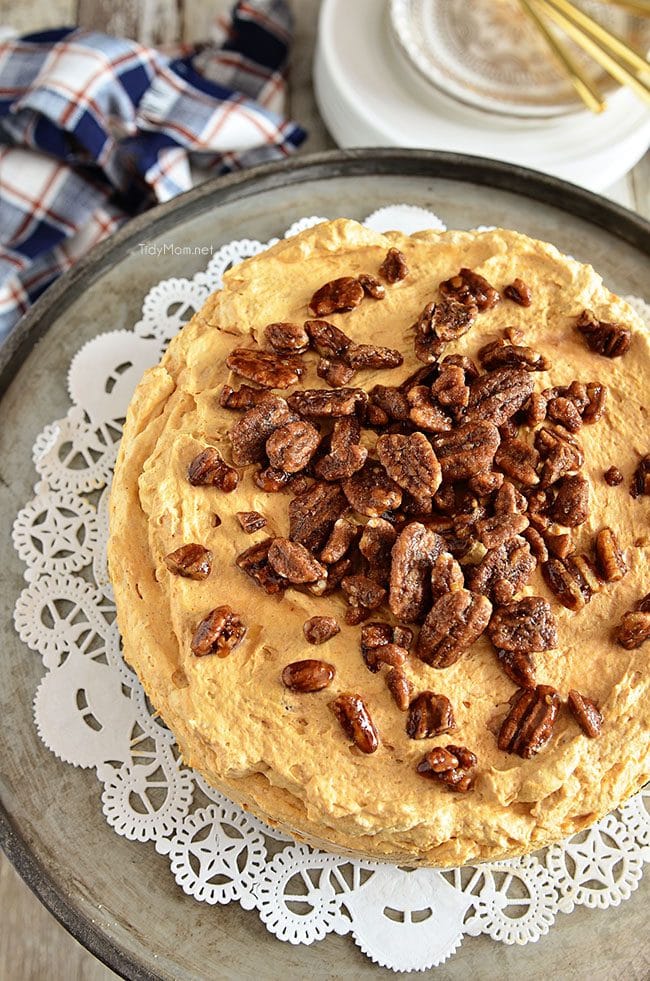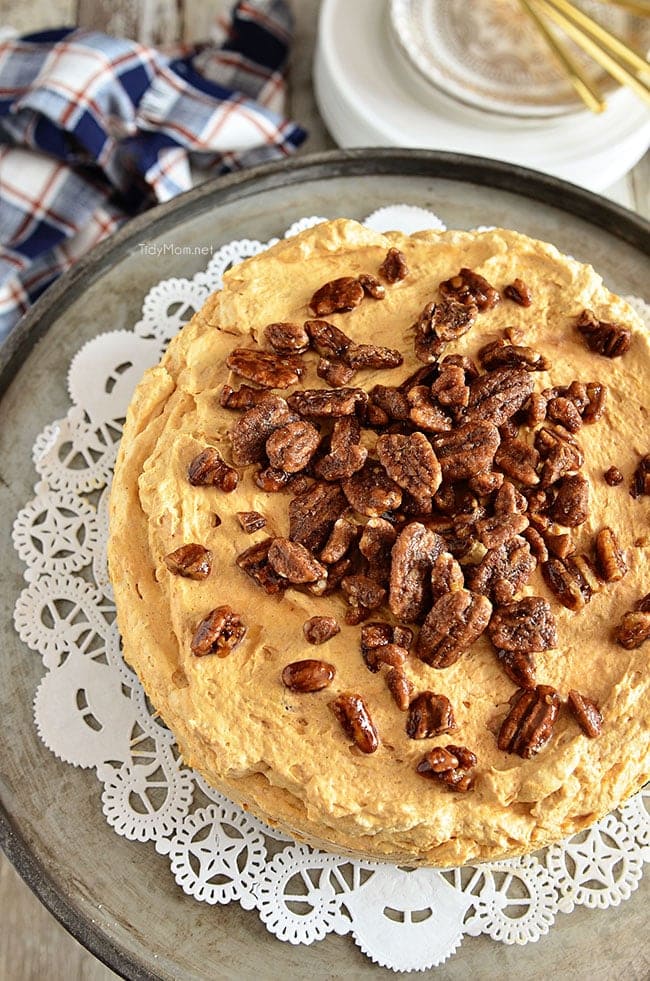 I hope that you decide to add this simple dessert recipe to your menu this Thanksgiving or any day of the yeear, and enjoy every delicious bite as much as my family did!  😉
I'd love to hear about your favorite pumpkin recipe in the comments!
Pumpkin Fluff Icebox Cake Recipe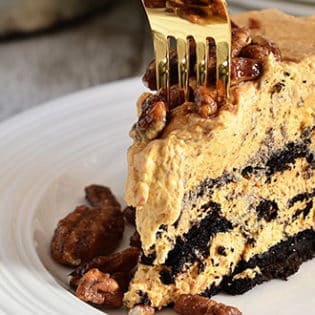 Pumpkin Fluff Icebox Cake
Pumpkin Fluff Icebox Cake is a delicious no-bake dessert that comes together in no time. The hardest part is leaving it in the refrigerator over night.
Ingredients:
2 (15 oz) can pure pumpkin (NOT pumpkin pie filling)
2  (1.5oz) vanilla or butterscotch Instant Pudding Mix (I prefer butterscotch)
1 teaspoon vanilla
1 cup milk
3 tsp pumpkin pie spice
2  (8oz) CoolWhip
2 boxes chocolate wafer cookies (Famous Wafers)
candied pecans
Directions:
In a large mixing bowl, whip milk and pudding mix until well combined. Add pumpkin and spice and blend until smooth. Fold in whipped topping.
Using a 9-inch springform pan, arrange chocolate cookies to cover the bottom of the pan (this will require breaking up some of the cookies - it's ok for some to overlap)
Scoop 1/3 of the pumpkin fluff mixture onto the cookies and using an offset spatula, gently spread it evenly over the cookies.
Top with another layer of cookies, and 1/2 of the remaining pumpkin fluff - repeat with a 3rd layer of cookies and remaining pumpkin fluff.
Garnish the top with candied pecans.
Gently cover the cake with plastic wrap and place it in the refrigerator at least 8 hours or overnight so the cookies soften making a cake-like texture.
To serve, release cake from pan, cut into wedges and serve cold.
Making this recipe? Share it with us on Instagram using the hashtag #TidyMom so we can see what you're creating in the kitchen!
Want more great recipes like this? Follow my TidyMom Easy Recipes Pinterest Board
**Making this recipe?  Take a picture and share it on Instagram! Make sure to tag it #TidyMom so we can see what you're creating in the kitchen!
LIKE IT? PIN IT!



MORE PUMPKIN RECIPES YOU MIGHT ENJOY: