Pumpkin Fluff
Pumpkin Fluff is a creamy, fluffy pumpkin dip that is the perfect fall treat served with graham crackers, vanilla wafers, apple slices or just with a spoon. It's a family favorite we make every fall.
click to see more of my recipe videos
We make a lighter by using fat free/sugar free ingredients, but of course, if you want to live on the wild side, use the full fat versions.
I found this recipe for pumpkin fluff a few years ago when I was doing Weight Watchers. It was a big hit in my house with everyone, it quickly became a requested snack, and no longer "diet food". 
I first posted this recipe in 2009, pumpkin fluff is still a family favorite fall threat that we make every year!
I want to share the recipe with you! You can tweak it to your liking.
It's pretty low cal (and high fiber) the way I make it – but if you're really trying to keep it low, just change the milk to skim and use the Fat Free Cool Whip.
HOW TO MAKE PUMPKIN FLUFF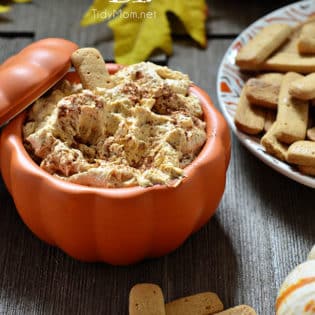 Pumpkin Fluff Dip
Ingredients:
1 (15 ounce) can pure pumpkin (NOT pumpkin pie filling)
1 (1.5 ounce) Sugar Free Fat Free Vanilla or Butterscotch Instant Pudding (I prefer butterscotch)
1 (8 ounce) container of COOL WHIP Lite (or Fat Free) whip topping, thawed
1/2 cup 1% milk
1 1/2 teaspoon pumpkin pie spice
Directions:
Mix milk and pudding, add pumpkin and spice. Blend until smooth.
Fold in whipped topping and chill
Serve with graham crackers, vanilla wafers, ginger snaps or apple slices.
Feel free to use full flat versions of any/all ingredients.
If you're counting points on Weight Watchers, this only has a 1-2 points per serving (depending on how you make it) if you just eat a small bowl of fluff. – but plug it into a points calculator to be sure
weight watchers
Making this recipe? Share it with us on Instagram using the hashtag #TidyMom so we can see what you're creating in the kitchen!
Want more great recipes like this? Follow my TidyMom Easy Recipes Pinterest Board
What Else Can You Make With Pumpkin Fluff?
Pumpkin Fluff also makes an incredible dessert! PUMPKIN FLUFF ICEBOX CAKE! It's is a delicious no-bake dessert that comes together in no time. Making it the perfect make-ahead dessert.