Easy Beef and Ricotta Lasagna
Create a delicious dinner that the whole family will love with this easy cheesy Beef and Ricotta Lasagna recipe that tastes like you spent all day making it without all of the work.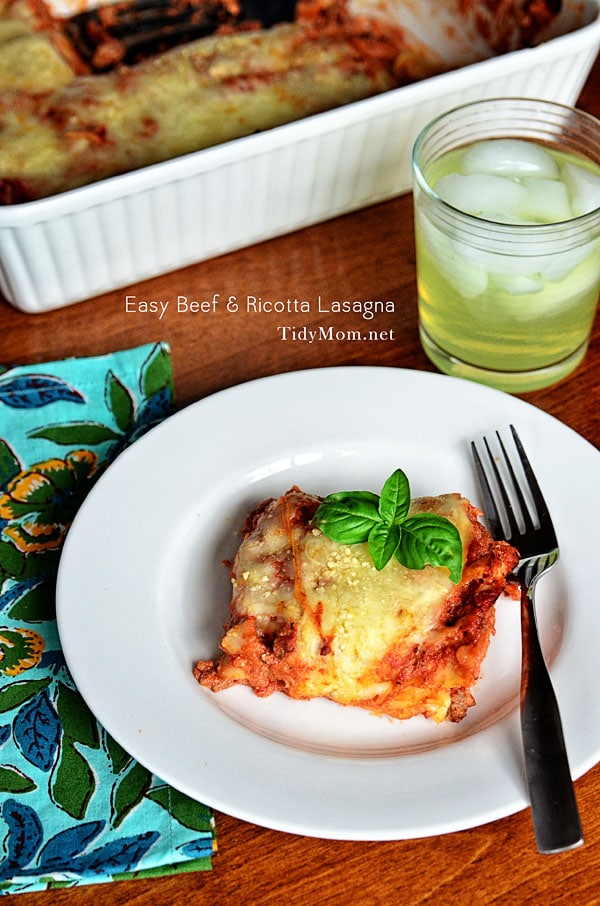 It's no secret, I like easy dinners.  I love to bake, but when it comes to dinner, I like something that requires little work on my part 😉
Most of the time when you think of a dish like lasagna, you think cheesy, gooey comfort food……..but time consuming.  But not this beef and ricotta lasagna recipe!!  I've been making this dish since I was about 15.  It's the lasagna recipe I made in junior high home ec class. Why do they no longer call it "junior high"…..it's now called middle school.
I digress, I was so excited to make this fabulous lasagna for my parents and brother back then, it doesn't take a lot of skills, but makes one heck of an Italian dish, any level cook would be proud to put on the table!
After that night, I was dubbed "lasagna maker" in the family, and now 30 years later, it's still the same lasagna recipe I use.  I first posted this easy lasagna recipe back in 2009 and I thought it was time to bring this star of our family recipes back out!  I made a few tiny changes that involved cheese last week.   Total cheese fest = best batch of lasagna ever!
Since back to school is looming around the corner, and schedules are going to start getting busy, this is a great recipe for any week night or, make a big batch for Sunday dinner and  freeze a pan for a really quick week night meal!  Read this post for pasta fix it and freeze it tips.
Be sure to serve with a stack of napkins! 😉
Want more great recipes like this? Follow my TidyMom Easy Recipes Pinterest Board
More Lasagna Recipes you might enjoy:
White Vegetable Lasagna Recipe on TidyMom
Back of the Box Creamette Lasagna Recipe from Amanda's Cookin'
White Pizza Lasagna from How Sweet it Is
Lasagna Bread Pizza from Taste and Tell
Veggie Lasagna from Baked Bree
Sausage and Mushroom Spinach Lasagna Roll Ups from Bev Cooks
Pesto Lasagna from The Italian Dish