Honey Panna Cotta Recipe
Sweet, creamy and decadent HONEY PANNA COTTA RECIPE from Sweet Designs by Amy Atlas looks like a fancy dessert, but actually but only takes minutes to prepare.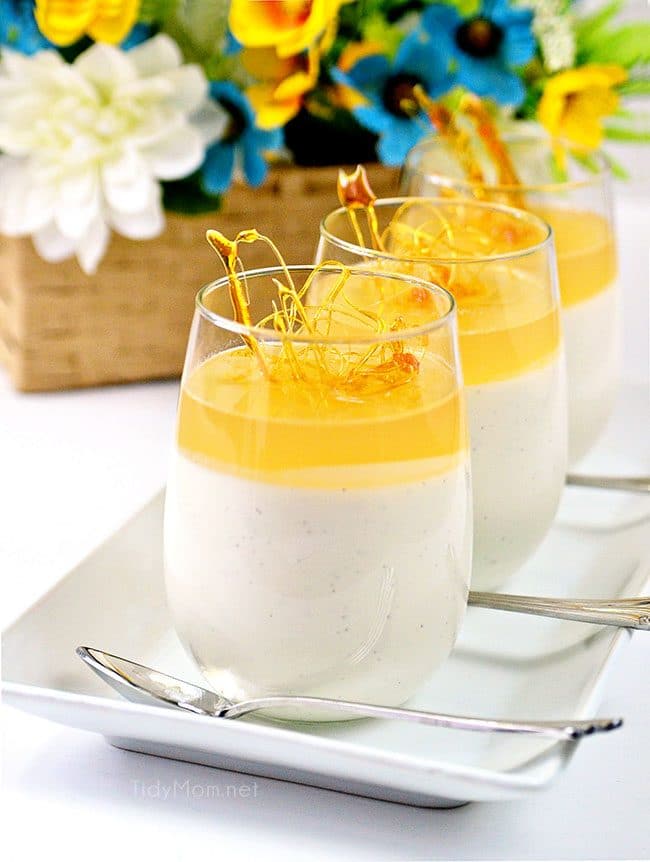 Party planner and dessert table extraordinaire, Amy Atlas is launching her new book, Sweet Designs today!
Sweet Designs is gorgeous, as you can tell by just looking at the cover, and it's packed with sugar and crafts that will help you create beautiful dessert tables. The book is both a cookbook and a craft book, with 374 pages chalked full of more than 175 projects and full of information to get you started on your own table designs with lots of beautiful pictures throughout.
I love that Amy shows you how to Bake it, Craft and Style it!
Amy lays it all out for you, from the sweet basics, like how to melt chocolate, to a walk down the candy aisle, with candy couture and candy math, to how to find inspiration and use fabric to accessorize a cake pedestal and she ends it all with a "Find it" section, sourcing all the items she used in the book. How cool is THAT?!

Amy Atlas is the dessert guru. She's taught me that the dessert table is the pinnacle of any event. She's an inspiration to all bakers! – Tori Spelling
Whether you want inspiration and guidance designing a dessert table, or if you're just looking for some great dessert recipes, Sweet Designs will show you how to create your own stylish desserts and sugar scapes for any occasion.
Myself and a few of my fellow bloggers are highlighting some of Amy's recipes from her new book today!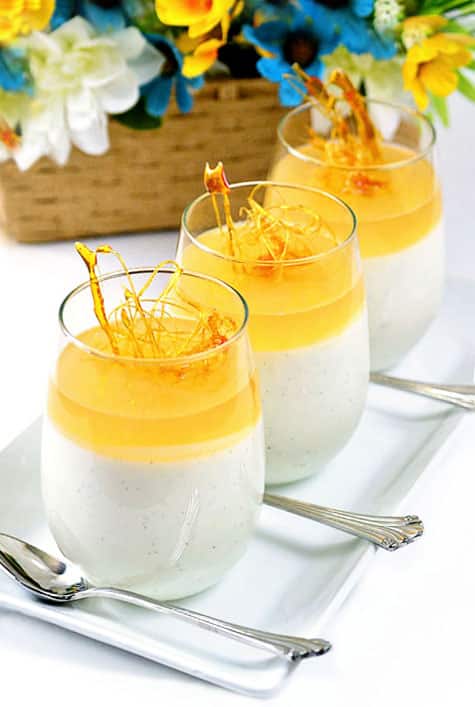 What Is Panna Cotta
It's hard to know what to make because every single one of the recipes looks so darn good. But, I choose the Honey Panna Cotta, a sweet, smooth, creamy little confection.
This cool and refreshing dessert is basically cooked cream with a bit of yogurt and capped with a luminous band of honey-flavored gelatin. It's a great "make-ahead" dessert for a party table, and with it's simple, not too sweet flavor, it would be the perfect ending to a heavy meal.
I garnished the panna cotta with spun sugar, which was pretty quick and easy too ( I watched this video on how to spin sugar)……..just a little messy. But you could certainly garnish with a piece of fruit or almond slice.
Smooth, creamy and oh so decadent!
Want more great recipes like this? Follow my TidyMom Easy Recipes Pinterest Board
Follow Cheryl Sousan | Tidymom.net's board TidyMom.net easy recipes on Pinterest.
Like This Honey Panna Cotta Recipe? Pin It!


I created a fun little group on facebook and I'd love for you to join in! It's a place where you can share YOUR favorite recipes, home tips, creative ideas and ask questions and see what's new with TidyMom! If you'd like to check it out, you can request to join HERE. Be sure to follow me on Instagram and tag #tidymom so I can see all the wonderful TidyMom recipes YOU make and tips YOU use!
Connect with TidyMom! Facebook|Twitter|Pinterest|Instagram
Sign up to receive an email in your inbox for each new recipe: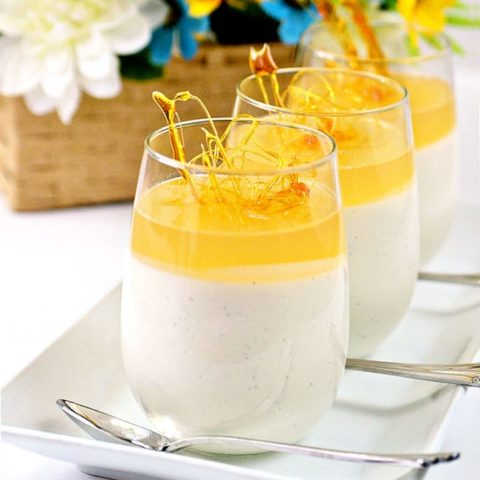 Honey Panna Cotta
Yield:
8 - 4-ounce servings
Chill Time:
4 hours
45 minutes
Sweet and smooth cream confections of cooked cream and yogurt capped with a band of honey-flavored gelatin.
Ingredients
4 tablespoons milk
2 ¼ teaspoons (1 envelope) gelatin
2 cups heavy cream
1 vanilla bean, split and scraped
1/3 cup honey
1/3 cup sugar
2 teaspoons lemon juice
2 cups good quality plain Greek yogurt
For the Honey Gelee:
1 teaspoon gelatin
2 Tablespoons water
1/3 cup honey
1 cup water
Instructions
Put the milk into a small bowl and sprinkle with gelatin over it. Stir and set aside for 5 minutes.
Combine the cream, vanilla bean seeds, honey and sugar in a medium pan and bring to a boil. Remove from the heat and let cool slightly. Add the gelatin-milk-mixture to the pan and stir until completely dissolved. Add the lemon juice and stir. Whisk in the Greek yogurt. Divide the mixture evenly among 8 4-ounce glasses, leaving about 1/2 inch of space between it and the rim. Chill at least 3 hours in the refrigerator.
To make the gelee, combine 2 tablespoons of water and the gelatin in a small bowl and stir. Set aside for 5 minutes.
Meanwhile, combine 1 cup of water then the honey in a pan and bring to a boil, stirring constantly. Remove from the heat and let continue to cook for a few seconds. Add the gelatin mixture to it and stir until it is completely dissolved.
Divide the gelatin mixture over the panna cotta evenly among the glasses. Chill until set, at least one hour. Garnish with spun sugar or single toasted almond slice inserted into the center of the gelee.