Brownie Sandwich Cookies with Cookie Dough Frosting
A chewy decadent brownie sandwich cookie filled with chocolate chip cookie dough frosting that gives the whole ensemble a four star rating from any brownie lover.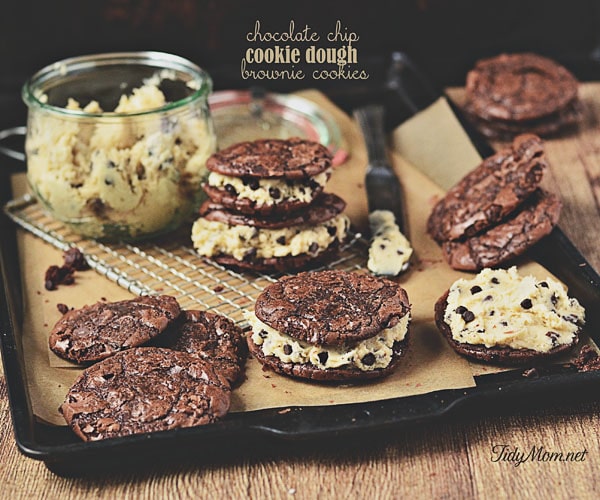 If you hang out here much at all, you may know my family has a fondness for anything that involves cookie dough.  Like the Chocolate Chip Cookie Dough  Cupcakes we made for Heather's birthday a few years ago, and the ever favorite, Chocolate Chip Cookie Brownies.
So a few months back, when I ran across the Donna Hay Brownie Cookie recipe my first thought was I HAD to make those with cookie dough filling!
This recipe is the perfect marriage of the Cookie Dough Cupcakes and the Chocolate Chip Cookie Brownie.  Cookie Dough frosting sandwiched between a soft chewy brownie shaped like a cookie!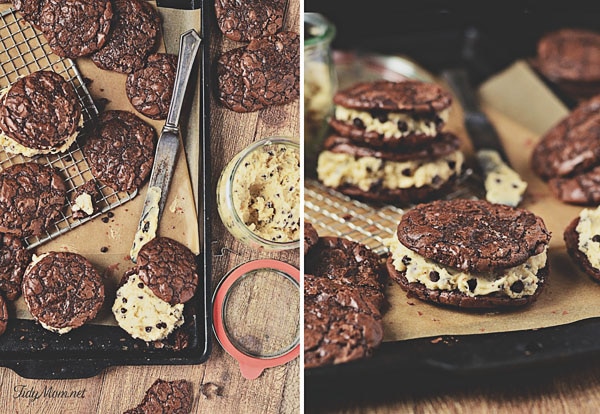 You may also know, I'm not afraid to use a box mix.  So I used my favorite Ghirardelli Brownie mix, but if you'd like to try Donna Hay's recipe, I hear it's pretty amazing too!
I know these aren't the prettiest cookies, but I can assure you,  they are heavenly and oh so rich in chocolatey goodness. A bit indulgent, which was probably a good thing, or I would have eaten a lot more than I did!
The problem with writing a food post AFTER the food is gone, it makes me regret that I don't have any more in the house…..luckily these are very easy to make.  I could whip up some more and send to school with Allison, who, by the way, tells me several of her friends are now following her mom on Instagram and they want to know why she's not bringing some of this food to share with them!  So Jack…..if you are reading………just say the word, I'll send a batch to the band room! 😉
Chocolate Chip Cookie Dough Brownie Sandwich Cookies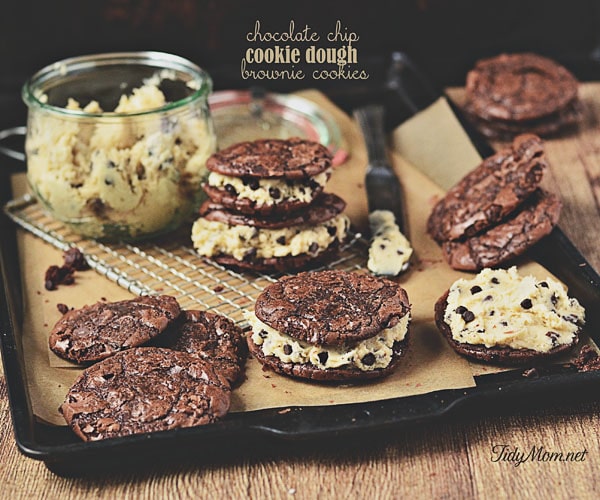 A chewy decadent brownie sandwich cookie filled with chocolate chip cookie dough frosting that gives the whole ensemble a four star rating from any brownie lover.
Ingredients
Brownie Cookies

prepared brownie batter according to box or favorite brownie recipe (I used a Ghirardelli Brownie Mix )

Chocolate Chip Cookie Dough Frosting

3 sticks unsalted butter, at room temperature
¾ cup light brown sugar, packed
3½ cups confectioners' sugar
1 cup all-purpose flour
¾ tsp. salt
3 tbsp. milk
2½ tsp. vanilla extract
3/4 cup mini chocolate chips
Instructions
Brownie Cookies

Heat Oven to 325°. Spoon tablespoonfuls of brownie batter, one at a time, onto baking sheet lined with parchment paper. Bake for 10-12 minutes or until puffed and cracked. Allow to cool completely on pan.

Chocolate Chip Cookie Dough Frosting

Using electric mixer, beat butter and brown sugar with the paddle attachment on high speed until creamy and fluffy.
Mix in the confectioners' sugar until smooth.
Beat in the flour and salt.
Mix in the milk and vanilla extract until smooth and combined.
Fold in Chocolate Chips.

Assembly

Spread half the cookies with the cookie dough frosting and sandwich with the remaining cookies.
Notes
https://tidymom.net/2013/brownie-cookie-sandwiches-cookie-dough-frosting/
Copyright© 2009-2013 TidyMom.Net
NEW FEATURE: Save recipes to your personal recipe box with the

Once you have your favorite recipes in your Recipe Box create a Meal Plan with them and the ingredients will automatically be added to a Grocery List.
 More Brownie Recipes you might enjoy:
Oatmeal Brownie Strawberry Shortcakes
Cookies and Cream Oreo Fudge Brownies
I'd love to hear about your favorite Brownie recipe in the comments or share the link or picture on the TidyMom Facebook page!
I've linked up with Tatertots and Jello Weekend Wrap Up Party