Sandwich Brownie Cookies with Cookie Dough Frosting
with recipe video
Sandwich Brownie Cookies with Cookie Dough Frosting will be your new favorite treat! A chewy decadent brownie sandwich cookie filled with chocolate chip cookie dough frosting that gives the whole ensemble a five-star rating from any brownie lover.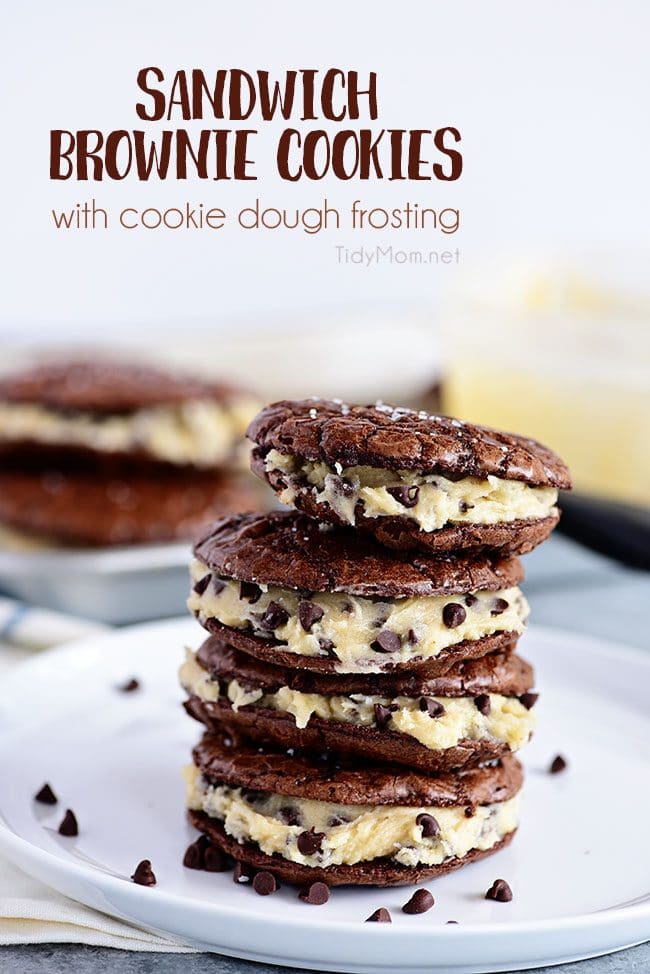 Sandwich Brownie Cookies With Cookie Dough Frosting
If you hang out here much at all, you may know my family has a fondness for anything that involves cookie dough. For instance, the Chocolate Chip Cookie Dough Cupcakes we made for Heather's birthday a few years ago, and the ever favorite, Chocolate Chip Cookie Brownies.
So, a few months back, when I ran across the Donna Hay Brownie Cookie recipe my first thought was I HAD to make those with cookie dough filling!
What is a Brownie Cookie Sandwich?
This Brownie Sandwich Cookie recipe is the perfect marriage of the Cookie Dough Cupcakes and the Chocolate Chip Cookie Brownie. Cookie Dough frosting sandwiched between a soft chewy brownie shaped like a cookie!
I know sandwich brownie cookies aren't the prettiest cookies, but I can assure you, they are heavenly and oh so rich in chocolatey goodness. A bit indulgent, which was probably a good thing, or I would have eaten a lot more than I did!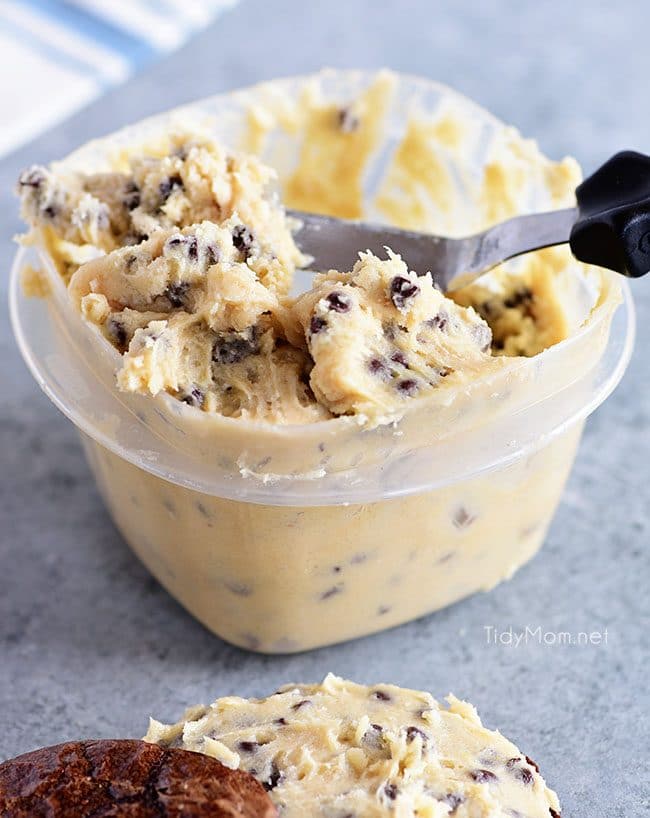 Is This Cookie Dough Really Safe To Eat?
Yes! The cookie dough frosting in this recipe is 100% safe to eat. There are no eggs in the recipe meaning there is no threat of salmonella. You could eat it right off the spoon and be perfectly okay, I actually highly recommend it.
If you are worried about eating raw flour, you can substitute the flour by grinding rolled oats in a spice/coffee grinder or food processor to a fine powder.
I'm not sure how I ever lived in a world where eating cookie dough was frowned upon. Thank God for whatever angel created the first ever edible cookie dough recipe!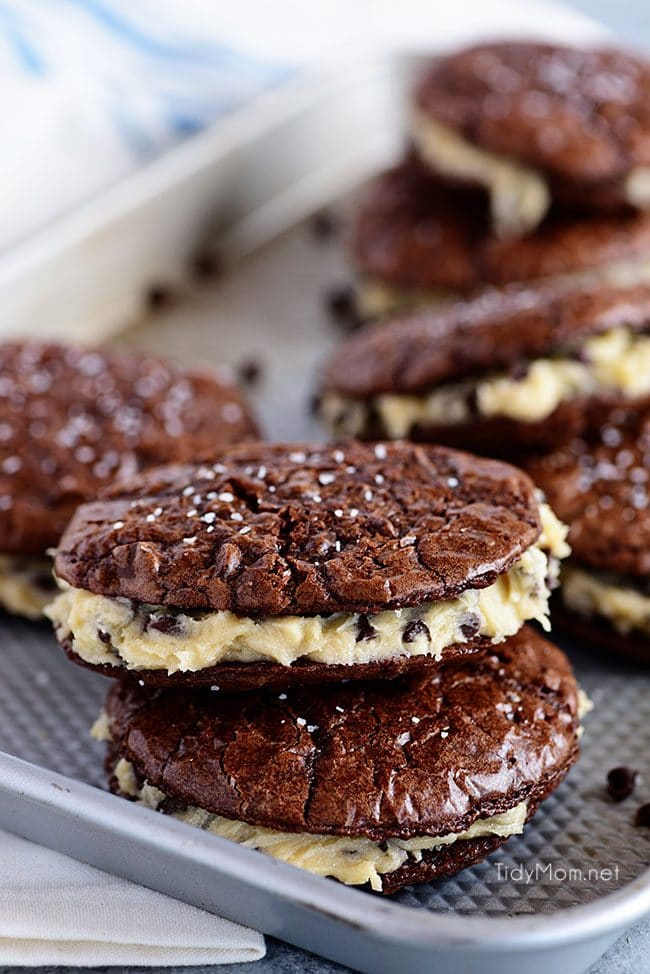 How To Make Brownie Cookies with Cookie Dough Frosting
If you've read some of my other posts, you know I'm not afraid to use a box mix. So, naturally, I pulled out my favorite Ghirardelli Brownie mix. It's honestly the best brownie box mix I've ever tried!  If you prefer to be your own SuperBaker and make everything from scratch try Donna Hay's recipe, I hear it's pretty amazing too!
To make all of the brownie cookies the same size I used a 1 1/2 tablespoon cookie scoop to drop the batter on the cookie sheet. Uniformity makes everything a lot easier when you're trying to assemble the sandwiches.
Another tip is to use an offset spatula to spread the cookie dough (makes it way easier than a knife). Also don't be afraid to leave the frosting a little uneven and messy. We liked that look way better than a smooth even finish.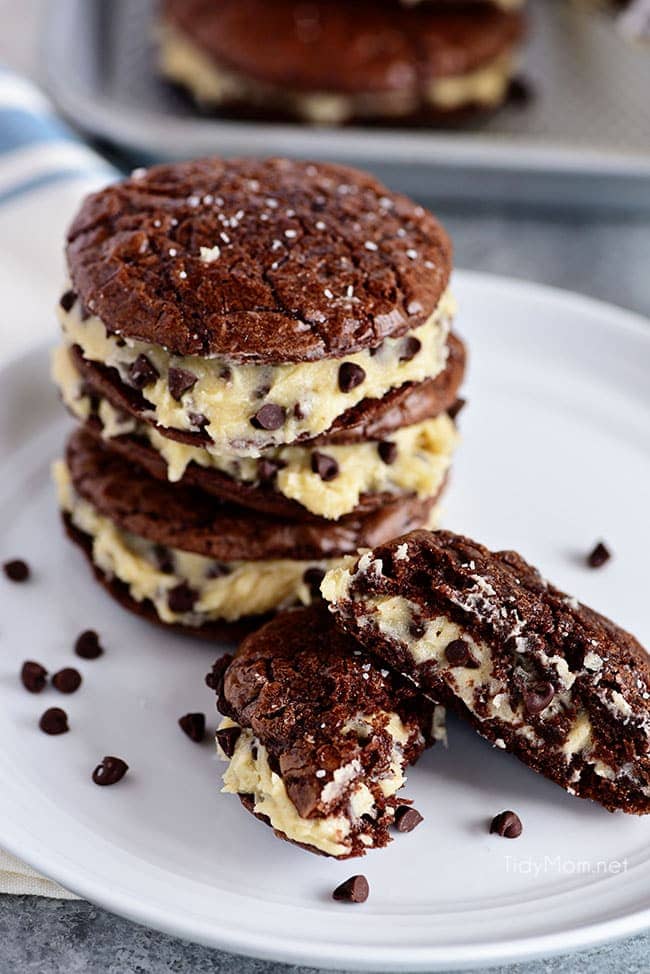 More Brownie Recipes You're Going to Love
There are few things I love more than a good brownie. So, it's safe to say I have a long list of all my favorites. I figured I'd share some with you, in case you're a brownie fanatic just like me.
Oatmeal Brownie Strawberry Shortcakes
Cookies and Cream Oreo Fudge Brownies
CHECK OUT HOW EASY THIS BROWNIE COOKIE RECIPE IS TO MAKE! WATCH THE VIDEO!

click to see more of my recipe videos
Like this Cookie Dough Brownie Cookies recipe?  Pin It!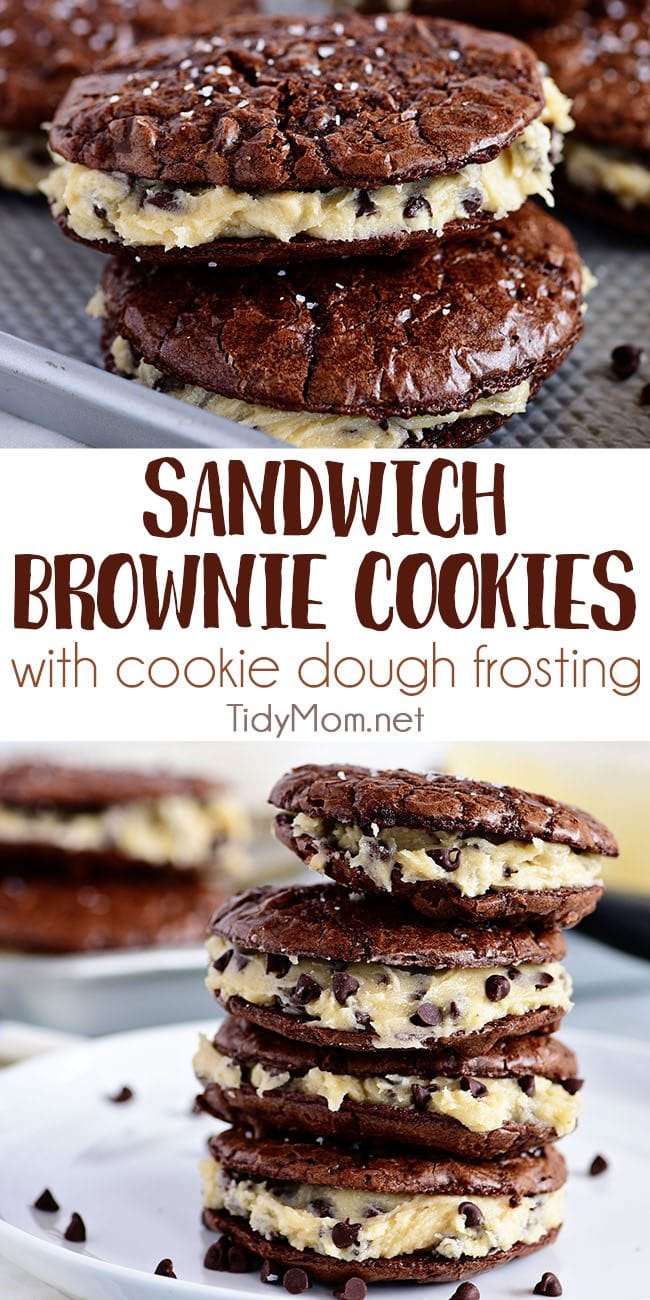 An Amazingly Decadent Brownie Sandwich
I'm pretty sure these brownie sandwiches disappeared from the pan faster than I could say cookie dough frosting. The problem with writing a food post AFTER the food is gone, it makes me regret that I don't have any more in the house…..luckily these are very easy to make so I might just have to make up a new batch!
I can't wait to hear how much you love them too! Drop your thoughts in the comments along with your favorite brownie recipe, I always love recommendations for new recipes to try!
Want more great recipes like this? Follow my TidyMom Easy Recipes Pinterest Board