How to Clean Upholstered Furniture
Do you clean your upholstered furniture on a regular basis? Don't wait until you can see the dust and dirt. If you add these tips to your cleaning routines, your upholstered furnishings will look and smell great — and last longer too!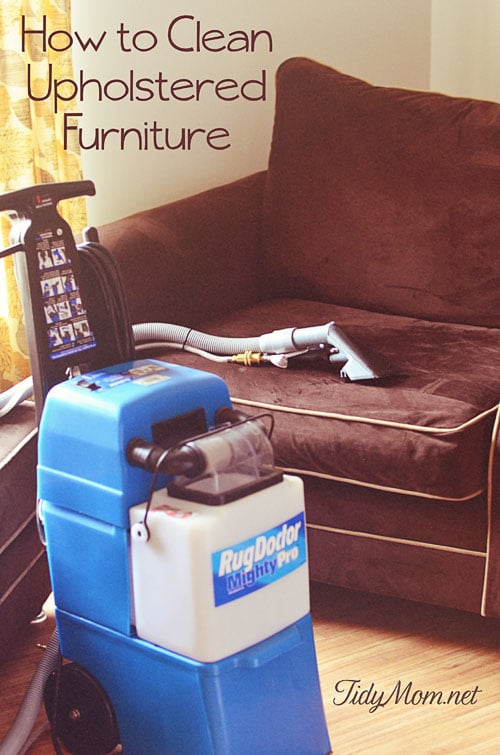 Weekly Upholstered Furniture Care
remove pillows and cushions
use the crevice tool on your vacuum to really get into all the crevices that hold the dust and dirt. If cushions are not removable, use the crevice tool to get into all the available seams and corners.
Vacuum the cushions. (I'm in love with my Dyson DC40 upright and my newest, Dyson 35 cordless vacuum)
Replace and rotate the cushions. You can extend your upholstered furniture's life by periodically turning over the loose cushions.
Look over the pieces carefully; if you see any spots or stains treat them immediately.
If you have any stains, remove the cover if you can, and treat according to the manufacturer's instructions.
If you aren't sure how to treat a stain and would like to treat it yourself – try using a little white shaving cream. Use a very small amount of white shaving cream on a damp white cloth to treat all kinds of mystery stains. When the stain is gone, dab with a second cloth and clean water. Be sure to first test on a hidden part of the upholstery for colorfastness. *It's always best to contact the furniture or upholstery manufacturer to see if you can get specific cleaning instructions for your particular fabric.
Freshen throw pillows by tossing them in the dryer and set it on air or fluff with some tennis balls to freshen and dust in one step.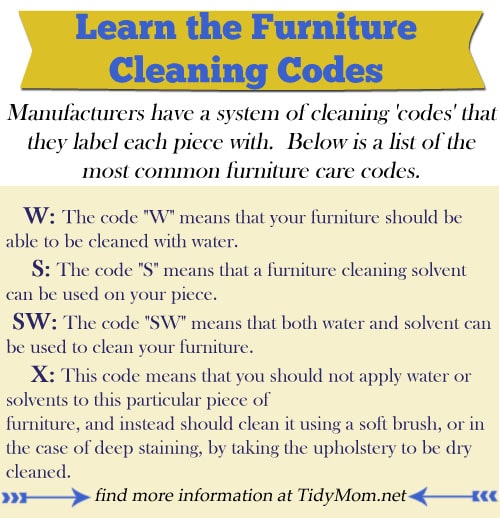 When you furniture needs a deeper clean you can rent a Rug Doctor machine, or better yet buy one and follow these instructions on How to Clean Upholstered Furniture
Before You Begin
Rug Doctor machines and cleaning products are safe for many fabrics, even delicate fibers. HOWEVER, you risk damage to fabrics not intended for water extraction method cleaning. Do not use or place the Rug Doctor machine or cleaning products on: Silk, Haitian cotton, velour, brushed corduroy, leather, non-colorfast fabrics or upholstery fabric with cleaning codes S or X. Do not use Rug Doctor machines or attachments on mattresses or mattress toppers made with memory foam, foam or goose down. Some stains require professional treatment. Use cool water when cleaning wool, wool blends or delicate fibers.
Prepare Upholstery for Cleaning
1. Prepare surface for cleaning by thoroughly vacuuming or brushing. Set up the machine, directing your attention to the hose connections at the rear.
Set Up
2. First, pull free the top portion of the large vacuum hose at the back of the machine. Then connect the top portion of the machine vacuum hose to the vacuum hose of the Hand Tool. Next, slide down the sleeve of the brass "quick coupler" on the machine and pull out the small solution hose. Slide down the coupler sleeve again to insert the metal end of Hand Tool solution hose. Release the brass sleeve to secure. Tug gently on the hose to make certain the connection is complete.
3. Remove the UPPER (white) tank. Mix Rug Doctor Upholstery Cleaner with water in a clean bucket according to the label directions and pour into the LOWER tank.
4. Add 1/4 to 1/2 cup of Rug Doctor Anti-Foam to UPPER tank, then slip tank back in place and seal tank and clear dome securely by replacing restraining wire.
5. Plug in the power cord and position the machine. Refer to the label on top of machine and turn the machine ON for upholstery/hand tool cleaning. On some machines you may also need to turn on an additional switch for Vacuum ON.
6. Test for colorfastness by first cleaning a small, hidden area, then rub the test area with a white towel. If no color appears, continue cleaning. A little color on the towel means there's some chance of color running, but you probably can still clean safely. Dry cushions on sheets or towels laid out on the floor.
Start Cleaning
7. Working at a slow, steady pace, begin cleaning by squeezing the hand tool lever as you pull the tool over fabric. Overlap strokes slightly. IMPORTANT: Do NOT depress the button on machine handle while using the hand tool.
8. As you clean, with the vacuum on, squirt or vacuum small amounts of Rug Doctor Anti-Foam into the small (vacuum) opening of the hand tool every few minutes to minimize suds build-up inside the vacuum hose. If foam builds up around the hand tool, pull a little bit faster or vacuum excess solution by passing over area a second time without squeezing lever.
9. When cleaning is complete, empty any remaining solution by holding the hand tool over a sink and depressing lever until tank is empty.
10. With all switches OFF, disconnect the Hand Tool hoses and securely reconnect the machine vacuum and solution hoses before returning to rental location. NOTE: For velvet upholstery, fluff up damp pile with a soft brush or towel to keep from matting.
If you learn How to Clean Upholstered Furniture it is possible to keep your upholstery looking its best for a long time. Remember, it pays to be consistent. Rug Doctor machines can be rented from your local supermarket or home improvement store for less than the cost of a professional cleaning service.
Do you have any tips for cleaning upholstered furniture?
Tips on How to Keep Your Carpet Looking it's Best

Disclosure: As you know, all opinions and thoughts shared on the site are my own. I was not paid to write this post, but do have a working relationship with Rug Doctor. As part of that relationship, Rug Doctor sponsored my trip to BlogHer '12 in New York City.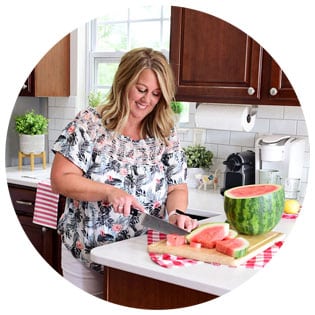 Hi there, I'm Cheryl!
As a wife, mom, and caffeine enthusiast, my journey has taken me from bustling mornings with my family to sharing delicious recipes, home care tips, and heartfelt decorating insights with wonderful readers like you. My love for baking, photography, and tidiness shines through every post I craft. Dive into my world and discover the art of homemaking, one tidy moment at a time. Read more...
Tidymom is a participant in the amazon services llc associates program, an affiliate advertising program designed to provide a means for sites to earn advertising fees by advertising and linking to Amazon.com.
Please respect my work, recipes and photographs. If you do use a recipe in your own writing, please give proper credit and link back to the original post.