Tips for keeping your carpet looking it's best

New carpet graced our home about 8 years ago, and since that time it has seen, food, soda, wine, juice, mud, dirt, throw up, and more.  It has hosted parties, dance offs, sleep-overs, dog naps, and lots of family time.  As you can imagine, it gets filthy and it's not always easy to keep it looking nice.
Carpets trap dust, dirt, odors and even moisture.  All providing the perfect breeding ground bacteria and mold. We all know that routine vacuuming helps, but there are several things you can do to keep your carpets looking their best and your home healthy.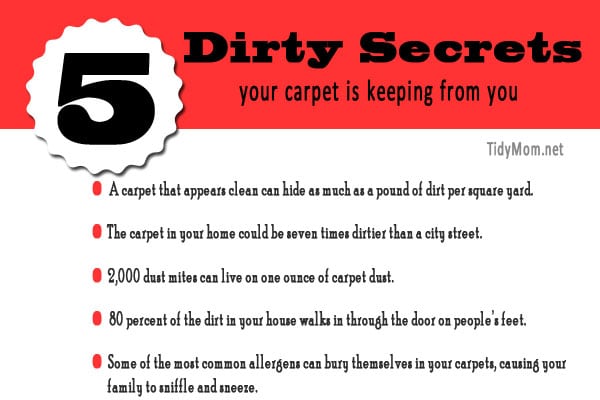 How to Keep Your Carpets Clean:
Vacuum weekly and  high traffic areas at least twice a week to remove surface dirt and dust.  Use a nice back and forth motion, not going too fast.
Use welcome mats and rugs, both inside and outside of doors to reduce the amount of dirt brought into your home.  Be sure to clean these rugs and mats on a regular basis
Go shoeless in the house.  Enforce the no shoes rule at all times and your carpet will definitely stay cleaner.
Treat spots immediately.  A stain that's been let to set in, is much harder to remove later and can cause permanent damage
Vacuum under area rugs periodically to remove loose dirt that may have gotten thru the rugs to your carpet.
Clean carpets at least twice a year.  Clean, disinfect and sanitize carpets, rugs, and upholstery with high-powered water extraction (be sure to check manufacturer's care instruction).
Rent a Rug Doctor and clean like a pro
Powerful, easy to use carpet steam-cleaning machines
Professional carpet cleaning products for a longer lasting clean
Friendly, helpful customer service
Convenient rental locations at over 33,000 locations nationwide
Peak condition & regularly cleaned
Keeping your carpet clean is the easiest way to ensure its longevity and beauty.  Take the time an a little effort to treat it well, and it should last many years .
What's the worst thing you've gotten on your carpet?

Disclosure: As you know, all opinions and thoughts shared on the site are my own.  I was not paid to write this post, but do have a working relationship with Rug Doctor.  As part of that relationship, Rug Doctor sponsored my trip to BlogHer '12 in New York City.