Golden Rules for Cleaning the Bathroom
Cleaning the bathroom… it's a dirty job, but somebody has to do it. right? A lot of messes can happen in the bathroom, follow these simple rules for how to clean the bathroom without spending hours cleaning up after everyone else.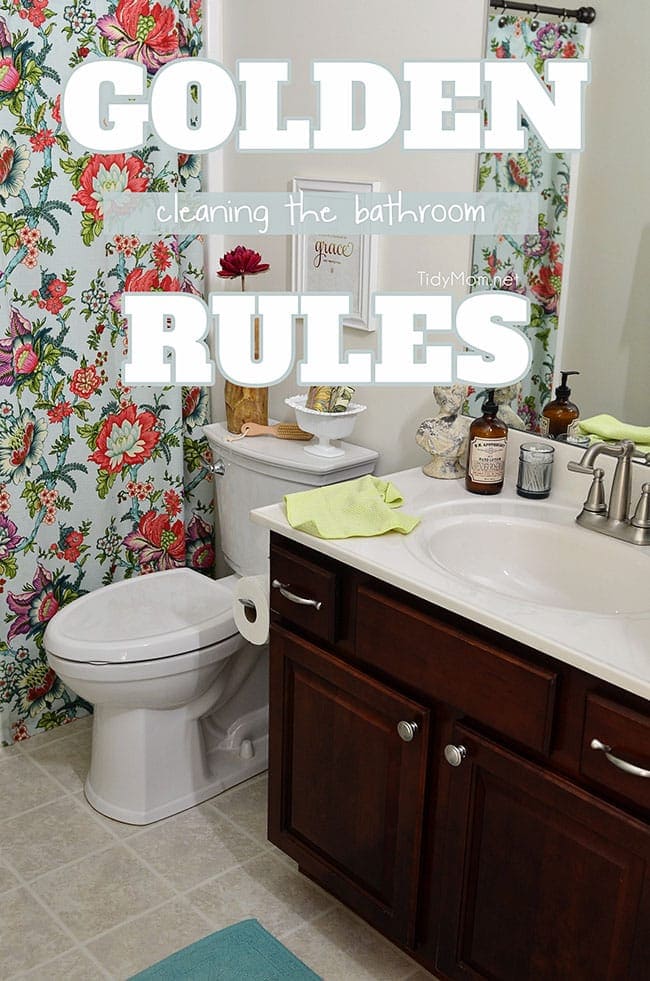 You can do a quick five-minute clean up any day, but today I want to go a little deeper and share my golden rules for cleaning the bathroom.
1. Use it and put it away. This is my NUMBER 1 rule to follow, especially in the bathroom. Generally the bathroom is not a large space, so it can quickly become a cluttered mess. Everything needs a "place" and when you are finished using it, put it back in it's place. It's that simple. It only takes seconds to put the toothpaste back in the drawer, the hairdryer under the sink and makeup back in the box. I know sometimes you might be in a HUGE hurry….running late, but honestly quickly grabbing everything you used and put it away should take all of 30 seconds, maybe a minute. If you do this ONE thing, it will make a world of difference.
2. Use the right tools and products and have them accessible. Keep the supplies where you use them; shower cleaner in or near the shower, toilet cleaner near the toilet, the and the all-purpose cleaner below the sink. If its within reach, you will be more inclined to use it. I like to use products that do a lot of the work for me.
Microfiber clothes and paper towels. Tip: use different color clothes for different jobs (I use blue for the toilet, yellow for the mirrors, green for all other surfaces and white for buffing)
Old toothbrush is great for cleaning small tight spaces.
Fast-acting Scrubbing Bubbles® Mega Shower Foamer penetrates and lifts dirt and grime across multiple surfaces, so all I need to do is spray the shower, let the foam do all the work, and rinse.
Scrubbing Bubbles® Fresh Brush® puts an end to having an icky toilet brush in the bathroom!! The Fresh Brush® Flushables make every day cleaning more sanitary than a regular brush because it can quickly be flushed away after use! I just keep the caddy next to the toilet, to store the pads and wand.
Scrubbing Bubbles® Toilet Cleaning Gel to keep the toilet fresh between scrubbings.
Multi-surface cleaner, such as Scrubbing Bubbles® Bathroom Cleaner. It has the power to clean up every mess, but also has disinfectant properties (kills 99.9% of viruses* and bacteria) for a complete clean.
Window cleaner for cleaning mirrors and shinny surfaces, such as faucets.
Vacuum or broom for when it's time to clean the floors.
*When used as directed, kills Herpes Simplex Virus Type 1, Herpes Simplex Virus Type 2, Influenza A (H1N1) Virus, Respiratory Syncytial Virus, Rotavirus, Staphylococcus aureus (Staph), Salmonella enterica (Salmonella), Pseudomonas aeruginosa, Enterobacter aerogenes, Escherichia coli (0157:H7) (E. coli), Listeria monocytogenenes, Methicillin-resistant Staphylococcus aureus (MRSA).
3. Have a method. Work clockwise around the room, that way you won't forget what you have and have not cleaned. You will also focus on surfaces that need soaking, which can be done while you clean areas that don't require soaking. That way, you let the products work for you …..reducing scrub time.
Use the sink as your starting point. This way as you come around the room, you will end at the sink, cleaning it last.
You are going to make several clockwise trips around the bathroom in three phases; tidy & spray, cleaning and floor
first go around the bathroom and tidy up, put away anything that is not where it belongs, empty trash and pick up any laundry (if you do this every time you use the bathroom, there should be very little to do).
Spray outside of toilet with all purpose cleaner and shower/tub with something stronger, like Scrubbing Bubbles® Mega Shower Foamer
CLEANING: Dust and dirt fall from the top to the bottom, so you want to start at the top and work your way down and around.
using a damp microfiber cloth, move clockwise around the room, wiping down walls, door frames and light fixtures (you can attach your microfiber cloth over the end of a mop pole and secure it with a rubber band to make reaching easier).
use a second microfiber cloth and all purpose cleaner to clean furniture and decor items as you go.
When you reach the mirror clean it. For countertops, remove all items on the surface, clean the area by spraying with the multipurpose cleaner and wiping in an 'S' pattern. Neatly replace all items back on the counter, wiping the items as you replace them.
For the toilet: You have already sprayed the toilet, using paper towels or microfiber cloth, wipe the tank, handle, lid, base and area behind the toilet and top and bottom of the rim. (If you have some extra grimy areas, use an old toothbrush to remove dirt). Discard the paper towel or toss cloth into dirty cloth pile. Next scrub the toilet bowl using Scrubbing Bubbles® Fresh Brush® (you can use the heavy duty pads if needed – they get discarded in the trash) – start with under the rim and then swirl your way into the bowl until you get to the chute, which also needs to be scrubbed. If using the flushable pads, eject the pad and flush. This is when I like to use the Scrubbing Bubbles® Toilet Cleaning Gel dispenser to stamp a gel disc onto the inside of the clean toilet bowl. The gel gradually dissolves with each flush, allowing a controlled release of cleaning solution and fragrance keep the toilet (and bathroom) fresh up to 7 days!
For the shower: If you have already sprayed the shower or tub with the Scrubbing Bubbles® Mega Shower Foamer, it has been busy cleaning soap scum and tough stains, so scrubbing is not necessary, simply rinse and wipe the shower dry, then wipe and replace all shower items. The active cleaners keep the bathroom clean for up to four days! NICE!!
Finish by cleaning bathroom sink: just incase you needed any water during cleaning, that way you don't have to clean the sink more than once. Spray with all purpose cleaner and wipe down sink and faucet. I like to use a dry microfiber cloth to buff and shine the faucet.
Vacuum (or sweep) floor and rugs to remove, dust, hair and debris. Then using a microfiber cloth, dampened with a little vinegar water to wipe down the floor. Unless you have a large bathroom, it's just easier to do it by hand, rather than a mop, and I feel you can get around the toilet and corners better this way.
Step back and enjoy your clean bathroom! Honestly, if you use the "clean it in 5 minutes a day rule" the thorough cleaning really doesn't take long, maybe 15 minutes and very little work if you use products that do a lot of the work for you.
I have used and loved Scrubbing Bubbles® products for years, so imagine my excitement recently when SC Johnson asked if I would like to partner with them and come talk about cleaning bathrooms at the BlogHer conference in San Jose last week!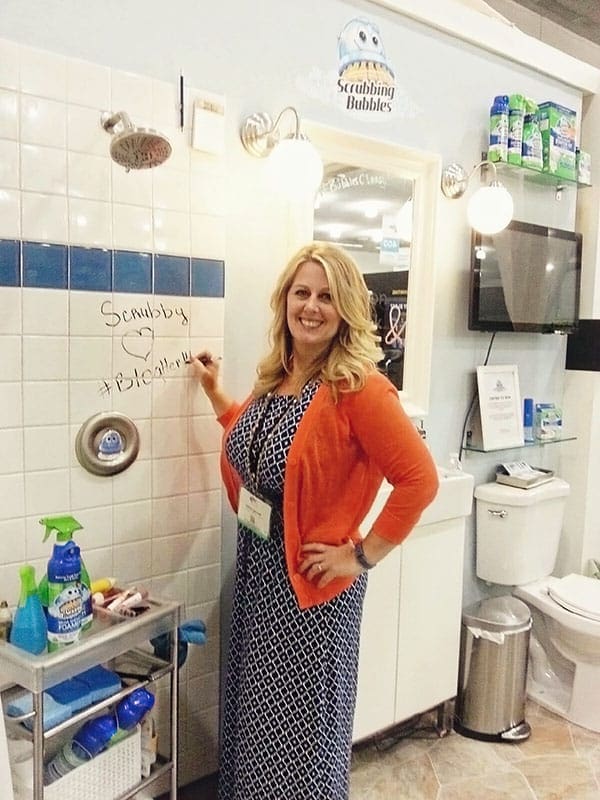 I mean who else would get so excited about talking about clean bathrooms?! Together with Scrubbing Bubbles, we want to make sure we're really getting that complete clean in the bathroom without having to spend hours cleaning up after everyone else's messes.
Be sure to like Scrubbing Bubbles® Brand on Facebook and follow on Twitter to follow The Bubbles on their 2014 Cleancation Road Trip!
Spill it!………How often do you clean the bathroom? Who makes the most mess in the bathroom? Who handles cleaning the bathroom?

Disclosure: I have a working relationship with Scrubbing Bubbles® Brand. However all opinions and my love for Scrubbing Bubbles and a clean bathroom are all my own.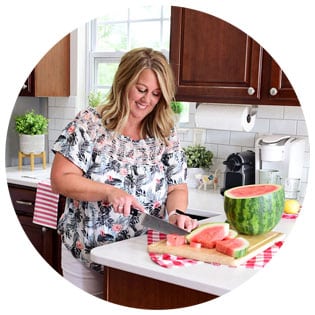 Hi there, I'm Cheryl!
As a wife, mom, and caffeine enthusiast, my journey has taken me from bustling mornings with my family to sharing delicious recipes, home care tips, and heartfelt decorating insights with wonderful readers like you. My love for baking, photography, and tidiness shines through every post I craft. Dive into my world and discover the art of homemaking, one tidy moment at a time. Read more...
Tidymom is a participant in the amazon services llc associates program, an affiliate advertising program designed to provide a means for sites to earn advertising fees by advertising and linking to Amazon.com.
Please respect my work, recipes and photographs. If you do use a recipe in your own writing, please give proper credit and link back to the original post.