Clean Home Secrets
This post may contain Amazon or other affiliate links. As an Amazon associate, I earn from qualifying purchases.
The key to good a spring cleaning and living in a clean home actually starts with clearing the clutter in your home. The more organized your home is, the easier it will be to keep clean.
I will never have a home that looks like a magazine 24/7. We live in our home. We cook, eat, play, make messes, we have dogs and busy lives. So how do you do necessary spring cleaning and make cleaning more routine than "out of control"? read on for The Secret to a Clean Home!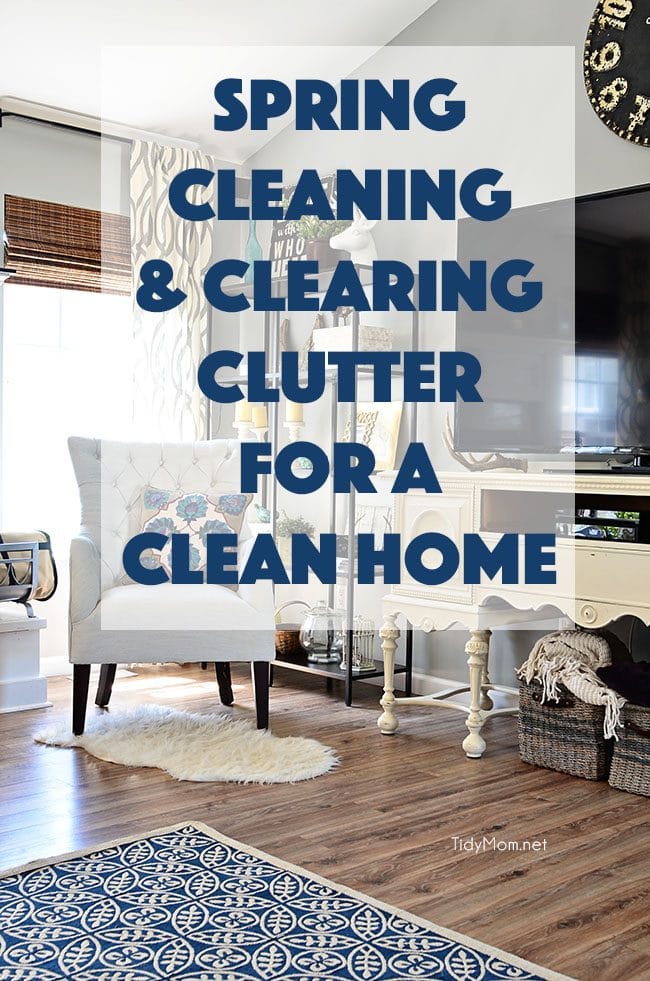 Learning the Secret to a Clean Home
Secret To a Clean Home Step 1: Declutter
There's really no way to get around this step. If you have too much excess, there's nowhere to go with things. When there's no room in the closets, drawers and cabinets, things start to pile up on floors, counters and furniture. When all those surfaces are over flowing, it's nearly impossible to clean, not to mention, it looks messy even if you do manage to clean. When your home becomes chaotic, you can't find things and other aspects of your life become disorganized as well…..that's a formula for stress.
The longer you let the clutter go, the bigger the hassle to declutter. Start by breaking it down into small tasks. Take one room or one area at a time. Do you have a pile of clothes on your floor or at the end of the bed? Start by cleaning out your closet and dresser drawers. Make sure everything has a home, so it doesn't end up on the counters and floors. If you run out of space, try creative alternatives like decorative boxes, furniture with built in storage, trunks and crates.
If you don't love it or use it, it's clutter. Embrace the Feng Shui art of uncluttered living. Clutter is an obstacle to reaching a relaxed and calm state. Feng Shui teaches that if energy can easily flow through a room, your life will be more harmonious and happy = less stress.
Secret To a Clean Home Step 2: Make tidying up a daily habit
This is the number one rule I live by and have tried to instill in our daughters. If you do a little bit of cleaning up every day, big tasks like Spring Cleaning are less of a chore. For instance, I prefer to clean dishes as we use them, instead of letting them pile up. I always do dinner dishes as soon as we get up from the table and wipe down the counters and sink, that way I get up to a fairly clean kitchen each morning. I give our bathroom a 5 minute cleaning each day after we get ready in the morning. Hint: most days it takes less than 5 minutes and I'm never embarrassed to have someone use our bathroom.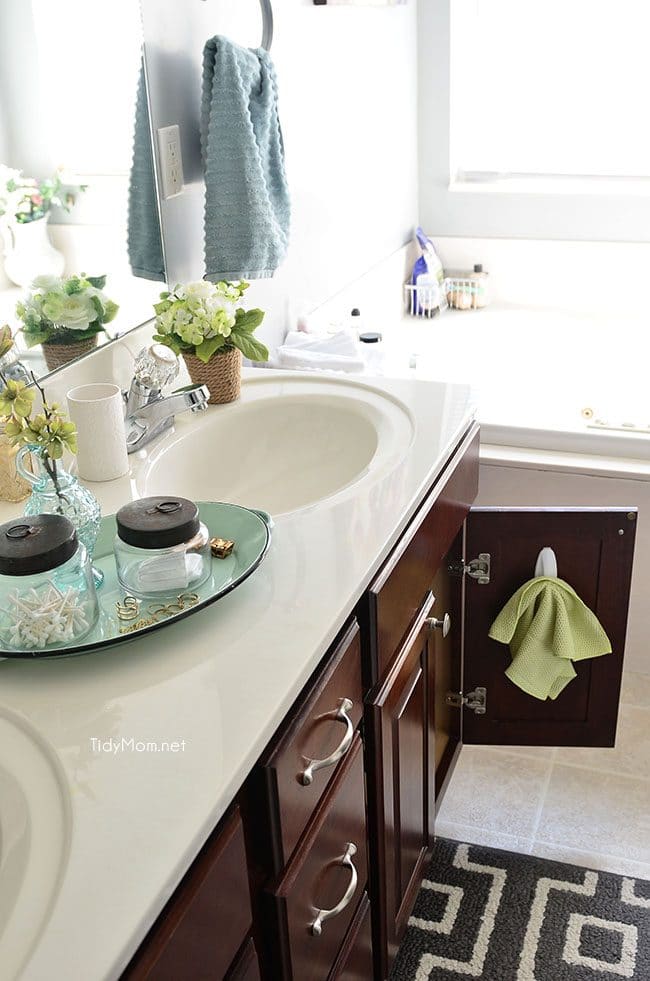 Here's a sample of daily tasks and daily 1 hour chores.
Daily tasks:
make bed(s)
pick up bathroom and wipe down bathroom counter and sink
put dishes in dishwasher (empty dishwasher)
wipe down kitchen after dinner
I'm a morning person, so even when I worked outside the home, I usually did these tasks before I left each morning. That way I came home to a clean house and was able to relax in the evening.
Daily 1 hour (or less) chore schedule:
Monday: Declutter
Tuesday: Dust
Wednesday: Vacuum and mop
Thursday: Clean toilets
Friday: windows and mirrors
Saturday: clean out/organize food in pantry and refrigerator
Sunday: laundry (we actually do laundry daily – do what ever works for your family)
Secret To a Clean Home Step 3: Streamline Cleaning Supplies
Always keep your cleaning supplies in strategic locations. Streamlining your supplies will save time and you'll be more likely to actually use them! Bathroom cleaning supplies should be kept in a bathroom cabinets or linen closets, not in the kitchen. You might even consider having multiple products spread over your home for easy access. Rather than trying to keep up with the last place you used the glass cleaner, keep a bottle in each bathroom so that you can easily touch up mirrors and sinks as needed!
Best Tools for Cleaning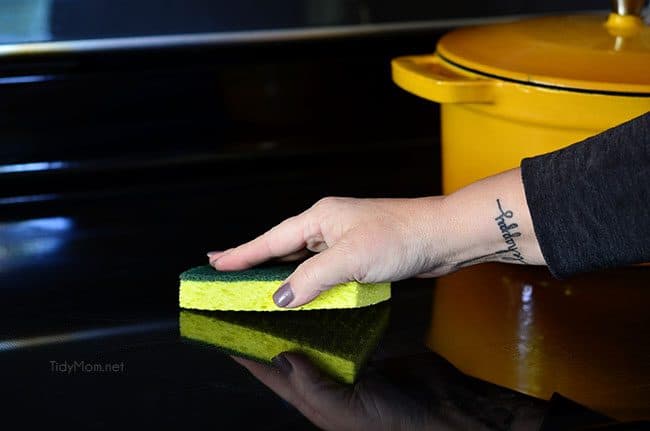 I've have always loved Scotch-Brite™ products, as part of my on-going partnership with them, I'd like to share some of my favorite cleaning tools for all around the house.
Scotch-Brite® Heavy Duty Scrub Sponge
Versatile cleaning sponges that work in any room in your house. From floors, to tile, to dusty shelves and pots and pans, if you were only going to use one tool for all of your cleaning needs, this should be it.
3-in-1 Microfiber Cloth
Every Spring Cleaning Kit needs a good cloth that can tackle messes. A multipurpose 3-in-1 microfiber cloth cleans a multitude of things from scratch-free dusting, to cleaning windows, screens and mirrors, to kitchen surfaces.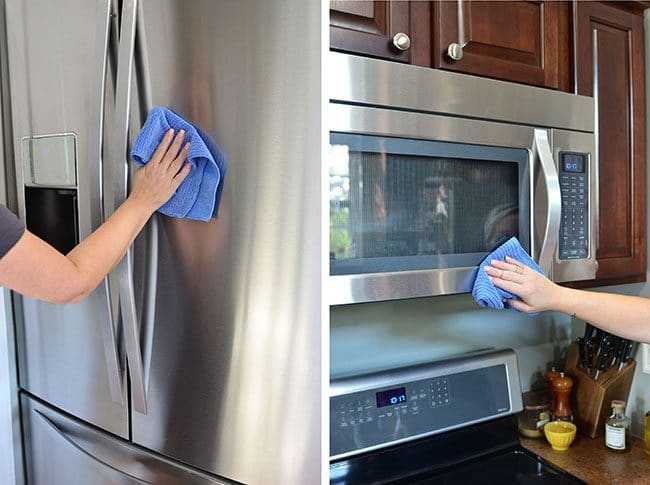 Scotch-Brite™ Non-Scratch Scrub Sponge
When you need to tackle dirt and messes with out the worry of scratching the surface, this sponge has your back! Safely clean bath, countertops, glass cooktop, and non-stick cookware.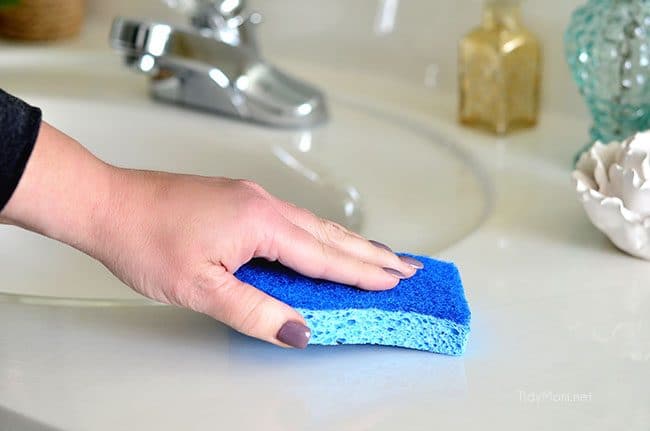 Tile and Grout Brush
This little tool works in big ways by using a simple flick of your wrist to clean; shower and tile grout, window and door trim and track, kitchen backsplash.
Household Scrubber
Get a handle on dirt! Great for cleaning patio furniture, garage grease and oil stains, and grill and oven racks
Scotch-Brite ™ 50% Stickier Lint Roller
You might be surprised at how helpful a lint roller can be! It's not just for clothes……. remove dust on surfaces and lampshades, pet hair and crumbs from upholstery and carpet, debris or lint in your car and even broken glass!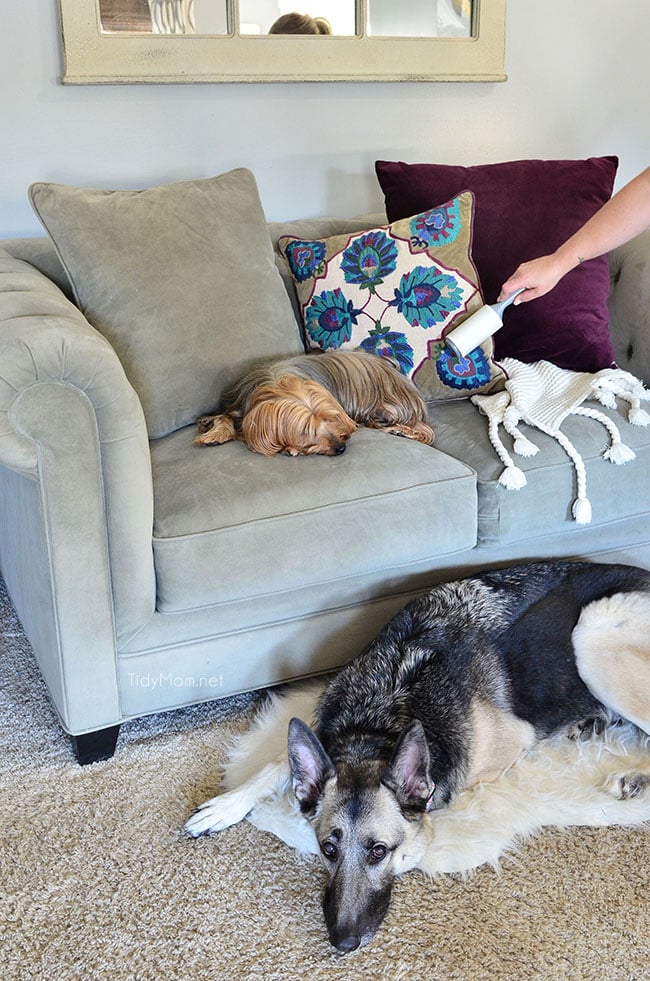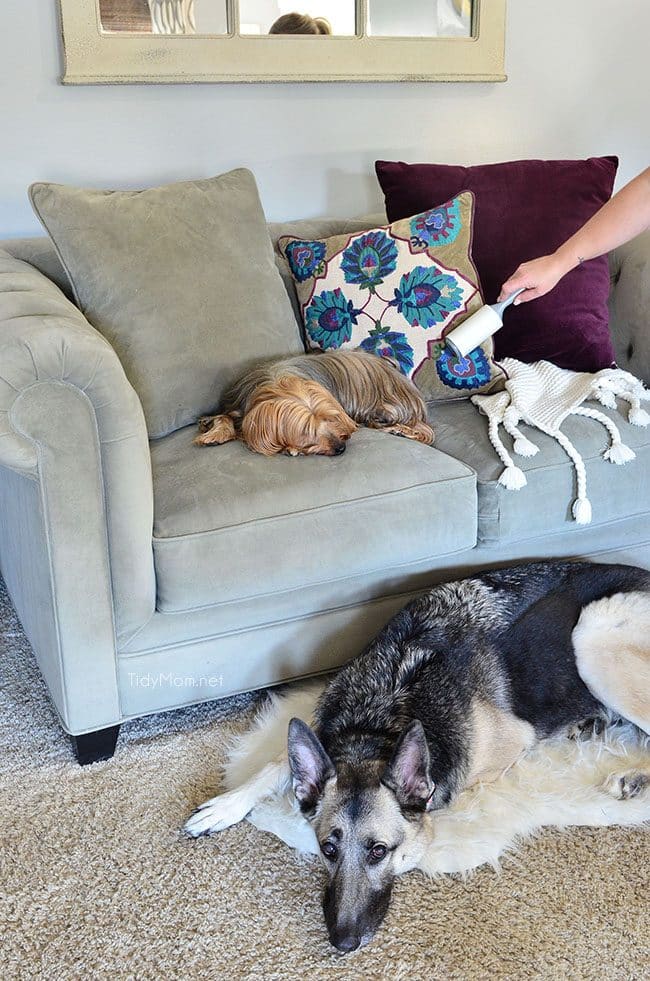 Secret To a Clean Home Step Step 4: Constantly clean
This is really just something that becomes a habit. When walking through the house, if you see something that belongs in the room you're headed to, grab it and take it with you and put it away. Throw things away as you use them in the kitchen and bathroom. Put clothes in the hamper as soon as you are done with them. Take something off, hang it up. It takes zero extra time out of your day and keeps your house clean and tidy.
Try cleaning and tidying up for 5 to 10 minutes throughout the day. Make cleaning convenient so it can be a regular part of your routine, just like brushing your teeth! You'll be surprised how great your house can look when it becomes a daily habit.
Secret To a Clean Home Step 5: Know How to Fake it
Even the best of us have weeks (or even months) where it's difficult to really do any deep cleaning. But you can have a home that pulls off the appearance of cleanliness by simply knowing the best places to give your limited time and energy to so the whole home feels cleaner. For me, if I keep clutter at bay, clean up the bathroom and kitchen each day and make the bed, I'm more relaxed and not worried about unexpected guests.
Share some of your favorite secrets to a clean home in the comments below.


You might also want to check out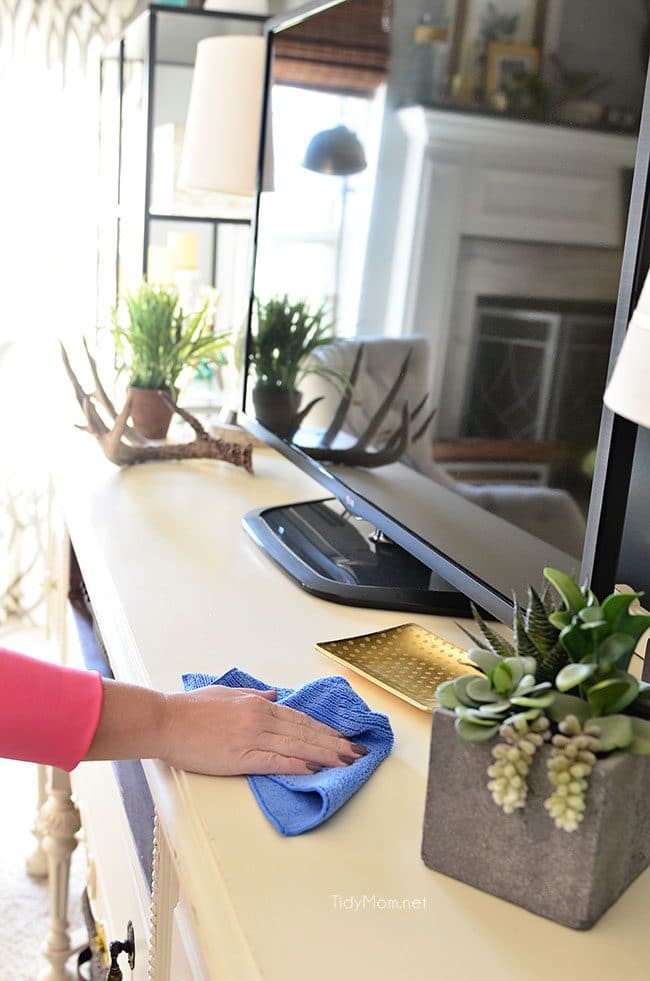 Check out Scotch-Brite™ Cleaning Guides for more tips!

Disclosure: I have a working relationship with Scotch-Brite™ Brand, but as always, all views, opinions……and my love of a clean home are all my own. Thank you for supporting the brands that support TidyMom.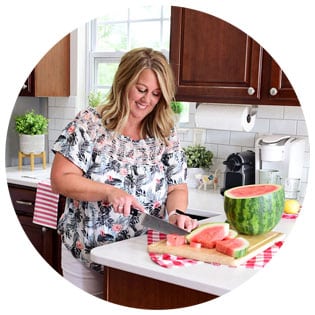 Hi there, I'm Cheryl!
As a wife, mom, and caffeine enthusiast, my journey has taken me from bustling mornings with my family to sharing delicious recipes, home care tips, and heartfelt decorating insights with wonderful readers like you. My love for baking, photography, and tidiness shines through every post I craft. Dive into my world and discover the art of homemaking, one tidy moment at a time. Read more...
Tidymom is a participant in the amazon services llc associates program, an affiliate advertising program designed to provide a means for sites to earn advertising fees by advertising and linking to Amazon.com.
Please respect my work, recipes and photographs. If you do use a recipe in your own writing, please give proper credit and link back to the original post.