Simple Sustainable Living Tips That You May Not Know!
This post may contain Amazon or other affiliate links. As an Amazon associate, I earn from qualifying purchases.
Simple Ways to Sustainable Living: Sustainability is forward thinking. It means looking ahead to making our planet better. What we can do to live green doesn't need to fit on a to-do list. We just need to be conscious of what we are doing. We can decrease our footprint with little things like; turning off the faucet while we brush our teeth, or flipping the light off when we leave the room. Earth Day is just a few days away, a great reminder to make minor changes that can make a big difference.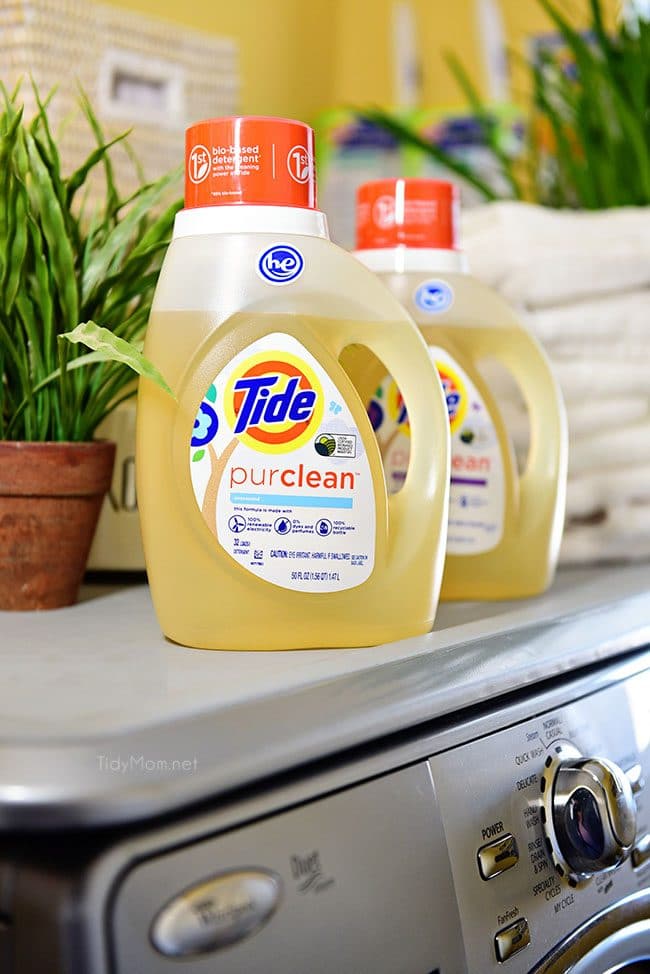 I think most of us can agree that a clean planet is just as important as clean clothes. In honor of Earth Day, I've partnered with Tide purclean™, who has teamed up with World Wildlife Fund and Kristen Bell to convert as many homes as possible to energy-saving laundry habits by asking Americans to take the Clean Pledge.
For each pledge received between now and Earth Day, Tide purclean will donate $5 to support WWF's global conservation efforts, up to $250,000
What's the #CleanPledge? Simply pledge to do any or all of the following:
Wash laundry with cold water
Use an energy-saving HE washer
Take care of clothes to keep them longer
Simple right? To join, just visit Tide.com/CleanPledge or tweet using #CleanPledge and Tide will make the $5 donation, while you get the credit!
Join me & @TidyMom in taking the #CleanPledge. For each pledge, @Tide purclean will donate $5 to @World_Wildlife https://bit.ly/2ooPAfl


CLICK TO TWEET
Tide purclean and World Wildlife Fund know doing the laundry impacts the environment – yet clean clothes are non-negotiable. There are, however, small changes that can be made to your laundry habits that make a big difference to the environment – without sacrificing the cleaning results.
10 Simple Ways to Live More Sustainable
Getting started on the path to a sustainable living way of life may seem overwhelming if you try to implement them all at once.Remember any effort can help. Don't worry that you can't do it all or think you're not being green enough. With time and patience we can create that life that we actually want to sustain.
It's important to start small.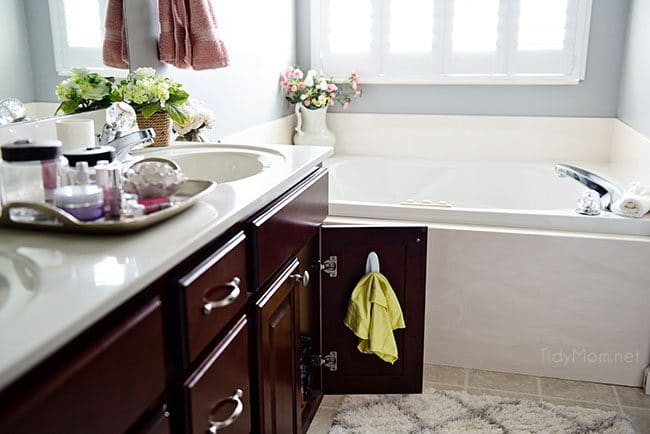 1. Make the Most of Old Fabrics with Household Chores
Use cloth for cleaning. We have a few large stacks of old towels we keep in the garage and laundry room. We use them to clean up spills, wipe off the dogs feet, and any many other clean up jobs. When our towels get worn out and I buy new ones, the old ones go in the "rags" pile. Microfiber cloths are great for lint-free cleaning, or you can be frugal and "green" and make cleaning clothes out of old t-shirts.
2. Look for Ways to Reuse Everything
From reusing zip-top bags (yes I will rinse them out and let them dry), or using the same disposable bag over and over when I travel (that quart-sized bag for your liquids at TSA, can be used for years). To making crafts out of an empty popcorn tin, framing prints from an old calendar, making a centerpiece out of empty soda bottles and re-using ribbon on a package. Before you throw anything out, look at it in another light and see if you can use it in some other way. And if you have no use for it, donate it!
3. Maximize It
Use it up, wear it out, make it do, or do without.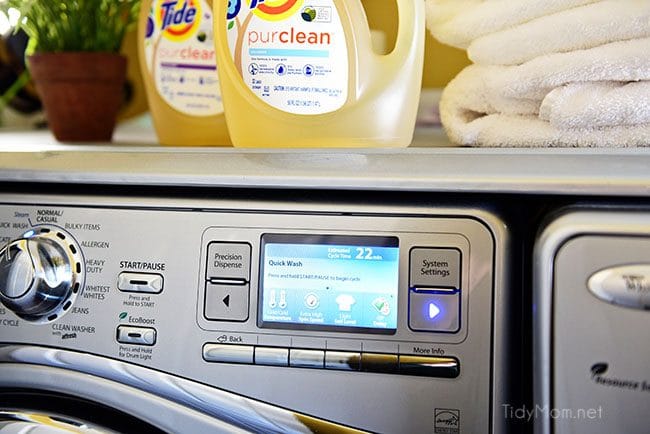 4. Do Laundry in Cold Water
Wash laundry in cold water instead of hot. Switching to cold water for one year, saves enough energy to charge your phone for a lifetime, power your TV for four months or drive 300 miles!! Also, line-dry when you can.
5. Wear it More Than Once
Wearing your outer clothes more than once before tossing them in the hamper is the first step in green laundry habits. Clothing that is next to your body is best to wash after wearing – but second layers and jackets can be worn more than once before throwing them in the washer. Of course we aren't talking about unmentionables and sweaty workout clothes, but if it doesn't get dirty, why not wear it twice?
6. Proper Care of Clothes
By following the manufacturer's instructions on clothing labels your clothes are likely to last longer. This not only saves you money, but when the average life of clothing is extended, it helps reduce textile waste.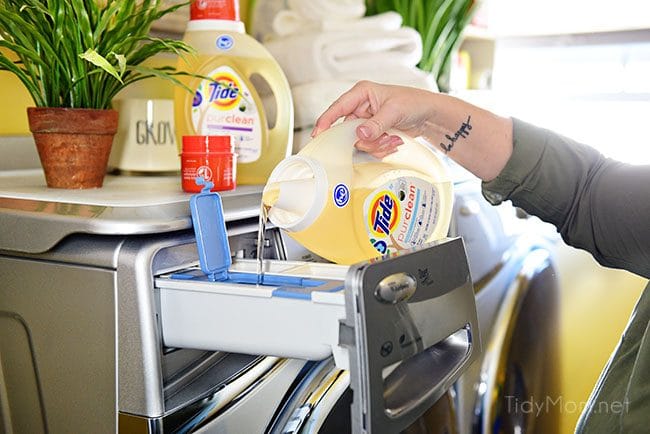 7. Maximize Washer for Energy Efficiency
By using a High Efficiency (HE) washer, you will use 3x less water and save 65% energy. Along with doing laundry in cold water (on the quickest setting) and using Tide purclean, you won't sacrifice clean clothes for helping our planet.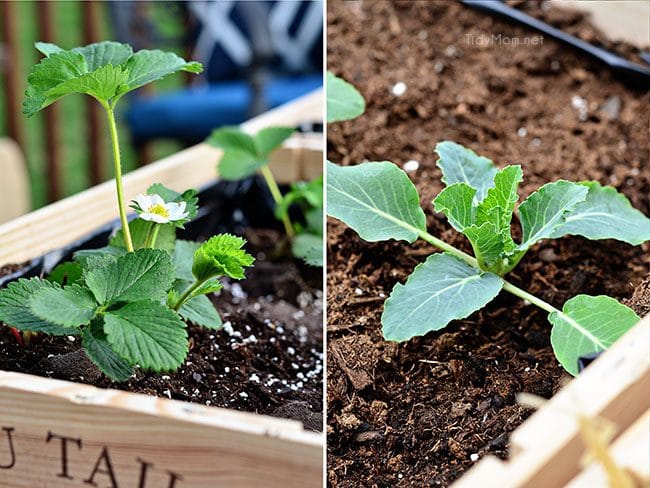 8. Plant a Garden
Not only is it fun to watch something you planted grow and show up on your dinner table, you'll be amazed at the flavor difference of homegrown. Start small, you can grow in containers on your deck or balcony, a small corner of your yard or even herbs in your kitchen window.
9. Turn Off, Down or Unplug
Turn off the lights when you leave the room, open the curtains and blinds and rely on the sunlight. Only run the dishwasher when you have a full load. Shut down and turn off your computer completely at night. Unplug items that are not being used. Adjust the thermostat when you are not home.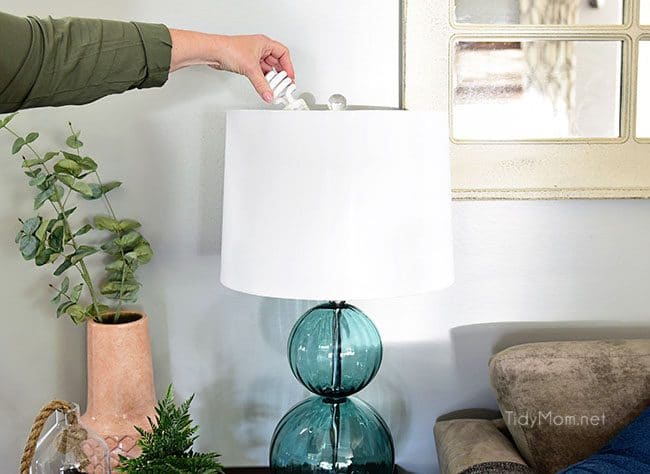 10. Change your light bulbs.
Switch a few of your light bulbs to CFLs , they use about 75 percent less energy and last seven to 10 times longer than regular incandescent bulbs, until eventually you have all of your house switched over.
My favorite choice for green laundry detergent: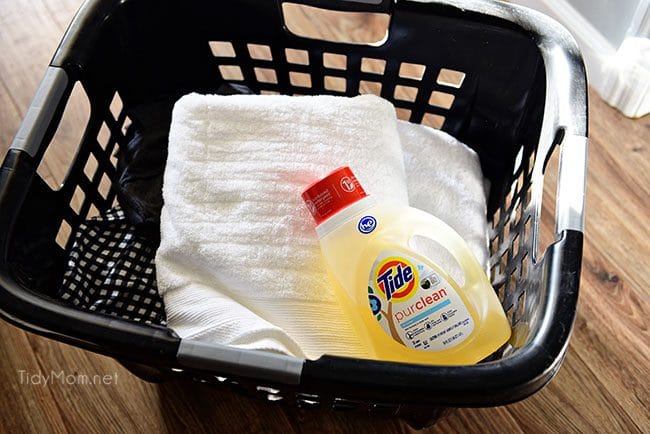 Tide purclean. It's is made with 65% plant based ingredients and doesn't sacrifice any of the power cleaning that I count on from Tide, even in cold water. Tide purclean is a formula made with 100% renewable wind power electricity* and is made at a site that has zero manufacturing waste to landfill. It is also formulated to be free of dyes, perfumes, chlorine and phosphates. Even the bottle is 100% recyclable. The same great clean I expect with a friendlier impact to our environment. Love that!
Take the challenge today CLICK TO TWEET!! There are SO many more simple things we can all do, I'd love to hear what you can add to the list to sustainable living.

Disclaimer: I grew up in a house that used Tide laundry detergent and continue to use it in my own home. This post is sponsored by Tide purclean, as always, all opinions, and my love of Tide are all my own. Thanks for supporting the brands that make TidyMom possible.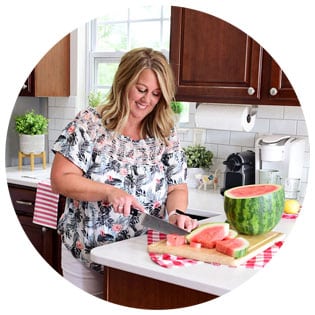 Hi there, I'm Cheryl!
As a wife, mom, and caffeine enthusiast, my journey has taken me from bustling mornings with my family to sharing delicious recipes, home care tips, and heartfelt decorating insights with wonderful readers like you. My love for baking, photography, and tidiness shines through every post I craft. Dive into my world and discover the art of homemaking, one tidy moment at a time. Read more...
Tidymom is a participant in the amazon services llc associates program, an affiliate advertising program designed to provide a means for sites to earn advertising fees by advertising and linking to Amazon.com.
Please respect my work, recipes and photographs. If you do use a recipe in your own writing, please give proper credit and link back to the original post.