I'm Lovin' It : My Dyson DC40 vacuum
If you've been following my blog since the early days……..you may remember that I won a Dyson vacuum about 3 years ago, and a year later I wrote about how much I love that machine!
Well here we are 3 years later and I still love my DC24 Ball as much as the first day I got it!  So, I was beyond elated when Dyson asked me if I'd like to give their new DC40 Multi floor vacuum a try.
This was perfect timing, since our oldest was moving to her own apartment, and she was really hoping  to have a vacuum just like mom's.  So I let her take the DC24 to the apartment to live with her while I opened my arms to our new family member…..the Dyson DC40!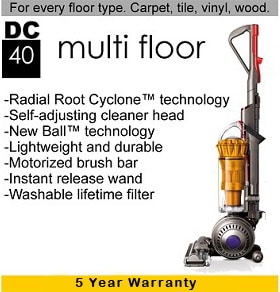 This isn't your mama's vacuum!  It's fun and stylish but wow does it get the job done!  I loved my old Dyson, but the DC40 is the Lamborghini of them all, and the design is more like a work of art than a machine!
If you have pets, you will be astonished at how well the DC40 picks up dog (and I assume, cat) hair!  This little dynamo is light weight and easy to use, store, and move from floor to floor.
One of my favorite "improvements" from the DC24 is the longer cord! WOOHOO!  I know that seems trivial, but having a cord that's long enough so I don't have to keep finding a new spot to plug it in was really important to me – I had an extension cord attached to my old Dyson, but I don't need it with the DC40.
Before owning a Dyson I never made the connection that you get what you pay for. I assumed "how different can a vacuum be" .  But now that I've had the pleasure of owning a Dyson I have to tell you it would be an investment I would not give a second thought too.  Just think, no more bags or filters to purchase either.
Dyson's come with a 5 year warranty.  I had the opportunity to put this to use a few months ago when the beater bar stopped rotating.  I called their support line, and was treated incredibly kind as they walked me thru several steps to determine the issue, then I was shipped a whole new vacuum head in just a few short days.  The new part was very easy for me to replace, but they offered to assist me over the phone if I needed help.
Motherhood is not an easy job! Show Mom how much you lover her this Mother's Day with a  Dyson DC40 ! Right now Dyson has 20% off all vacuums thru Mother's Day May 13, 2012!
Now it's your turn! Please remember to link back to http://TidyMom.net
Let us know what you're lovin' this week!
Share your recipes, crafts, diy's, photography, printables, products..anything you are loving!
If you have something to share with us on your blog, add your link below.
*Don't forget to come back over the weekend for the I'm Lovin' It Wrap Up post……where I feature a few of the great links!!
What is I'm Lovin' It Fridays? get all the info, how to's trouble shoot and button here

Disclosure:  Dyson provided me with a DC40 for this post.  All views and my love of Dyson are all my own.