Mexican Shrimp Marinara Recipe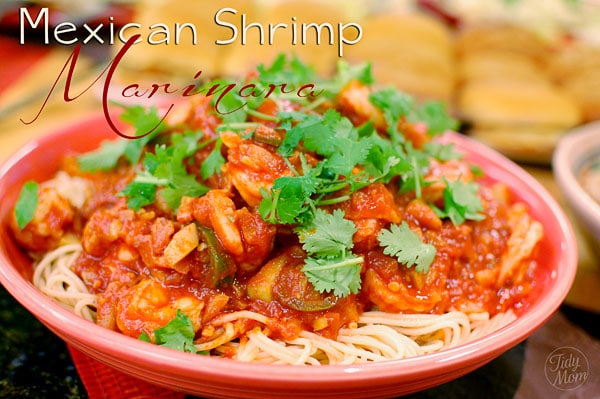 Dinner at our house can become a little mundane.  Does that happen to you?  Do you sometimes feel like you're just fixing the same thing over and over again?
I've been on the hunt for some new dinner ideas for my family.  I've tried a few recipes that I've pinned to my "Dinner ideas" pinterest board, I've been thumbing thru my old recipe cards and bookmarks, when I suddenly remembered a great recipe we made a while back when I visited the Unilever Kitchens in New York.
This recipe combines three things my family loves; pasta, shrimp and Mexican flavor.  Mexican Shrimp Marinara has a little bit of heat with a whole lot of delicious! and it can be whipped up in a hurry with jarred or canned pasta sauce.
 It also makes a great dinner option for those of you who observe Lent.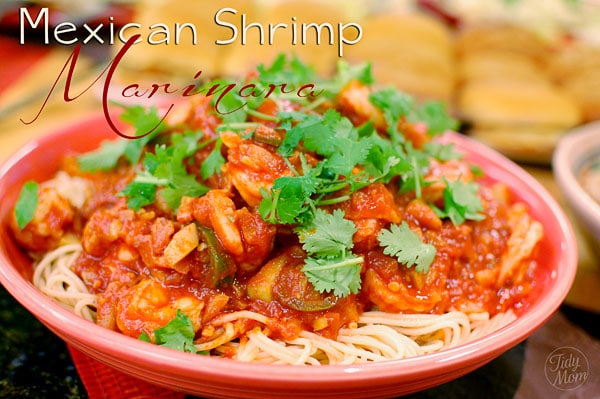 Ingredients
1 Tbsp olive oil
1-1/2 lbs. large uncooked, shrimp, peeled and deveined
1 medium onion, chopped
1 chayote, chopped
2 jalapeno or serrano chili peppers, sliced
2 cloves garlic finely chopped OR 1/4 tsp garlic powder
1 jar (1 lb 10 oz) Ragu® Old World Style Traditional Pasta Sauce
1 Tbsp. fresh lime juice
12 oz spaghetti, cooked and drained
1/4 cup chopped fresh cilantro
Instructions
Heat olive oil in deep 12 inch nonstick skillet over medium-high heat and cook shrimp 2 minutes until almost pink. Remove shrimp from skillet and set aside.
Cook onion, chayote and peppers in same skillet, stirring frequently, 8 minutes or until chayote is tender. Stir in garlic and cook 30 seconds.
Stir in Pasta Sauce and simmer, stirring occasionally, 5 minutes or until sauce is heated through. Add shrimp and simmer 2 minutes or until shrimp turn completely pink. Stir in lime juice.
Serve over hot spaghetti and garnish with cilantro.
Notes
https://tidymom.net/2012/mexican-shrimp-marinara-recipe/
Copyright© 2009-2013 TidyMom.Net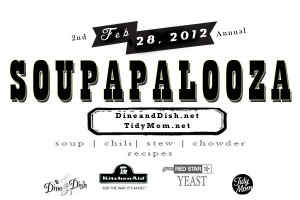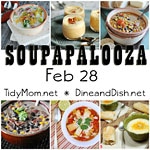 Reminder:  Soupapalooza 2012 starts next week! Click over to get more information how you can share your favorite soup, stew and chowder recipes and enter win some amazing prizes!
I have my spoon and bowl ready! I can't wait to see what you all stir up!
I'm linking up with these parties.......please visit them!Made by You Monday, Get Your Craft on , Weekend Wrap Up Party, Pity Party