Banana Nutella Milkshake recipe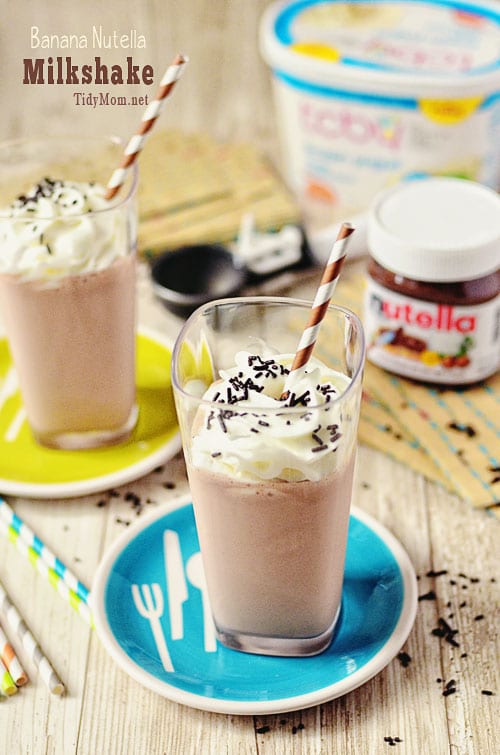 We've been a little obsessed with Nutella Recipes around our house lately.  You might remember the Nutella Gooey Butter Cake and Nutella crepes I've made and I'll be sharing some out of this world Nutella cookies here soon.
A few weeks ago, I was in Vermont with a few other bloggers when Julie introduced me to the Nutella milkshake at Boloco.  They make it with skim milk and low fat frozen yogurt so you don't feel as guilty indulging.
Julie recreated the Boloco Nutella Milkshake at home, and I knew I'd have to make it for my girls!
Milkshakes are so simple, I don't know why we don't make them more often!
You just need low fat frozen yogurt, skim milk, nutella and I tossed in some banana, pressed the milkshake button on my Blendtec Blender and BAM – I had a Bocolo copycat Banana Nutella Milkshake! (recipe at end of this post)
If you aren't familiar with Blendtec Blenders, they are one heck of a powerful machine!  This blender can basically blend anything. Check out the "Will it Blend" series on You Tube for some pretty funny experimenting with the blenders. 
You may not need to blend iphones or golf balls, but you will be amazed at how well this bad boy can handle everything like homemade butter, babyfood, salad dressings, dips, smoothies and milkshakes.  It can also tackle more strenuous jobs like making ice cream, chop vegetables, and grinding meat.  Thanks to the cool Twister Jar option with it's superior nut grinding ability you can even make nut butters, like  homemade Nutella or  homemade pasta!  I never knew how effortless working in the kitchen could be with a blender like this! It does more than I ever imagined!
My friends at Blendtec have offered to give away one Blendtec Total Classic Wildside Blender (ARV $454.95) plus Twister Jar (ARV $119) to one EXTREMELY  lucky TidyMom reader! How cool is that?  Just in time to help you out with holiday recipes!
Details:
"The Total Blender Classic Series® is an all-in-one appliance that makes smoothies, fresh juice, ice cream, milkshakes, cappuccinos, margaritas, soups, sauces, bread dough, dressings, salsas, and more! It replaces up to 9 other appliances with one fast easy-to-use machine, at a fraction of the cost. This package includes the new precision tuned 4″ blade in the large, nearly 3-quart total capacity BPA-free jar, and the standard nearly 2-quart total capacity BPA-free jar. Two jars enable you to handle larger serving sizes for large gatherings. And the new precision tuned 4″ blade / large jar combination powers through tougher blending tasks and larger recipes with ease in less time."
**If you are reading this post via email or reader, you will need to click over to the blog to enter giveaway.
Banana Nutella Milkshake recipe and Blendtec Giveaway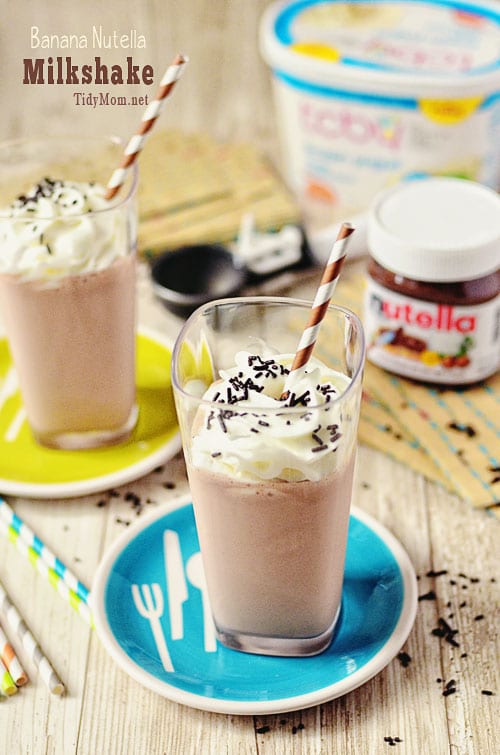 You can't resist the flavor combination of Nutella and banana in this delicious low cal/fat* Milkshake.
*when compared to using whole milk and icecream
Ingredients
1/4-1/2 cup Skim Milk
2 cups Low Fat Vanilla Frozen Yogurt
1/3 cup Nutella
1/2 large banana, sliced
Whipped cream *optional for garnish
chocolate sprinkles *optional for garnish
Instructions
Add ingredients to blender jar and secure lid.
Select "Ice Crush/Milkshake" and serve in chilled glasses.
*Garnish with whipped cream and chocolate jimmies
Enjoy!
Notes
https://tidymom.net/2012/banana-nutella-milkshake-blendtec-blender/
Copyright© 2009-2013 TidyMom.Net
"Like this recipe? Add it to your personal recipe box to make later or add the ingredients to your online shopping list to make it this week. Just click the Save Recipe button to get started."

Disclosure: This giveaway is sponsored by Blendtec. I received a Blendtec blender to test and review, but as always, opinions, views and love for Blendtec are all my own.