Fire Roasted Tomato & Chicken Quesadillas
One of my goals lately, has been to try and eat better and take better care of myself.  It's some times hard to do during the holidays.  Eating better doesn't always have to mean "dieting"  it can mean eating foods that are good for you.
The other day I mentioned how good beans are for you, but did you know how good tomatoes are for your heart?  I don't know about you, but I'd like to be around to see my grandchildren.  So eating foods that keep my body healthy is important to me. We don't have a lot of heart health issues in our family, other than some high blood pressure, and I'd like to keep it that way!
ConAgra Foods (the makers of Hunt's Tomatoes) recently released reports on just how healthy canned tomatoes can be. (full press release here)
Recent studies have suggested that the distinct combination of nutrients found in tomatoes may have a measurable impact on heart disease prevention.
Daily consumption showed a reduction in blood pressure for people with elevated blood pressure
Tomatoes not only contain high levels of carotenoid antioxidants such as lycopene, but also serve as a significant source of vitamin C, fiber and potassium
We can't always get fresh tomatoes around here, so it's good to know that Hunt's tomatoes are flash-steamed to help them keep their backyard-garden-fresh taste, are 100 percent natural and contain no artificial preservatives or ingredients.
This is great news for us, because canned tomatoes and tomato sauce are staples in our house!
Last week we enjoyed a recipe from the Hunt's site that included tomatoes and beans……..who knew how good Quesadillas could be for you!
Fire Roasted Tomato & Chicken Quesadillas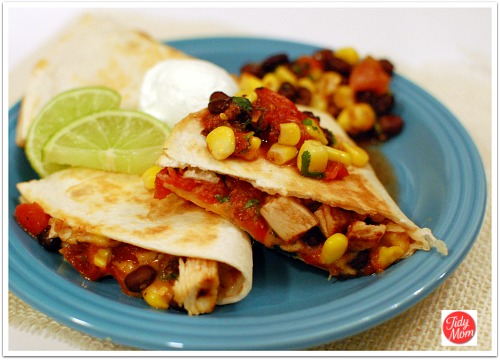 Ingredients
1 can (14.5 oz each) Hunt's® Fire Roasted Diced Tomatoes, drained
2/3 cup frozen whole kernel corn, thawed
2/3 cup drained, rinsed Bush's® Seasoned Black Beans
2 cups cooked chicken (I used Tyson Grilled & Ready Chicken)*not shown
2 tablespoons finely chopped fresh cilantro
1/2 teaspoon garlic powder
1/4 teaspoon kosher salt
1/4 teaspoon ground cumin
1/4 teaspoon ground red pepper
1 teaspoon lime juice
2 cups shredded Chihuahua or Monterey Jack cheese (2 cups = 8 oz)
6 flour tortillas (8 inch)
Lime wedges and sour cream, optional
Instructions
Make 'salsa': place drained tomatoes in large bowl; mash into smaller pieces with fork. Mix in corn, beans, onion, cilantro, garlic powder, salt, cumin, red pepper and lime juice.
Assemble quesadillas by sprinkling 1/3 cup cheese over half of each tortilla; top each with chicken and 1/4 cup 'salsa' (reserve remaining). Fold each tortilla in half over filling; set aside.
Heat large nonstick skillet over medium heat. Cook quesadillas 2 to 3 minutes on each side or until cheese melts and tortilla is lightly browned.
Cut each quesadilla into 3 wedges. Serve each with remaining 'salsa'. Add a lime wedge and sour cream, if desired.
https://tidymom.net/2010/fire-roasted-tomato-chicken-quesadillas/
Copyright© 2009-2013 TidyMom.Net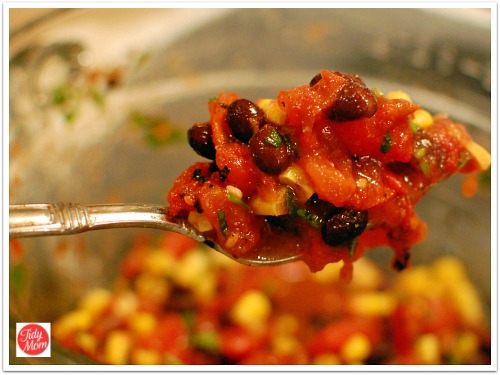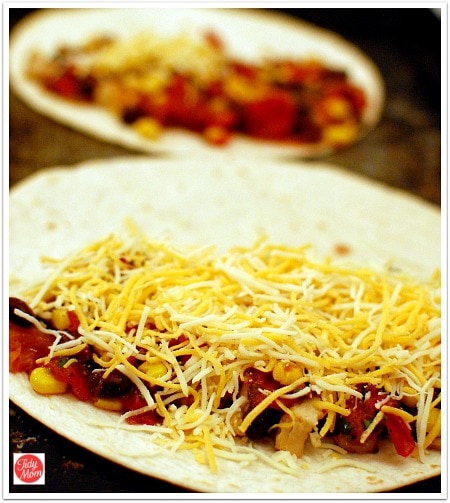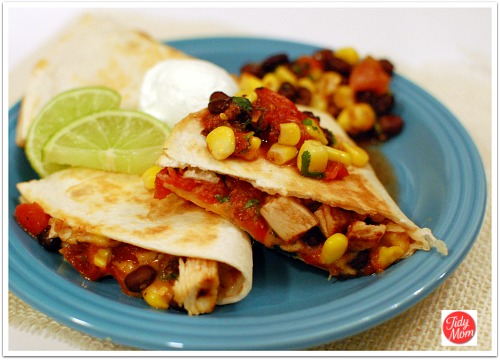 Enjoy!
For more information about Hunt's tomatoes and their FlashSteam process, some recipe inspiration and the latest news and promotions, visit www.hunts.com
I'm linking up with these parties.......please visit them!
This post brought to you by…….
Email me
to find out how to get
YOUR
button here!!

Disclosure: I was compensated by The Motherhood for passing on the research information released by ConAgra foods. The opinions and adapted recipe are all mine.