Recipes
Cannellini Tuna Salad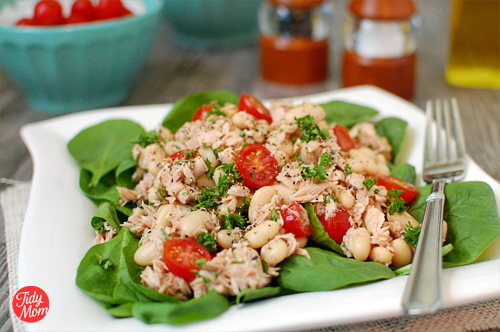 It's May already? Where does the time go?  Do you know I actually wrote 2012 by mistake the other day! hah.
Since the warmer months are quickly approaching, I'm trying to eat healthier and lighter.
I've had a fling with beans lately;  the Caramelized Black Bean butter was a yummy treat I plan to make often!  I had the Black Bean soup at Panera the other day…..Oh. MY. was it good!! If anyone has that recipe, PLEASE send it over!  Then I made this tasty Cannellini Bean and Tuna Salad for lunch the other day.
I was discussing 'beans' with Bridget and she pushed me over the edge with this combo, to my surprise I really enjoyed it and was a nice light alternative to the usual tuna salad with mayo. (Bridget suggested a little sour cream, but I didn't have any, so I came up with a recipe with what I had on hand)
I paired canned tuna and cannellini beans to make a super-simple, satisfying lunch severed over a bed of spinach, or tuck into a whole wheat pita for another variation.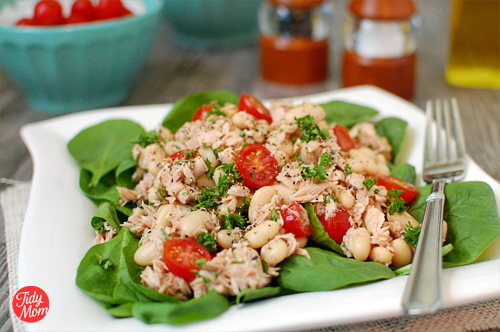 Ingredients
1 (16 ounce) can cannellini beans, drained and rinsed (I prefer Bush's Beans)
1 (12 ounce) can tuna in water, drained
1 tablespoon capers, rinsed and pat dry
1 tablespoon olive oil
1-2 tablespoon fresh parsley, chopped
juice of 1/2 lemon
kosher salt and cracked pepper, to taste
handful of cherry tomatoes, sliced in half
2 cups fresh spinach
Instructions
In a medium bowl, mix cannellini beans, tuna and capers. Drizzle with olive oil and lemon juice. Gently fold in cherry tomatoes and half of the parsley. Season with kosher salt and black pepper to taste.
Serve immediately on bed of spinach. Garnish with remaining parsley. (Can be served cold, just refrigerate tuna salad and place on spinach when ready to serve)
http://tidymom.net/2011/cannellini-tuna-salad/
Copyright© 2009-2013 TidyMom.Net
More Bean Recipes
Roasted Corn and Black Bean Soup

You May Also Like...