Light and Crunchy Chinese Slaw
This ridiculously easy Chinese Slaw is a delicious combo of assorted crunchy veggies with a light dressing that was a big hit when I took it to a barbecue recently.  It's a very light, no-cook, one-bowl recipe that's best made ahead of time, a perfect addition to summer menus.
When I saw this Chinese slaw recipe in a magazine while on a flight recently, I knew it was exactly what I needed to make to take to our next summer gathering.
It's definitely feeling like summer here in St. Louis, it's going to be in the 90's all week.  Time to start firing up the grill, and what's more popular with barbecue than cole slaw?!
The combination of broccoli slaw mix, water chestnuts, scallions, almonds and mandarin oranges tossed with a low fat ginger dressing is a light, cool and crunchy side dish just waiting to be taken to a barbecue! 
If you aren't familiar with broccoli slaw mix, it's a combination of shredded broccoli, carrots and red cabbage that add a rainbow of color to your dish. It also keeps it's crunch better than your traditional cabbage slaw mix. The beauty of broccoli slaw is that you can put the slaw together, dressing and all, the night before and the salad will still be crisp when you're eat it the next day.
RELATED: Broccoli Slaw and Garlic Quiche Recipe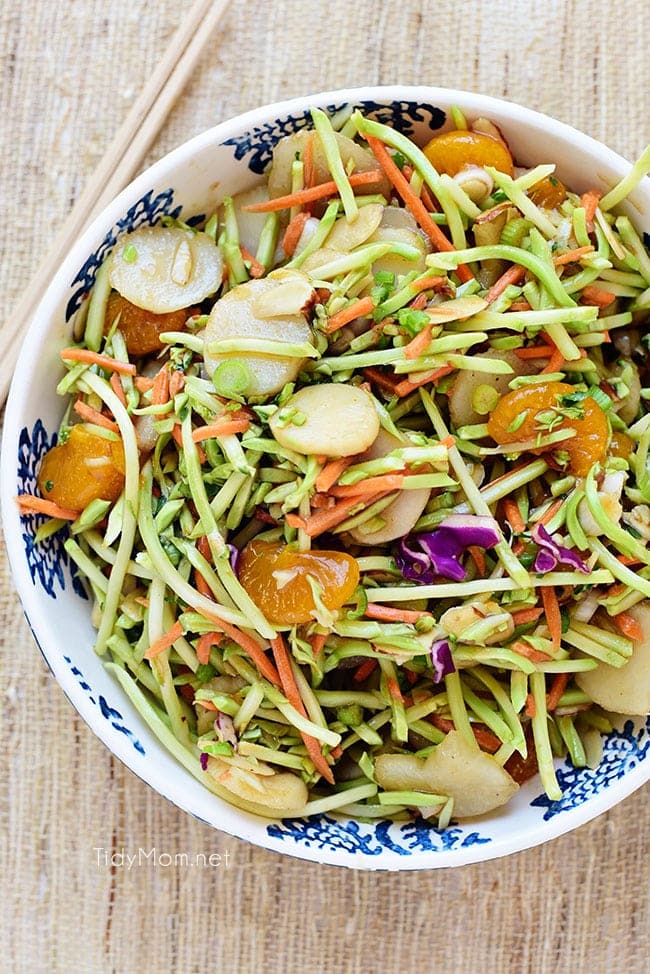 Chinese slaw is a spectacular side to fish, chicken, pork and even burgers, really any kind of BBQ.  Or you could add grilled chicken breast and it becomes a main dish for lunch or dinner.
RELATED: Fruit and Nut Slaw Recipe
It's one of the easiest recipes you'll ever make, it's easy to double or triple to feed a crowd and people will rave about it, which makes it absolutely perfect for bringing to parties and get-togethers when you're not sure what to make.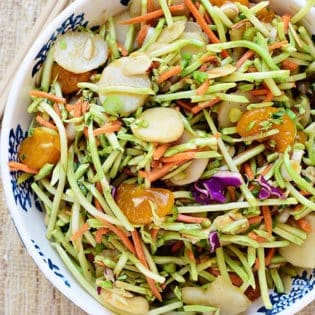 Light and Crunchy Chinese Slaw
Do yourself a favor and double or triple this recipe!  Your guests are sure to go back for seconds of this light and crunchy Chinese slaw.
Ingredients:
5 1/2 cups (16 ounce bag) broccoli slaw mix
1 cup (8 ounce can) water chestnuts, drained
1 (15-ounce) can mandarin oranges, drained
1/2 cup chopped scallions
1/4 cup slivered almonds
2/3 cup light ginger sesame dressing (I used Newman's Own)
Directions:
In a large bowl, combine slaw mix, water chestnuts, scallions and almonds. Mix well.
Add orange segments, drizzle with dressing, toss to coat.  Let sit at least 2 hours before serving, to allow flavors to meld.
Will keep a few days in refrigerator.
Optional: Add 2 cups grilled chicken breast, chopped to make this dish a meal.
Making this recipe? Share it with us on Instagram using the hashtag #TidyMom so we can see what you're creating in the kitchen!
Want more great recipes like this? Follow my TidyMom Easy Recipes Pinterest Board
More Asian Slaw Recipes You Might Enjoy!
Like this Chinese Slaw Recipe?  Pin It!