Creamy Tomato Turkey Orzo Soup Recipe
A flavorful, creamy turkey soup recipe with savory tomatoes, orzo, and baby spinach is the perfect way to make the most of leftover turkey this season! Homemade turkey soup is wholesome and delicious!
We love turkey time!~ Turkey or chicken; these fowl cousins can be easily swapped out of recipes in a jiff! Swapped chicken for yummy "turkey" in these recipes for leftover turkey: wholesome, Easy "Turkey" Pot Pie, clever One Pot Lemon Artichoke Pasta, and savory "Turkey" And Spinach Enchilada casserole. They may be "fowl," but either make a "mean" meal! 🙂
Be sure to sign up for my email… to get new recipes and ideas in your inbox!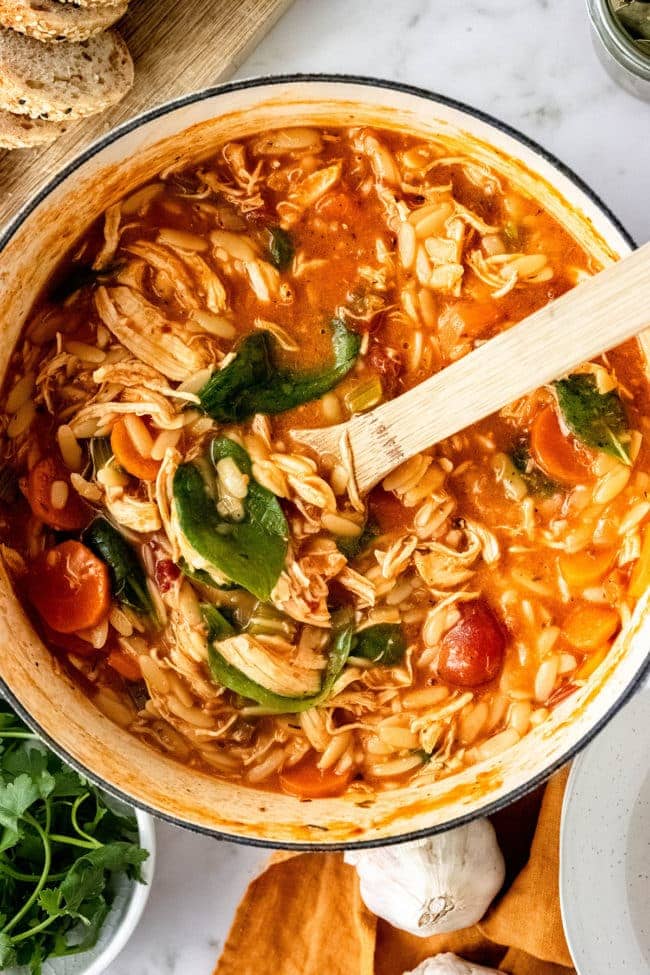 Why You'll Love This Creamy Turkey Soup
Turkey isn't just for "traditions" anymore! Although I know of some, who would hang up their apron for good if there wasn't a bird basting in the oven come Thanksgiving Day. Whether turkey is a diet mainstay or an annual delight, this homemade turkey soup is a gratifying creamy orzo recipe.
A terrific one-pot dish that is worthy of the day-after (eat-a-thon) recovery meal!
A smile away from the same ole, same ole, leftover turkey sandwiches.
Easy make-ahead prep will have creamy tomato orzo soup ready to go in less than 20 minutes.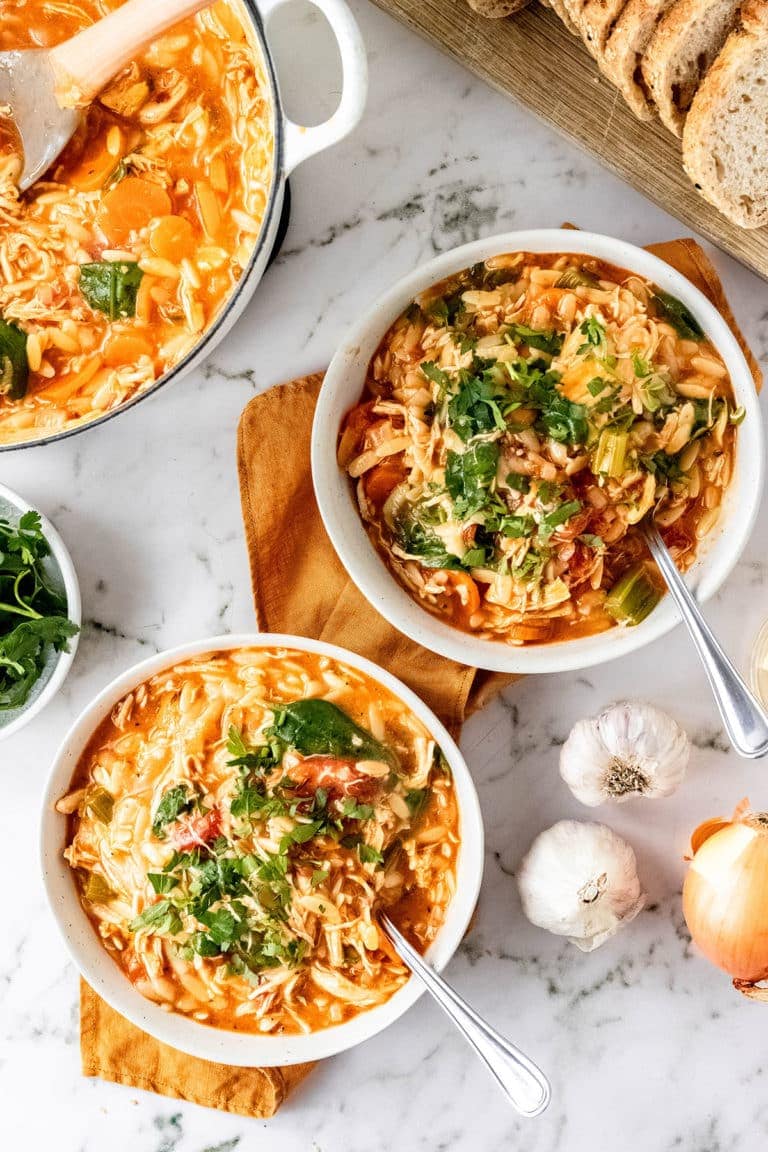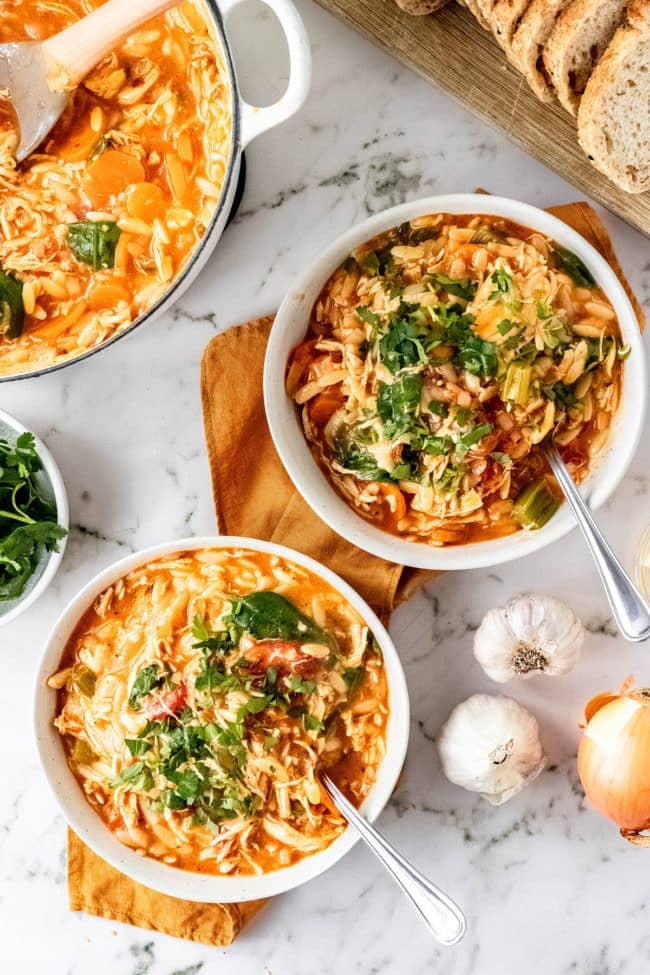 What is orzo?
Orzo is an Italian pasta mostly made using semolina flour from durum wheat. This small rice-shaped Italian pasta is classified as a pastina, a general term for small-sized pasta like those little stars we had as kids.
Interestingly, Italians call "orzo" pasta risoni, which means large/big [shaped] rice. Orzo is actually Italian for barley because the pastina is shaped like an unhusked barley grain. Call it what you like; it's what makes this turkey soup recipe so toothsome!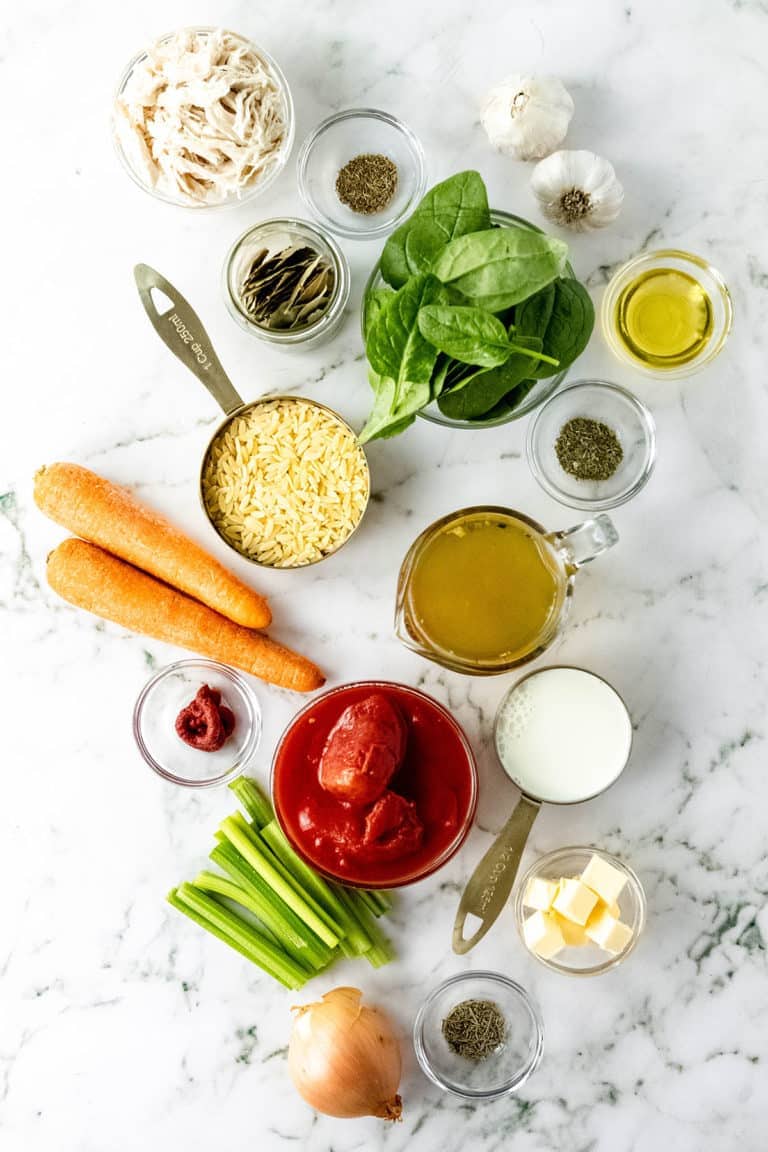 Turkey Soup Recipe Ingredients
Creamy turkey soup is a time saver when you have a heavy family work/school schedule. Prepping the mirepoix (celery, onion, and carrot) and shredding the turkey the day before cuts even more time. Creamy turkey soup is there when life happens, and you need a nutritious meal on the table in a half hour or less!
Olive Oil & Butter – used together for sauteeing. Butter adds an extra layer of flavor, and the olive oil keeps the butter from burning.
Onion, Carrot, & Celery Stalks – diced, sliced, and sauteed slowly, are the mirepoix of soup bases.
Garlic Cloves – fresh, peeled, and minced.
Turkey – pre-cooked and shredded.
Tomato Paste – thick and tangy canned and cooked down into a rich tomato paste with the skin, seeds, and water removed.
Canned Whole Tomatoes – peeled, velvety, vine-ripened full-flavored tomatoes picked at season's peak with a touch of salt added.
Thyme, Parsley, & Rosemary – dried.
Chicken Broth – made from chicken meat and sometimes additional spices. When buying chicken broth, check the ingredients and avoid added sugars or fillers.
Half And Half – puts the creamy in homemade turkey orzo soup.
Orzo – small rice-shaped wheat pasta.
Baby Spinach – fresh tender little leaves that will wilt down to a delicate flavor with a bright appearance.
Bay Leaf – a dried leaf from a laurel tree with a slight menthol or eucalyptus flavor that enhances spices without overwhelming the dish. Bay leaf imparts a smidge of bitter that lightens heavy soups like acid brightens heavy dressings.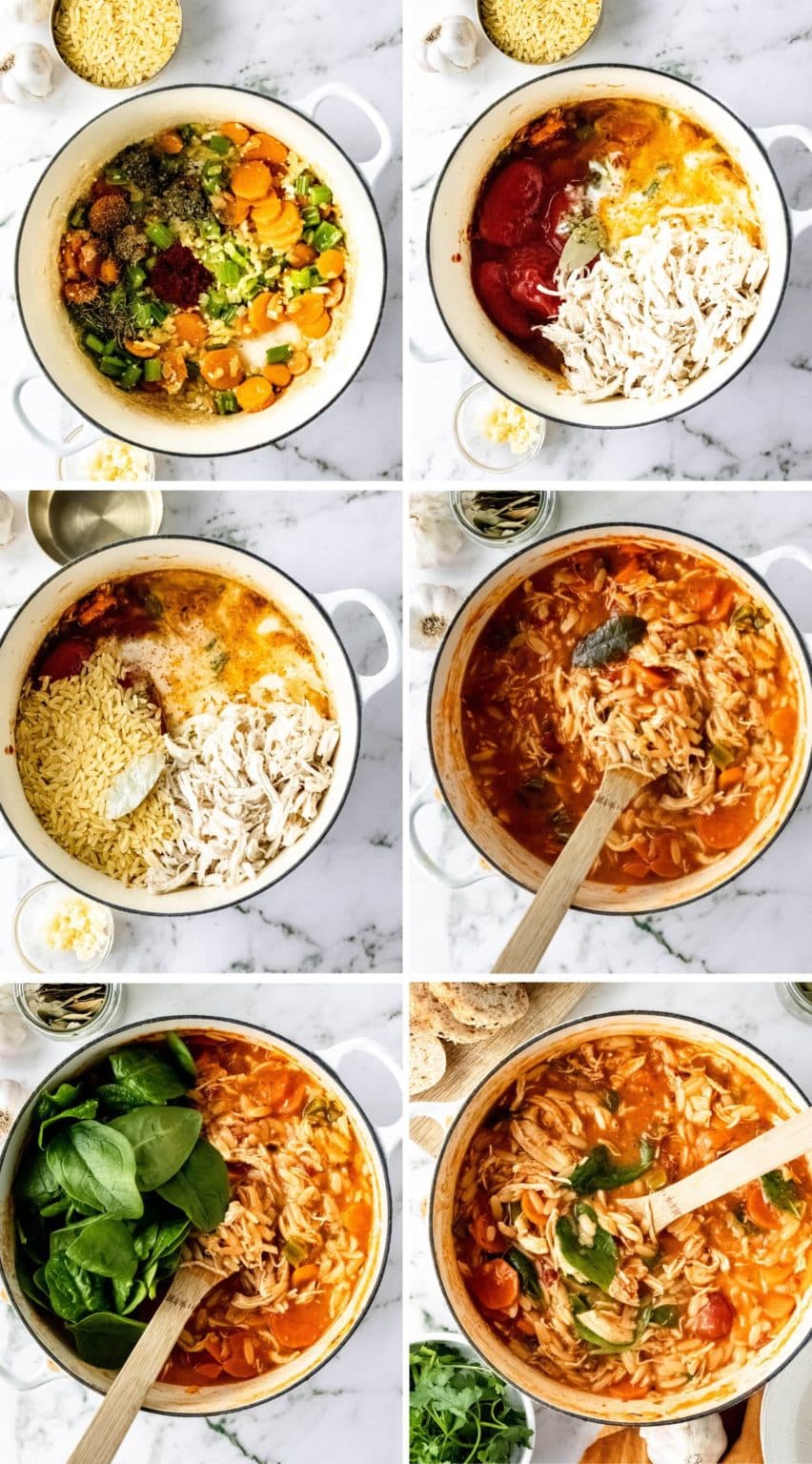 This post may contain affiliate links. Please read my disclosure policy here.
How To Make A Creamy Tomato and Turkey Soup
All you need to throw together a delicious homemade turkey soup is a large pot, a spatula or wooden spoon, and an appetite! In 30 minutes, you've got a rich and creamy turkey soup to fill hungry bellies!
(full printable recipe at the end of this post)
Step 1. Saute onion, carrot, and celery in olive and butter until soft.
Step 2. Add garlic, dried herbs, and tomato paste and cook for 1-2 minutes.
Step 3. Mix in everything else except the spinach and bring it to a boil.
Step 4. Reduce heat, simmer for 10 minutes, and remove from heat.
Step 5. Take out the bay leaf, stir in baby spinach, and garnish with fresh parsley.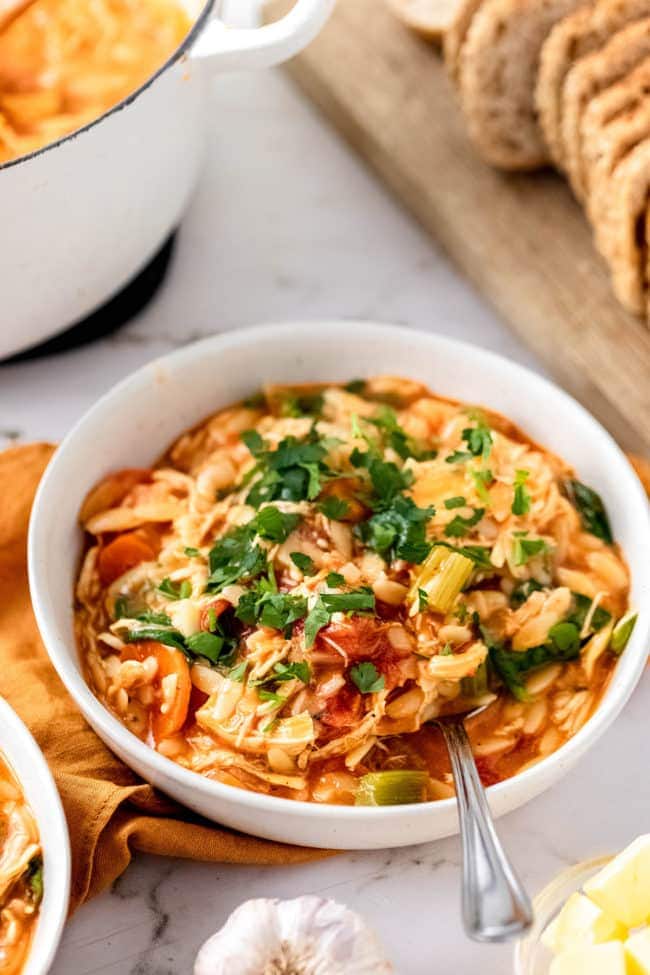 Creamy Tomato Turkey Orzo Soup Recipe Notes
A nice thing about quality canned whole tomatoes is they are vine-ripened plum tomatoes picked at the peak of the growing season. Either steamed or blanched to remove the skins and adding salt to the canning process provides richer juice and velvety plump tomatoes that cook down nicely in soups or sauces that simmer over longer periods.
When I want a smoother consistency, I like to break the tomatoes up a bit with my hands or pour off the juice (into the turkey soup) and break them up with the wooden spoon in the can.
Save time by prepping the mirepoix: celery, onion, and carrot, and shredding the turkey the day before.
Sautee the mirepoix slowly, so vegetables release their full flavors; avoid caramelizing or browning them for orzo soup.
If you use kale instead of spinach because of oxalates, tear it into small pieces or chiffonade.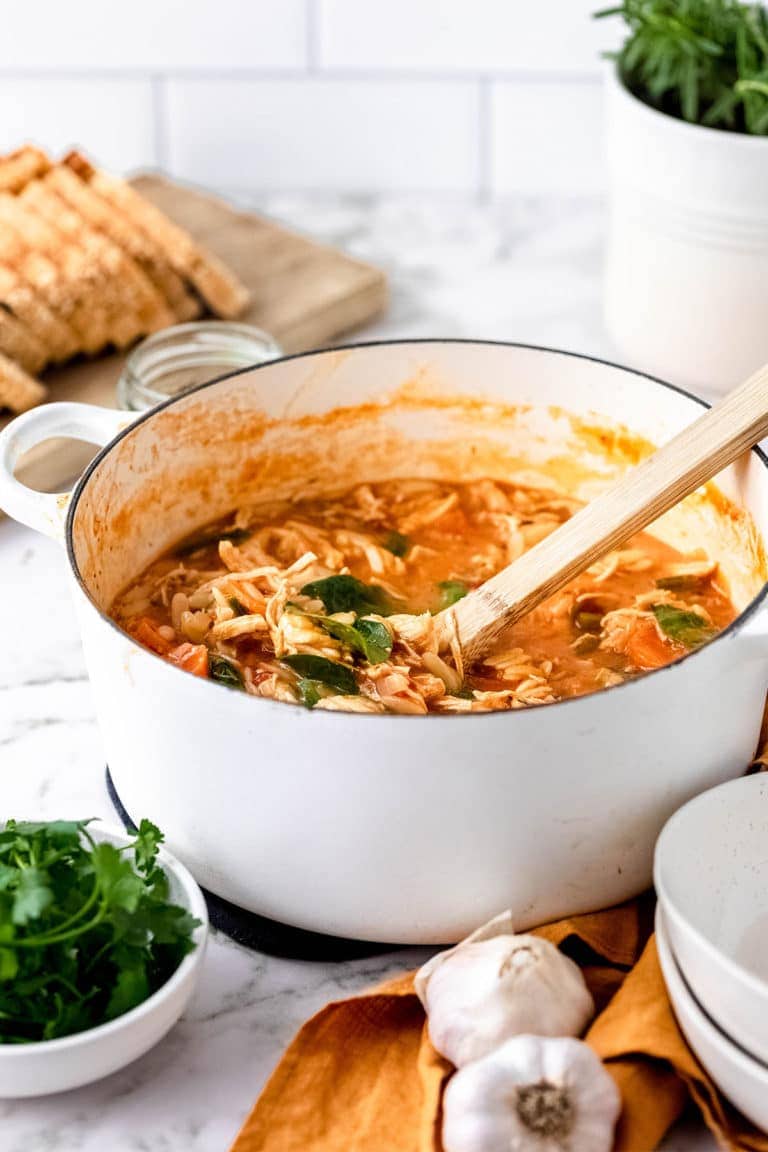 How To Store Homemade Leftover Turkey Soup
Refrigerate: Store leftover homemade turkey soup in an airtight glass or BPA-free container for 3-4 days. When reheating, if the orzo has soaked up more liquid, you can add tomato juice, a V-8, broth, water, or some of each.
Reheat: For creamy soups recipes, I like to let it sit for a few moments to take the chill off before starting to heat over medium heat. Stir and allow the soup to warm without boiling to keep the cream from separating.
Freezing: You can certainly freeze tomato and turkey orzo soup. Dip out what you would like to freeze when the orzo is only half done. Make sure not to include the bay leaf. Thaw, heat, and add cream (and baby spinach) when ready to serve next time.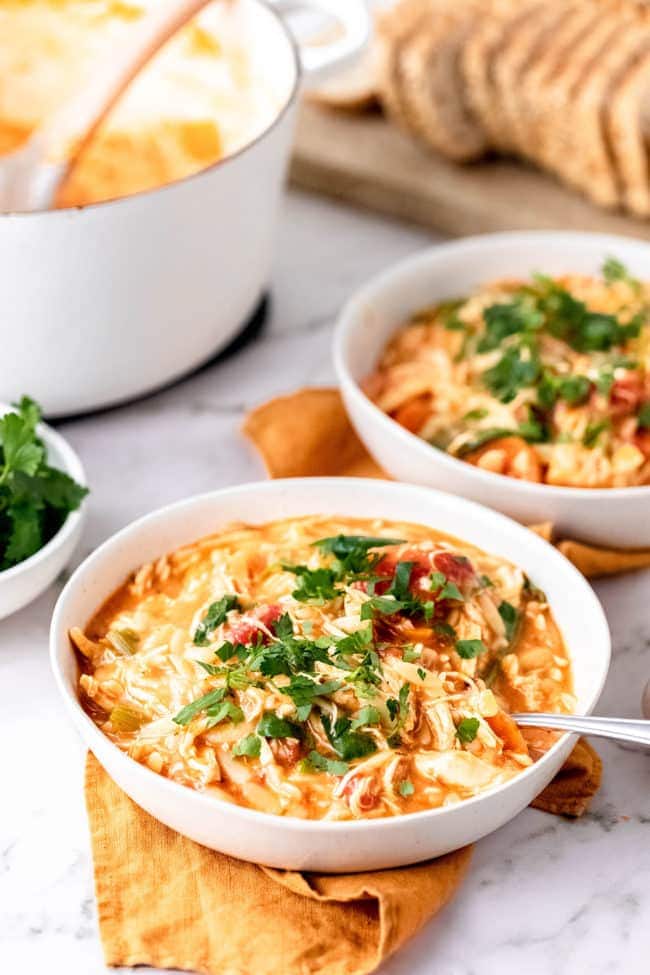 Variations & Substitutions
Chicken stock, bouillon, or bone broth can be used interchangeably in homemade turkey soup.
If someone gobbles up all the leftover turkey, it must have been delectable! In this creamy tomato soup recipe, you can use shredded, grilled, canned, or leftover rotisserie chicken.
Out of fresh garlic? For dried garlic, you need to use ½ tsp (⅛ tsp = 1 clove) of garlic powder. For refrigerated minced garlic, use 1 ⅓ tbsp (1 tsp = 1 clove).
Like some bite with your spice? A gentle dash of crushed red peppers in creamy tomato orzo soup adds a nice zing.
Feeling a little "Italiano?" Throw in a dash of oregano, and garnish with fresh basil and freshly grated Parmigiano-Reggiano. Yum!
Choose gluten-free orzo for creamy turkey and tomato soup for those with wheat sensitives.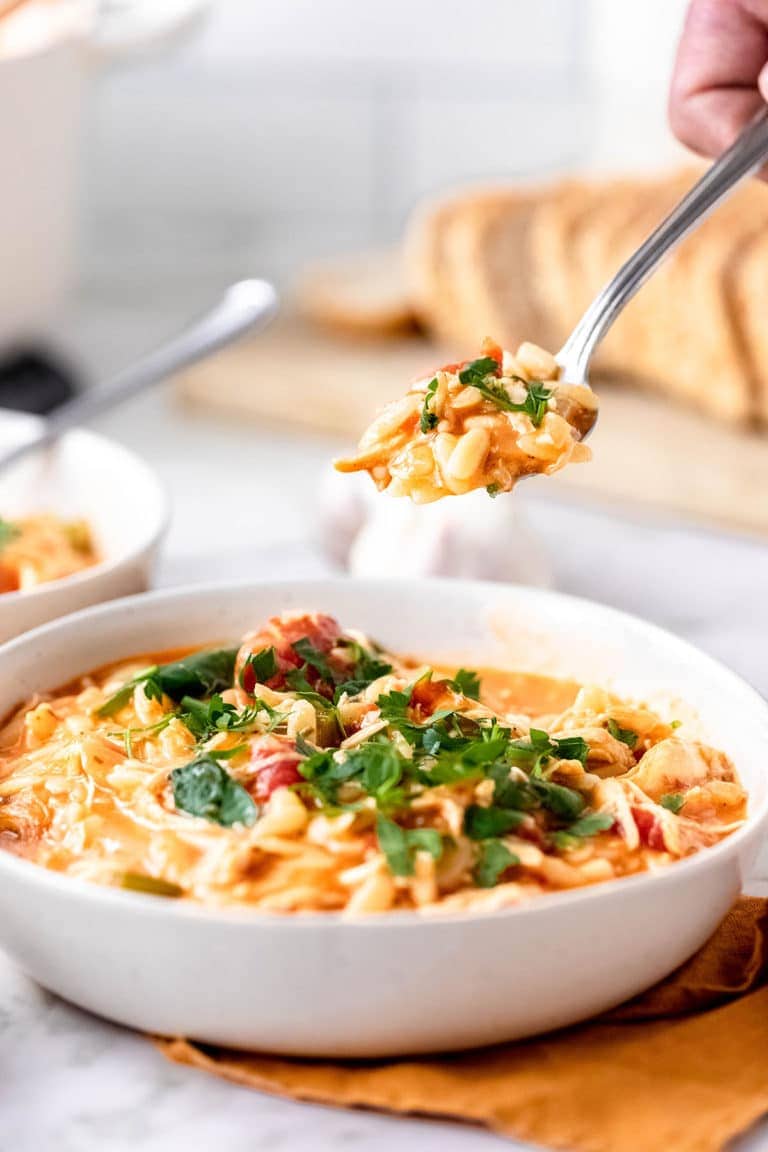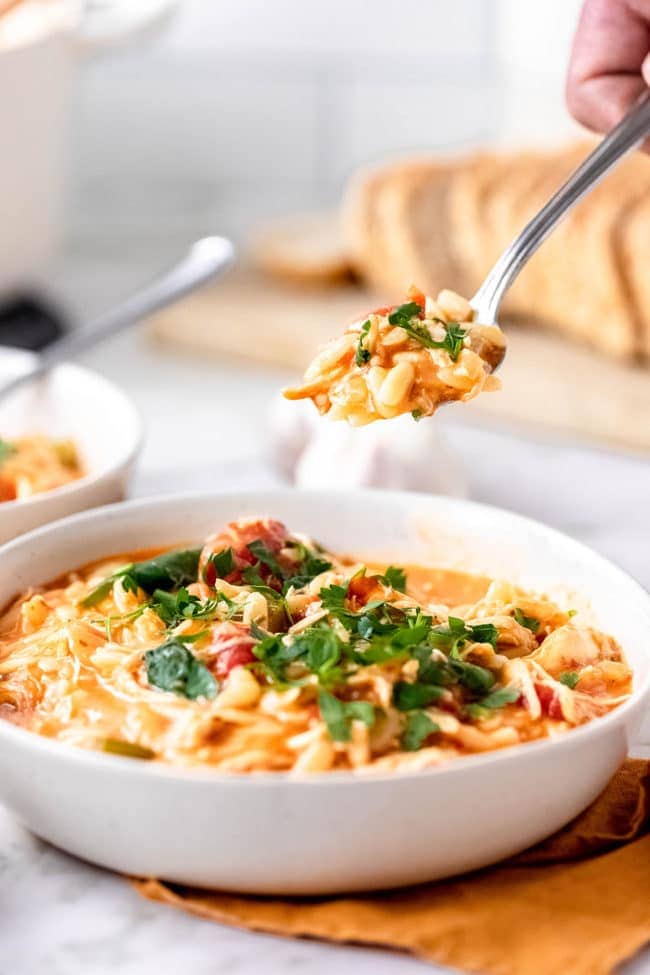 Creamy Orzo Soup Recipe FAQs
Is orzo rice or pasta?
Orzo is a small pasta, pastina, that looks similar to rice. In Italy, this pastina is called risoni, meaning large [looks like] rice, as orzo means barley in their language. Just for clarification, orzo actually has the shape of unhusked barley grain!
Is orzo a risotto?
No, although you can successfully substitute orzo in a risotto. Risotto is actually the name of a dish made with arborio rice.
Is orzo gluten-free?
No, orzo is made from durum wheat. A hard grain with higher gluten and protein content than white wheat. Durum is ground into semolina, a coarse pale yellow to golden flour used for pasta.
What happens if you overcook orzo?
Mush; the same thing that happens if you overcook pasta! Overcooked orzo will get mushy and slimy! If you are planning on a nice slow simmer for this turkey soup recipe, wait until the soup is almost done. When it is al dente, remove from heat and stir in the baby spinach.
Can I freeze orzo soup?
A lot of people ask how to keep orzo soup from getting mushy in the freezer. There are two ways to do it; one is a nod to your expertise with pasta soup recipes, and the other is foolproof.

The first is to stop cooking this turkey soup recipe when the orzo is halfway done and freeze. (expertise) The best way to make sure your orzo soup recipe doesn't get mushy in the freezer is to make the soup without the orzo. When you reheat it, add the orzo to the soup when it is heated, and cook the pasta until it is al dente.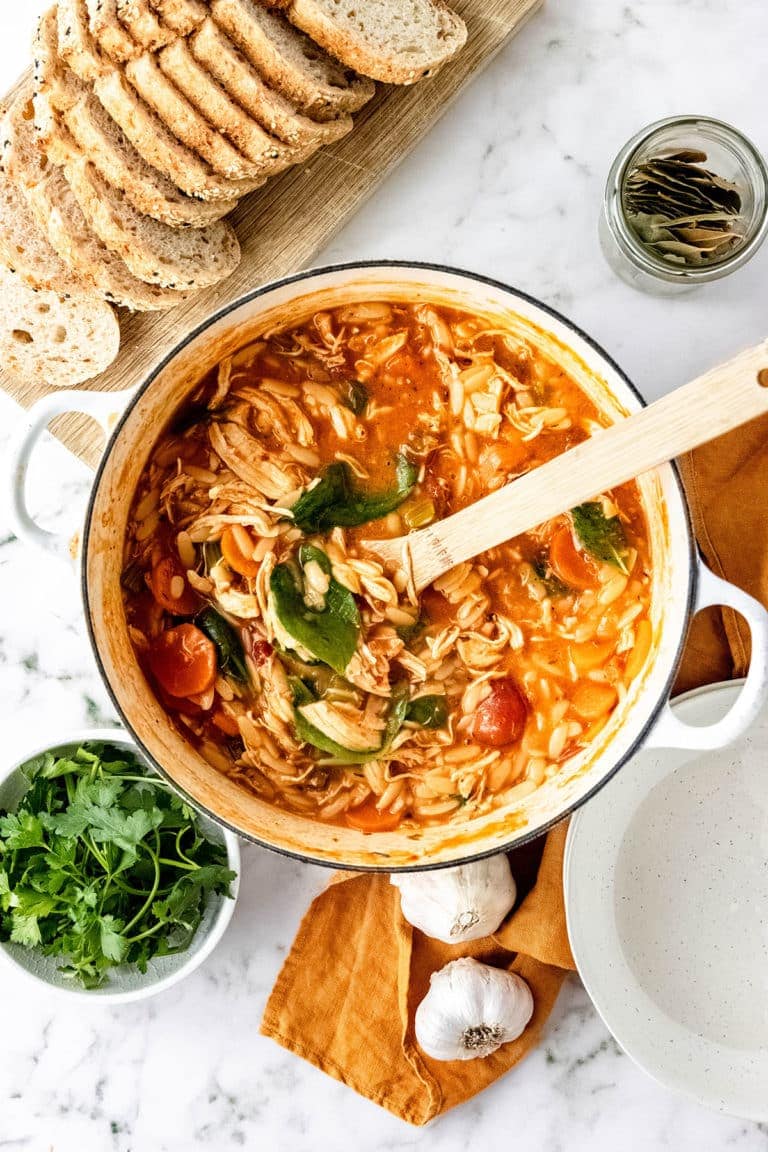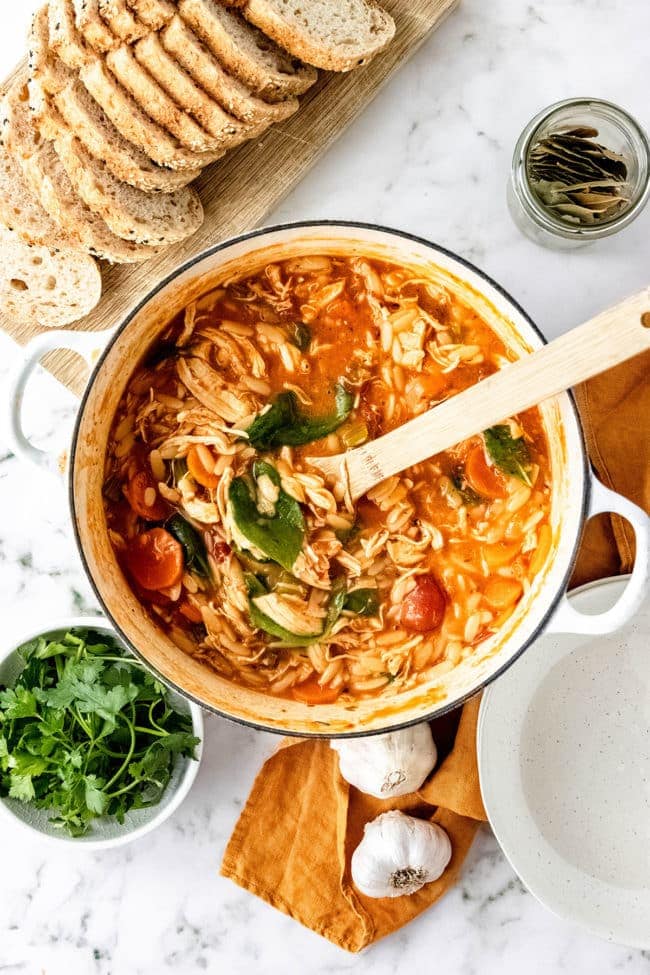 Serving Suggestions
Creamy tomato soup with turkey and orzo makes a perfect one-bowl meal! Serve with a baguette or a loaf of crusty bread.
No matter how a creamy tomato soup is paired up, turkey and orzo this time, serving it up with a Grilled Cheese sandwich is magic!
Serve with Garlic Cheese Bread and a Simple Italian Salad.
Go for the gusto! Sprinkle with crumbled cheese like feta and homemade croutons!
Like This Recipe? Pin It!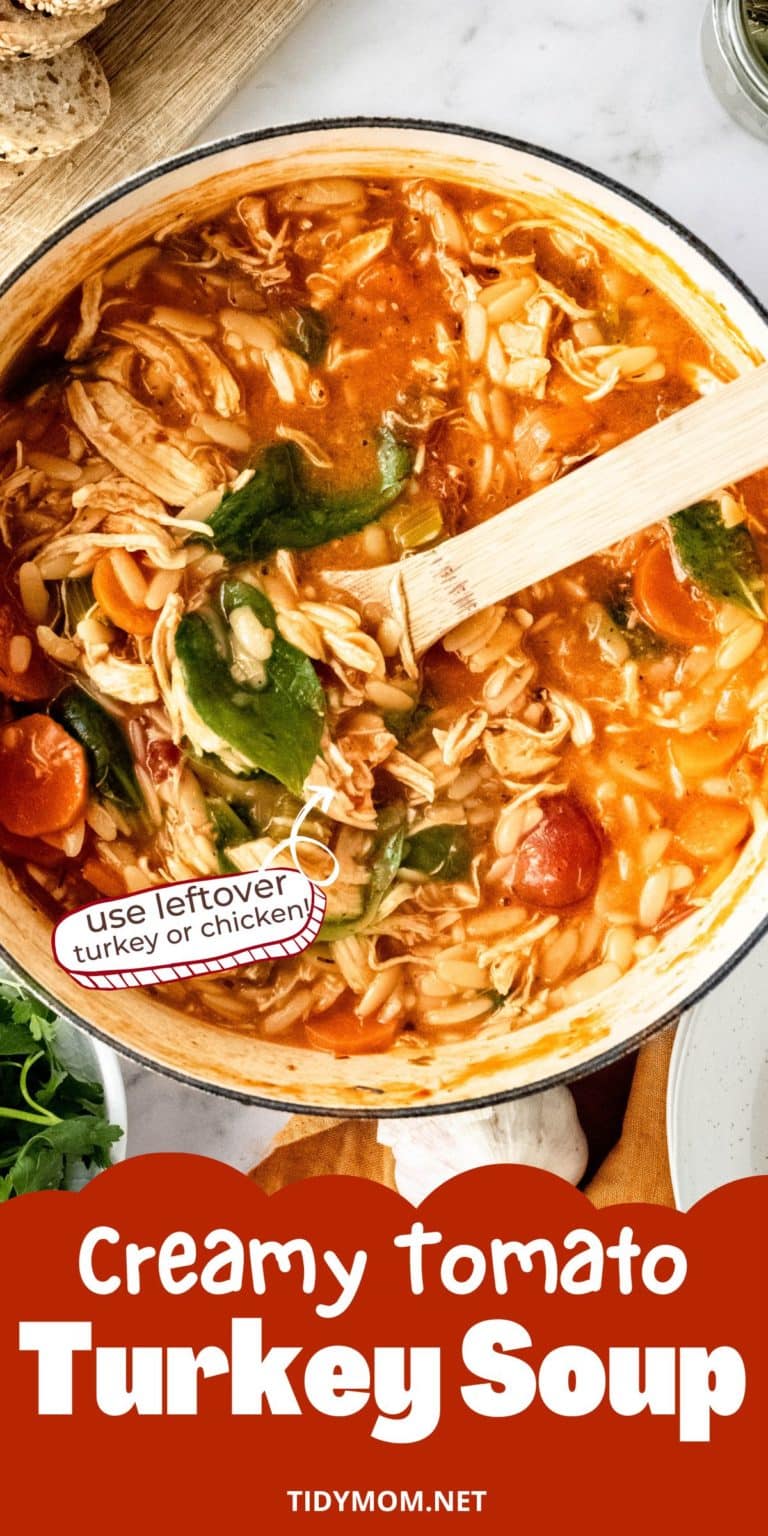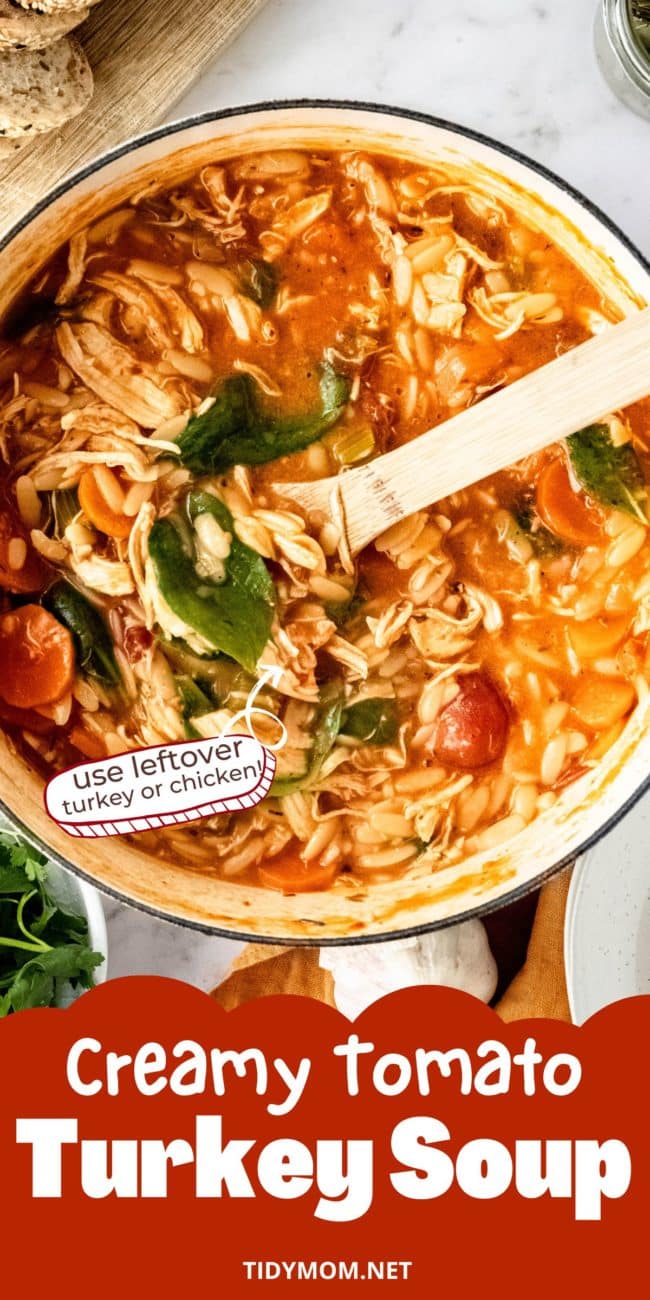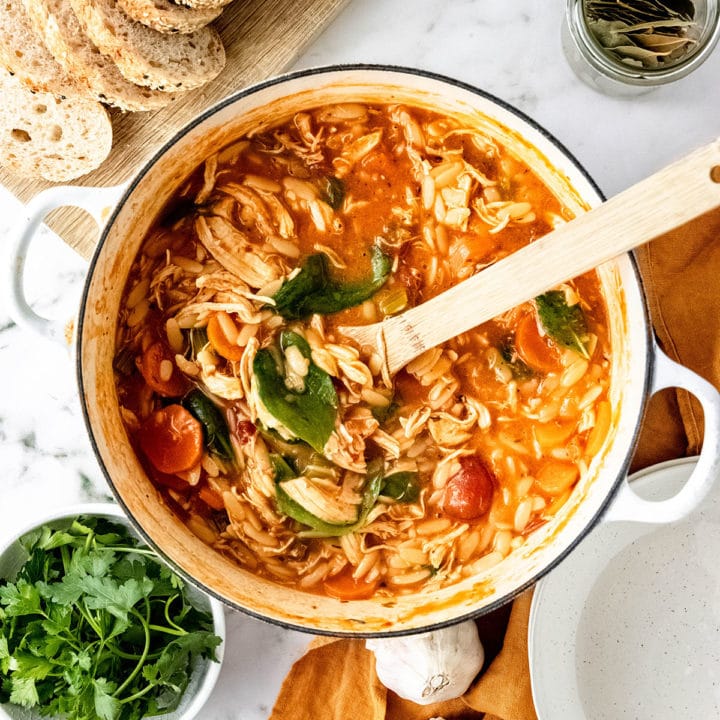 Creamy Tomato Turkey Orzo Soup
Yield: 6-8 servings
Prep Time: 5 minutes
Cook Time: 20 minutes
Total Time: 25 minutes
A flavorful, creamy turkey soup recipe with savory tomatoes, orzo, and baby spinach is the perfect way to make the most of leftover turkey this season! Homemade turkey soup is wholesome and delicious!
Ingredients
1 tablespoon Olive oil
1 tablespoon butter
1 onion, diced
1 carrot, sliced
2 celery stalks, sliced
4 garlic cloves, minced
2 cups cooked turkey, shredded
1 tablespoon tomato paste
1 (28 ounce) can whole peeled tomatoes
1 teaspoon dried thyme
1 teaspoon dried parsley
1/2 teaspoon dried rosemary
3 Cups chicken broth
1 cup half and half
3/4 cup orzo
2 cups baby spinach
1 bay leaf
Instructions
Heat a large pot over medium heat and add the olive oil and butter.
Add the onion, carrot, celery and cook for a few minutes until soft.
Add the dried herbs, garlic and tomato paste and cook for 1-2 minutes.
Add all the remaining ingredients (except baby spinach) and stir to combine.
Bring the soup to a boil then lower heat and allow to simmer for 10 minutes.
Remove from heat, remove bay leaf and stir in baby spinach.
Serve with fresh parsley.
Recommended Products
As an Amazon Associate and member of other affiliate programs, I earn from qualifying purchases.
Nutrition Information:
Yield: 8
Serving Size: 1
Amount Per Serving:
Calories: 197
Total Fat: 9g
Saturated Fat: 4g
Trans Fat: 0g
Unsaturated Fat: 5g
Cholesterol: 53mg
Sodium: 436mg
Carbohydrates: 15g
Fiber: 2g
Sugar: 6g
Protein: 14g
Nutrition information is estimated based on the ingredients and cooking instructions as described in each recipe and is intended to be used for informational purposes only. Please note that nutrition details may vary based on methods of preparation, origin, and freshness of ingredients used and are just estimates. We encourage, especially if these numbers are important to you, to calculate these on your own for most accurate results.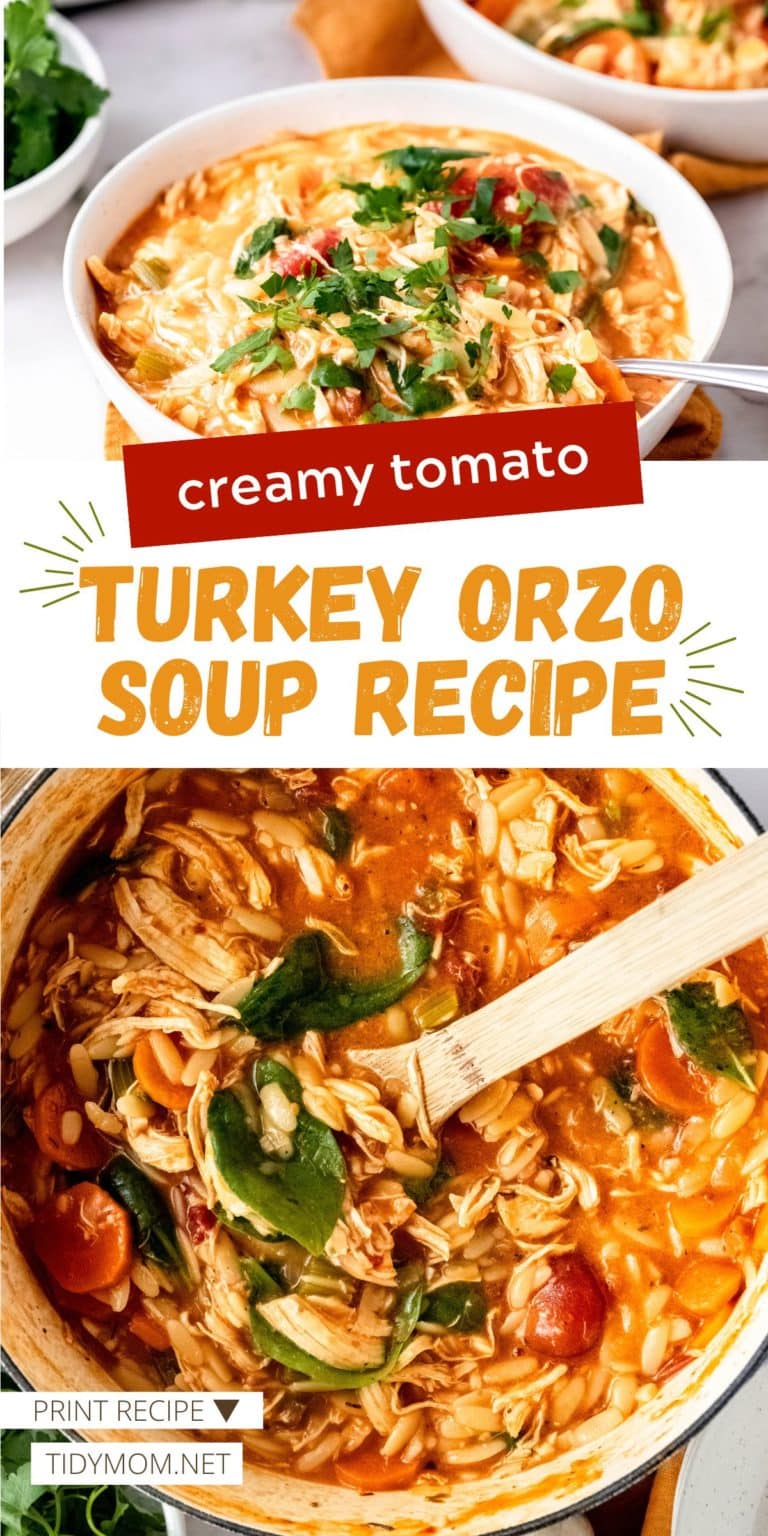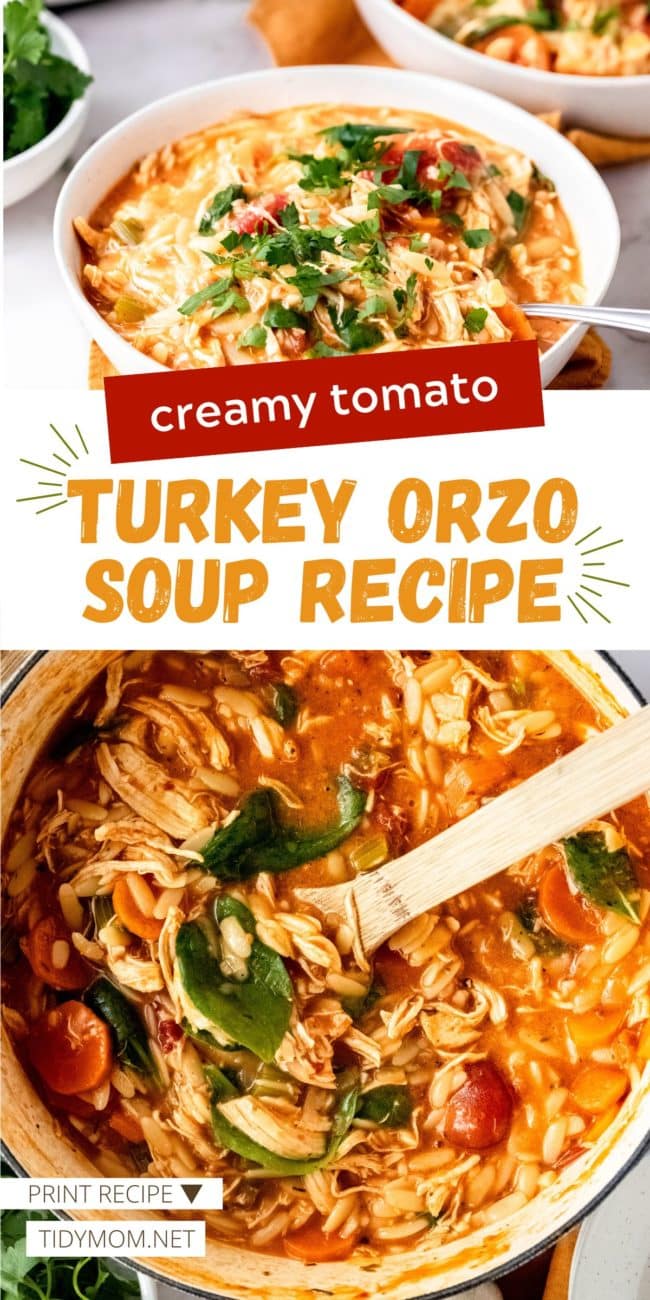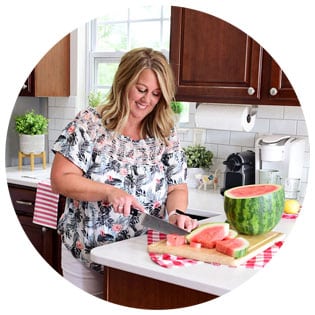 Hi there, I'm Cheryl!
As a wife, mom, and caffeine enthusiast, my journey has taken me from bustling mornings with my family to sharing delicious recipes, home care tips, and heartfelt decorating insights with wonderful readers like you. My love for baking, photography, and tidiness shines through every post I craft. Dive into my world and discover the art of homemaking, one tidy moment at a time. Read more...
Tidymom is a participant in the amazon services llc associates program, an affiliate advertising program designed to provide a means for sites to earn advertising fees by advertising and linking to Amazon.com.
Please respect my work, recipes and photographs. If you do use a recipe in your own writing, please give proper credit and link back to the original post.