The Laundry Room {keep it clean}
I
t's a dirty job……..but somebody's gotta do it!
Laundry that is!
Since I'm trying to win a new washer and dryer from Samsung here in this post, I thought we could look at ways to make our laundry rooms into a more inviting space.
Unnecessary clutter can give any space a dirty look. Having a closed basket for dumping dirty clothes rather than piling them on the floor would give a more organized look.
Pottery Barn has this beautiful Seagrass Divided Hamper
Baskets! Lots of baskets to keep everything
organized. Out of site but with in reach. Target has these great milk crate baskets with liners.
I'm in love with the idea of apothecary jars
in the laundry room!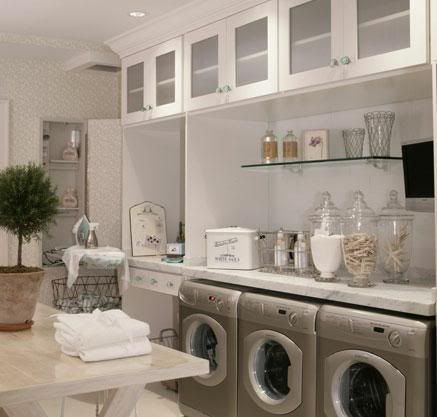 (Image: Hampton Designs)
or these great Laundry tins,
like my pal Saucy has in her laundry room
If you're lucky enough to be able to do your ironing in your laundry room too,
how about a gorgeous new ironing board cover
(I have one of these beauties on my wish list!)
I wouldn't mind keeping my ironing board out for everyone to see if it looked like this!!
I say………..

BRING ON THE DIRTY CLOTHES!!
If you have a few minutes I'd love you forever
if you could click over to this post
and leave me a few comments and help me win
a new Samsung Washer & Dryer
so I can get my start to a beautiful laundry room!
Thanks to each and everyone of you that has been helping me in this contest!
YOU ARE THE BEST!