Wine Crate Garden
With spring in full swing I find myself wanting to breath new life into the outside of our home. Making a WINE CRATE GARDEN is perfect for spring planting and they are great for small spaces too. It turns out vegetables, herbs and flowers can thrive in wine crates! and they look so pretty!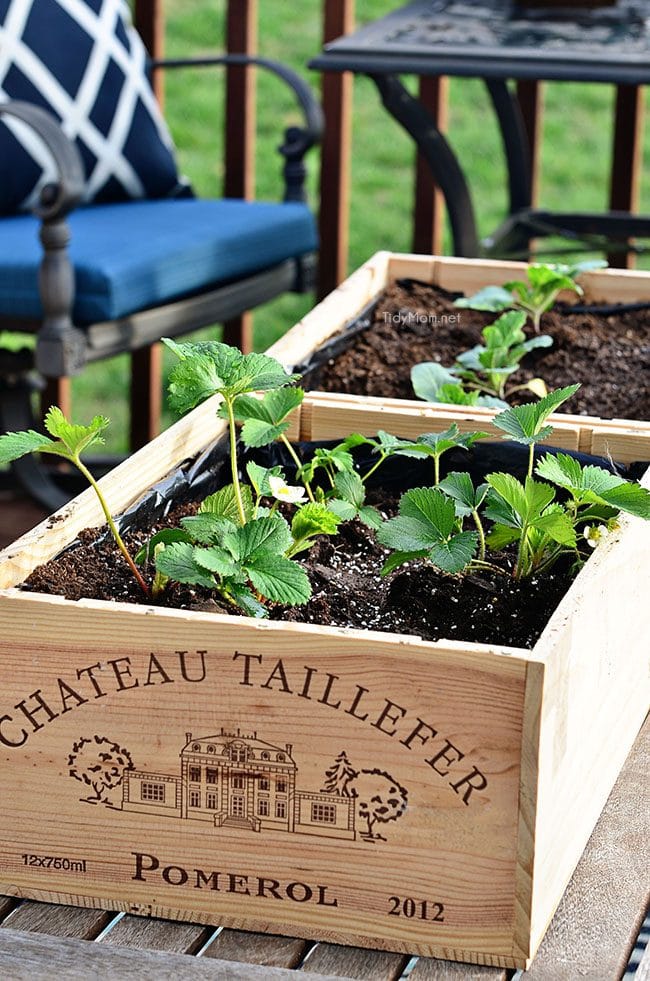 I love this time of year with the Summer fast approaching, as part of my partnership with Miracle-Gro I wanted to share a little spring gardening inspiration, and how I made a wine crate garden, to grow strawberries and cauliflower.
When I started this project, it was a little early here in St. Louis to do a lot of planting, so a portable wine crate garden was a great option. I was able to move my wine crate garden into the garage when we had snow and frost, in the early Spring. I'm no expert, but I have some great tips for you to get started with your own wine crate garden.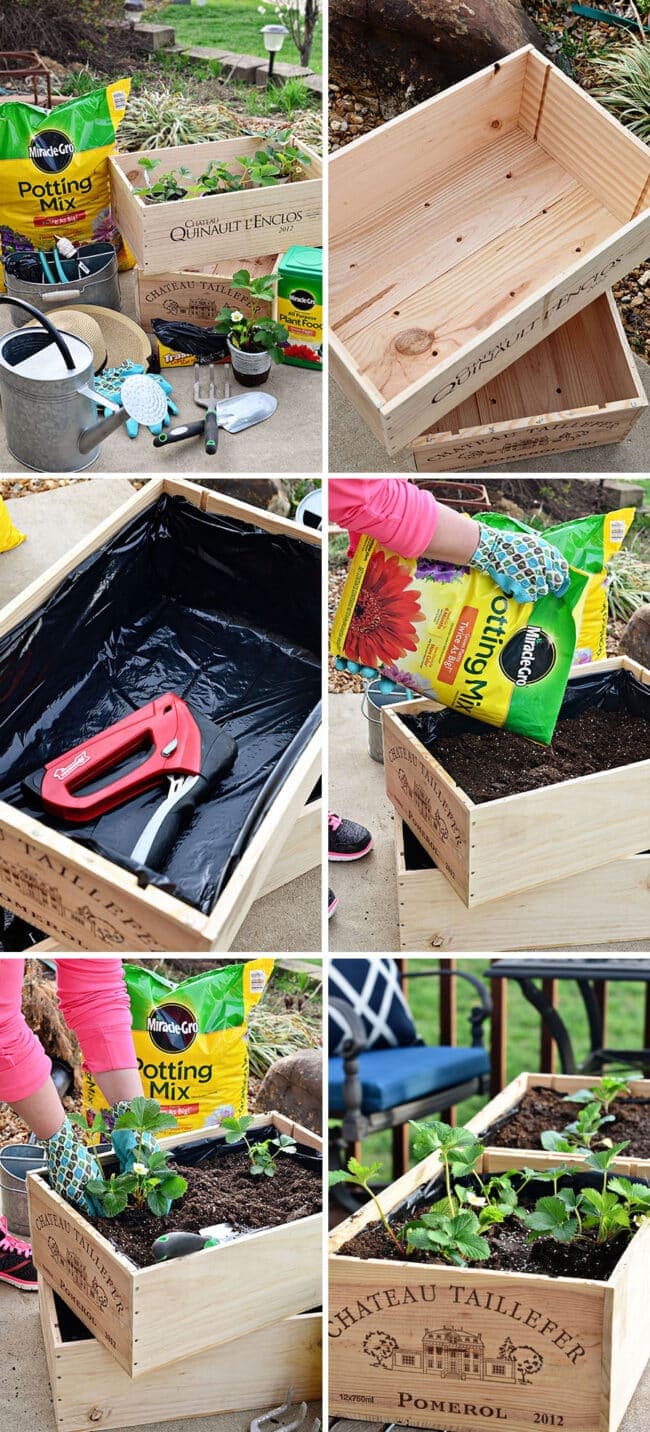 HOW TO MAKE A WINE CRATE GARDEN
SUPPLIES:
wooden wine crates – this is the toughest part of the whole project. I went to a local wine shop and a liquor store, and neither had any wine crates. Get on the phone first and call around, I remembered that a friend's family owned a wine shop, so I was able to buy a few from them. If you're lucky, some places will give them away (I offered to pay because i was so grateful to find some)
plants – I put strawberry plants in one box and cauliflower plants in the other
medium weight plastic (to line the boxes) – I used black lawn and leaf trash bags.
staple gun
drill
hand trowel/shovel
garden gloves (optional)
watering can
Miracle-Gro All Purpose Water Soluble Plant Food
HOW TO BUILD A WINE CRATE GARDEN:
drill holes in the bottom of the wine crates for drainage
staple plastic to line the crate. (you could also seal the crate with Danish oil, but you'll need to let it dry a few days before planting). Cut a few slits in the bottom of the plastic to allow for drainage
Fill wine crate with Miracle-Gro Potting Mix to give your plants a firm foundation to take root and flourish. (I like to wear gardening gloves at this point)
Use your hand or trowel, to place plants in soil. (* planting tips below)
Water throughly with Miracle-Gro All Purpose Water Soluble Plant Food (Mix 1 tablespoon of Miracle-Gro® for every gallon of water, every 7-14 days)
Place wine crate garden where they can drain well. I put ours on a low table with a slatted top (the ground would work well too)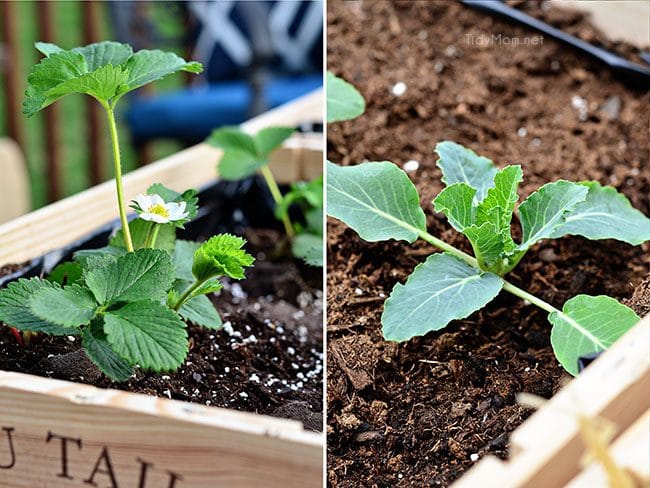 A few tips for planting/growing strawberries:
Space strawberry plants 6-18 inches apart, depending on the variety.
Be sure the roots are well covered with soil but the central growing bud, or crown, is exposed to light and fresh air. If you bury the crown, the plant could easily rot.
Water well and feed every 7-14 days with Miracle-Gro All Purpose Plant Food for excellent results.
Mulch or straw will keep the soil moist and the plants clean.
Strawberries need at least 8 hours of full sun each day.
If your strawberry plants produce runners, clip most of them to allow the mother plant to produce more fruit.
A few tips for planting/growing cauliflower:
Space cauliflower plants about 18 inches apart
Cauliflower needs at least 6 hours of full sun each day; more is better.
Mulch or strawwill keep the soil moist and the plants clean.
Water well and feed every 7-14 days with Miracle-Gro All Purpose Plant Food for excellent results.
When the cauliflower heads are about 2 inches wide, you will need to pull the leaves up over each little head and fasten with a clothespin or twine. This shades the head to ensure it will be white and tender at harvest.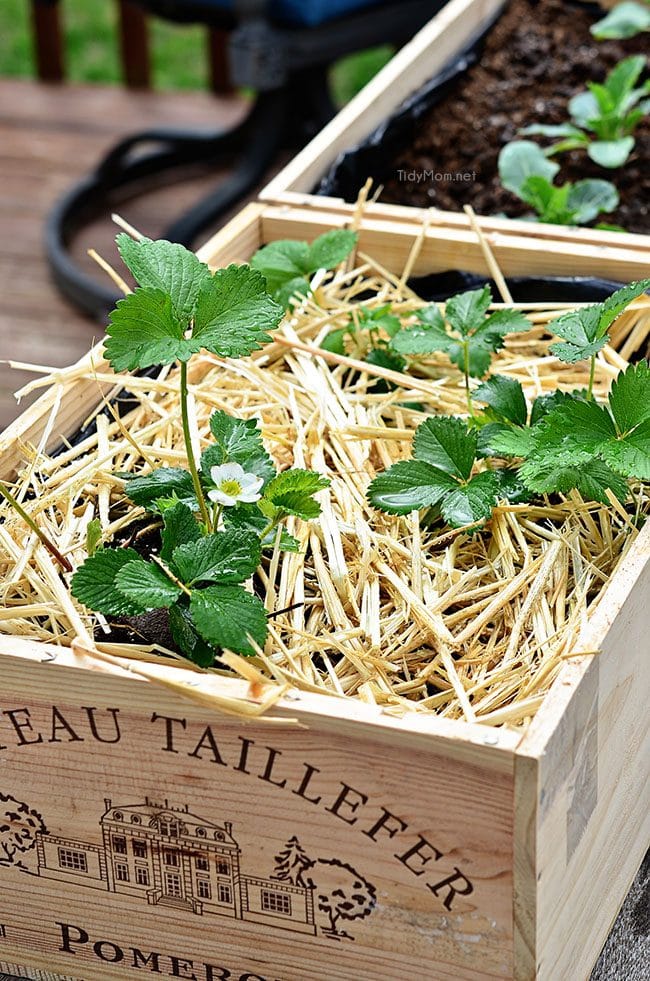 I'm really excited to be growing strawberries and cauliflower, since I've never had an edible garden of any kind, other than when I was a kid. I don't know a lot about growing edibles, but I'm willing to learn as they grow 😉
I also plan to get ahold of a few more wine crates and come up with a bigger spot to keep them, so I can grow more! I definitely want to add herbs, lettuce, cucumbers and tomatoes . The nice thing about a wine crate garden is, it looks really pretty and you don't need a lot of space, or even a yard!
When I picked up my strawberry and cauliflower plants, I couldn't resist a few spring flowers for a container on our deck. If you follow me on Snapchat or Instagram, there's no doubt you've seen these beauties flourish before my eyes!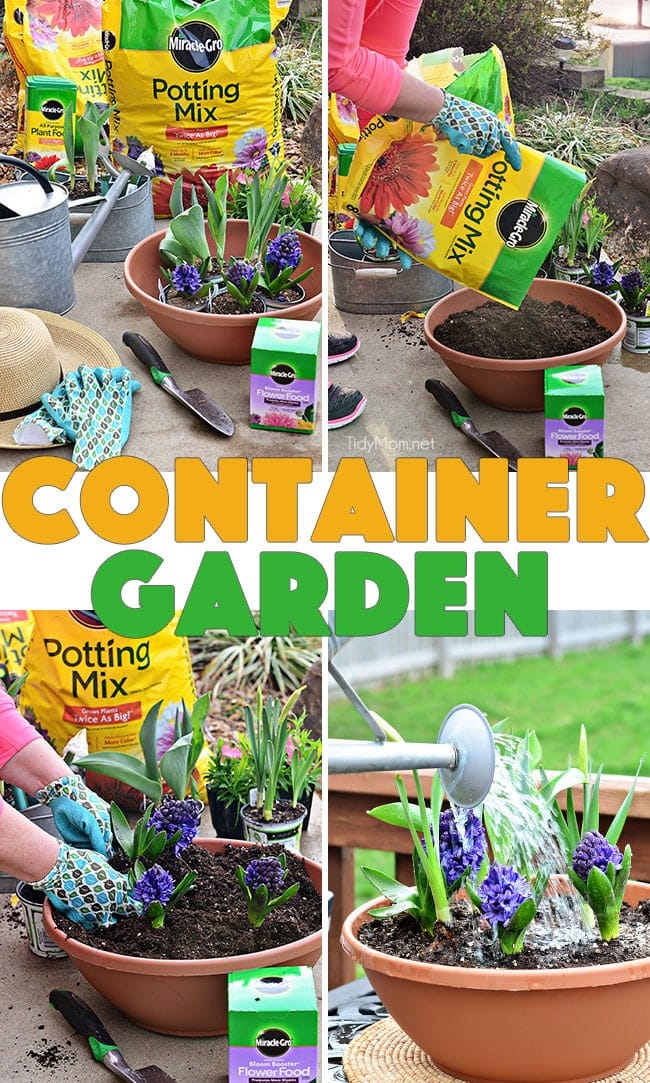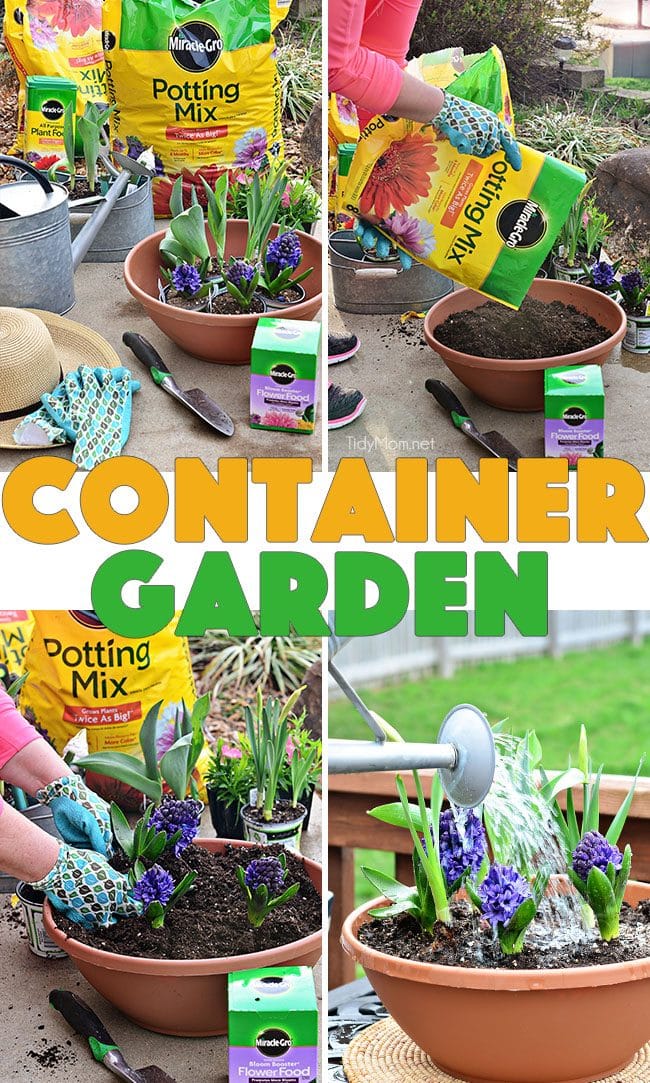 I picked up blue hyacinths, daffodils and tulips.
Over the last 2 weeks on snapchat I've shared them almost daily as I watched the daffodils and tulips unfold. I shared bringing them in a few nights to keep them away from frost, a morning of snow and we watched as they survived down pouring rain and hail. It's easy to just grab the container garden and put it in the garage or in my kitchen.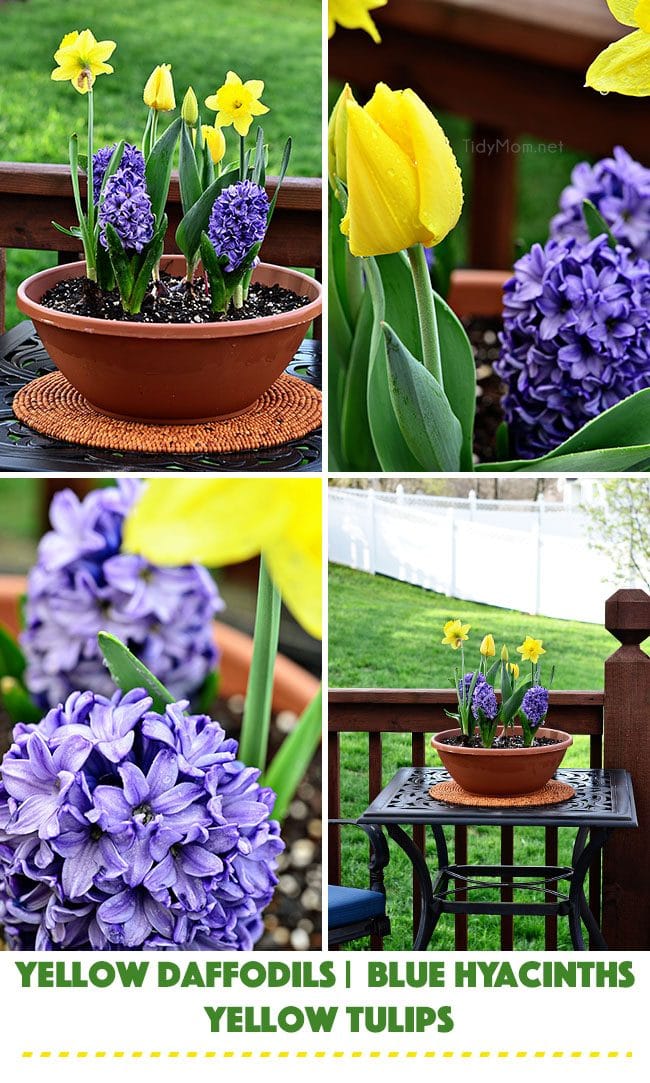 It's all worth it when I get to see the beautiful blooms out on the deck each morning as I enjoy breakfast.
What would you grow in a wine crate garden?
Visit MiracleGro.com and start a project or grow something! follow them on Pinterest | Facebook | Twitter | Instagram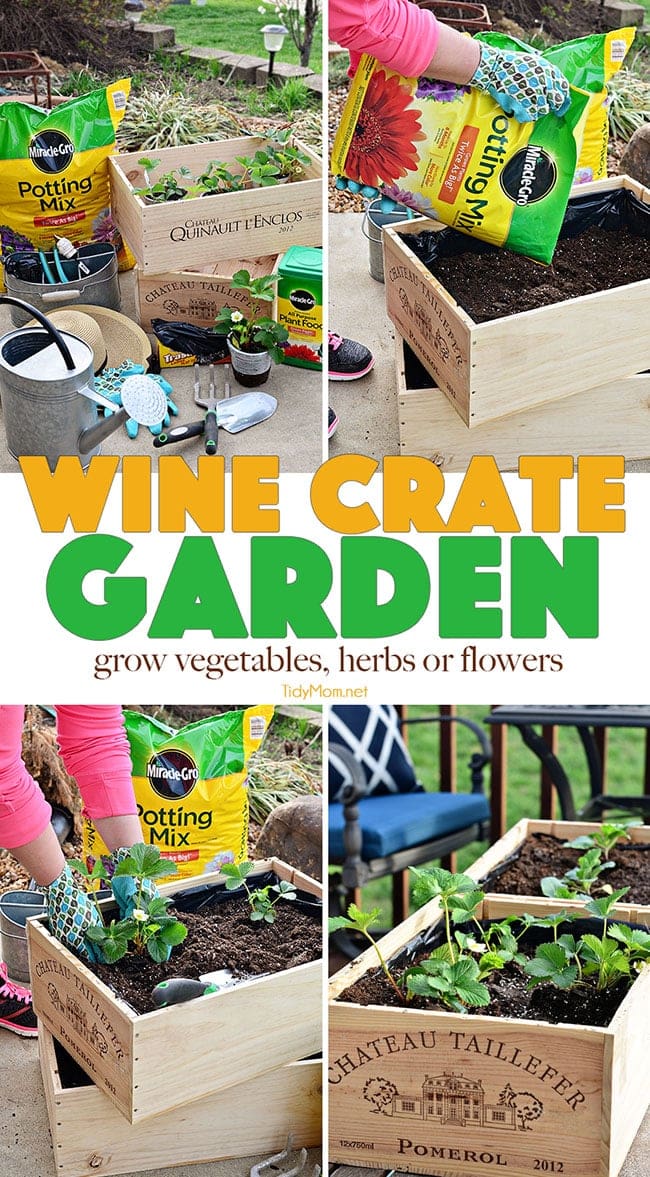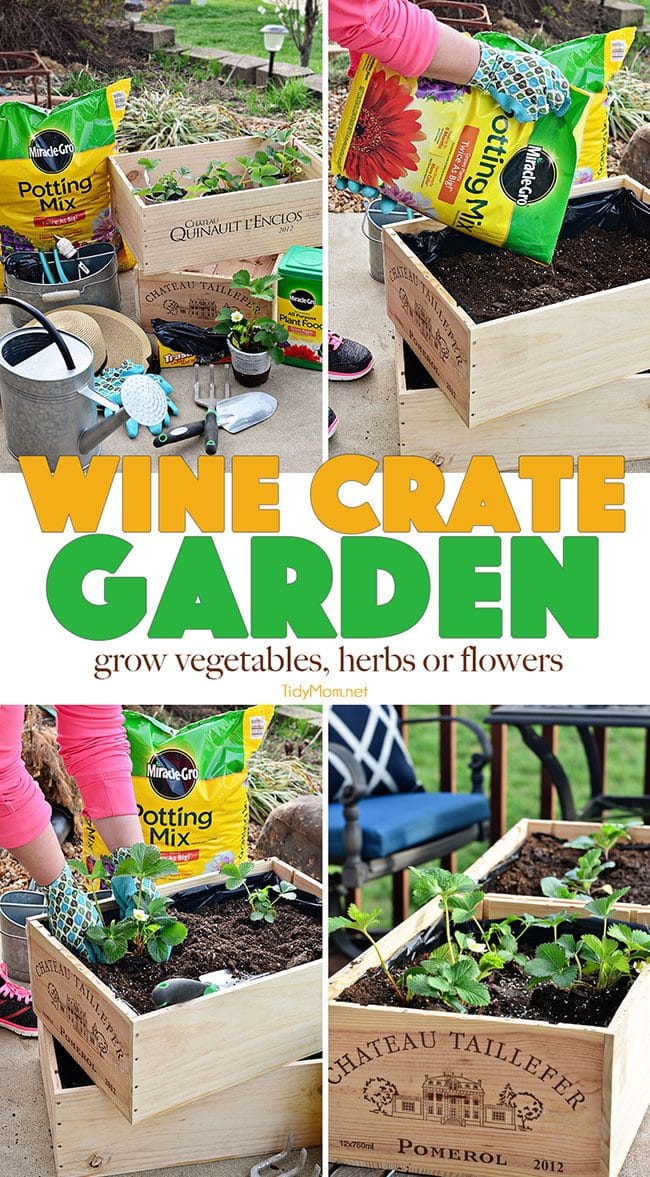 Disclaimer: This post was sponsored by Miracle-Gro, as always, all views and opinions are my own. Thank you for supporting the brands I love and make TidyMom.net possible.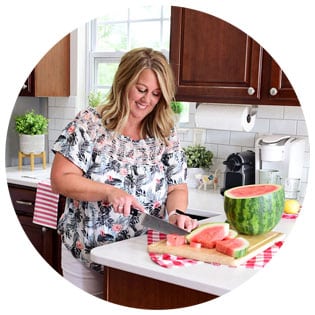 Hi there, I'm Cheryl!
As a wife, mom, and caffeine enthusiast, my journey has taken me from bustling mornings with my family to sharing delicious recipes, home care tips, and heartfelt decorating insights with wonderful readers like you. My love for baking, photography, and tidiness shines through every post I craft. Dive into my world and discover the art of homemaking, one tidy moment at a time. Read more...
Tidymom is a participant in the amazon services llc associates program, an affiliate advertising program designed to provide a means for sites to earn advertising fees by advertising and linking to Amazon.com.
Please respect my work, recipes and photographs. If you do use a recipe in your own writing, please give proper credit and link back to the original post.