TABASCO® Dill Cucumber Pita
This post brought to you by TABASCO® Original Red. All opinions are 100% mine.
Our youngest has always been a huge fan of hot sauce. She puts it on everything….from eggs, to sandwiches to pizza.
So I was really excited when I was asked if I wanted a bottle of TABASCO® Original Red to spice up some dishes around our house!
Did you know that whether you shake a little or pour a lot, Tabasco is more than "just heat"? Unlike other sauces that mask the flavor of food, Tabasco blends with every bite. The simple combination of salt, red pepper, and vinegar are perfected in a 3-year aging process that produces a hot sauce with the uncanny ability to bring the most out of your food. Other hot sauces add their own specific flavor to food. TABASCO® Original Red simply enhances the flavor of food.
Super Bowl Pizza parties are the perfect time to pull out the Tabasco!
Pizza Delivery – Just because pizza comes with mozzarella doesn't mean it has to stop there. Upon delivery, top it with Original TABASCO® brand Pepper Sauce and other favorite cheeses such as Cheddar, Monterey Jack, Gouda, or provolone. Return it to a 450°F oven for 10 minutes and serve
Make your own Pizza – Caramelized Onion Pizza: Caramelized onions make regular or white pizza delicious and elegant enough for company. Just sauté onions with a little butter, a little sugar, and a healthy amount of TABASCO® Sauce.
Make Frozen Pizza Fabulous – Buffalo Chicken Pizza: Toss cooked chicken with Original TABASCO® Sauce, and place on cheese pizza. Top with sliced celery and blue cheese for fire wing flavor on pizza. Bake
We made a great little sandwich spread that can also be used as a vegetable dip
TABASCO® Dill Cucumber Pita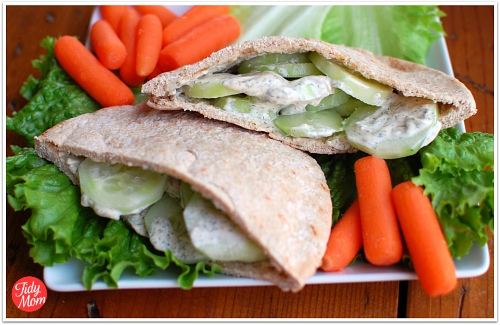 Ingredients
3 Tablespoons Mayonnaise
1 teaspoon TABASCO® Original Red
1 teaspoon dill weed
2 large whole wheat pitas, cut in half
1-2 medium cucumbers, peeled and sliced
Instructions
Combine mayo, dill and Tabasco in small bowl
Spread inside of each pita pocket with dill spread
Stuff with cucumber slices
Add a little more spread, if desired
https://tidymom.net/tabasco%c2%ae-dill-cucumber-pita/
Copyright© 2009-2013 TidyMom.Net
*Note increase quantities and eat spread as a vegetable dip.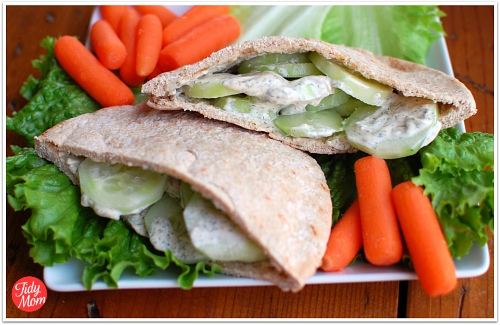 Enjoy!