Quick and Easy Salted Caramel Banana Cream Pie
This crowd-friendly dessert comes together in no time when you combine bananas, pudding, and caramel dip in an Oreo crust, for Salted Caramel Banana Cream Pie.
I have a confession to make. I almost didn't share this recipe with you. It's something I just threw it together one evening because it just sounded good. I was thrilled with how good it turned out, we all dug in and I didn't give much thought to sharing it here……..to be honest, it wasn't pretty enough, and it's all made with prepackaged products.
But then I thought…….that's not fair to you guys. Just because a dish is not labor-intensive, 100% homemade or beautiful doesn't mean it's not GOOD! right?
And you know what, if you want to make this Salted Caramel Banana Cream Pie with homemade vanilla pudding, perfect egg white meringue, salted caramel sauce you made yourself and a no-bake Oreo crust by combining 20 Oreos and 1/4 cup melted butter in a food processor and press it into a pie dish…….. then go right ahead, I bet it will be AH-mazing!!
But today, we're going to do this the easy way! shhhh, I even slipped the pre-made pie crust into my glass pie dish. 😉
The stars of the show and some notes to make Salted Caramel Banana Cream Pie:
milk- I used 2% because that's what we buy, so use what you have
Jello-O Cook & Serve Vanilla pudding – I tried this with instant pudding and the pie turned out very runny, so only use instant if you want to live on the edge. Also, you could use banana pudding, I just prefer vanilla.
about 5 medium bananas, sliced
Marzetti caramel dip – I like that this dip is thick. The first pie I made I used caramel ice cream topping and it was much thinner, and my pie turned out very runny. Not sure if that's why, but if you can find the Marzetti caramel dip, use it!
pre-made oreo pie crust – we loved the chocolate flavor this added, but you could certainly use a graham cracker or any cookie crust.
Cool Whip – I always pick up the Cool Whip Lite but feel free to use regular. If you can't find Cool Whip where you live, you can just make whipped cream – combine 1 cup heavy whipping cream with 1/3 cup powdered sugar and beat with an electric mixer until soft peaks form.
Fleur de sel – I still have some from a visit to The Meadow when I was in New York City a while back. If you don't have any, just use Kosher Salt, or you could leave the salt out if you're not into the sweet and salty combo.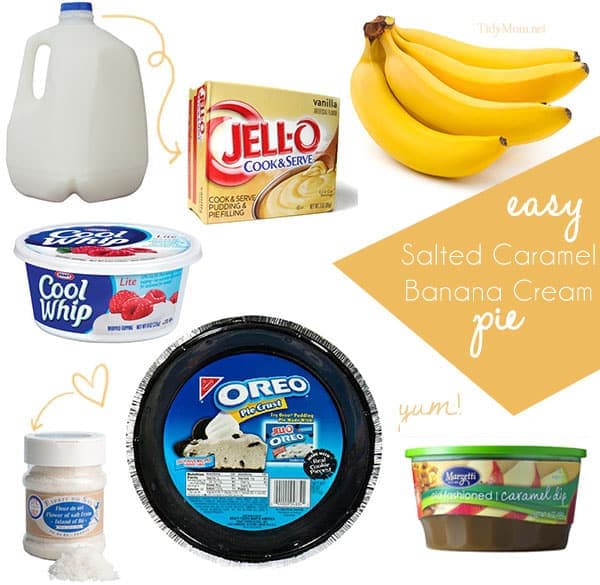 Follow directions on box to cook pudding, and let cool completely.
Slice up your bananas into a medium bowl, cover in caramel dip and sprinkle with a little salt and set aside.
Layer half of your salted caramel bananas on the bottom of your crust, spread pudding over bananas. Add the other half of bananas over pudding then top with Cool Whip and your done! Cover pie and chill in fridge for several hours (we left ours over night). Add some banana slices and drizzle with caramel before serving.
**next time I may add another layer of pudding
That's all there is to it! A fabulous and easy Salted Caramel Banana Cream Pie!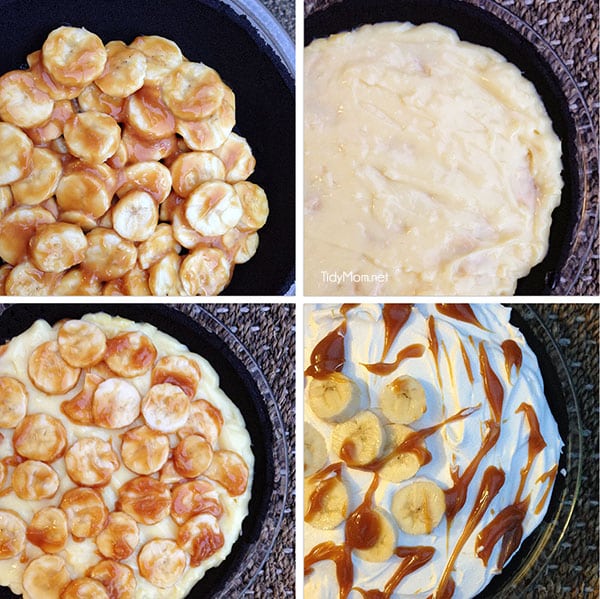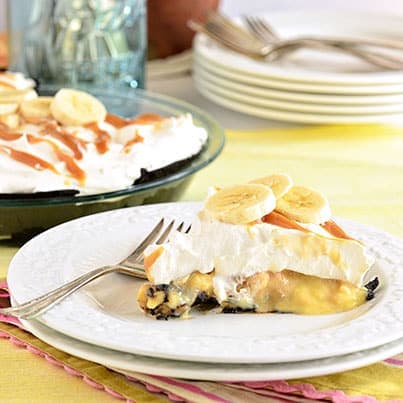 Salted Caramel Banana Cream Pie
Yield: 6 slices
Prep Time: 5 minutes
Cook Time: 10 minutes
Total Time: 15 minutes
This crowd-friendly dessert comes together in no time when you combine bananas, pudding and caramel dip in an Oreo crust.
Ingredients
1 Oreo Cookie Crust
1 pkg. (4-1/2 cup serving) JELL-O Vanilla Cook & Serve Pudding mix
2 cups milk
5 medium bananas
4 ounces caramel dip (I used Marzetti Old Fashioned Caramel Dip), separated
1/2 teaspoon Fleur de Sel or Kosher Salt
1 tub (8 oz.) COOL WHIP topping, thawed
Instructions
Whisk pudding mix and milk in a small sauce pan. Cook over medium heat until the mixture just starts to boil. Remove from heat, let cool completely.
Peel and slice the bananas, adding them to a medium bowl. Add 3 ounces of caramel sauce and salt and toss with banana slices.
Arrange half of the banana slices evenly over the bottom of pre-made oreo crust. Spread vanilla pudding over the bananas, top with remaining bananas.
Spread Cool Whip topping over the pie. Chill in refrigerator for several hours or over night. Just before serving, garnish with banana slices and remaining caramel.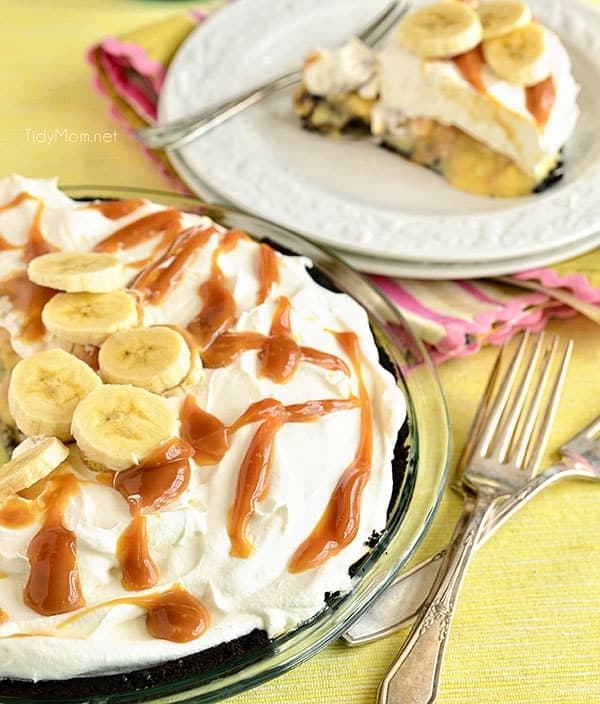 More Caramel and Banana Desserts you might enjoy
Banana Cream Pie with Salty Bourbon Caramel
Banana Pudding with Salted Caramel Sauce
Caramel Banana Upside Down Bread
Banana Pudding Caramel Cream Trifles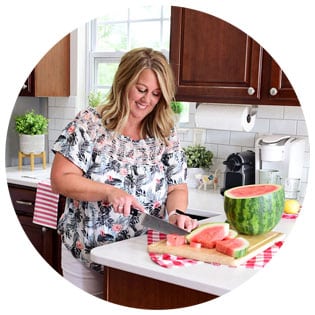 Hi there, I'm Cheryl!
As a wife, mom, and caffeine enthusiast, my journey has taken me from bustling mornings with my family to sharing delicious recipes, home care tips, and heartfelt decorating insights with wonderful readers like you. My love for baking, photography, and tidiness shines through every post I craft. Dive into my world and discover the art of homemaking, one tidy moment at a time. Read more...
Tidymom is a participant in the amazon services llc associates program, an affiliate advertising program designed to provide a means for sites to earn advertising fees by advertising and linking to Amazon.com.
Please respect my work, recipes and photographs. If you do use a recipe in your own writing, please give proper credit and link back to the original post.