Save the Date: Salad Social Link up Party #SaladSocial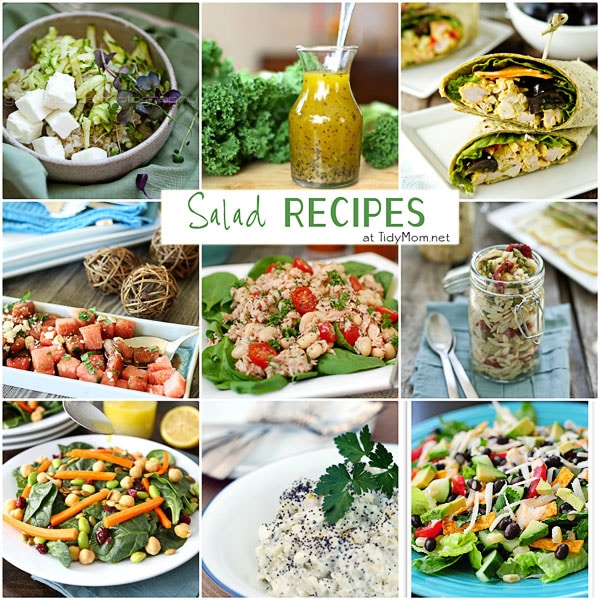 Whether you use veggies or fruits, proteins or lentils, salads are a delicious way to eat healthy and get the most out of some really great ingredients!
Did you know that eating salad almost every day may be one of the most healthy eating habits you can adopt?
One of my favorite ingredients to add to my salads is olives. Olives and Olive oil offer many unique and powerful health-promoting effects.
Why are Olives so good for you?
Cardiovascular Disease
Olive oil reduces low density lipoprotein (LDL, or "bad") cholesterol without decrease of HDL (or "good") cholesterol and improves many additional risk factors for cardiovascular disease, including blood pressure, glucose metabolism and antithrombotic profile (helps protect against blood clots).
Diabetes
Clinical studies support the positive effect of olive oil on diabetes: a study of 418 people showed that a Mediterranean diet rich in olive oil reduced diabetes by nearly 50 percent compared to low-fat diets.
Stroke
Data from the Three Cities Study found that elderly people who consume olive oil daily have fewer strokes than those who do not
Inflammation
Olives and olive oil have many anti-inflammatory properties. For example, increased olive oil consumption has been linked to a decreased risk of developing rheumatoid arthritis, an autoimmune disease characterized by inflammation and pain, particularly in the joints.
soruce: AddSomeLife.org
I had no idea that these succulent little gems that I love to snack on, were so good for me!
Recently the people at the International Olive Council's Add Some Life campaign asked if I would like to host a Salad Social linky party!
Fun right?!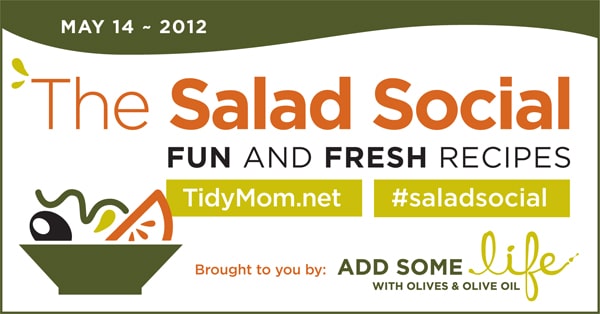 With summer just around the corner, we thought it would be the perfect time of year to pull out and share your favorite salad recipes!
The International Olive Council's Add Some Life and I are inviting you to share your favorite salad recipe(s) here on TidyMom.net starting May 14th thru May 21, 2012.
like every good party……..there will be prizes!! 2 TidyMom readers will have the chance to win a fabulous prize pack worth $150!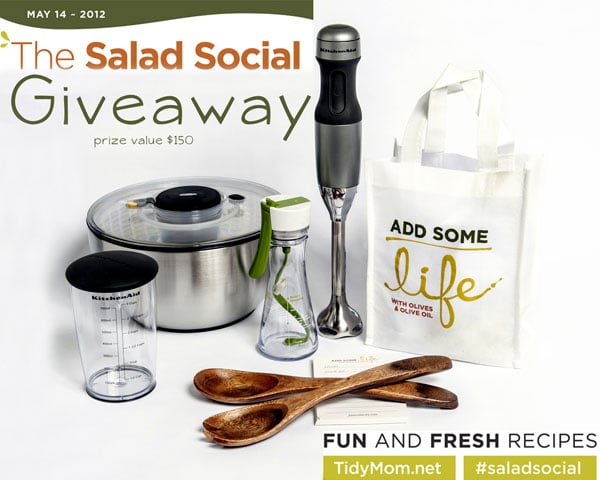 each prize pack contains: 1 William Sonoma Salad Spinner | 1 William Sonoma Salad Dressing Emulsifer | 1 Crate&Barrel Wood Tongs | 1 Add Some Life reusable tote bag | 1 Add Some Life grocery list notepad | 1 Kitchen Aid Hand Blender and Measuring Cup
How to Participate in the Salad Social
UPDATE: Party Post is now live…….. come over and link up your salad recipes at the Salad Social
1. Write and post a recipe on your blog featuring a salad recipe. It can be any kind of salad. (you can link an old post…just PLEASE be sure to link back AND follow #2 below)
2. Include "Come join The Salad Social at TidyMom sponsored by The International Olive Council's Add Some Life" in your blog post. (you MUST include this to be eligible for prizes)

3. Starting May 14th thru May 21st add your link to your salad post to the widget on TidyMom.net
4. Don't have a blog? no problem…..leave your recipe in the comments during The Salad Social party (May 14 – May 21, 2012)
5. We'd love your help spreading the word about The Salad Social through social media outlets such as Facebook, Twitter , Pinterest and Instagram using the hashtag #SaladSocial
Sample Tweet: Join @TidyMom & @AddSomeLife for the #SaladSocial ~ Share your recipes (and WIN) at https://tidymom.net Pls RT
Instagram photos of your salad using the hashtag #saladsocial
6. Button for your sidebar or post – if you would like a button for your sidebar or post, use the one below
click here to get the code to copy for button
7. Have fun and enjoy!
Get your knives ready and start tossing! We'll see you starting May 14th! (there will be another post for the linky party)
Salad recipes in collage above
Zucchini Quinoa Salad | Maple Poppyseed Dressing | Curried Chicken Salad Wraps | Watermelon, Feta and Mint Salad | Cannellini and Tuna Salad | Spring Orzo Pasta Salad | Spinach and Endamame Salad | Nanny's Potato Salad | Black Bean Mexican Salad

Disclaimer: Thank you to The Olive Council's Add Some Life for providing compensation and prizes for The Salad Social. The views and opinions expressed on TidyMom are purely my own.
// ]]>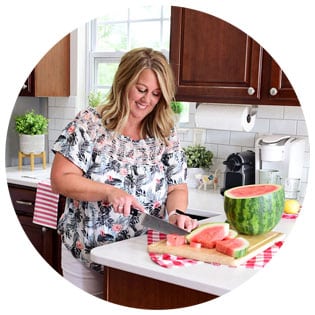 Hi there, I'm Cheryl!
As a wife, mom, and caffeine enthusiast, my journey has taken me from bustling mornings with my family to sharing delicious recipes, home care tips, and heartfelt decorating insights with wonderful readers like you. My love for baking, photography, and tidiness shines through every post I craft. Dive into my world and discover the art of homemaking, one tidy moment at a time. Read more...
Tidymom is a participant in the amazon services llc associates program, an affiliate advertising program designed to provide a means for sites to earn advertising fees by advertising and linking to Amazon.com.
Please respect my work, recipes and photographs. If you do use a recipe in your own writing, please give proper credit and link back to the original post.