Raspberry Filled Cupcakes with Vanilla Butter Cream Frosting
These Raspberry Filled Cupcakes are the perfect combo of vanilla and raspberry. Tender vanilla cupcakes are filled with a fresh raspberry filling, then topped with silky smooth vanilla buttercream. Perfect for any occasion!
Be sure to sign up for my email… to get new recipes and ideas in your inbox!
While these raspberry filled cupcakes are perfect for any occasion, they are a fun treat for Easter or Spring, along with Lemon Filled Cupcakes, Homemade Chocolate Peanut Butter Eggs and Homemade Carrot Cake.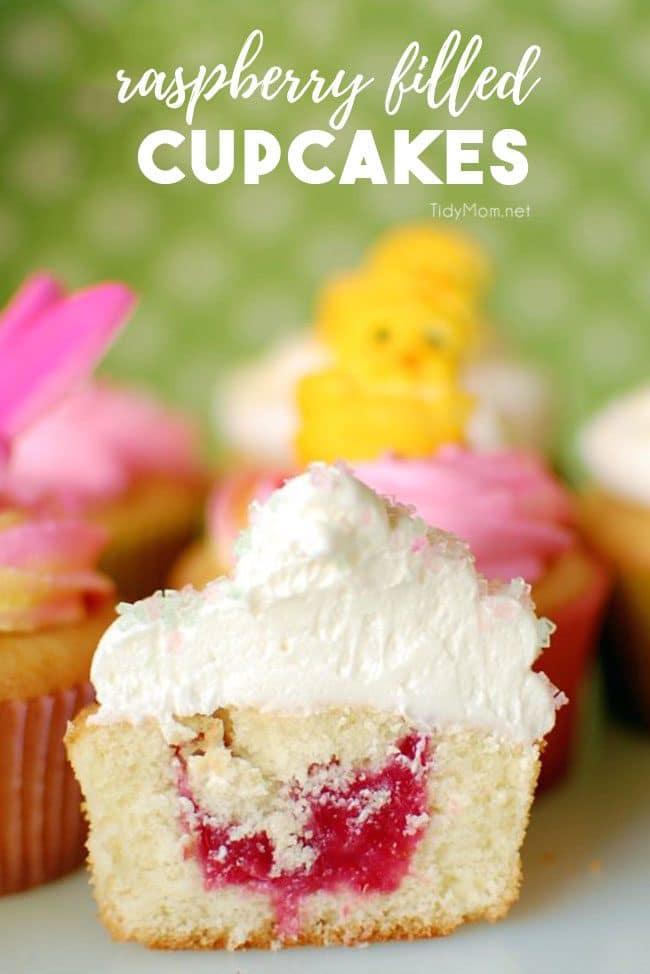 Click HERE to save recipe to Pinterest!
Raspberry Filled Cupcakes
So……. last week I showed you the cookies I made for Easter.
But Allison wanted cupcakes.
I wanted simple.
I was originally just going to make vanilla cupcakes with vanilla buttercream frosting.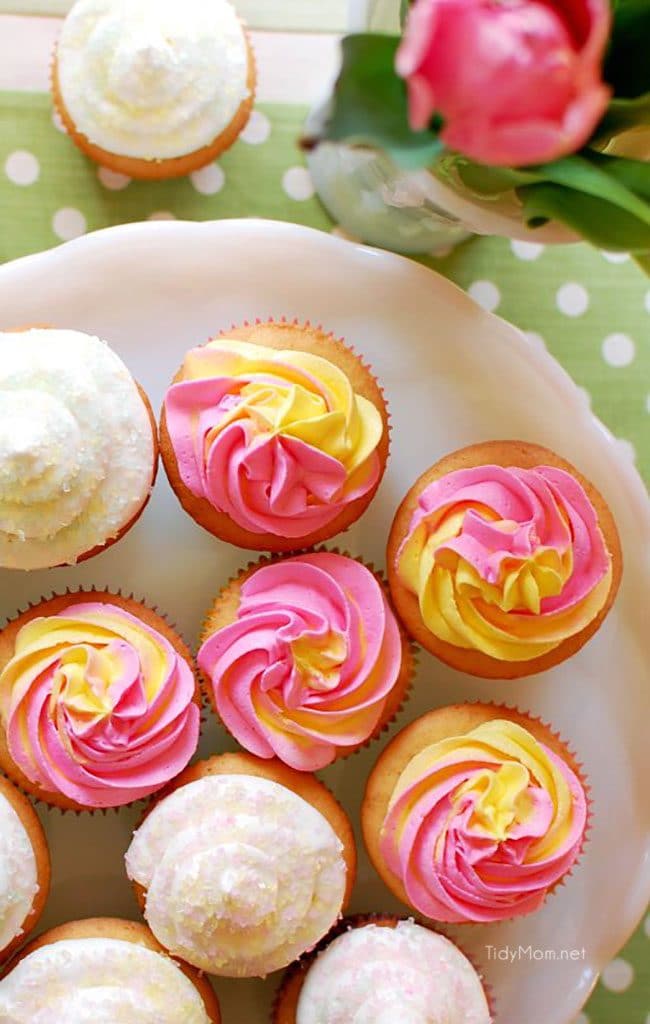 But I thought that sounded a little boring……what could I do to "kick it up a notch?"
When I thought………RASPBERRY FILLING!!
I love vanilla and raspberry together and the combo works beautifully in these cupcakes.
Vanilla is the star of the show here, but the raspberry filling is the surprise guest star!!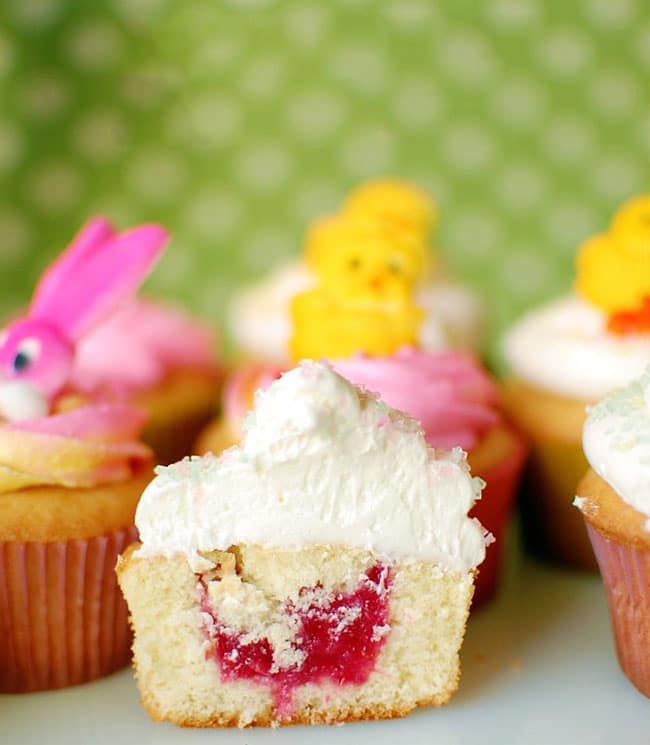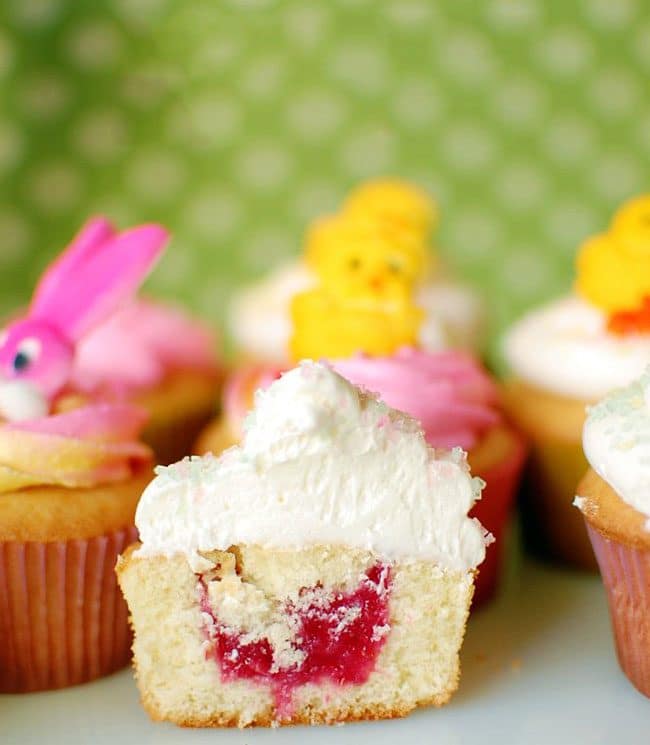 These raspberry filled cupcakes are oh so decadent! If you are a vanilla and raspberry, these are the cupcakes for you and make a wonderful Easter treat!
The cupcakes are really easy to make when you use my trick of making a box mix taste like homemade!
While the cupcakes are cooling, make the raspberry filling and vanilla buttercream frosting.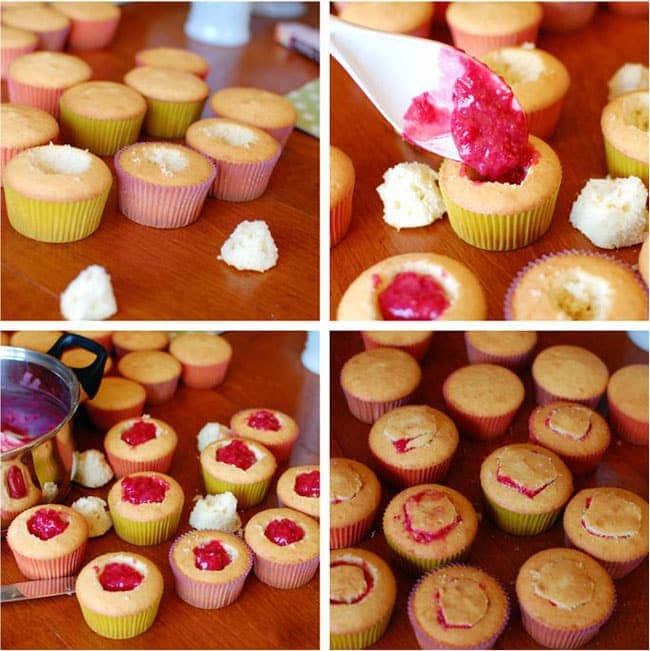 How To Fill Cupcakes
First, bake your cupcakes and let them cool completely.
Using a small knife with a pointed tip (like a paring knife), cut out a small cone-shaped section from the center of the cupcake. Set the cone-shaped section aside keeping it intact as much as possible
Spoon a little raspberry filling into the hole of each of the cupcakes.
Finally, replace the cupcake tops (just do the best you can- they will be covered with frosting) on each cupcake to cover the filling.
Now they are ready to frost.
Optional Method for Filling Cupcakes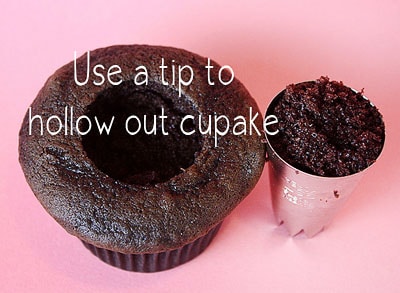 Use a large piping tip and press into the middle of each cupcake. Press the tip down about a third of the way and then remove it. It should remove a circle of cake from the center of the cupcake.
Then fill hollowed out cupcakes with filling.
Replace cupcake top that was removed and frost.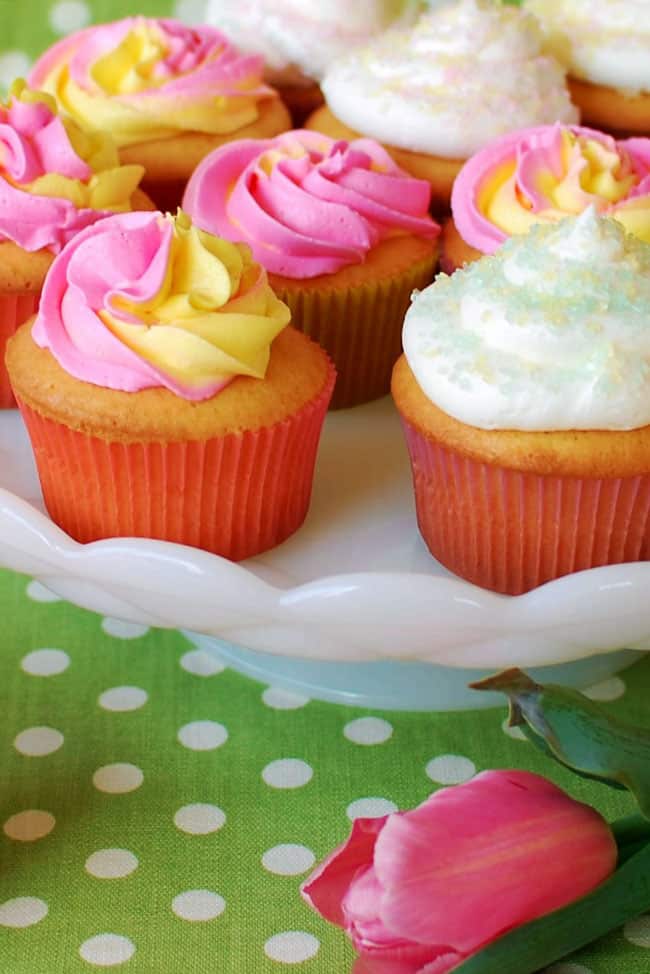 Not a fan of vanilla cupcakes? Chocolate raspberry filled cupcakes would be just as delicious!
If you enjoy filled cupcakes, you may want to check out the Chocolate Strawberry Filled Cupcakes I made.
Like This Raspberry Filled Cupcake Recipe? Pin It!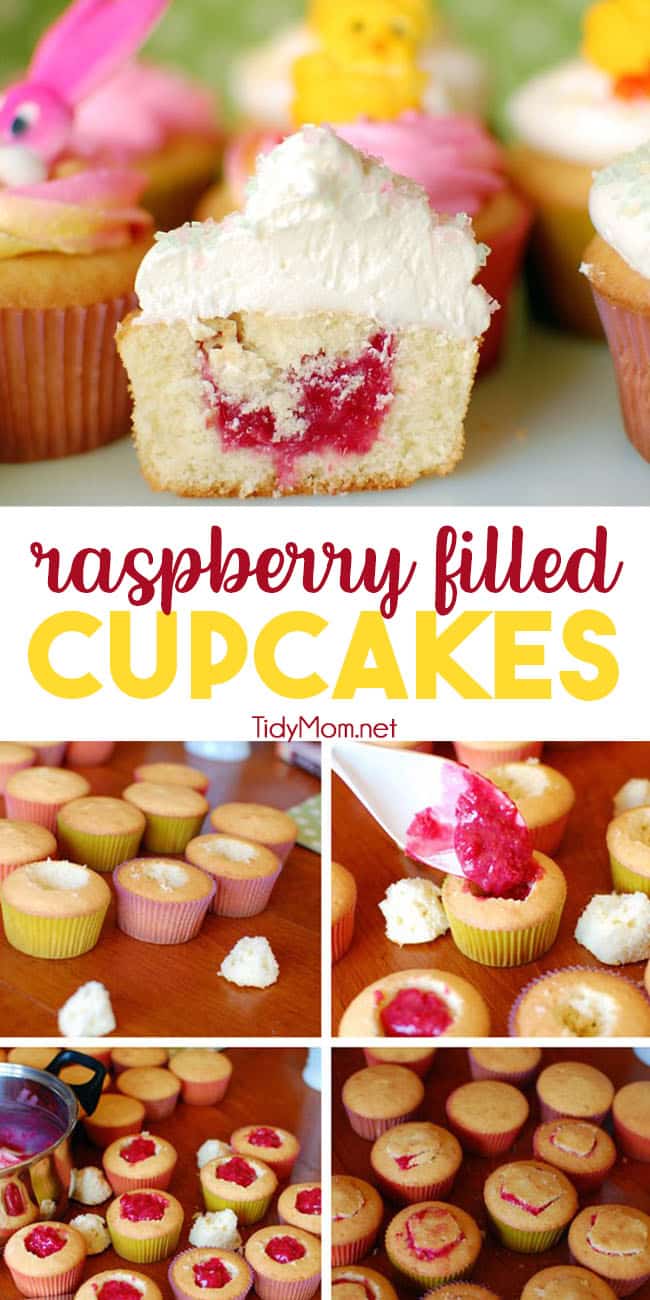 I created a fun little group on facebook and I'd love for you to join in! It's a place where you can share YOUR favorite recipes, home tips, creative ideas and ask questions and see what's new with TidyMom! If you'd like to check it out, you can request to join HERE. Be sure to follow me on Instagram and tag #tidymom so I can see all the wonderful TidyMom recipes YOU make and tips YOU use!
Connect with TidyMom! Facebook | Twitter | Google+ | Pinterest | Instagram
Sign up to receive an email in your inbox for each new recipe: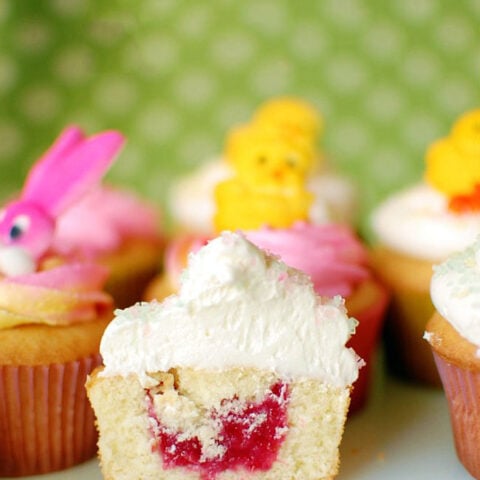 Raspberry Filled Vanilla Cupcakes with Butter Cream Frosting
Additional Time:
5 minutes
These Raspberry Filled Cupcakes are the perfect combo of vanilla and raspberry. Tender vanilla cupcakes are filled with a fresh raspberry filling, then topped with silky smooth vanilla buttercream. Perfect for any occasion!
Ingredients
Vanilla Cupcakes
Raspberry Filling
2 full cups frozen unsweetened raspberries, thaw with 1/4 cup sugar (or thaw sweetened raspberries with out adding sugar, unsweeted was what I had on hand)
1/3 cup sugar
1-1/4 cups water*
6 Tbsp flour (or 3 T. corn starch – I didn't have corn starch)
1 tsp lemon juice
Butter Cream Frosting
1 cup real butter (not margarine) *room temperature
1 cup vegetable shortening
pinch of salt
1 tsp vanilla
4 cups powdered (confectioners) sugar
1/4 – 1/3 cup heavy whipping cream
paste food coloring
Instructions
Vanilla Cupcakes
Preheat oven to 350° and place 24 cupcake papers in a muffin pan.
Melt the butter in the microwave.
Add cake mix, eggs and water to the butter in large bowl and mix on low for 1 min. Then, mix on high for 1 min. (your batter should be thick and creamy - not thin and runny like it is when you follow the box instructions)
Fill cupcake papers – tip: use an icecream scooper! – One scoop is just the right amount per cupcake!
Place cupcakes on middle rack in the oven for 20 minutes (or until inserted toothpick comes out clean)
Let cool.
Raspberry Filling
In a medium sauce pan, combine water*, sugar, flour and lemon juice and mix well. If there is any juice in your raspberries, drain the juice and add to water = 1-1/4 liquid. (I didn't have much juice at all, but if you by sweetened raspberries, they may yield more sauce.)
Heat and stir until mixture boils and thickens.
Cool completely.
Stir in thawed raspberries.
Yields approximately 2 cups of filling.
(I made 1/2 of this recipe because I didn't want to fill all of my cupcakes.)
Filling your cupcakes
Bake cupcakes and cool completely
Cut out a small cone shaped section in the center of the cupcake
add raspberry filling to the hole
replace the tops (just do the best you can- they don't have to be perfect)
Now they are ready to frost.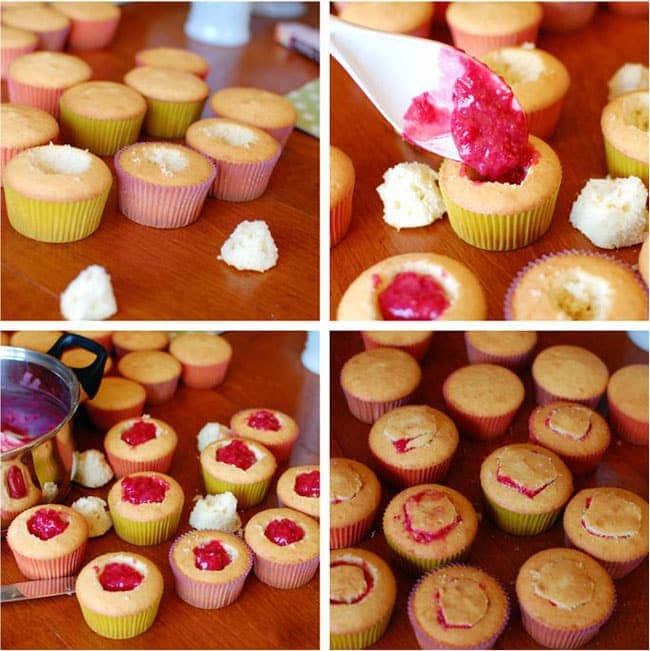 Butter Cream Frosting
Thoroughly cream butter and shortening . Beat in the vanilla. Add sugar, one cup at a time until blended. When the sugar is completely beaten in and the sides of the bowl are scraped down, add the whipping cream, beating at the highest speed until super fluffy, about one minute.
If you wish to add color to your frosting, like I did, use the gel paste food coloring. It's stronger and more vibrant. Add frosting to a pastry bag with your favorite tip and frost! I only filled 1/2 of my cupcakes, so I frosted the filled cupcakes in white frosting with sprinkles….the cupcakes with the pink and yellow frosting do not have filling.