How to Make Homemade Carrot Cake
Just as grocery carts are bursting with orange in the fall with all the pumpkins, in the spring they glow orange from all the carrots- as we celebrate Carrot Cake season!!  You have to love a cake that works in some veggies right?  This Homemade Carrot Cake is an easy classic recipe…. spring isn't complete without it!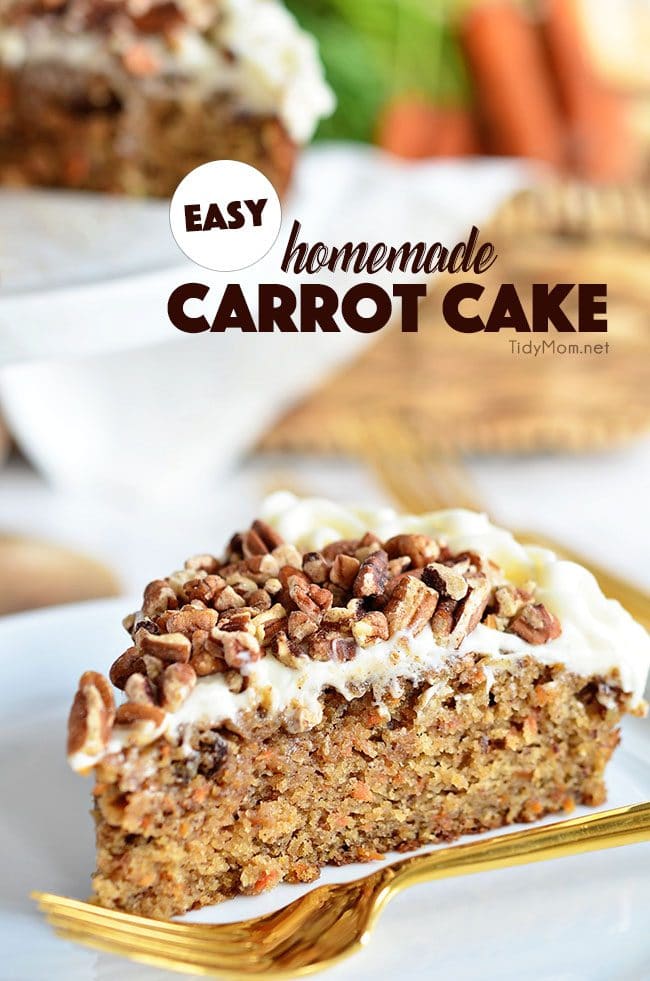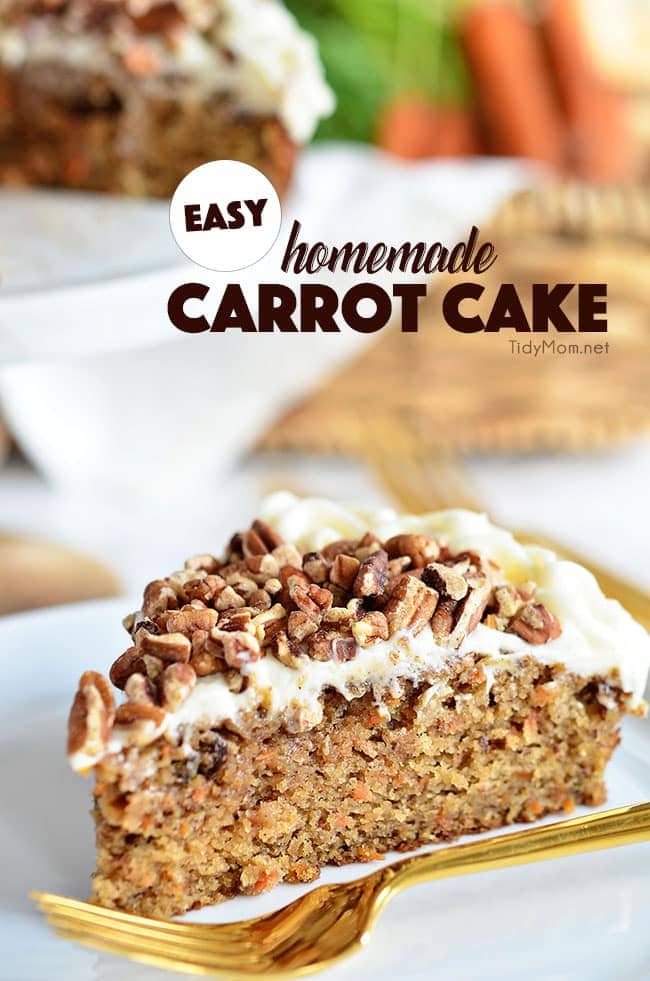 According to carrot cake history, no one really knows where carrot cake came from, It looks like it did evolve from the Carrot Pudding of medieval times, during the middle ages sugar and other sweeteners were difficult or expensive to come by in Britain and carrots were used as sugar substitutes.
While Carrot Cake as we know it today may be a far cry from it's ancestors, it's a favorite dessert this time of year and really easy to make from scratch (you'll never grab a box mix again).  A one layer carrot cake means no messing with perfectly level layers to stack or fancy decorating.  It's a great cake for beginners and pros alike. 
Are you ready to learn how to make a homemade carrot cake along with a few tips?!
Grate your carrots.  You can buy shredded carrots at the grocery store.  But to really make your carrot cake moist and delicious you're going to want to grate them yourself.  Of course, you can grate your carrots by hand with a grater, but if you have a food processor or even a blender, it will be so much faster and easier.  I love my little Kitchenaid 3.5 cup chopper for jobs like grating carrots.  I use baby carrots, about 1/2 of a one pound bag will yield 1½ cups grated carrots.
One bowl is all you need.  After grating your carrots, no other equipment is needed.  You can mix your carrot cake by hand (you can of course you an electric hand or stand mixer if you want).  Simply mix wet ingredients with a hand whisk, then fold in the flour, carrots and other mix-ins with a wooden spoon or spatula.  You want to be gentle with the batter once you've added the flour- don't over mix, so mixing it by hand is best.
Use brown sugar. Brown sugar will give your carrot cake more  flavor, as well as, yield a softer, more moist cake than if you use just white/granulated sugar.
Use applesauce in place of some of the oil.  It's such an easy way to reduce the fat and cut a few calories.
Customize with your favorite mix-ins.  One of the great things about carrot cake is, it's wonderful all on it's own or with a variety of mix-ins.  Try swapping the applesauce with crushed pineapple.  Want to add raisins or coconut? walnuts instead of pecans?  or leave out the nuts?  Use any combination of raisins, coconut and nuts just keep the total amount to 1/2-3/4 of a cup. Feel free to mix in whichever your family enjoys, or you can leave them out all together.
Carrot Cake stores well if you want to make it ahead of time.  Be sure to cool cake completely, then cover tightly in a few layers plastic wrap to seal it tightly (do not wrap the cake on a plate or platter).  Keep at room temperature.  If it's hot, you can store in refrigerator for 2-3 days.  Freeze for up to 1 month, thaw 8 hours or over night in refrigerator and bring to room temperature before frosting and serving.  Prepared frosting can be stored in refrigerator in an airtight container up to 3 days before using.  Bring to room temperature before frosting carrot cake.
Left over carrot cake? If for some reason you end up with left over stale cake, make a Carrot Cake shake: Blend stale cake with ice cream to make a decadent frozen treat.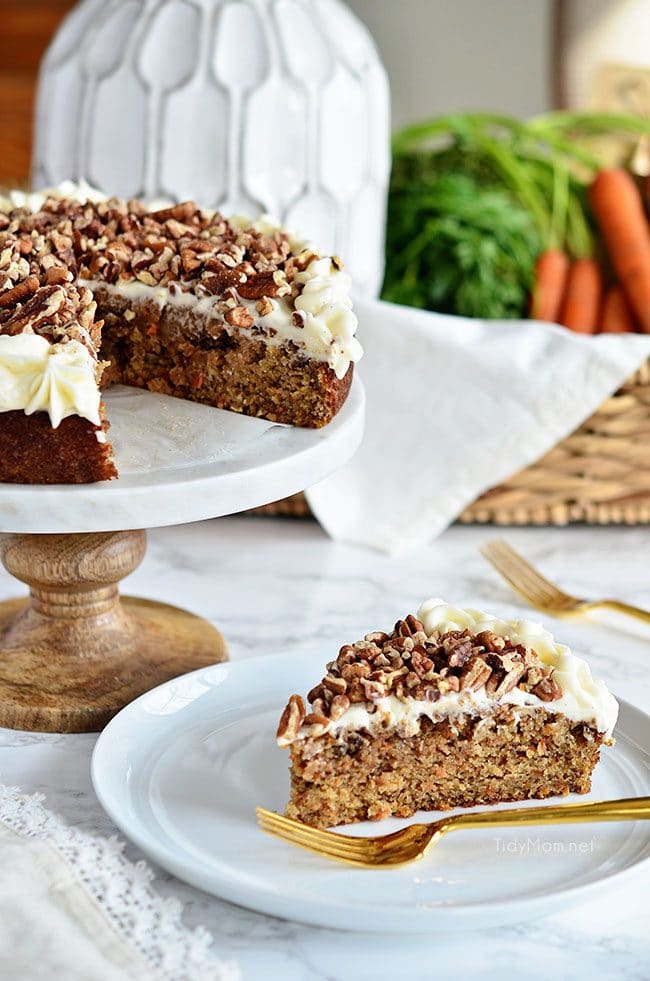 FOR THIS RECIPE, I RECOMMEND

The naturally sweet carrots, combined with brown sugar, applesauce and a surprise touch of ginger makes this carrot cake recipe a fantastic dessert for spring. The cream cheese frosting complements it perfectly and is not overly sweet.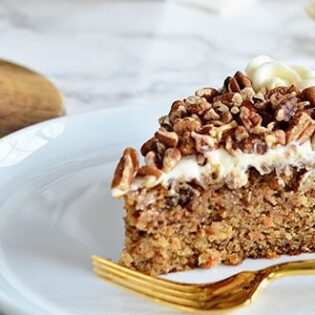 Homemade Carrot Cake
Ingredients:
3/4 cup dark brown sugar, packed
1/4 cup granulated sugar
1/2 cup canola oil (or vegetable oil)
6 tablespoons applesauce, unsweetened
2 eggs, large
1/2 teaspoon vanilla
1 teaspoon baking powder
1/2 teaspoon baking soda
1/2 teaspoon cinnamon
1/4 teaspoon ginger
pinch of nutmeg
pinch of salt
1 ¼ cups all-purpose flour
1½ cups grated carrots (about 1/2 pound of baby carrots)
1½ cups chopped pecans (divided)
For Cream Cheese Frosting
8 ounces cream cheese, softened
1/4 cup butter, softened
1 teaspoon vanilla bean paste (or vanilla extract)
2 cups powdered sugar
1 tablespoon heavy whipping cream
Directions:
for Carrot Cake:
preheat oven to 350 degrees F.  Grease and flour 8-inch or 9-inch cake pan. Set aside.
In a large bowl, using an electric mixer, whisk sugars, oil, applesauce, eggs and vanilla until well combined.  Add baking powder, baking soda, cinnamon, ginger, nutmeg and salt and continue whisking until incorporated.
Add flour to wet ingredients, and mix with a wooden spoon or spatula just until combined.  Fold in carrots and 1/2 cup pecans (remaining pecans are for garnish after frosting).
Pour cake batter into prepared cake pan.  Bake for 30 minutes, or until toothpick comes out clean.  Let cake cool in pan for 5-10 minutes, then turn out on cooling rack to cool completely.
for Cream Cheese Frosting:
Using a large bowl with electric mixer, beat cream cheese and butter until smooth.  Add vanilla, powdered sugar and cream.  Beat on low for 1 minute, increase speed to medium and continue beating for another minute.  Scrape sides of bowl if necessary,  increase speed to high and continue beating for another 2 minutes.
Assemble:
Place cake on stand or serving plate.  Using an offset spatula frost top of cake.
Place remaining frosting in decorators bag fitted with a 1M tip.  Pipe frosting around outer edge of top of cake.  Garnish center with remaining 1 cup chopped pecans.  Slice, serve and enjoy!
If you'd like to make cupcakes, bake for about 18-20 minutes. (should yield about 12 cupcakes)
If you'd like to make a layer cake, just double the recipes
According to Food Network Kitchens you should always refrigerate any cake that has cream cheese frosting. Take it out of the refrigerator an hour or two before you'd like to serve it so the frosting has time to come to room temperature and the cake layers lose their chill.
Making this recipe? Share it with us on Instagram using the hashtag #TidyMom so we can see what you're creating in the kitchen!
Want more great recipes like this? Follow my TidyMom Easy Recipes Pinterest Board
**Making this recipe?  Take a picture and share it on Instagram! Make sure to tag it #TidyMom so we can see what you're creating in the kitchen!
Want more great recipes like this? Follow my TidyMom Easy Recipes Pinterest Board
Follow Cheryl Sousan | Tidymom.net's board TidyMom.net easy recipes on Pinterest.


More Carrot Cake recipes you might enjoy!