Raspberry Filled Butter Cookie Recipe
If you follow my blog at all, you know how much I love the great people over at Lucky Leaf .  They are always sending me pie filling and other goodies along with fabulous recipes!!
The other day I received a can of Raspberry Pie filling from them!……I had no idea there was Raspberry Premium Pie Filling! and I'm a HUGE fan of raspberry!!!  I bet you could even use it with the Raspberry Filled Cupcakes I made a few months ago.
With all the holiday baking I didn't think I had time to squeeze in another recipe to my already long to do list!  But after a quick look, I realized how EASY these cookies were and best of all, I was already making my butter cookies to decorate, so I would have no problem pumping out a few of these delicious treats!
Leave Santa some cookies he will remember with these raspberry filled star butter cookies.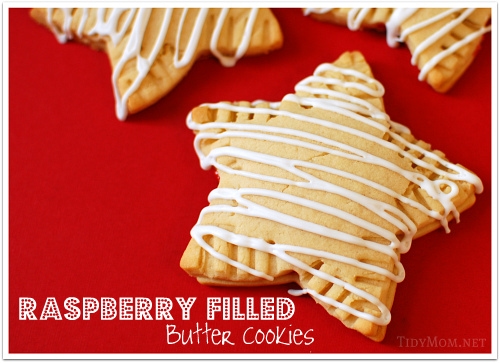 Raspberry Filled Butter Cookie Recipe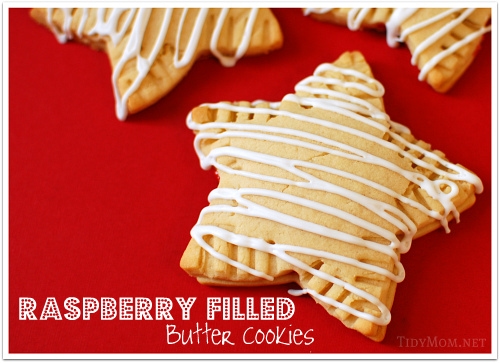 Ingredients
1 Prepared raw butter or sugar cookie dough of your choice.
1 (21 oz) can Lucky Leaf Premium Raspberry Pie Filling
Glaze or Royal Icing
Instructions
Preheat oven to 350 degrees.
Mix cookie dough. *I used my favorite Butter Cookie Recipe, or you could use Bridget's Sugar Cookie or even buy Pillsbury refrigerated cookie dough!
Roll out cookie dough to about 1/4? thickness *you may want to see my video on University of Cookie on how I roll out cookie dough
Use a star cookie cutter (or cutter of your choice) to cut out an even amount of cookies and place 1/2 of them on baking sheet
Place a dollop of pie filling in the center of each cookie
Place another star cookie on top.
Gently seal cookie with a fork to crimp edges together.
Bake for 12-14 minutes or until golden brown.
Remove from oven and let cool completely.
Drizzle with Glaze Icing
https://tidymom.net/raspberry-filled-butter-cookie-recipe/
Copyright© 2009-2013 TidyMom.Net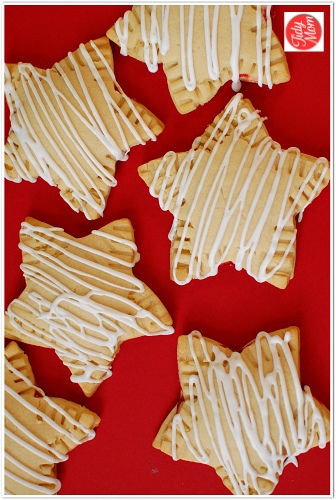 ENJOY!!!!!
I also want to tell you about the second annual Lucky Leaf Made with Love Recipe Contest that is underway YOU could be the grand prize winner of $4,000 – all you have to do is enter! More information on the contest, as well as rules and regulations, can be found here: http://www.luckyleaf.com/Promotions/MadeWithLove/. All three finalists in the contest receive a two day/one night trip to the Better Homes and Gardens Test Kitchen in Des Moines, IA, for the Bake-Off in April 2011 and two runners up will receive a $500 prize. – How AWESOME would THAT be!!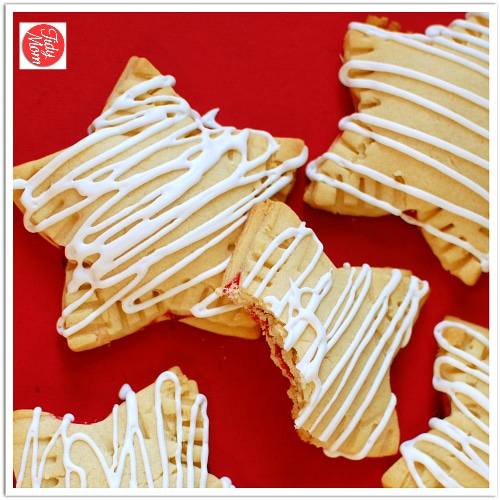 Are you baking cookies for the holidays?  I have a few more to share over the next few days.  I'd love to hear what you are baking!
More cookies you may enjoy:
Chocolate Peppermint Crinkle Cookies
I linked this post up to Family Fresh Cooking

(The lovely folks from Lucky Leaf provided me with the pie filling and recipe.  I was not compensated to tell you how much I love their pie filling or recipe! )