Cleaning with Vinegar – I'm Lovin' It
This post may contain Amazon or other affiliate links. As an Amazon associate, I earn from qualifying purchases.
One of my favorite cleaning "products" is distilled white vinegar. It could possibly be the only cleaning product you will ever need!! It's powerful, economical and best of all, natural!
The uses for distilled white vinegar are nearly endless, but I thought I'd share my Top 10 tips on How to Clean with Vinegar: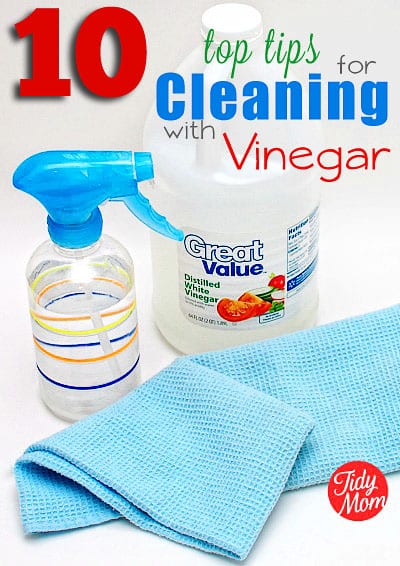 1. Cleaning Windows. I keep a spray bottle filled with half vinegar, half water then wipe clean with either newspapers or lint free cloth.
2. Dusting. For daily dusting I keep a spray bottle filled with half vinegar, half water and lightly spray a cloth diaper and dust all surfaces in my house.
3. Carpet spills. First I use a cloth to soak up as much of the liquid as possible. Next, I spray a bottle filled with a mixture of half vinegar, half water. Let stand for about two minutes, then blot with towel or sponge. Repeat as needed. MORE: Carpet Cleaning Tips
4. Clean Hard Water Build Up. We have hard water, so things like faucet and shower heads get gunked up. I remove the heads and soak in a bow of vinegar in til loose, then scrub with a brush. They will then look brand new!
5. Clean Coffee Maker. Again, the hard water builds up in my coffee maker, making it take much longer to brew a pot of coffee. Fill coffee pot with 1/2 vinegar and 1/2 water and pour thru machine (no need to turn it on, it donesn't have to heat up). I then run about 4-5 pots of clear water thru to clean out all traces of vinegar. I make coffee daily, so I do this once a month.
6. Clean No-wax floors. Using a solution of 1 cup vinegar per gallon of water clean no-wax floors for a shiny surface.
7. Prevent Mildew in Shower. I spray shower walls and shower curtain with half vinegar and half water to help prevent mildew.
8. Remove odors from kitchen sink. I wipe down entire sink with straight vinegar (great for removing waterspots too) then pour one cup of vinegar down drain, wait one hour before rinsing. (I throw a towel across the faucet to help me remember not to use it)
9. Clean and deodorize microwave. Using a microwave-safe bowl, fill with 1/2 cup of vinegar and 1 cup water. Place in the microwave, and cook long enough to boil. Let it sit in microwave while it cools. You can then easily wipe down inside of microwave and lingering odors should disappear.
10. Clean refrigerator. Mix a gallon of warm water and 2 cups of vinegar to wipe down inside of refrigerator, including shelves, walls, and jars. Your refrigerator will be clean and smelling clean with out harming any food.
Bonus tip for Cleaning with Vinegar
Feng Shui masters say that clogged drains deplete finances, health, aspirations, travel, clog sinuses, and simply, wreak havoc in general. I don't know about you……..but a clogged drain can be rather pesky and annoying, not to mention, rather costly if you have to call in a plumber. Learn about this NATURAL HOMEMADE DRAIN CLEANER.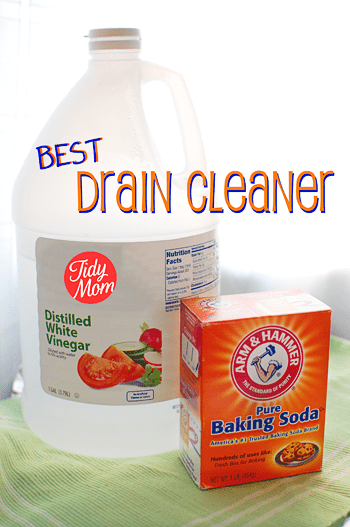 MORE: Tidy Home Tips
Thank you for sharing so many wonderful projects, recipes and crafts again last week ! You can link up thru Sunday evening or come back next week and link up for another
I'm Lovin' It
, who knows maybe next week I will be featuring you!
Let's get this party started!! It's time to link up all your great ideas to "I'm Lovin' It Party" (remember, each week I will share some of my favorites who link up!)

I'm Lovin'……. Cleaning with Vinegar
Now it's your turn! Please remember to link back to https://TidyMom.net
Let us know what you're lovin' this week!
What is I'm Lovin' It Fridays? get all the info, how to's trouble shoot and button here *All photos submitted to the I'm Lovin It linky party, grant the rights to display their photo on this website and other sites I write for. Proper credit will always be given. TidyMom is not responsible for stolen images or the mis-use by others who have found your image through TidyMom.net.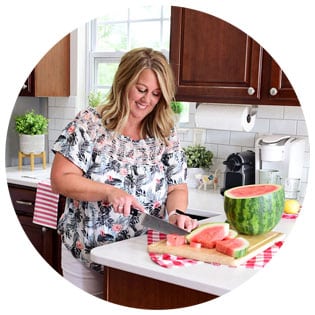 Hi there, I'm Cheryl!
As a wife, mom, and caffeine enthusiast, my journey has taken me from bustling mornings with my family to sharing delicious recipes, home care tips, and heartfelt decorating insights with wonderful readers like you. My love for baking, photography, and tidiness shines through every post I craft. Dive into my world and discover the art of homemaking, one tidy moment at a time. Read more...
Tidymom is a participant in the amazon services llc associates program, an affiliate advertising program designed to provide a means for sites to earn advertising fees by advertising and linking to Amazon.com.
Please respect my work, recipes and photographs. If you do use a recipe in your own writing, please give proper credit and link back to the original post.