Spring Cleaning Challenge: The Kitchen #SpringCleaning12
This post may contain Amazon or other affiliate links. As an Amazon associate, I earn from qualifying purchases.
Follow these 10 steps to get your kitchen clean enough for a food inspector's seal of approval, just in time for spring cleaning!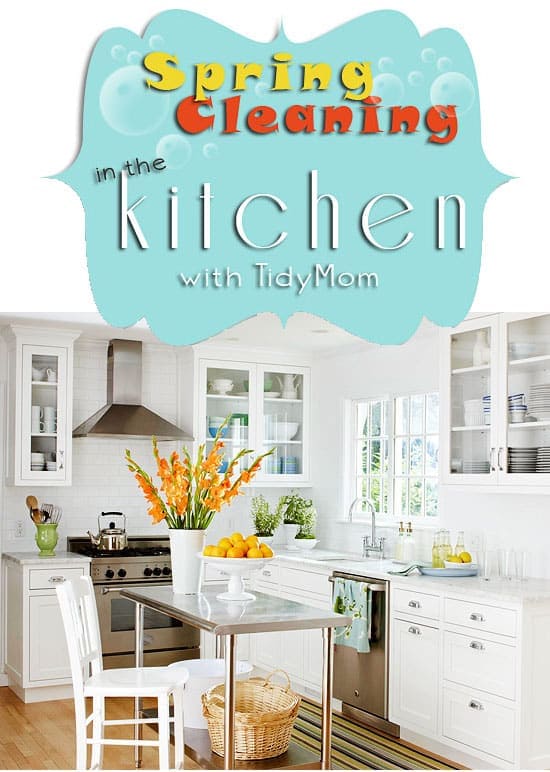 photo credit: BHG
Today is the first day of Spring, everything outdoors is starting to look fresh and new again, which gets me in the mood to do the same indoors.
Last week I mentioned today would start the Spring Cleaning Challenge and I'm tackling the kitchen.
Spring cleaning is especially important in the kitchen. I stay on top of my kitchen on a daily basis, but a least once a year I follow these extra steps to get my kitchen clean enough for a food inspector's seal of approval.
10 Steps for Spring Cleaning in the Kitchen
Start by removing all clutter and disinfecting counter-tops and dishtowels and then crank up some music and follow these extra steps:
1. Dust and wipe down walls
use this time to clean the grease, grime, and spilled food from your walls. Check corners for cobwebs and dust down corners and trim.
2. Dust and clean items hanging on walls and on top of cabinets.
Wipe down frames and glass and anything hanging on the walls. Don't forget air vents, doorknobs, doors, switch plates. If you have items on top of your kitchen cabinets, they may need a good scrubbing, as those items tend to get a grease and dust stuck to them. Fill a sink with hot water and dish washing soap to help cut thru grease.
3. Dust and clean light fixtures.
Take down any light fixtures and gently wash and dry them before replacing. If you have a light with exposed light bulb, turn the light off and when it's cool, dust light bulbs too.
4. Clean windows and window treatments.
Vacuum and clean windowsills. Wash windows, inside and out. Be sure to take down and rinse off screens, before replacing. Remove window treatments and blinds/shades and clean according to manufacture's instructions. How to clean blinds. My easy window cleaning tip.
5. Clean inside of cabinets and drawers.
Remove everything from inside cabinets , wipe down shelves, and replace and reorganize items. Do the same for drawers. This is a good time to go thru and clean out unused and expired items.
6. Clean appliances.
If you don't have a self cleaning oven, spray oven cleaner and let it work while you clean other appliances. Don't forget to open windows in the kitchen to avoid the overpowering smell.
Refrigerator – Throw out expired food, and remove everything, placing the items to keep on the counter or table. Remove refrigerator shelves and drawers. Wash them down, being careful with glass shelves. Wipe down the entire interior of the refrigerator and freezer with the baking-soda solution, and wipe it dry before replacing shelves and food. Pull refrigerator out, if you can, and unplug and clean behind and underneath. See my favorite tool for this, my refrigerator coil brush.
Microwave – Start with a damp rag and wipe out any lose crumbs from interior. Then, fill a microwave safe bowl or cup with 4-5 tablespoons baking soda or one-half cup lemon juice and water and heat mixture on high for two to three minutes. When time is up, let it sit for five minutes, then carefully remove cup or bowl and wipe down interior effortlessly with a damp cloth. If you still have stains, try damping your rag with vinegar or a little baking soda to gently scrub away stains. Don't forget to remove and wash glass turntable. Once everything is sparkling again, leave the door open to air out for bit. Clean exterior and door with only warm, soapy water and soft cloth. Wipe control panels with a barely damp (not wet) cloth; moisture behind the panel could ruin the oven.
Oven/Stove – Wipe down and clean out the oven according to the directions on the oven cleaner. Remove, knobs, burners, burner covers, and spill catchers off of the stove and wipe off food spills and splatters, for glass cook tops use a dab of commercial cooktop cleaner on a dry paper towel, and then wipe off the cleaner with another dry towel.
7. Wipe down and clean small appliances.
Unplug all appliances first.
Mixer – Wash beaters by hand, wipe down base with a damp cloth. If the vent is clogged, loosen the dirt with a toothpick or toothbrush, then vacuum it out.
Toaster/Toaster oven – clean out crumbs and wipe down the interior and exterior. Be sure to remove racks; wash them in warm, soapy water.
Coffee Maker – Pour equal parts white vinegar and water into the tank, and run the machine. Empty out carafe and run two or three cycles with fresh water before brewing coffee. Wash carafe and any other removable parts in hot soapy water and wipe down exterior of machine. For any hard water build up on outside of machine, use a cloth soaked in vinegar to removed hard water crust.
8. Clean and shine sink and drain.
Clean your drain with baking soda and vinegar, If you have a garbage disposal, put ice cubes through the disposal to sharpen the blades. Read my post on how to clean/freshen or unclog a drain with vinegar and baking soda. Make you sink shine, by filling your sink to the rim with HOT water and 1 cup of bleach, let it sit for one hour, then remove plug (using tongs or wear gloves), rinse then scrub your sink and faucet with a mild abrasive, I LOVE Barkeepers Friend, rinse thoroughly and finish with a little window cleaner and a paper towel. How to make your sink shine with the Fly Lady.
9. Clean garbage cans.
Wash inside and out with a strong bleach solution (about 3/4 cup per gallon of water).
10. Sweep and mop the floors.
Although this is a step you already do on a regular basis, use spring cleaning to do an extra good job, move furniture to get underneath, get corners, baseboards and even get down on your hands and knees if you can for even a closer clean.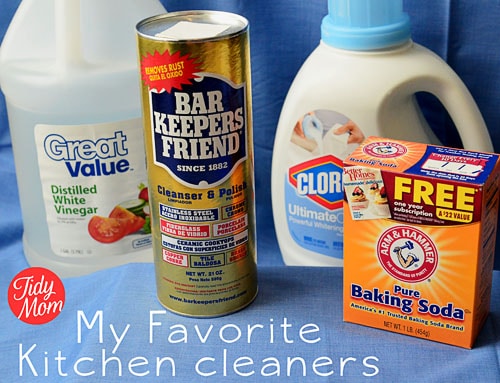 Distilled White Vinegar | Bar Keepers Friend | Bleach | Baking Soda
Count Down to Clean Series (with free Daily, Weekly, Monthly and Annual cleaning checklist to print)
Need other Spring Cleaning Tips
Spring Clean : The Why :: Home-EC 101
Spring Clean: Bathrooms :: i Dream of Clean
Spring Clean: Floors and Windows :: Amy's Finer Things
Spring Clean: The Kitchen :: Tidy Mom
Spring Clean: Home Office :: Untrained Housewife
Spring Clean: Declutter Around the House :: Live Renewed
Spring Clean : Main Living Area :: Biblical Homemaking
Spring Clean: Conquering the Kids' Room :: Living Well Spending Less
Spring Clean: Outdoor Living Spaces :: The Greenbacks Gal
Spring Clean: Garage and Cars :: Organize365
Now it's YOUR turn! Let's see what Spring Cleaning you've been up to!
EDITED: GIVEAWAY HAS ENDED

Disclaimer: Giveaway prizes are provided by GE Appliances, The Stow Company and Shark Clean. I was asked to join the Spring Cleaning Challenge by Christine of I Dream of Clean, and was not compensated for this post.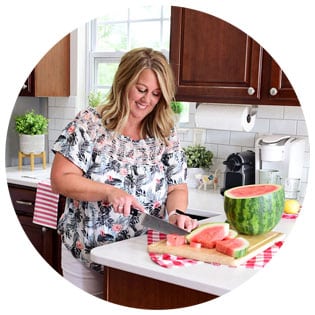 Hi there, I'm Cheryl!
As a wife, mom, and caffeine enthusiast, my journey has taken me from bustling mornings with my family to sharing delicious recipes, home care tips, and heartfelt decorating insights with wonderful readers like you. My love for baking, photography, and tidiness shines through every post I craft. Dive into my world and discover the art of homemaking, one tidy moment at a time. Read more...
Tidymom is a participant in the amazon services llc associates program, an affiliate advertising program designed to provide a means for sites to earn advertising fees by advertising and linking to Amazon.com.
Please respect my work, recipes and photographs. If you do use a recipe in your own writing, please give proper credit and link back to the original post.