Honey-Lime Chicken Enchiladas
W

ith Cinco de Mayo quickly approaching I thought it would be a good time to share a new recipe we tried recently that will definitely be added to our rotation of family favorites!!
I had never made, and I'm not sure I had ever eaten, enchiladas but it certainly sounded like something we'd like, and this one got two thumbs up from everyone!
Any time I find a recipe that is liked by the whole family……it's a keeper for me!!

It doesn't take a pretty picture, but it sure is delicious!!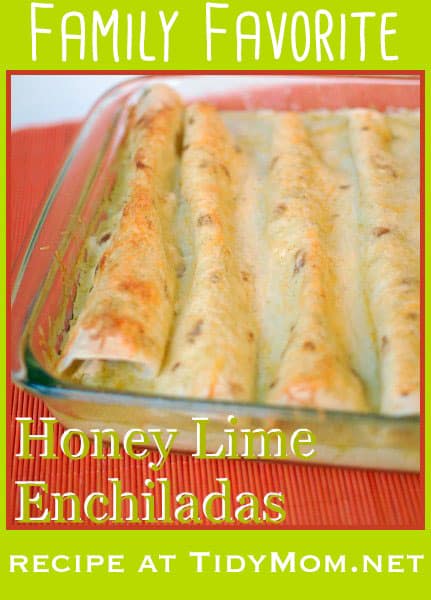 Honey-Lime Chicken Enchiladas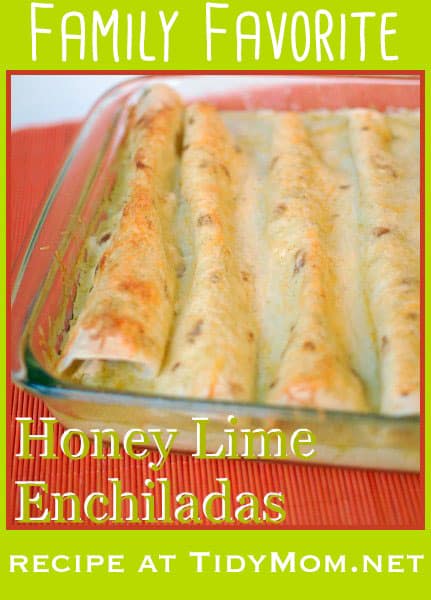 *This recipe does require some prep time – about 45 mins if you're using cooked chicken or about 1 hour 15 mins. if you need to cook your chicken.
Ingredients
Chicken

2 pounds chicken, cooked and shredded

Sauce

3 T. honey
1/4 c lime juice
1 Tb chipotle chili powder
1/2 tsp garlic powder
2 (10 oz) cans green enchilada sauce (mild)
3-4 cups Monterey Jack cheese, shredded
cheddar cheese, shredded
1/2 cup heavy whipping cream
6 flour tortillas
Instructions
I put a few thawed chicken breasts in a 350° oven for about 35-40min, then shred (you could do this a head of time, even the day before) – or you could use a cooked rotisserie chicken from the grocer.
Mix together sauce ingredients then add to chicken. Let it marinate with the meat for about 30 minutes.
Lightly spray a 9×13 pan with no-stick spray.
Pour enough enchilada sauce to cover the bottom of the pan (about 1/2 to 3/4 cup).
Fill flour tortillas with chicken and *shredded cheese and just a little enchilada sauce (*be sure to save about 1 cup of cheese to sprinkle on top of enchiladas).
Roll and place filled enchiladas in pan on top of sauce.
Mix the remaining enchilada sauce with the cream and leftover marinade, if you have any.
Pour sauce on top of the enchiladas and sprinkle with remaining cheese.
Bake uncovered at 350 degrees for 30 minutes until brown on top.
Then turn on broiler and place enchiladas nearer the top of oven. Let it broil until cheese is slightly brown and crispy. (I forgot to do this, but can't wait to do this the next time I make them)
https://tidymom.net/honey-lime-chicken-enchiladas/
Copyright© 2009-2013 TidyMom.Net
NEW FEATURE: Save recipes to your personal recipe box with the

Once you have your favorite recipes in your Recipe Box create a Meal Plan with them and the ingredients will automatically be added to a Grocery List!
Give it a try……….I bet your family will thank you as much as mine did!!
 Craving more? Sign up for the TidyMom newsletter to stay on top of what's new right to your inbox! And stay in touch on Facebook, Twitter, Google+ and Pinterest for all of the latest updates