Toasted Coconut German Chocolate Cake
A sweet chocolate cake is paired with rum infused toasted coconut pecan frosting and chocolate ganache. Jaw dropping gorgeous Toasted Coconut German Chocolate Cake.
If you like my Upside Down German Chocolate Cake, your going to love this cake recipe I have for you today!!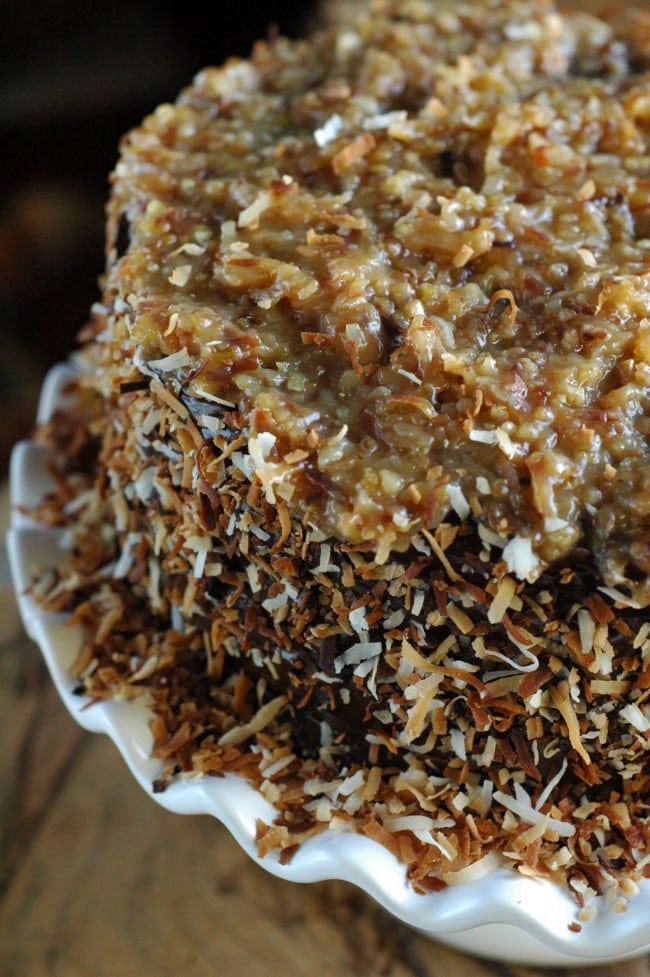 Hi there! I'm Dani and I'm so excited to be visiting here at Cheryl's blog today! My husband Kevin and I write the blog The Adventure Bite where we share our favorite recipes, tutorials on fermented foods & beverages and stories from our adventures in micro farming. We are big believers in eating real whole foods that your grandma would recognize….including desserts! I am thrilled to be sharing one of our new favorite cakes with you this morning.
Do you love German Chocolate Cake? If you do, I hope you don't mind that you may never make your current recipe again after you try this one. And if you don't, I can confidently tell you that you'll be ready to reconsider that choice after you are done reading.
Can I tell you a secret? Until I made this German Chocolate Cake I pretty much always avoided said cake if I had the choice. I so wanted to like this cake. The chocolate, the gooey filling, the pecans…all of these things rank high on my list of delicious things. It was just the darn coconut that got me.
I know that all the coconut lovers just gave me the evil eye. But to my credit I do like the flavor of coconut, it's the almost waxy like texture that ruins it for me.
It's been almost seven years since my first "adventure bite" and there are still a small handful of things that I haven't been able to convince my mouth to like. Coconut up until this week was on that list. But my dad's favorite cake is German Chocolate Cake so I set out to see if there was a way to make it palatable for both of us.
I am happy and somewhat embarrassed to tell you that I ate three substantial pieces of this cake in its very short lived life. I mean really look at this cake….how could this not taste good?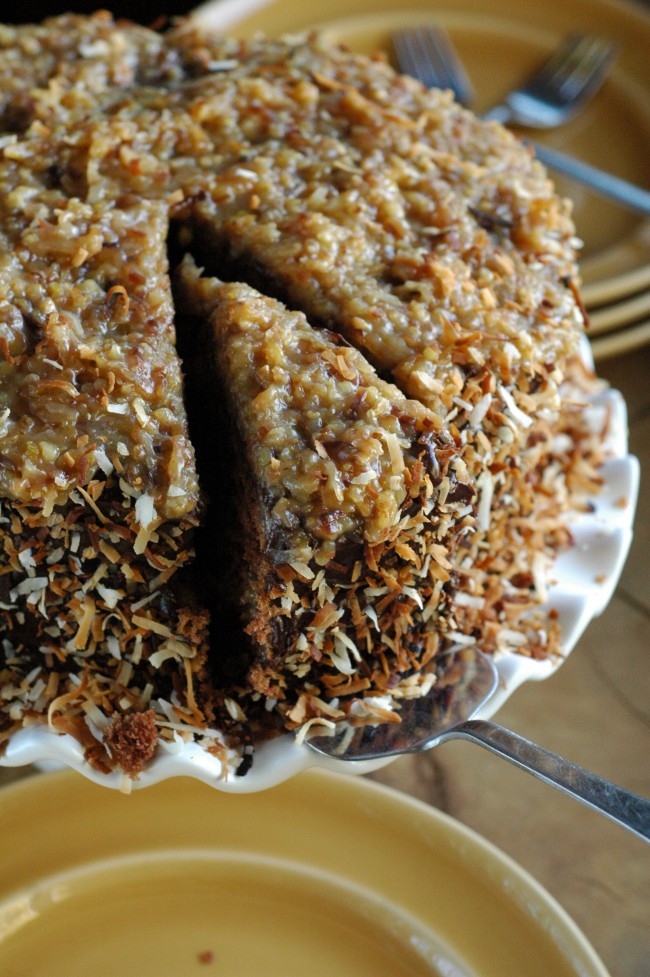 Toasted Coconut German Chocolate Cake
The secret to this magical transformation is two things…..rum (because what isn't better with rum?) and perfectly toasting your coconut.
You may have discovered already that roasting root vegetables magically transforms them from a rather boring side dish to something that steals the show. Fortunately for us this principle holds true for coconut, changing from a waxy chewy substance to a light slightly crunchy heavenly smelling I-had-to-make-more-because-I-ate-3-handfuls kind of delicacy.
Seriously! Me a coconut hater eating coconut by the handful has to prove something!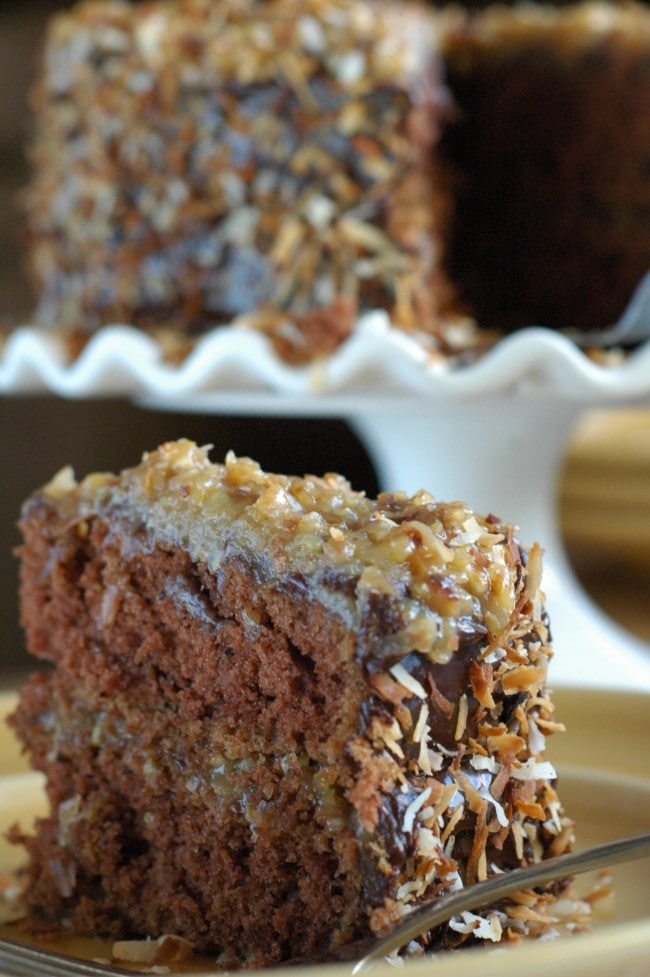 Making a multi-layer cake from scratch can seem like an overwhelming task, but it's actually really just 3 simple recipes. You can make the cake part a day or two ahead of time and wrap it in cellophane to stay fresh, and each frosting can be made ahead of time too if needed!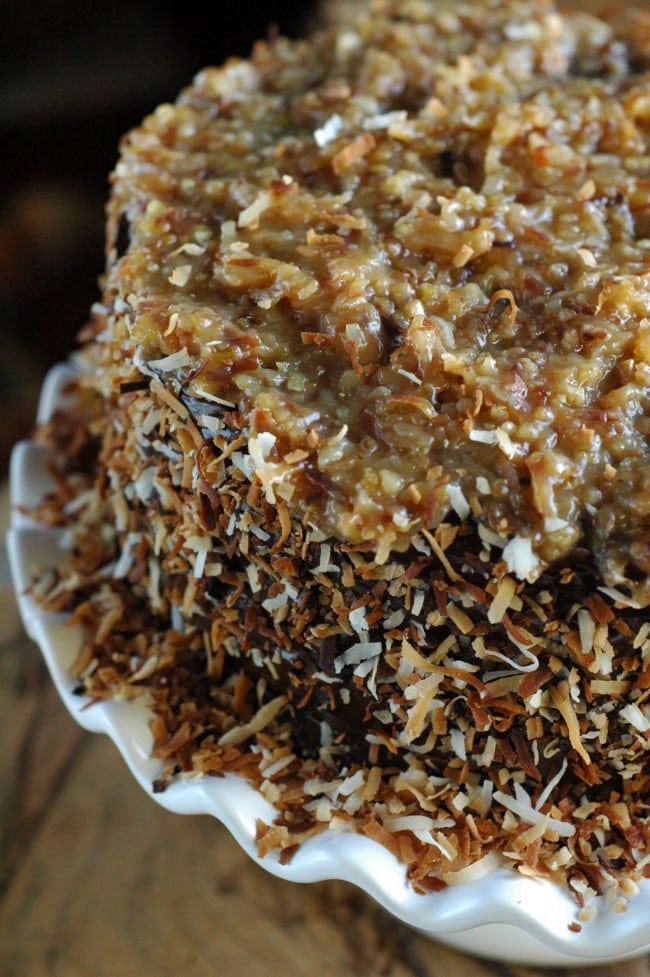 You are guaranteed to wow some dinner guests with this beauty!
You may have leftover ganache so I won't judge if you feel the need to help yourself to some of that too on your slice. One can't ever have too much chocolate…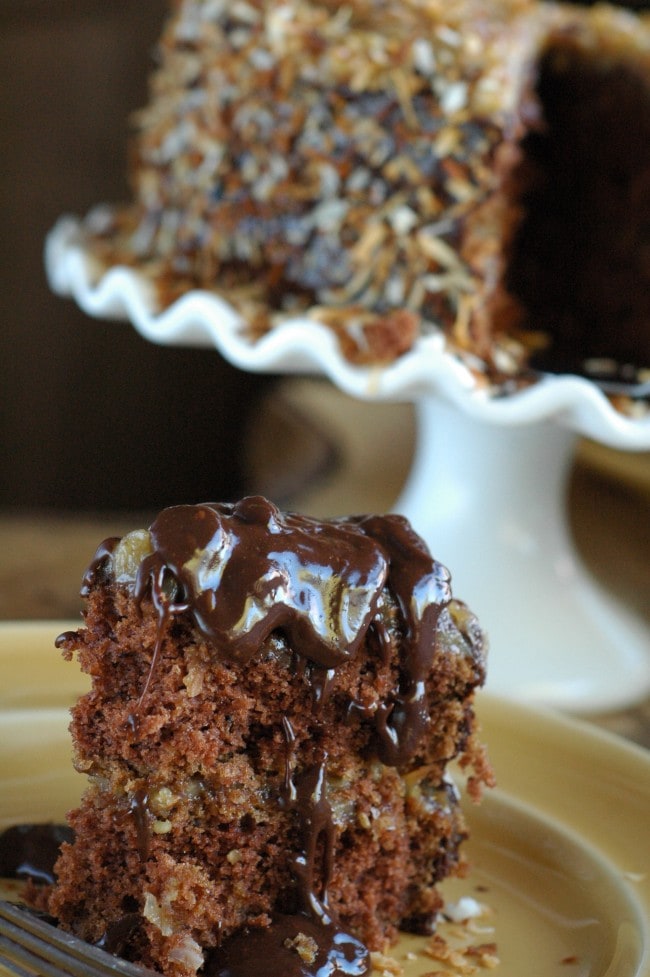 I should also tell you that leftover ganache turns into chocolate truffle filling when it gets cold….I'm not admitting to it but someone in our house has been sneaking spoonfuls out of the leftover container whenever they have needed a chocolate fix this week.
Thanks so much for letting us visit with you today and be sure to come over to the blog to say hi! Thanks again to Cheryl for being such a gracious and generous host to us!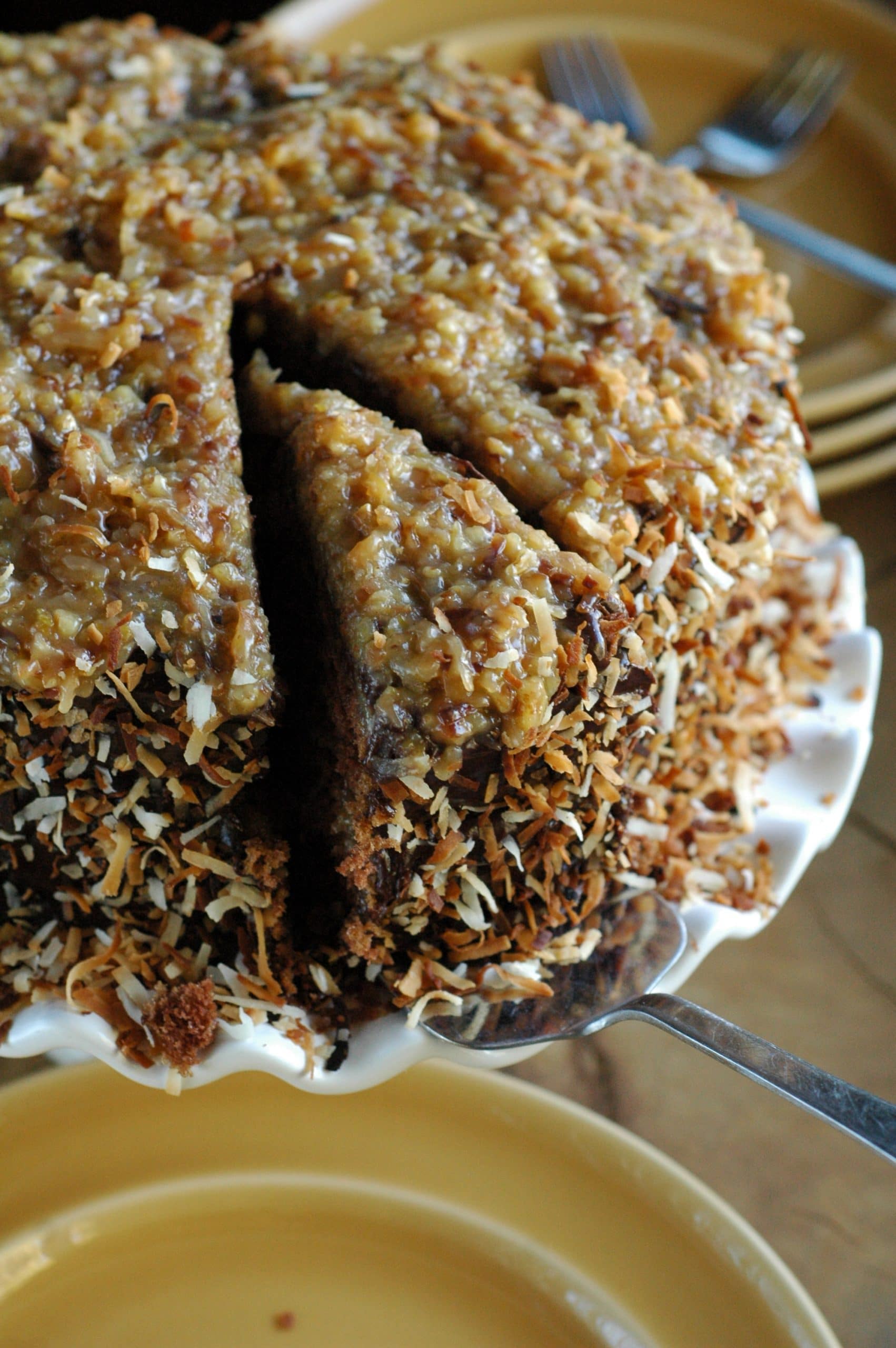 Toasted Coconut German Chocolate Cake
Yield: 12 servings
Prep Time: 1 hour
Cook Time: 1 hour
Total Time: 2 hours
Sweet chocolate cake is paired with rum infused toasted coconut pecan frosting and chocolate ganache.
Ingredients
Cake
1 pkg. (4 oz.) BAKER'S GERMAN'S Sweet Chocolate
1/2 cup water
1 teaspoon vanilla extract
3 eggs, separated
2 cups flour
1 teaspoon baking soda
1/4 teaspoon salt
3/4 cup butter, softened
1 1/2 cups sugar
1 cup buttermilk
Pecan Frosting
1 cup pecans
1 1/2 cups sweetened coconut
6 tablespoons butter, cut into pieces
1 tablespoon rum
1 cup heavy cream
3/4 cup sugar
3 egg yolks
Chocolate Ganache
4 oz unsweetened baking chocolate, chopped
4 oz (3/4 cup) milk chocolate chips
1 tablespoon corn syrup
3 tablespoons coconut oil
1 tablespoon rum
1 cup heavy cream
Instructions
Cake
Preheat oven to 350 degrees.
Combine chocolate and water, stir over low heat until chocolate is melted. Set aside and allow to cool.
Beat egg whites to stiff peaks. Set aside.
Combine dry ingredients. Set aside.
In a large mixing bowl cream butter and sugar until light and fluffy (2-3 minutes). Add egg yolks one at a time and beat well after each addition.
Add vanilla and cooled chocolate to mixture. Mix well.
Add alternating additions of the dry mixture and buttermilk, beating well after each addition.
Fold in egg whites.
Bake in 2 greased 9 inch pans until toothpick comes out clean (about 25 minutes for me at high altitude, may take up to 35 minutes)
Pecan-Coconut Filling:
Pulse your pecans in your food processor until they are a course crumb texture. Set aside.
Toast your coconut in the oven using the broiler on high, watching closely to prevent burning. Allow them to develop color for 4-5 minutes and then stir them, bringing the untoasted coconut to the top. After the initial few minutes it will cook faster, so watch carefully and stir frequently until you when you have nice golden color and fragrant smell. Set aside, reserving 1/2 cup for decorating.
Make the custard base: mix cream, sugar and egg yolks in a medium saucepan. Stir continually over medium heat until it is thick and coats the back of a spoon. If you are not confident it is finished you may check that it has reached 170 degrees with an instant read thermometer.
Removed from heat and add nuts, toasted coconut, butter and rum. Stir together until butter is melted. Cool to room temperature.
Ganache
Melt coconut oil in medium saucepan. Add chocolate, corn syrup and rum.
In small saucepan heat cream until just beginning to boil.
Pour cream over chocolate mixture and stir until smooth. If chocolate does not melt completely, stir continually over low heat until chocolate is melted.
Cool until thickened but still spreadable, around 20-30 minutes.
Assembling The Cake
Spread Coconut Pecan Frosting between the two cooled cake layers.
Spread the ganache over the whole cake slowly, using a butter knife or frosting knife to guide it down sides and smooth all around.
Add the remaining Coconut Pecan Frosting in heaping spoonfuls to the top of the cake and spread gently to add a layer of this frosting over the top of the ganache layer.
Add the remaining toasted coconut to the sides of the cake. You can press the coconut gently onto the ganache with a spoon or very gently toss small handfuls of it onto the sides so it sticks to the ganache.
ABOUT THE ADVENTURE BITE
We welcome you to come visit our little corner of the web where we share our journey with food, fermenting anything we can, micro farming and choosing an intentionally simple life with our young family. The table's always open so come on over! →VISIT OUR BLOG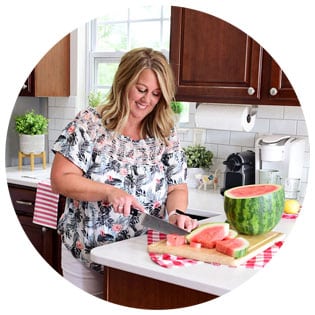 Hi there, I'm Cheryl!
As a wife, mom, and caffeine enthusiast, my journey has taken me from bustling mornings with my family to sharing delicious recipes, home care tips, and heartfelt decorating insights with wonderful readers like you. My love for baking, photography, and tidiness shines through every post I craft. Dive into my world and discover the art of homemaking, one tidy moment at a time. Read more...
Tidymom is a participant in the amazon services llc associates program, an affiliate advertising program designed to provide a means for sites to earn advertising fees by advertising and linking to Amazon.com.
Please respect my work, recipes and photographs. If you do use a recipe in your own writing, please give proper credit and link back to the original post.