Cake Batter Puppy Chow Snack Mix Recipe
Cake Batter Puppy Chow Snack Mix is a doggone good crispy chocolate-covered snack mix with the flavor of cake batter built in! Also known as Muddy Buddies but everyone will call them addictingly delicious!
Be sure to sign up for my email… to get new recipes and ideas in your inbox!
If you are as wild about snack mixes as we are you don't want to miss our Crock Pot Chex Mix, Pumpkin Spice Chex Mix, Santa Munch and Spicy Ranch Goldfish Snack Mix for your next party!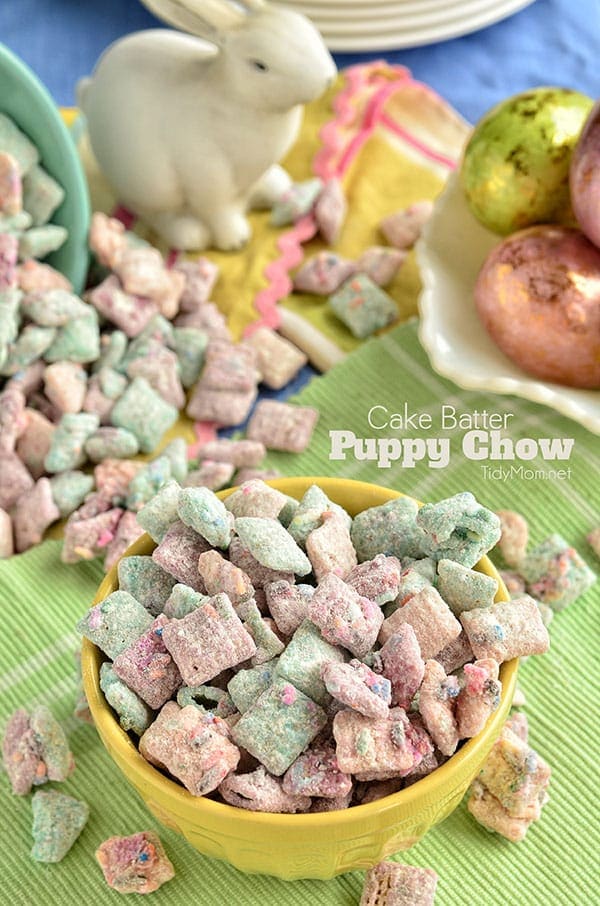 SAVE this recipe to Pinterest!
Cake Batter Puppy Chow Snack Mix
Sometimes you need a quick snack recipe…….and today's your lucky day………I've got you covered! Do you have 10 minutes? Then I have a super easy snack mix that kids and adults will devour!
Growing up, we made my mom's puppy chow recipe for every party or family gathering. The cereal coated with melted chocolate, peanut butter, and powdered sugar was a snack mix that hardly anyone could resist. And the reason behind the funny name is apparent to anyone who had ever fed their dog the white powdered Purina Puppy Chow.
Despite the name, this puppy chow recipe is NOT for dogs somewhere along the line, it's also become known as Muddy Buddies. Regardless of what you call it, everyone will call it addictingly delicious!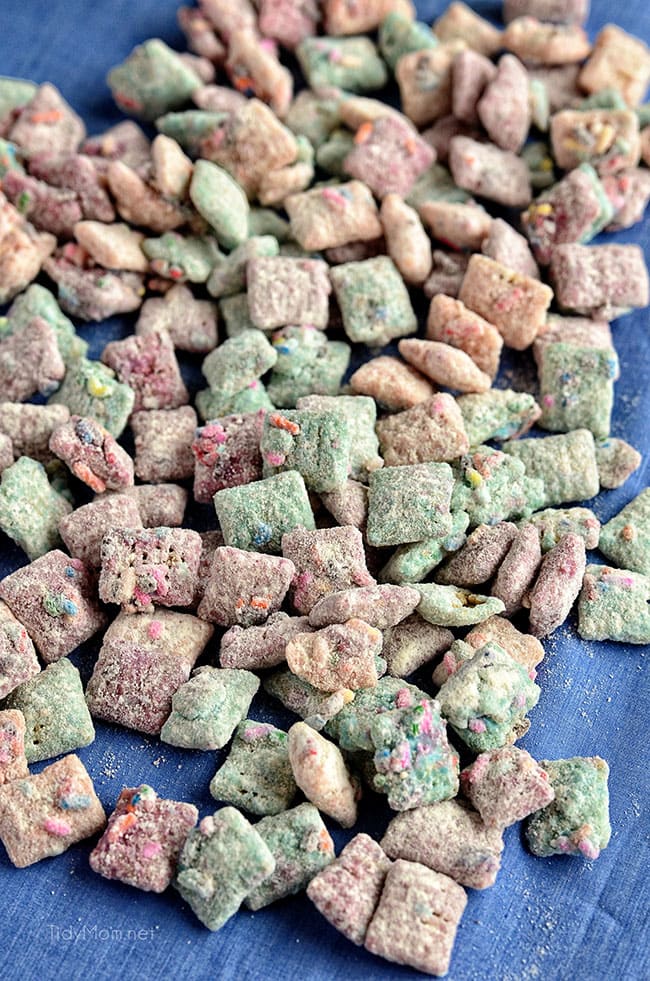 More Puppy Chow Recipes
Since this is the age of food blogging and pinterest, old recipes get new twists with modern flavors and puppy chow recipes are no exception! A quick glance around the web and you can find…..
Andes Mint Puppy Chow, Cherry Vanilla Puppy Chow, Butterfinger Muddy Buddies, Peppermint Crunch Puppy Chow, Chocolate Covered Strawberry Muddy Buddies, Chocolate Coconut Chex Mix, Cream Cheese and Carrot Cake Muddy Buddies, S'mores Snack Mix, Mocha Cappucino Puppy Chow, Lemon Puppy Chow, Biscoff Sandy Buddies, Bailey's Irish Cream Puppy Chow just to name a few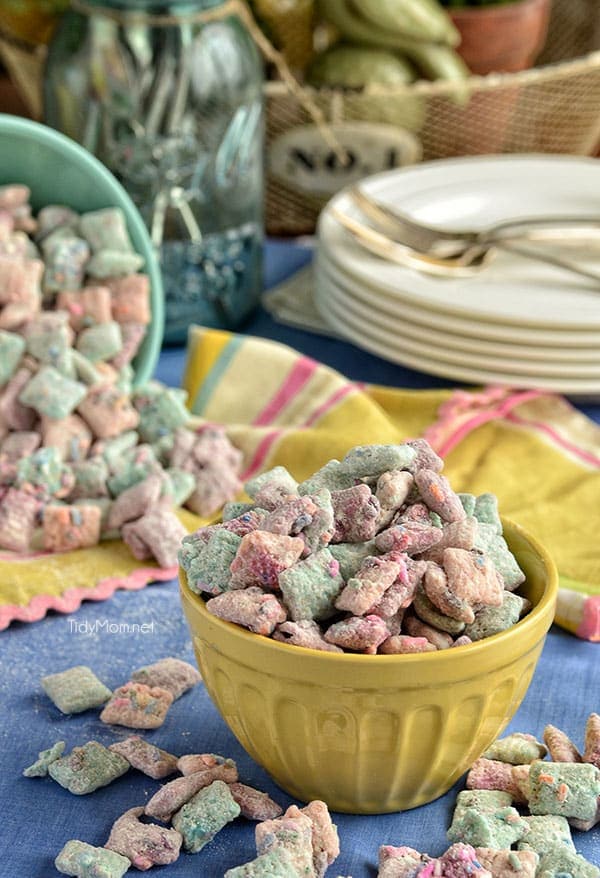 Make Puppy Chow Mix Taste Like Cake Batter
A good mom lets you lick the beaters……a GREAT mom turns them off first!
That little quote always makes me laugh. I remember the fun times in the kitchen when I was growing up and my mom would hand me the beaters. Cake batter was always one of my favorites, and still is! Only now, I have to fight my own children for the beaters!
Since I'm a little obsessed with the flavor of cake batter I decided to whip up a batch of Cake Batter Puppy Chow and use pastel-colored candy melts to give it a Spring/Easter feel, but you can certainly make it just using white bark or candy melts. The cake batter flavor comes from shaking the chocolate-coated candy in dry cake mix as well as powdered sugar!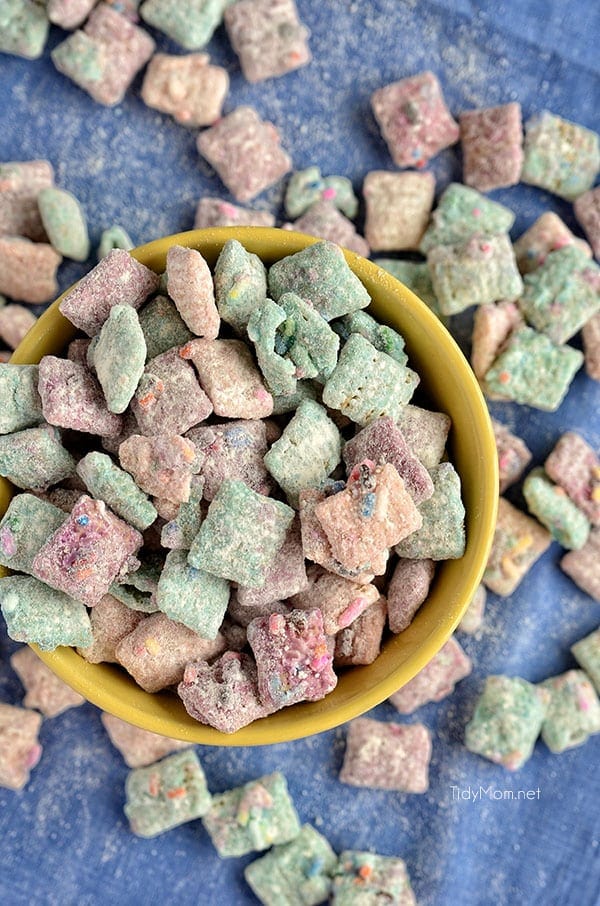 Possibly my favorite snack mix ever. I would love to hear if you've made a fun flavor of Puppy Chow Snack Mix!
Like This Puppy Chow Snack Mix Recipe? Pin It!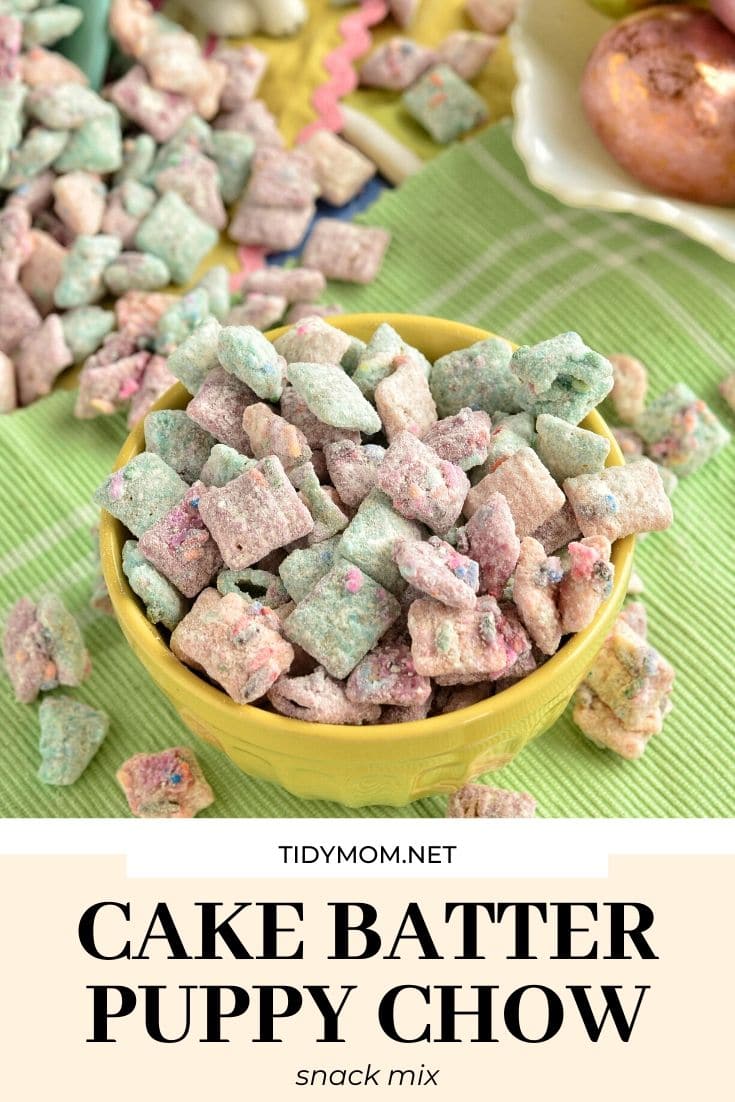 Follow Along On Social Media
If you're looking for even more inspiration check out the fun little group I created on Facebook, I'd love for you to join in! It's a place where you can share YOUR favorite recipes, home tips, creative ideas and ask questions and see what's new with TidyMom! If you'd like to check it out, you can request to join HERE.
Be sure to follow me on Instagram and tag #tidymom so I can see all the wonderful TidyMom recipes YOU make and tips YOU use!
Connect with TidyMom! Facebook | Twitter | Pinterest | Instagram
Sign up to receive an email in your inbox for each new recipe:
Cake Batter Puppy Chow Snack Mix Recipe
Yield: 5 cups

Prep Time: 10 minutes

Total Time: 10 minutes

Cake Batter Puppy Chow Snack Mix is a doggone good crispy chocolate-covered snack mix with the flavor of cake batter built in!
Ingredients
10 ounces white chocolate candy melts or almond bark (*see notes for multicolor)
1 teaspoon shortening
5 cups Rice Chex cereal
1 1/2 cups dry yellow cake mix (I used Duncan Hines Classic Butter Golden)
1/2 cup powdered sugar
1/2 cup multi color jimmies/sprinkles
Instructions
Place powdered sugar and cake mix into a large paper bag or large plastic container with a lid, and shake to mix evenly and set aside.
Melt bark (or candy melts) according to the package directions, adding vegetable shortening. This will help make the coating a little thinner and easier to pour and cover cereal.
Place cereal in a large bowl. Carefully pour warm white chocolate mixture over cereal. Gently, stir with a spatula, trying not to break the cereal pieces. Fold in sprinkles.
Add chocolate covered cereal to bag or container with dry mix, close bag or container and shake until cereal is evenly coated.
Discard excess powder and enjoy! Store in airtight container at room temperature up to 2 weeks
Notes
** To make multi-color puppy chow: I used 3 colors (pink, purple and blue) of white chocolate melting chips. Melt 3.5 ounces of each color, adding a little less than a teaspoon of shortening to each. Divide the 5 cups of cereal into 3 bowls. Pour one color of candy melts over one bowl of cereal, add sprinkles, then toss all three colors of candy-coated cereal into powdered sugar cake mix to coat.
Nutrition Information:
Yield: 20 Serving Size: 1
Amount Per Serving: Calories: 174Total Fat: 7gSaturated Fat: 3gTrans Fat: 0gUnsaturated Fat: 3gCholesterol: 3mgSodium: 134mgCarbohydrates: 28gFiber: 0gSugar: 18gProtein: 2g

Nutrition information is estimated based on the ingredients and cooking instructions as described in each recipe and is intended to be used for informational purposes only. Please note that nutrition details may vary based on methods of preparation, origin, and freshness of ingredients used.