Garlic Ranch Chicken Pizza
Lately I've been in sort of a "what to fix for dinner" rut.
I'm tired of the same old stuff, yet my family it too picky to try something "too new".
Recently I ran across a pizza recipe that I thought sounded good, but I would "tweak" a little to our liking.
With the combination of chicken, ranch and cheese on a pizza crust, I knew I couldn't go wrong!
The only thing I would do different next time is the crust – I'd like to try one of the frozen pizza dough and make our own crust – I bought the packaged pizza crust.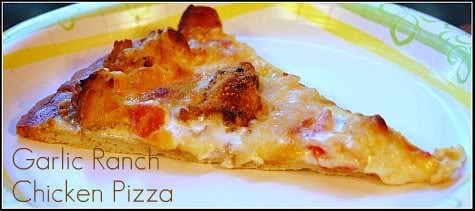 Garlic Ranch Chicken Pizza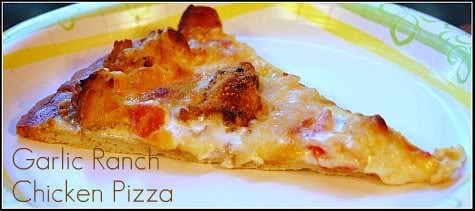 Ingredients
1 pizza crust
1 tsp. olive oil
1/2 cup ranch dressing
1 tomato,sliced and diced
1/4 cup green onion, chopped
1 cup shredded mozzarella cheese
1 cup shredded cheddar cheese
1/4 Parmesan cheese
8 ounces boneless skinless chicken breast halves, diced
1 Tbsp. Olive Oil
garlic (to taste)
bacon bits (optional)
1 teaspoon salt (to taste)
1 teaspoon pepper (to taste)
Instructions
Preheat oven to 425 degrees.
Put pizza crust on pizza stone, drizzle with olive oil and spread over crust with brush.
Saute chicken in skillet with olive oil and garlic (I used 1tsp of the jarred minced garlic).
Spread Ranch dressing over crust.
Sprinkle with cooked chicken, cheeses, tomatoes, green onions and bacon bits. (we made 2 pizza's one with out the bacon bits)
Place in oven for 20 mins. or until cheese is melted. Let rest for several minutes, then cut and serve.
Notes
I used my Pampered Chef pizza stone and heated it in the oven before putting the pizza on it.


Hubby and I enjoyed the pizza with the bacon bits the most, while Sunshine preferred no bacon bits.
https://tidymom.net/garlic-ranch-chicken-pizza/
Copyright© 2009-2013 TidyMom.Net
Next time, instead of picking up the phone for delivery – give this a try!