Creamy Italian Crock-Pot Chicken
I'm always on the look out for new dinner ideas for my picky family!
I knew when I saw this recipe from two of my favorite ladies, it was SURE to be hit!
I first saw the recipe in Amy's Weekly Meal Plan – if you haven't seen Amy's meal plans, you don't know what you're missing.
She not only has an amazing collection of recipes, but she creates a printable PDF file with all of the recipes, photos and even a grocery list. Just print the file and you're ready to go shopping!! Best of all, it's FREE!
You can even submit your own weekly meal plan and be the main feature that week on Living Locurto.- Amy has featured several of my recipes
Well, this recipe was submitted by Angie of The Arthur Clan and Amy's I Heart Faces "partner in crime"
Angie says all of her kids love this! Well, the night I made it, Allison had 2 friends over for dinner and it was a HUGE hit with everyone!!…..the girls all had seconds!!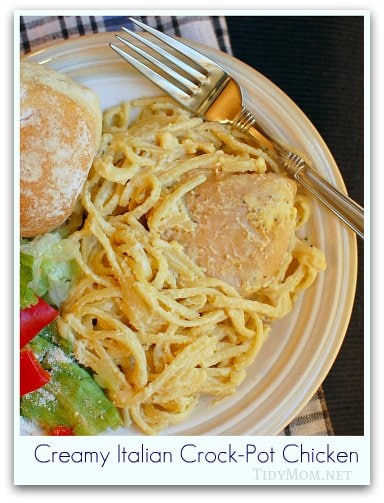 Creamy Italian Crock-Pot Chicken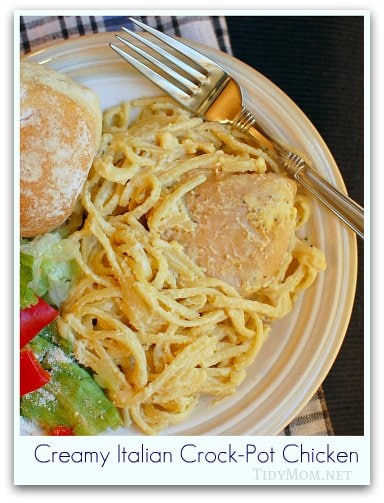 Ingredients
4 boneless, skinless chicken breasts
1 envelope Italian salad dressing
1/4 cup water
1 pkg. (8 oz.) cream cheese
1 can condensed cream of chicken soup
(optional) 1 can (4 oz.) mushroom stems and pieces (drained)
hot cooked noodles or rice
Instructions
Cut the chicken into medium sized chunks and place in slow cooker
Combine salad dressing mix and water – pour over chicken
Cover and cook on low for 3 hours
In a small mixing bowl, beat cream cheese and soup until blended.
If you like mushrooms – Stir them into mix now
Pour mix over chicken.
Cook 1 hour longer or until juices run clear
Serve over rice or noodles.
Notes
*I just used chicken tenderloins and I did not cut them up.
*I did not use mushrooms
*I misread the directions and added cheese and soup at the beginning and slow cooked it all for about 4-5 hours.- all turned out fine.
https://tidymom.net/creamy-italian-crock-pot-chicken/
Copyright© 2009-2013 TidyMom.Net
"Like this recipe? Add it to your personal recipe box to make later or add the ingredients to your online shopping list to make it this week. Just click the Save Recipe button to get started."